Faith without works is dead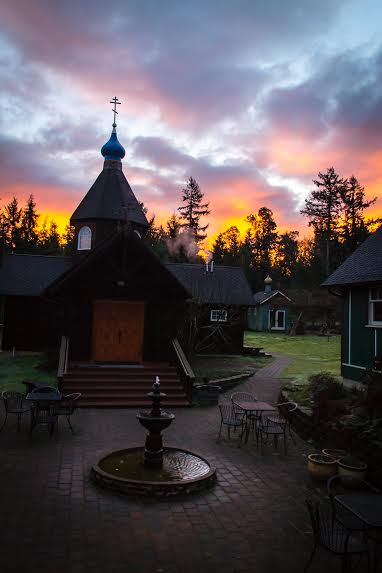 The very moment faith enters the soul is that moment when we turn toward God in repentance and recognize we can not live without Him. As we grow in our faith we come to realize we must remain in a continual state of repentance, for grace abounds in the heart of the man who is repenting. We come to see the truth that the saints were those who never ceased to call upon the Lord in repentance. Never did they think themselves worthy of anything but God's wrath, and their continued plea was for mercy.
This humility spawned God's love in the hearts of these saints, and works of love and mercy grew out of God's indwelling love within their hearts. Their works showed forth that their love and good works came out of that deep state of repentance, and their love was the proof of God's indwelling Spirit in their hearts. Saint Gregory the Great said, "The proof of love is in the works. Where love exists, it works great things. But when it ceases to act, it ceases to exist."
If we do not do good works, love does not dwell in our heart, and we have no faith. "Yea, a man may say, You have faith, and I have works: show me your faith without your works, and I will show you my faith by my works (James 2:18)." The Liturgy reminds us, only those with faith and love may draw near to receive the Holy Mysteries. Our participation in the Body and Blood of the Lord provides each of us with the opportunity to be Christ-bearers in the world in which we live, and others will know we belong to Christ, "by our love" (John 13:35).
With love in Christ,
Abbot Tryphon
Wednesday August 23, 2017 / August 10, 2017
12th Week after Pentecost. Tone two.
Dormition (Theotokos) Fast. By Monastic Charter: Strict Fast (Bread, Vegetables, Fruits)
Holy Martyrs Archdeacon Laurence and Pope Sixtus, Felicissimus and Agapitus, deacons, and others with them (258).
Blessed Laurence, fool-for-Christ at Kaluga (1515).
New Hieromartyr Viacheslav priest (1918).
New Hieromartyr Athanasius priest (1937).
Uncovering and Translation of the relics of Venerable Sabbas of Storozhev or Zvenigorod (1998).
Martyr Romanus, soldier, of Rome (258).
Six Martyrs of Bizin (Greek).
Synaxis of New Martyrs and Confessors of Solovki.
The Scripture Readings
2 Corinthians 6:11-16
Be Holy
11 O Corinthians! We have spoken openly to you, our heart is wide open. 12 You are not restricted by us, but you are restricted by your own affections. 13 Now in return for the same (I speak as to children), you also be open.
14 Do not be unequally yoked together with unbelievers. For what fellowship has righteousness with lawlessness? And what communion has light with darkness? 15 And what accord has Christ with Belial? Or what part has a believer with an unbeliever? 16 And what agreement has the temple of God with idols? For you are the temple of the living God. As God has said:
"I will dwell in them
And walk among them.
I will be their God,
And they shall be My people."
Mark 1:23-28
23 Now there was a man in their synagogue with an unclean spirit. And he cried out, 24 saying, "Let us alone! What have we to do with You, Jesus of Nazareth? Did You come to destroy us? I know who You are—the Holy One of God!"
25 But Jesus rebuked him, saying, "Be quiet, and come out of him!" 26 And when the unclean spirit had convulsed him and cried out with a loud voice, he came out of him. 27 Then they were all amazed, so that they questioned among themselves, saying, "What is this? What new doctrine is this? For with authority He commands even the unclean spirits, and they obey Him." 28 And immediately His fame spread throughout all the region around Galilee.