The Feast of Christ the All-Merciful Saviour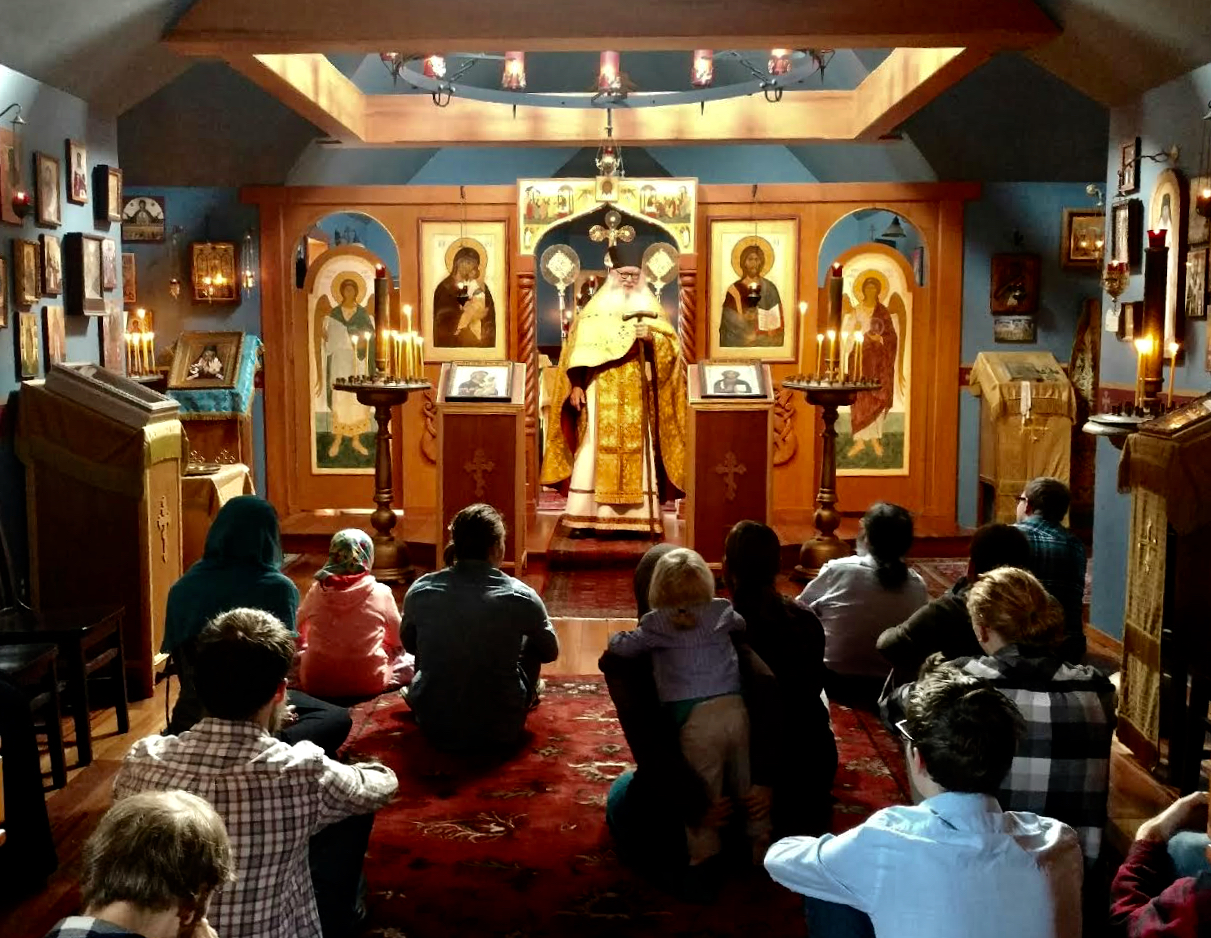 Today our brotherhood celebrates the Patronal Feast of our monastery. Thirty-one years ago the beloved and ever memorable Archimandrite Dimitri (Egoroff) of Santa Rosa, CA tonsured Father Paul and me as Orthodox monks. Guided and inspired by Father Dimitri's kind and prayerful spirit, and a wisdom and holiness gained through his many years of monastic struggle, our brotherhood was planted on the firm ground of the Russian monastic tradition.
Thirty-one years ago we set aside our Eastern Catholic monastic roots and joined ourselves to the Orthodox Church. In doing so we chose to place ourselves under the banner of the All-Merciful Saviour, and the protection of the Holy Virgin. We chose Saint John the Wonderworker of Shanghi and San Francisco, as our patron, seeing in him the sanctity, simplicity, and holiness that we'd found in our blessed Father Dimitri.
It was twenty-nine years ago, after a six month search, that we moved the monastery from a working class neighborhood in Richmond, CA., to Vashon Island, with the blessing of our bishop.
It has been a journey filled with poverty, suffering, and persecution, yet because of these experiences, the monastery has risen like a phoenix. Planted as a garden in the midst of a beautiful forest, on an island in the Salish Sea of the Puget Sound region of the State of Washington, we look in wonder at all God has given us.
For all this we offer our heartfelt thanks, and "to the King eternal, immortal, invisible, to God who alone is wise, be honor and glory forever and ever. Amen (I Timothy 1:17)."
With love in Christ,
Abbot Tryphon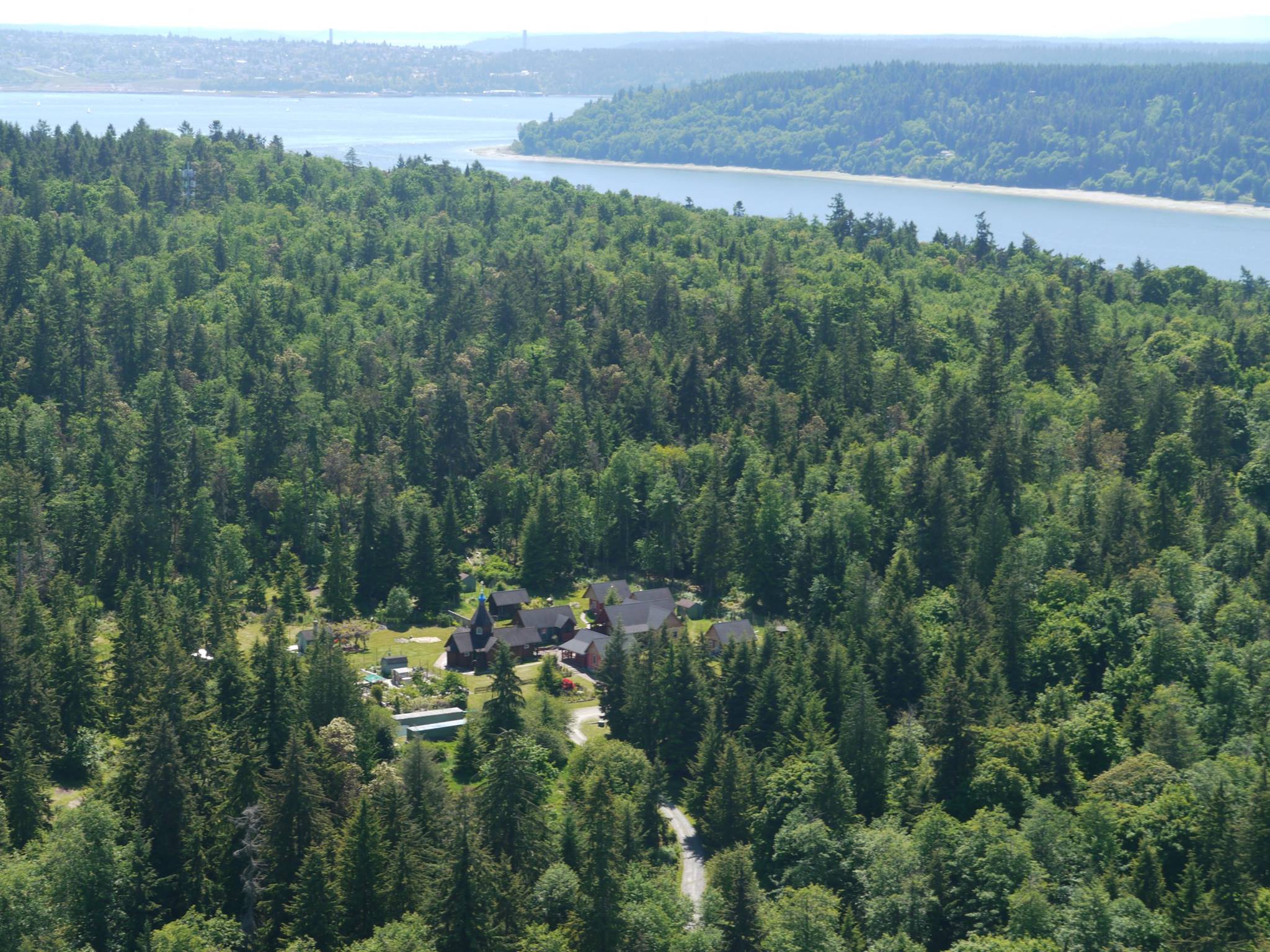 Photos: We've been hosting seven young men, all members of the Salish Brotherhood of Saint John the Wonderworker, for the past four days. This lay brotherhood now numbers sixty-nine "Knights of the Salish Sea".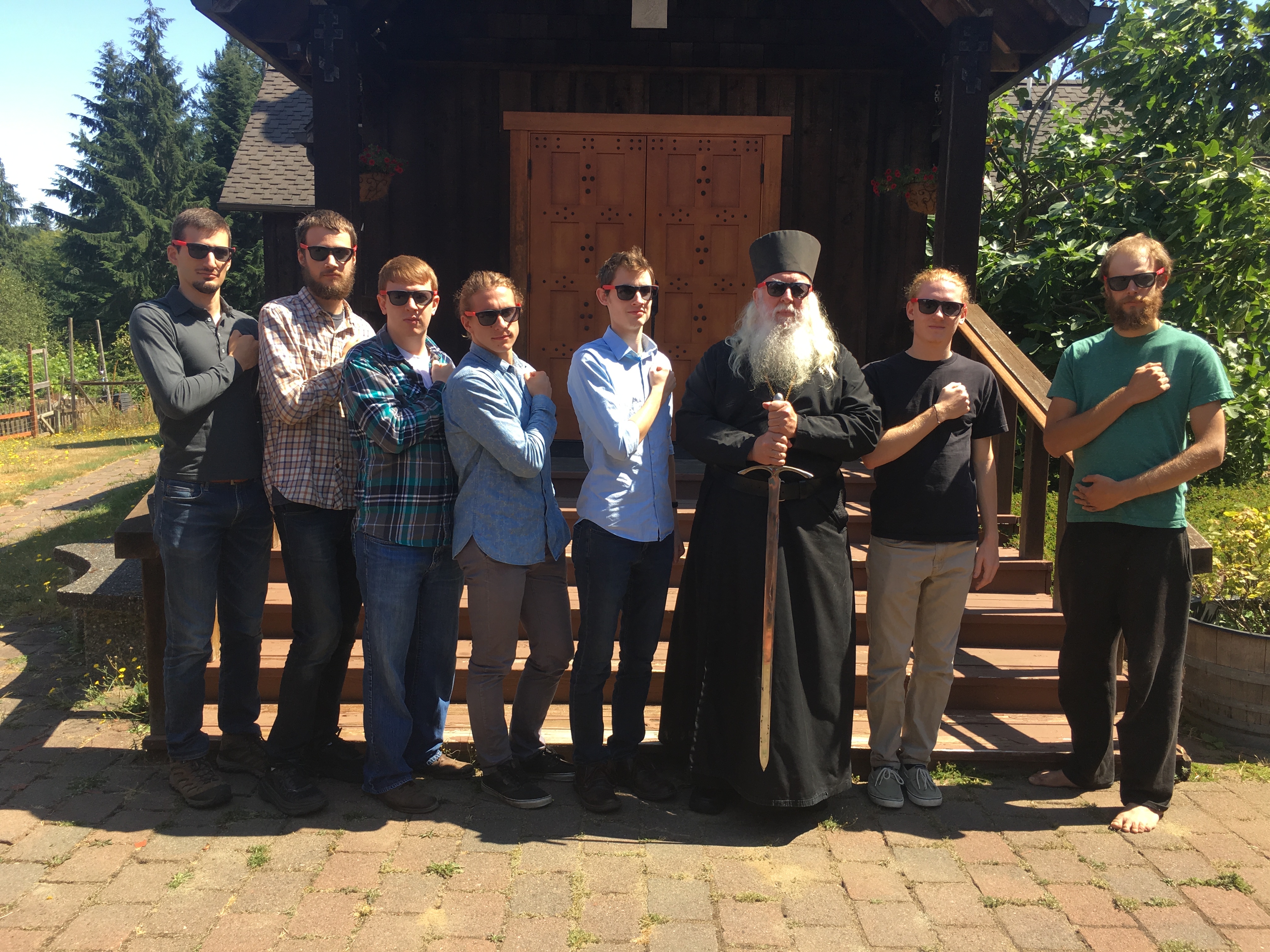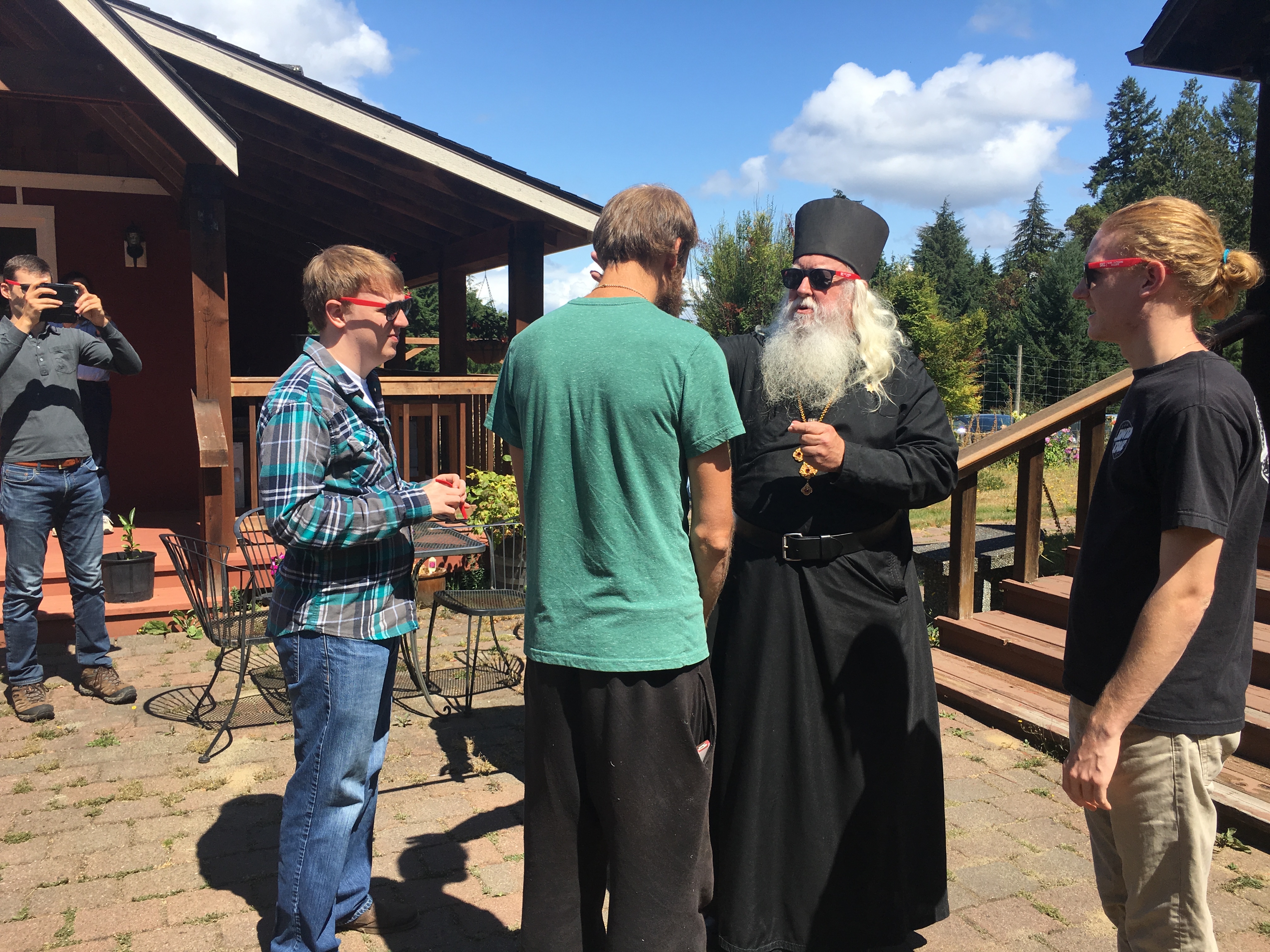 Monday August 14, 2017 / August 1, 2017
11th Week after Pentecost. Tone one.
Dormition (Theotokos) Fast. By Monastic Charter: Strict Fast (Bread, Vegetables, Fruits)
Beginning of the Dormition Fast.
Procession of the Precious Wood of the Life-giving Cross of the Lord (1164) (First of the three "Feasts of the Saviour" in August).
The Feast to the All-Merciful Saviour and the Most Holy Mother of God.
Holy Seven Maccabees, Martyrs Abimus, Antonius, Gurias, Eleazar, Eusebonus, Alimus, and Marcellus, their mother Solomonia, and their teacher Eleazar (166 B.C.).
New Hieromartyr Basil, archbishop of Chernigov (1918).
New Hieromartyr Demetrius priest (1937)
Uncovering of the relics of Venerable Sophia of Suzdal (1995).
Nine Martyrs of Perge in Pamphylia: Leontius, Attius, Alexander, Cindeus, Minsitheus (Mnesitheus), Cyriacus, Mineon(Menaeus), Catanus, and Eucleus (3rd c.).
St. Nicholas (Kassatkin), enlightener of Japan (1912).
Martyrs Menas, Menais, and others of England (Greek).
Martyr Elessa of Cythera (Greek).
St. Timothy the Wonderworker, archbishop of Priconissus of Peloponnesus (Greek).
Martyr Papas the New (Greek).
Martyr Eleazar (Greek).
Martyr Cyricus (Greek).
Martyrs Theodore and Polyeuctus (Greek).
St. Ethelwold, bishop of Winchester (984) (Celtic & British).
Virgin-martyr Sidwell of Exeter (or 7/31 or 8/2).
The Scripture Readings
1 Corinthians 1:18-24
Christ the Power and Wisdom of God
18 For the message of the cross is foolishness to those who are perishing, but to us who are being saved it is the power of God. 19 For it is written:
"I will destroy the wisdom of the wise,
And bring to nothing the understanding of the prudent."
20 Where is the wise? Where is the scribe? Where is the disputer of this age? Has not God made foolish the wisdom of this world? 21 For since, in the wisdom of God, the world through wisdom did not know God, it pleased God through the foolishness of the message preached to save those who believe. 22 For Jews request a sign, and Greeks seek after wisdom; 23 but we preach Christ crucified, to the Jews a stumbling block and to the Greeks[b] foolishness, 24 but to those who are called, both Jews and Greeks, Christ the power of God and the wisdom of God.
John 19:6-11
6 Therefore, when the chief priests and officers saw Him, they cried out, saying, "Crucify Him, crucify Him!"
Pilate said to them, "You take Him and crucify Him, for I find no fault in Him."
7 The Jews answered him, "We have a law, and according to our[a] law He ought to die, because He made Himself the Son of God."
8 Therefore, when Pilate heard that saying, he was the more afraid, 9 and went again into the Praetorium, and said to Jesus, "Where are You from?" But Jesus gave him no answer.
10 Then Pilate said to Him, "Are You not speaking to me? Do You not know that I have power to crucify You, and power to release You?"
11 Jesus answered, "You could have no power at all against Me unless it had been given you from above. Therefore the one who delivered Me to you has the greater sin."
John 19:13-20
13 When Pilate therefore heard that saying, he brought Jesus out and sat down in the judgment seat in a place that is called ThePavement, but in Hebrew, Gabbatha. 14 Now it was the Preparation Day of the Passover, and about the sixth hour. And he said to the Jews, "Behold your King!"
15 But they cried out, "Away with Him, away with Him! Crucify Him!"
Pilate said to them, "Shall I crucify your King?"
The chief priests answered, "We have no king but Caesar!"
16 Then he delivered Him to them to be crucified. So they took Jesus and led Him away.
The King on a Cross
17 And He, bearing His cross, went out to a place called the Place of a Skull, which is called in Hebrew, Golgotha, 18 where they crucified Him, and two others with Him, one on either side, and Jesus in the center. 19 Now Pilate wrote a title and put it on the cross. And the writing was:
John 19:25-28
Behold Your Mother
25 Now there stood by the cross of Jesus His mother, and His mother's sister, Mary the wife of Clopas, and Mary Magdalene. 26 When Jesus therefore saw His mother, and the disciple whom He loved standing by, He said to His mother, "Woman, behold your son!"27 Then He said to the disciple, "Behold your mother!" And from that hour that disciple took her to his own home.
It Is Finished
28 After this, Jesus, knowing that all things were now accomplished, that the Scripture might be fulfilled, said, "I thirst!"
John 19:30-35
30 So when Jesus had received the sour wine, He said, "It is finished!" And bowing His head, He gave up His spirit.
Jesus' Side Is Pierced
31 Therefore, because it was the Preparation Day, that the bodies should not remain on the cross on the Sabbath (for that Sabbath was a high day), the Jews asked Pilate that their legs might be broken, and that they might be taken away. 32 Then the soldiers came and broke the legs of the first and of the other who was crucified with Him. 33 But when they came to Jesus and saw that He was already dead, they did not break His legs. 34 But one of the soldiers pierced His side with a spear, and immediately blood and water came out. 35 And he who has seen has testified, and his testimony is true; and he knows that he is telling the truth, so that you may believe.