A monastic serving as a police and fire chaplain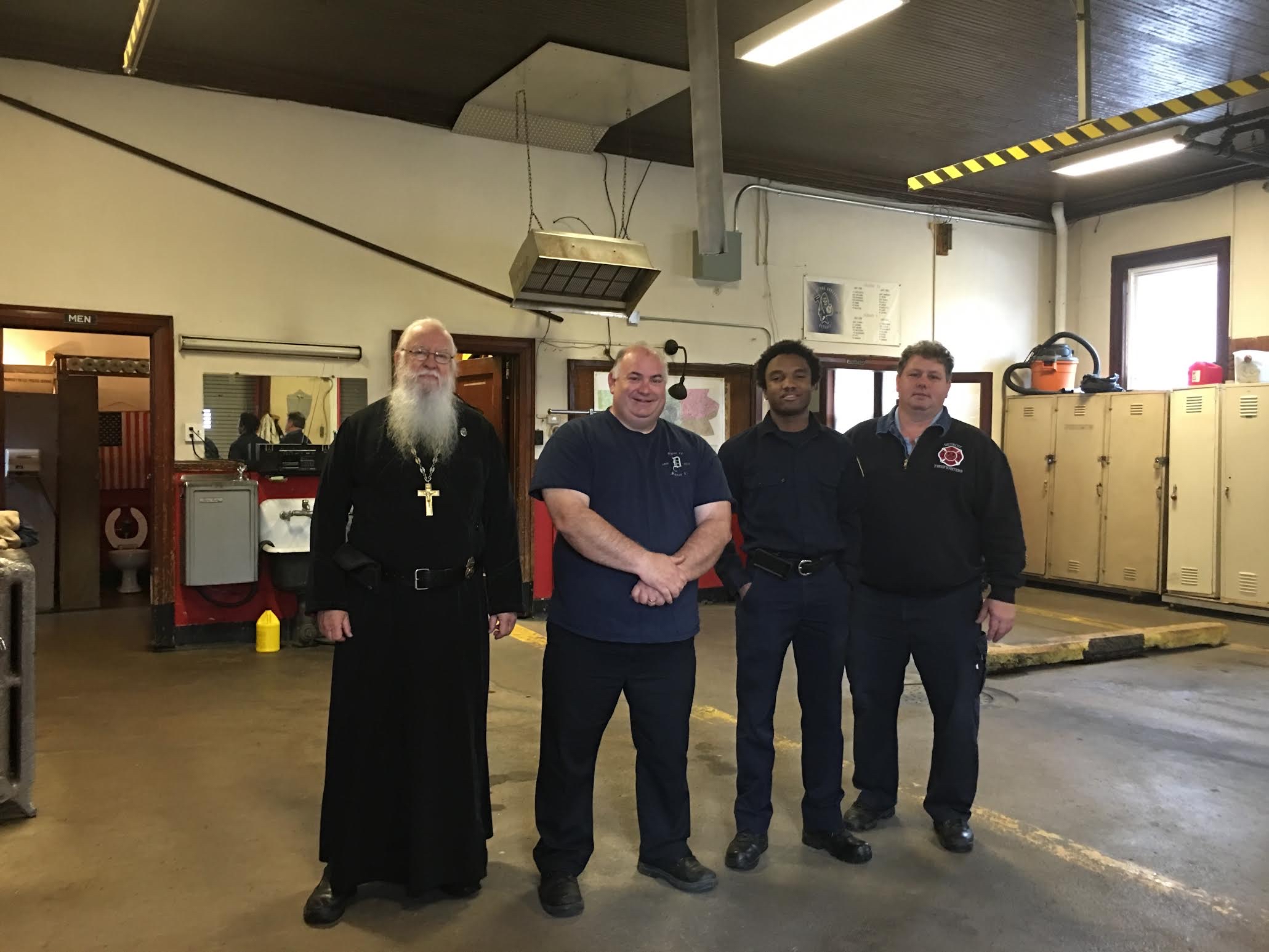 It has been a great blessing for me to have been serving as a police and fire chaplain for the past fifteen years. My interest in chaplaincy began when I was asked by a number of inmates to serve as their Orthodox chaplain in one of the state's prisons. Spending one full day a month in two of the prisons in Monroe, WA., I managed to make a number of friends among the guards. Because such open friendships could be dangerous, should inmates see the chaplain as a friend of the enemy, I had to keep my contact with guards to a minimum. After eight years of serving the spiritual needs of inmates, I decided that I wanted to serve those in law enforcement and fire service.
Vashon Island's Fire Department had not had their own chaplain in some thirty years. When you live on an island that is accessible only by ferry, there were many occasions where a chaplain was needed, but none was available, especially in the dead of night when the boats were not running. Following a number of tragic events on the island, I finally offered my services and went through a formal week long training at the Washington State Criminal Justice Center where all police are trained for the entire state, and became a certified chaplain.
Hundreds of hours of additional training, and membership in the Federation of Fire Chaplains and the International Conference of Police Chaplains, prepared me for priestly service to the whole of this island community in ways that I would never have imagined.
In an age of increasing lawlessness, it is a huge blessing for me to have been called to serve men and women who selflessly place their lives on the line for the rest of us, each and every day. I've ridden with medics who've saved lives right in front of my eyes. I've been on board fire trucks, witnessing firefighters risk their lives to save the homes of fellow islanders. I've witnessed King County Sheriff Department deputies give comfort to the widow of a murder victim.
I am grateful to God for the many friendships I've formed with deputies and fire fighters over these past fifteen years. I've shed tears at the funerals of too many officers and firefighters. I pray daily for the safety and well being of those who serve our communities so gallantly, and ask my readers to unite their prayers with mine.
With love in Christ,
Abbot Tryphon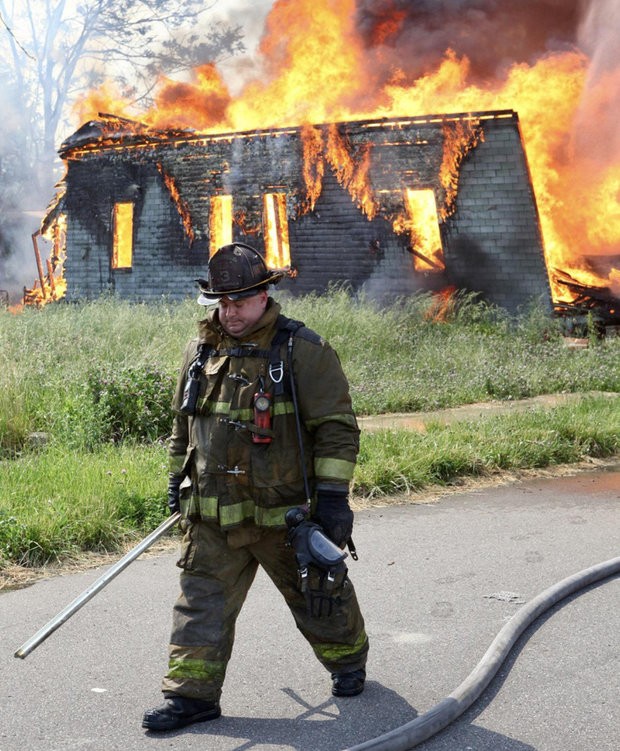 Photos: Detroit Firefighter Kevin Ramsey, died of heart failure while on duty, after returning to his fire station following two fires. I had the privilege of meeting him when I visited Detroit's oldest continually operating fire station, while in Michigan on a speaking tour a few years ago. He is shown standing next to me in the photo that was taken during my visit. May his memory be eternal.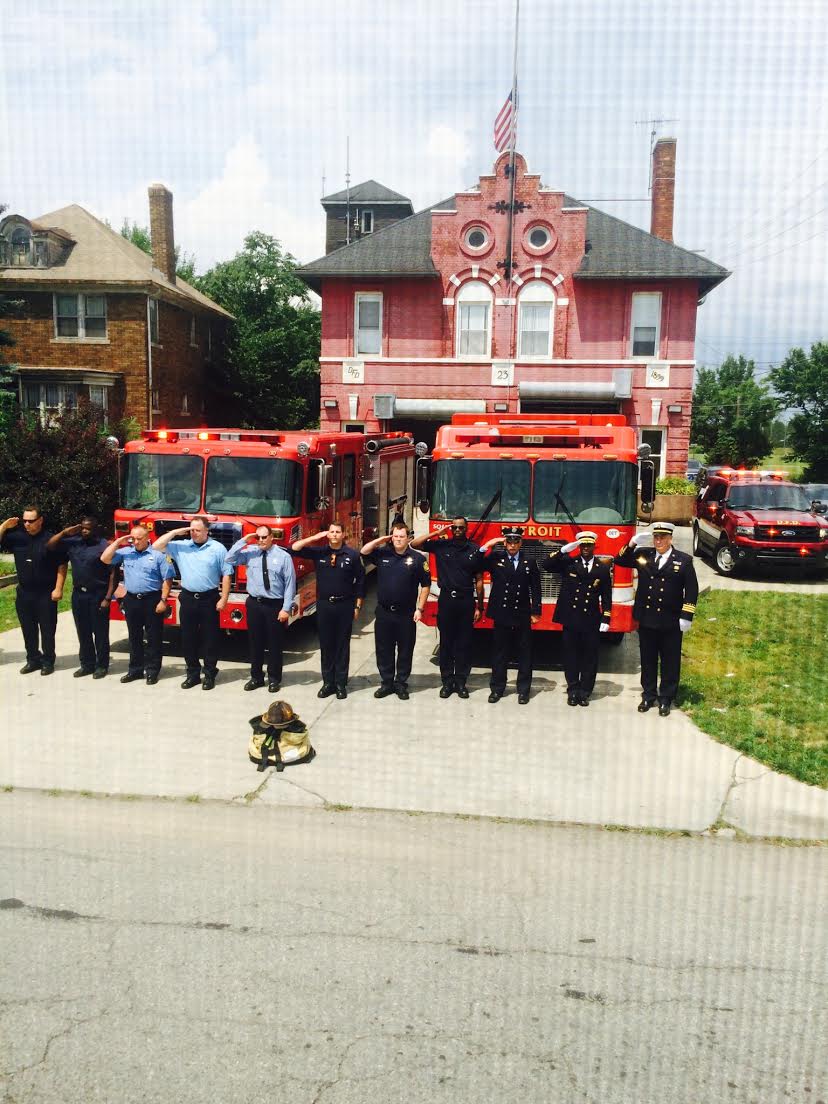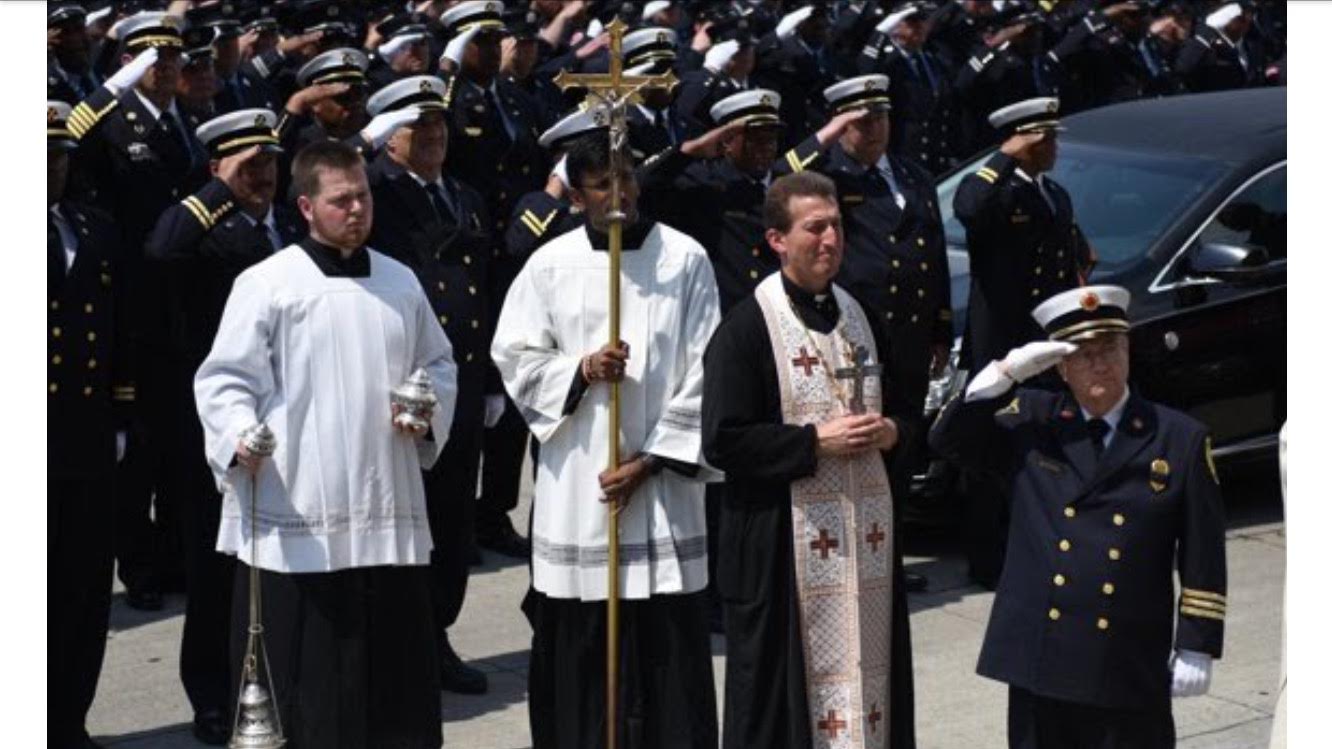 THANKS to all of you who have been able to contribute towards the support of the monastery. Those of you who have been able to donate have been our lifeline. May God bless you for your generosity, and kindness.
Donations can be made directly to the monastery through PayPal (vashonmonks.com), or you may send donations to:
All-Merciful Saviour Monastery
PO Box 2420
Vashon Island, WA 98070-2420 USA
Sunday August 13, 2017 / July 31, 2017
10th Sunday after Pentecost. Tone one.
Eve of the Dormittion Fast.
Forefeast of the Procession of the Precious and Life-giving Cross of the Lord.
Righteous Eudocimus of Cappadocia (9th c.).
New Martyrs Benjamin, metropolitan of Petrograd, and those with him: Archimandrite Sergius and George and John of Petrograd (1922).
Martyr Maximus (1928).
New New Hieromartyr Vladimir priest (1937).
New Hieromartyr John priest, Martyr Constantine priest, Virgin-martyr Anna, and St. Elizabeth (after 1937).
New Hieromartyr Nicholas priest (1941).
New Hieromartyr Basil, bishop of Kineshma (1945)
Martyr Julitta at Caesarea (304).
Martyr Dionysius of Vatopedi, Mt. Athos (1822).
Righteous Joseph of Arimathea (1st c.).
St. Germanus, bishop of Auxerre (448) (Celtic & British).
Venerable Neot, hermit in Cornwall (877) (Celtic & British).
Twelve Martyrs of Rome (Greek).
Translation of the relics of Apostle Philip to Cyprus. (Greek).
Consecration of the Church of the Most Holy Theotokos of Blachernae (Greek).
St. John the Exarch of Bulgaria (900).
St. Arsenius the Bishop of Ninotsminda (1082) (Georgia).
The Scripture Readings
John 21:1-14
Breakfast by the Sea
21 After these things Jesus showed Himself again to the disciples at the Sea of Tiberias, and in this way He showed Himself:2 Simon Peter, Thomas called the Twin, Nathanael of Cana in Galilee, the sons of Zebedee, and two others of His disciples were together. 3 Simon Peter said to them, "I am going fishing."
They said to him, "We are going with you also." They went out and immediately[a] got into the boat, and that night they caught nothing. 4 But when the morning had now come, Jesus stood on the shore; yet the disciples did not know that it was Jesus. 5 Then Jesus said to them, "Children, have you any food?"
They answered Him, "No."
6 And He said to them, "Cast the net on the right side of the boat, and you will find some." So they cast, and now they were not able to draw it in because of the multitude of fish.
7 Therefore that disciple whom Jesus loved said to Peter, "It is the Lord!" Now when Simon Peter heard that it was the Lord, he put on his outer garment (for he had removed it), and plunged into the sea. 8 But the other disciples came in the little boat (for they were not far from land, but about two hundred cubits), dragging the net with fish. 9 Then, as soon as they had come to land, they saw a fire of coals there, and fish laid on it, and bread. 10 Jesus said to them, "Bring some of the fish which you have just caught."
11 Simon Peter went up and dragged the net to land, full of large fish, one hundred and fifty-three; and although there were so many, the net was not broken. 12 Jesus said to them, "Come and eat breakfast." Yet none of the disciples dared ask Him, "Who are You?"—knowing that it was the Lord. 13 Jesus then came and took the bread and gave it to them, and likewise the fish.
14 This is now the third time Jesus showed Himself to His disciples after He was raised from the dead.
1 Corinthians 4:9-16
9 For I think that God has displayed us, the apostles, last, as men condemned to death; for we have been made a spectacle to the world, both to angels and to men. 10 We are fools for Christ's sake, but you are wise in Christ! We are weak, but you are strong! You are distinguished, but we are dishonored! 11 To the present hour we both hunger and thirst, and we are poorly clothed, and beaten, and homeless. 12 And we labor, working with our own hands. Being reviled, we bless; being persecuted, we endure; 13 being defamed, we entreat. We have been made as the filth of the world, the offscouring of all things until now.
Paul's Paternal Care
14 I do not write these things to shame you, but as my beloved children I warn you. 15 For though you might have ten thousand instructors in Christ, yet you do not have many fathers; for in Christ Jesus I have begotten you through the gospel. 16 Therefore I urge you, imitate me.
Matthew 17:14-23
A Boy Is Healed
14 And when they had come to the multitude, a man came to Him, kneeling down to Him and saying, 15 "Lord, have mercy on my son, for he is an epileptic and suffers severely; for he often falls into the fire and often into the water. 16 So I brought him to Your disciples, but they could not cure him."
17 Then Jesus answered and said, "O faithless and perverse generation, how long shall I be with you? How long shall I bear with you? Bring him here to Me." 18 And Jesus rebuked the demon, and it came out of him; and the child was cured from that very hour.
19 Then the disciples came to Jesus privately and said, "Why could we not cast it out?"
20 So Jesus said to them, "Because of your unbelief; for assuredly, I say to you, if you have faith as a mustard seed, you will say to this mountain, 'Move from here to there,' and it will move; and nothing will be impossible for you. 21 However, this kind does not go out except by prayer and fasting."
Jesus Again Predicts His Death and Resurrection
22 Now while they were staying in Galilee, Jesus said to them, "The Son of Man is about to be betrayed into the hands of men, 23 and they will kill Him, and the third day He will be raised up." And they were exceedingly sorrowful.