Putting an end to isolation
The Church is the Body of Christ and by Her very nature is anything but an institution wherein one can be isolated from others. We only let it be so if we fail to involve ourselves as the people of God, with one another. The greeting given by Orthodox Christians, passing on the holy kiss when we meet one another, or kissing the hand of our priest, are ways we avoid the isolation that dominates the society in which we live. Staying for the coffee hour, or the agape meal following the Sunday Liturgy, are ways in which we can do battle against the isolation that dominates the rest of our world. Attending midweek services is another way to stave off isolation.
Our youth need to learn from us the importance of communicating directly with their friends and family. Taking children out for a Sunday afternoon drive, exploring the country side, radio off, is a wonderful way families can reconnect. Taking grandmother on a family picnic to a local park, avoiding the back yard, is a wonderful, old fashioned way of introducing community to children. Letting them play with cousins in a park, as the extended family gathers for a picnic, can build family bonds that will last a lifetime.
When was the last time we sat around with a senior member of our family and asked them to share the memories of their youth? This would be a wonderful way to reconnect an aging grandfather with his own youth and show him that you value his life experiences and the memories of his own parents and grandparents. What an invaluable legacy we would impart to our own children, letting them know they were not born in a vacuum, but are a part of a long line of real people.
Isolation is a terrible threat to our way of life. Young people no longer have the communication skills that past generations learned from older family members. It is astounding when I think of how much of my own grandparents are an important part of whom I've become. It is not just genetics they've passed on to me, but memories of family history that was long gone when I was born. Even parts of my personality were gleaned from my great grandfather. My study, filled with photographs, icons and collectibles, is a style that became my own, having loved the same clutter and warmth of my grandparents home.
Isolation does not have to be a part of our world. It just takes commitment on our part to build family and community. When people visit the monastery I routinely ask that they turn off their cell phones, so we can all leave isolation behind and connect as family, the children of the Church.
What a wonderful thing it would be if each family had two hours each night when the house phone, cell phones, the TV, and all other outside intrusions were banned. How about an evening of playing Uno, as a family, or putting a puzzle together? Then, end the evening with the whole family standing before the icon corner, doing the evening prayers!
Love in Christ,
Abbot Tryphon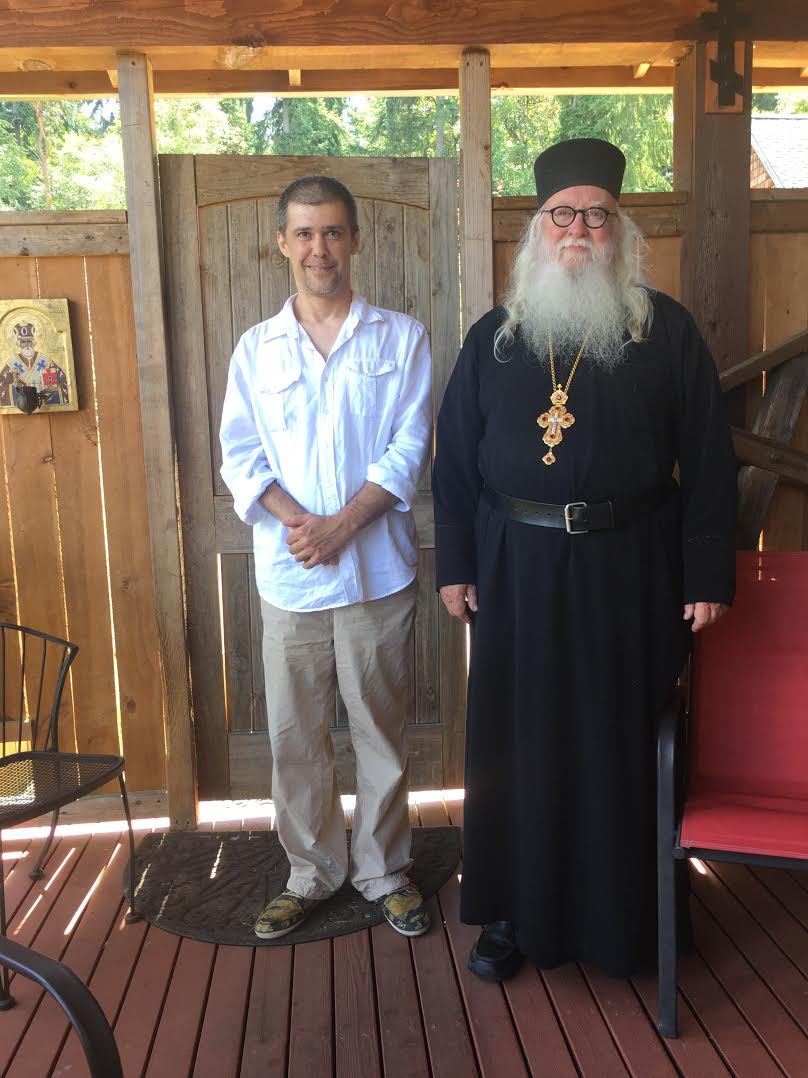 Photos: Koshin Kain, my longtime friend, and the abbot of the Puget Sound Zen Center, visited the monastery on Thursday. Ugljesa Mileta and his wife Zvezdana, attended the Sunday Liturgy. Ugljesa is the iconographer doing the frescos in Holy Cross Church in Yakima, WA. On Sunday afternoon, Rabbi Raachel Jurovics, from Raleigh, NC., visited the monastery.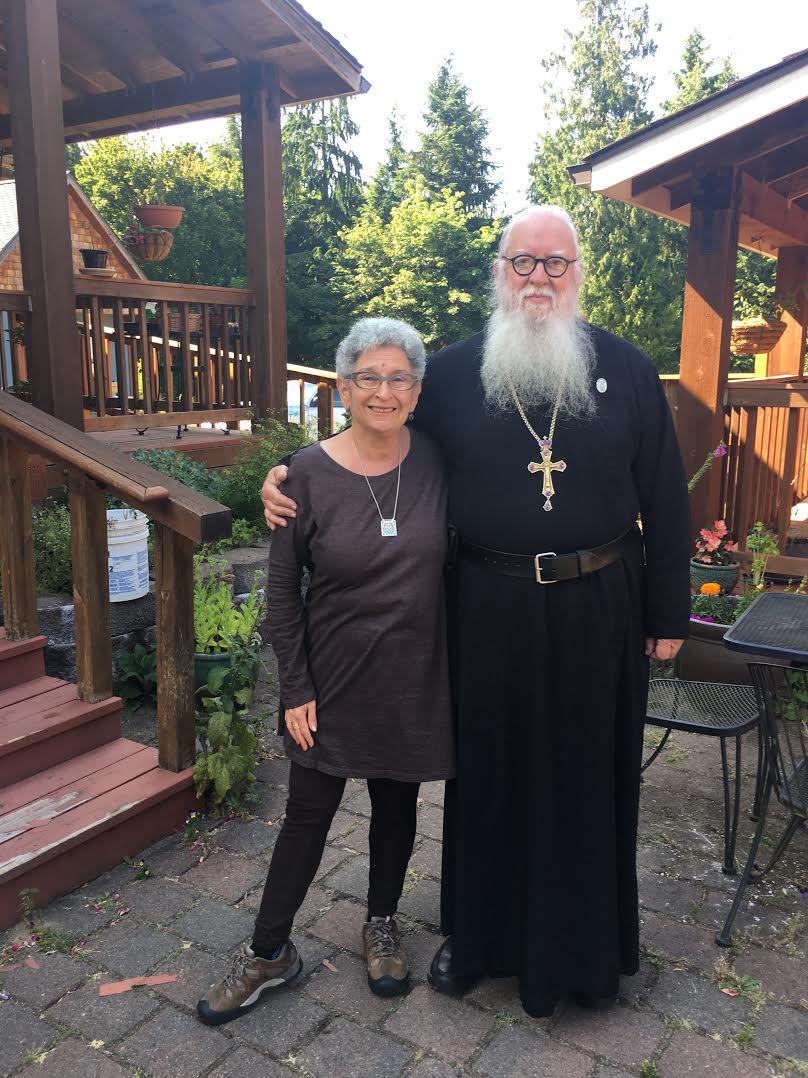 Monday July 17, 2017 / July 4, 2017
7th Week after Pentecost. Tone five.
Holy Royal Martyrs of Russia: Tsar Nicholas II, Tsarit-sa Alexandra, Crown Prince Alexis, and Grand-duchesses Olga, Tatiana, Maria, and Anastasia, and those martyred with them (1918).
St. Andrew, archbishop of Crete (712-726).
Venerable Martha, mother of St. Symeon Stylites the Younger (551).
Venerable Andrew (Rublev), iconographer (1430).
New Hieromartyr Hieromonk Nilus of Poltava (1918).
New Hieromartyr Demetrius priest (after 1937)
New Hieromartyrs Sava (Trlajic), Bishop of Gornji Karlovac and George of Serbia (1941).
Burial of St. Andrew, prince of Bogoliubsk (1174).
Uncovering of the relics (1507) of Venerable Euthymius the Wonderworker, archimandrite of Suzdal (1404).
Martyrs Theodotus and Theodota at Caesarea in Cappadocia (108).
Hieromartyr Theodore, bishop of Cyrene in Libya, and with him Martyrs Cyprilla, Aroa, and Lucia (310).
Icon of the Mother of Godof "Galatea".
Venerables Tikhon, Basil and Nikon Monks of Solovki.
St. Andrew the Russian of Cairo (1174).
St. Donatus of Libya, bishop (Greek).
St. Asclepias the Wonderworker (Greek).
Hieromartyr Theophilus (Greek).
St. Menignus, monk (Greek).
Hieromartyr Theodotus (Greek).
Hieromartyrs Innocent and Sabbatius and 30 others with them in Sirmium of Pannonia (304).
Translation of the relicts of St. Martin the Merciful, bishop of Tours (397).
St. Urlich of Augsburg and Bavaria (973).
The Scripture Readings
1 Corinthians 5:9-6:11
Immorality Must Be Judged
9 I wrote to you in my epistle not to keep company with sexually immoral people. 10 Yet I certainly did not mean with the sexually immoral people of this world, or with the covetous, or extortioners, or idolaters, since then you would need to go out of the world. 11 But now I have written to you not to keep company with anyone named a brother, who is sexually immoral, or covetous, or an idolater, or a reviler, or a drunkard, or an extortioner—not even to eat with such a person.
12 For what have I to do with judging those also who are outside? Do you not judge those who are inside? 13 But those who are outside God judges. Therefore "put away from yourselves the evil person."
Do Not Sue the Brethren
6 Dare any of you, having a matter against another, go to law before the unrighteous, and not before the saints? 2 Do you not know that the saints will judge the world? And if the world will be judged by you, are you unworthy to judge the smallest matters? 3 Do you not know that we shall judge angels? How much more, things that pertain to this life? 4 If then you have judgments concerning things pertaining to this life, do you appoint those who are least esteemed by the church to judge? 5 I say this to your shame. Is it so, that there is not a wise man among you, not even one, who will be able to judge between his brethren? 6 But brother goes to law against brother, and that before unbelievers!
7 Now therefore, it is already an utter failure for you that you go to law against one another. Why do you not rather accept wrong? Why do you not rather let yourselves be cheated? 8 No, you yourselves do wrong and cheat, and you do these things to your brethren! 9 Do you not know that the unrighteous will not inherit the kingdom of God? Do not be deceived. Neither fornicators, nor idolaters, nor adulterers, nor homosexuals,[b] nor sodomites, 10 nor thieves, nor covetous, nor drunkards, nor revilers, nor extortioners will inherit the kingdom of God. 11 And such were some of you. But you were washed, but you were sanctified, but you were justified in the name of the Lord Jesus and by the Spirit of our God.
Matthew 13:54-58
54 When He had come to His own country, He taught them in their synagogue, so that they were astonished and said, "Where did this Man get this wisdom and these mighty works? 55 Is this not the carpenter's son? Is not His mother called Mary? And His brothers James, Joses, Simon, and Judas? 56 And His sisters, are they not all with us? Where then did this Man get all these things?" 57 So they were offended at Him.
But Jesus said to them, "A prophet is not without honor except in his own country and in his own house." 58 Now He did not do many mighty works there because of their unbelief.