Making God bound by necessity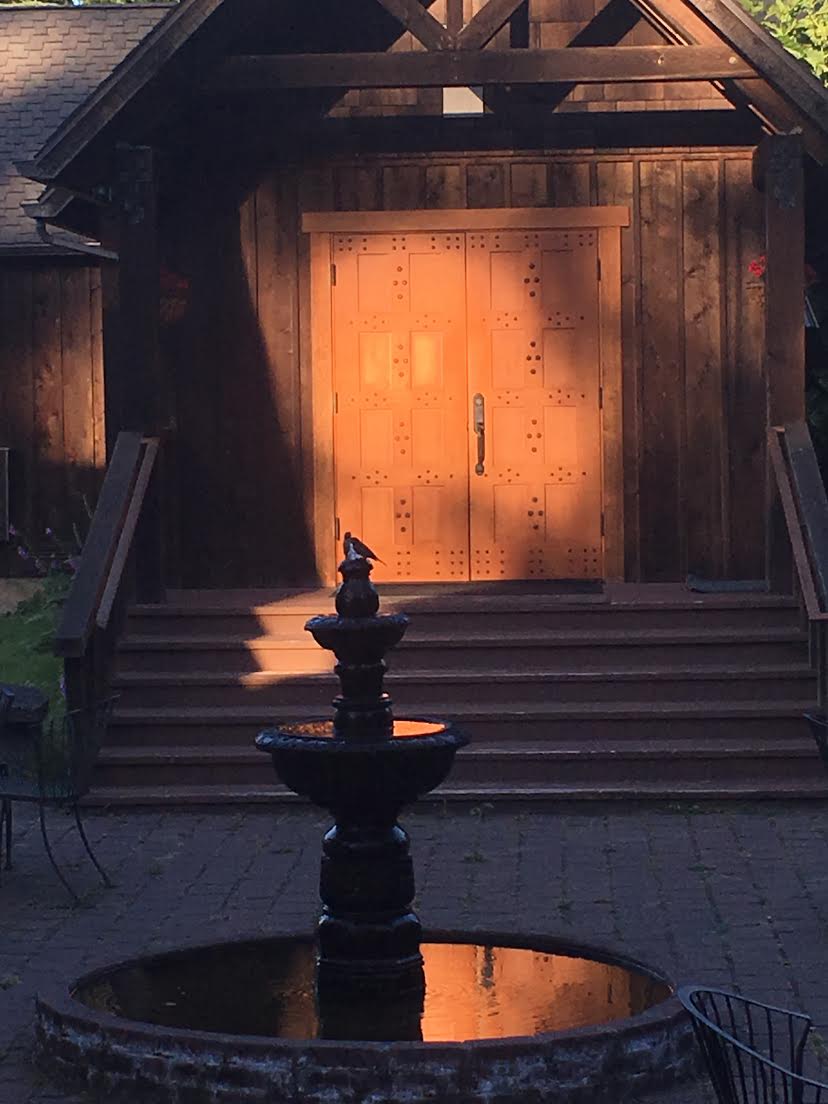 The heretical doctrine of penal substitution was completely absent from the Church for over 1,000 years, and was only introduced by Anselm of Canterbury in the eleventh century. This false teaching of penal substitution was ultimately developed as seen in the West today, by 16th-century Reformers, but is a doctrine that has never been accepted by the Eastern Church, and not completely accepted by Roman Catholics.
The major problem with this teaching can be seen in the fact that had Christ died for our sins against God the Father, thus causing a division of God, with the doctrine of the Holy Trinity laid waste, with God pitted against God. This heretical doctrine divides God by implying that Christ isn't fully God. It also suggests that there is a higher force than God, thus making, God Himself ruled by a "higher force". In other words, God has no choice but to punish. By this notion, justice forces God to respond to our sin with His wrath, with love becoming secondary.
A close examination of the prophets and the Psalms of David, reveal that the word "justice" is linked to the concept of "mercy." Justice is not penal in nature, but refers to a show of kindness and deliverance to those who are suffering oppression. It means that God's justice destroys our oppressors, which in this case is sin, death, and even the power of Satan's oppression.
To look upon propitiation in the classical pagan sense, we are forced to view our God as some sort of angry deity needing to be appeased by a blood sacrifice. This is completely different than the Old Testament view of a loving God whose Mercy Seat covered the Ark of the Covenant, which contained the ten commandments. While the law given to us by God demanded perfection and revealed our shortcomings, the Mercy Seat covered our failure to live up to the Ten Commandments.
From the viewpoint of the Ancient Church, Christ's blood was the ultimate Mercy Seat. Christ covered and forgave our sins, and Himself showed the unconditional love that He commanded us to show one another. The Western churches would have us believe that God was angry over our sins, but the death of His Son caused Him to change His mind, and decide to love us. Yet the Scriptures tell us God is love (1 Jn 4:8, 16) from the very beginning, and is unchanging (Mal 3:6) and doesn't change His mind (Num 23:19).
With love in Christ,
Abbot Tryphon
Saturday July 8, 2017 / June 25, 2017
5th Week after Pentecost. Tone three.
Apostles' (Peter & Paul) Fast. Fish Allowed
Virgin-martyr Febronia of Nisibis (304).
Venerable Nikon the Confessor of Optina (1931).
New Hieromartyrs Nicholas and Basil priests (1918).
New Hieromartyr Basil priest (1940).
Prince Peter (1228) and Princess Febronia (tonsured David and Euphrosyne), wonderworkers of Murom.
Venerables Leonis, Libye, and Eutropia of Syria.
Venerable Symeon of Sinai (5th c.).
Venerables Dionysius and Dometius (1380) of the Monastery of the Forerunner (Dionysiou), Mt. Athos (Greek).
New Martyr Procopius of Varna and Mt. Athqs, who suffered at Smyrna (1810) (Greek).
New Martyr George of Attalia (1823) (Greek).
Martyr Gallicianus the Patrician in Egypt (362).
St. Adelbert, archdeacon (740) (Neth.).
St. Theoleptus, metropolitan of Philadelphia (1322).
St. Moluac of Lismore (592) (Celtic & British).
The Scripture Readings
Romans 8:14-21
14 For as many as are led by the Spirit of God, these are sons of God. 15 For you did not receive the spirit of bondage again to fear, but you received the Spirit of adoption by whom we cry out, "Abba, Father." 16 The Spirit Himself bears witness with our spirit that we are children of God, 17 and if children, then heirs—heirs of God and joint heirs with Christ, if indeed we suffer with Him, that we may also be glorified together.
From Suffering to Glory
18 For I consider that the sufferings of this present time are not worthy to be compared with the glory which shall be revealed in us. 19 For the earnest expectation of the creation eagerly waits for the revealing of the sons of God. 20 For the creation was subjected to futility, not willingly, but because of Him who subjected it in hope; 21 because the creation itself also will be delivered from the bondage of corruption into the glorious liberty of the children of God.
Matthew 9:9-13
Matthew the Tax Collector
9 As Jesus passed on from there, He saw a man named Matthew sitting at the tax office. And He said to him, "Follow Me." So he arose and followed Him.
10 Now it happened, as Jesus sat at the table in the house, that behold, many tax collectors and sinners came and sat down with Him and His disciples. 11 And when the Pharisees saw it, they said to His disciples, "Why does your Teacher eat with tax collectors and sinners?"
12 When Jesus heard that, He said to them, "Those who are well have no need of a physician, but those who are sick. 13 But go and learn what this means: 'I desire mercy and not sacrifice.' For I did not come to call the righteous, but sinners, to repentance."