Ending isolation and loneliness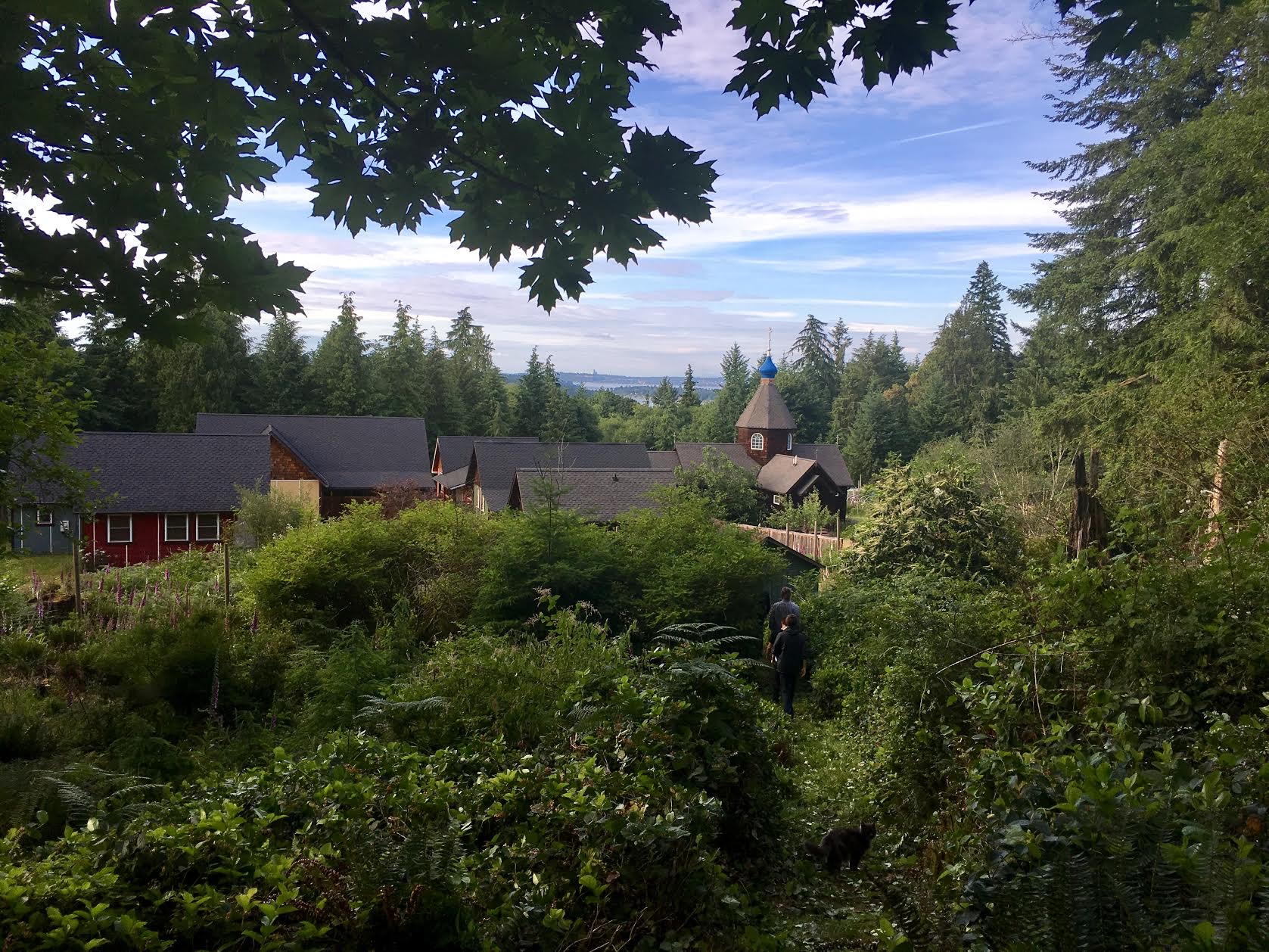 In an age when families no longer eat dinner together, children watch TV, play computer games, and text message their friends from their bedrooms. When adults can be seen walking in our cities talking on cell phones. At a time in our history when people can be sitting in a cafe with friends, all the while talking to someone else on a mobile phone, we have become a people living together in isolation.
Even in our spiritual lives we tend to be living in isolation. Many reserve their prayers to issues revolving around finances, or prayers offered regarding their health, or that of a family member. Yet these people rarely think of the importance of corporate prayer with family and friends apart from the Sunday Liturgy. Prayer is a private matter, rarely shared with others. The fact that public prayer outside one's parish is now frowned upon by the government, has further eroded our sense of corporate prayer as being something we, as a nation, value.
Entertainment has also taken on a central role in our lives, becoming so important as to have replaced visiting neighbors or friends. I'm old enough to remember the day when neighborhoods were filled with homes sporting large front porches. On those hot summer nights families would be sitting on their porches, sipping lemonade and waving at passing neighbors who were actually out for a stroll. Now we all have air conditioners, and front porches have been replaced with private back patios, where no one can see us. Gone are the days of neighborliness.
The Church is the Body of Christ and by Her very nature is anything but an institution wherein one can be isolated from others. We only let it be so if we fail to involve ourselves as the people of God, with one another. The greeting given by Orthodox Christians, passing on the holy kiss when we meet one another, or kissing the hand of our priest, are ways we avoid the isolation that dominates the society in which we live. Staying for the coffee hour, or the agape meal following the Sunday Liturgy, are ways in which we can do battle against the isolation that dominates the rest of our world. Attending midweek services is another way to stave off isolation.
Our youth need to learn from us the importance of communicating directly with their friends and family. Taking children out for a Sunday afternoon drive, exploring the country side, radio off, is a wonderful way families can reconnect. Taking grandmother on a family picnic to a local park, avoiding the back yard, is a wonderful, old fashioned way of introducing community to children. Letting them play with cousins in a park, as the extended family gathers for a picnic, can build families bonds that will last a lifetime.
When was the last time we sat around with a senior member of our family and asked them to share the memories of their youth? What a wonderful way to reconnect an aging grandfather to his own youth and show him that we value his life experiences and the memories of his own parents and grandparents. What an invaluable legacy we impart to our own children, when we let them know they were not born in a vacuum, but are a part of a long line of real people.
Isolation is a terrible threat to our way of life. Young people no longer have the communication skills that past generations learned from older family members. I am astounded when I think of how much of my grandparents are a real part of who I've become. It is not just genetics that they passed on to me, but memories of family history that was long gone when I was born. Even parts of my personality were gleaned from my great grandfather. My study, filled as it is with photographs, icons and collectibles, is a style that became my own, having loved the same clutter and warmth of my grandparents home.
Isolation does not have to be a part of our world. It just takes commitment on our part to build family and community. When people visit the monastery I routinely ask that they turn off their cell phones, so we can all leave isolation behind and connect as family, the children of the Most High. What a wonderful thing it would be if each family had two hours each night when the house phone, cell phones, the TV, and all other outside intrusions were banned. How about an evening of playing Uno, as a family, or putting a puzzle together? Then, end the evening with the whole family standing before the icon corner, doing the evening prayers!
Love in Christ,
Abbot Tryphon
Friday June 16, 2017 / June 3, 2017
2nd Week after Pentecost. Tone eight.
Apostles' (Peter & Paul) Fast. By Monastic Charter: Strict Fast (Bread, Vegetables, Fruits)
Venerable Barlaam of Khutyn (1192) (movable holiday on the 1st Friday of Apostles' Fast).
"Tabynsk" and "Kursk-Root" Icons of the Most Holy Theotokos (movable holiday on the 9th Friday of Pascha).
Martyr Lucillian and those with him at Byzantium: four youths — Claudius, Hypatius, Paul, and Dionysius; and Virgin Paula (270).
New Hieromartyr Cyprian (1934).
New Hieromartyr Michael priest (1938).
Translation of the relics (1606) of the slain Crown Prince Demetrius of Moscow (1591).
Hieromartyr Lucian the bishop, Maxianus the presbyter, Julian the deacon and Martyrs Marcellinus and Saturninus in Belgium (96).
Venerable Athanasius, the wonderworker of Cilicia.
The Meeting of Venerable Demetrius, monk of Priluki (Vologda) (1503).
"Yougskaya" Icon of the Most Holy Theotokos (1615).
St. Hieria, widow, of Mesopotamia (312).
St. Clotilde (Chlotilda), queen of France (545) (Gaul).
Venerable Kevin, hermit and abbot of Glendalough (618) (Celtic & British).
St. Meriasek, bishop of Camborne.
Venerable Pappus monk (Greek).
St. Achilles, patriarch of Alexandria (312).
Monk-martyr Barsabus, abbot of Ishtar, and ten companions in Persia (342).
New Hieromartyr Joseph, metropolitan of Thessalonica (1821).
The Scripture Readings
Romans 5:17-6:2
17 For if by the one man's offense death reigned through the one, much more those who receive abundance of grace and of the gift of righteousness will reign in life through the One, Jesus Christ.)
18 Therefore, as through one man's offense judgment came to all men, resulting in condemnation, even so through one Man's righteous act the free gift came to all men, resulting in justification of life. 19 For as by one man's disobedience many were made sinners, so also by one Man's obedience many will be made righteous.
20 Moreover the law entered that the offense might abound. But where sin abounded, grace abounded much more, 21 so that as sin reigned in death, even so grace might reign through righteousness to eternal life through Jesus Christ our Lord.
Dead to Sin, Alive to God
6 What shall we say then? Shall we continue in sin that grace may abound? 2 Certainly not! How shall we who died to sin live any longer in it?
Matthew 9:14-17
Jesus Is Questioned About Fasting
14 Then the disciples of John came to Him, saying, "Why do we and the Pharisees fast often,[a] but Your disciples do not fast?"
15 And Jesus said to them, "Can the friends of the bridegroom mourn as long as the bridegroom is with them? But the days will come when the bridegroom will be taken away from them, and then they will fast. 16 No one puts a piece of unshrunk cloth on an old garment; for the patch pulls away from the garment, and the tear is made worse. 17 Nor do they put new wine into old wineskins, or else the wineskins break, the wine is spilled, and the wineskins are ruined. But they put new wine into new wineskins, and both are preserved."