Loving our neighbor requires commitment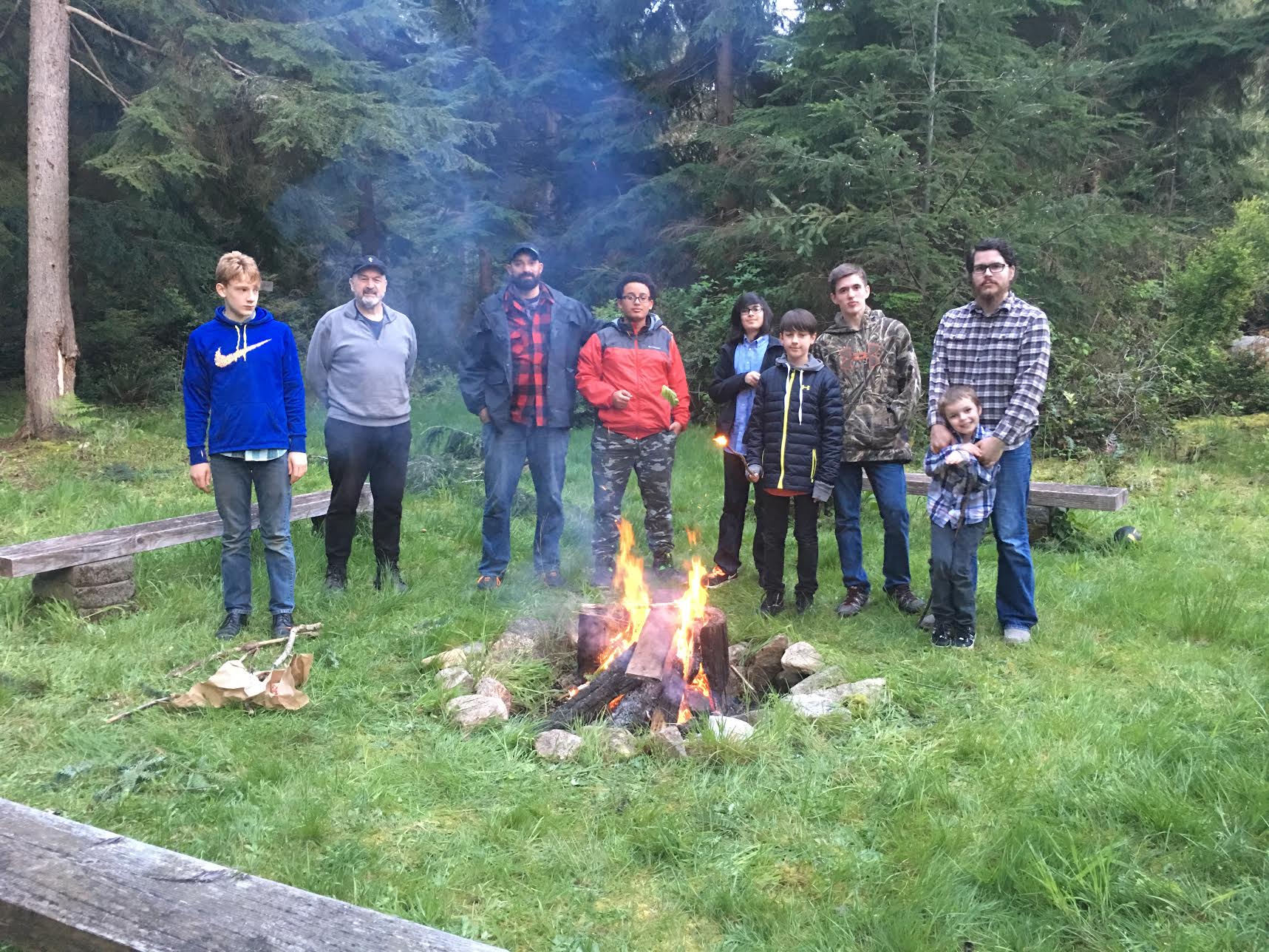 When we commit to behaving as though we love others, making every effort to be kind and generous towards them, a wonderfully surprising thing happens. We eventually actually do love others. Learning to truly love our neighbor takes commitment on our part. We must will ourselves to learn to love everyone.
With love in Christ,
Abbot Tryphon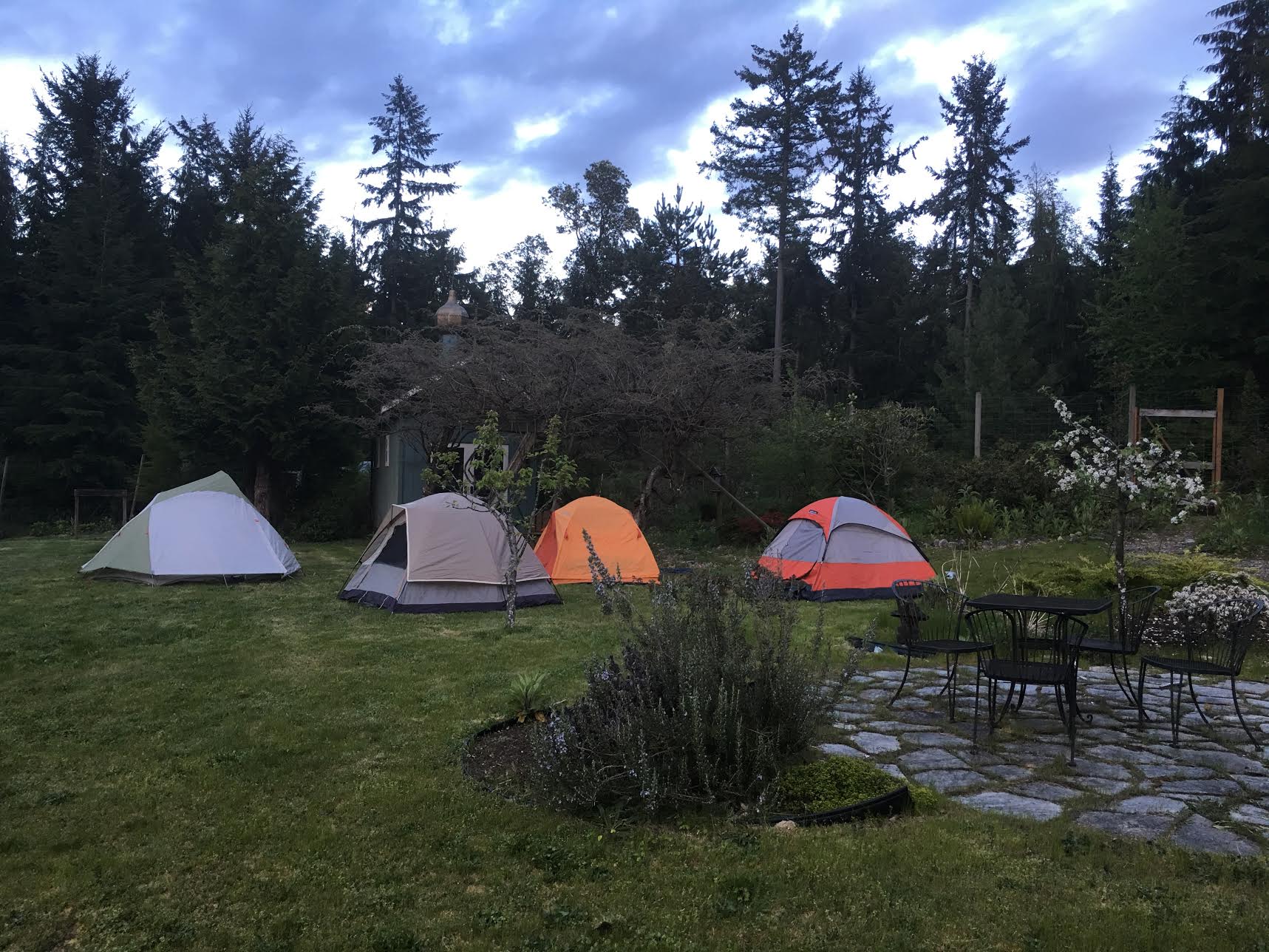 Photos: A youth group from Annunciation Orthodox Church in Milwaukie, OR, camped over the weekend, did projects to help the monastery, and attended the services. On Sunday Subdeacon Gideon Pete of Holy Resurrection Orthodox Church in Tacoma, WA, joined us for Liturgy, and Father Michael Johnson, second priest of Assumption Greek Orthodox Church in Seattle, brought a group of parishioners on a pilgrimage to the monastery.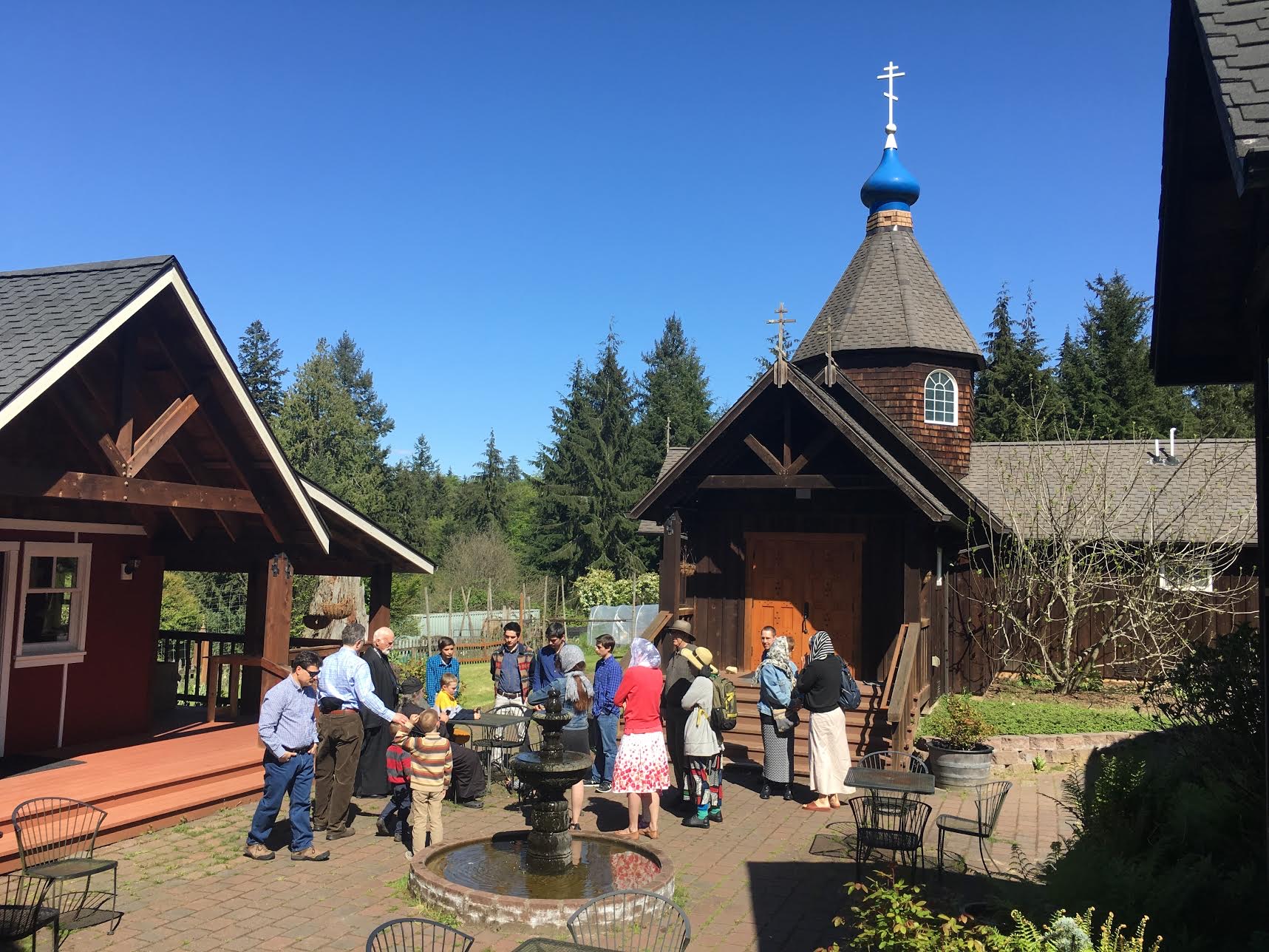 Monday May 8, 2017 / April 25, 2017
Fourth Week of Pascha. Tone three.
Holy Apostle and Evangelist Mark (63).
Martyr Sergius (1938).
Venerable Basil Polianomerulsk (1767) (Romania).
Venerable Sylvester, abbot of Obnora (1379).
"Constantinople" Icon (1071) of the Mother of God.
St. Macedonius, patriarch of Constantinople (516).
St. Aninanus, second bishop of Alexandria (86).
Hieromartyr Stephen, bishop of Antioch (479).
Martyr Nice (Greek).
Eight anchorites who were martyred. (Greek).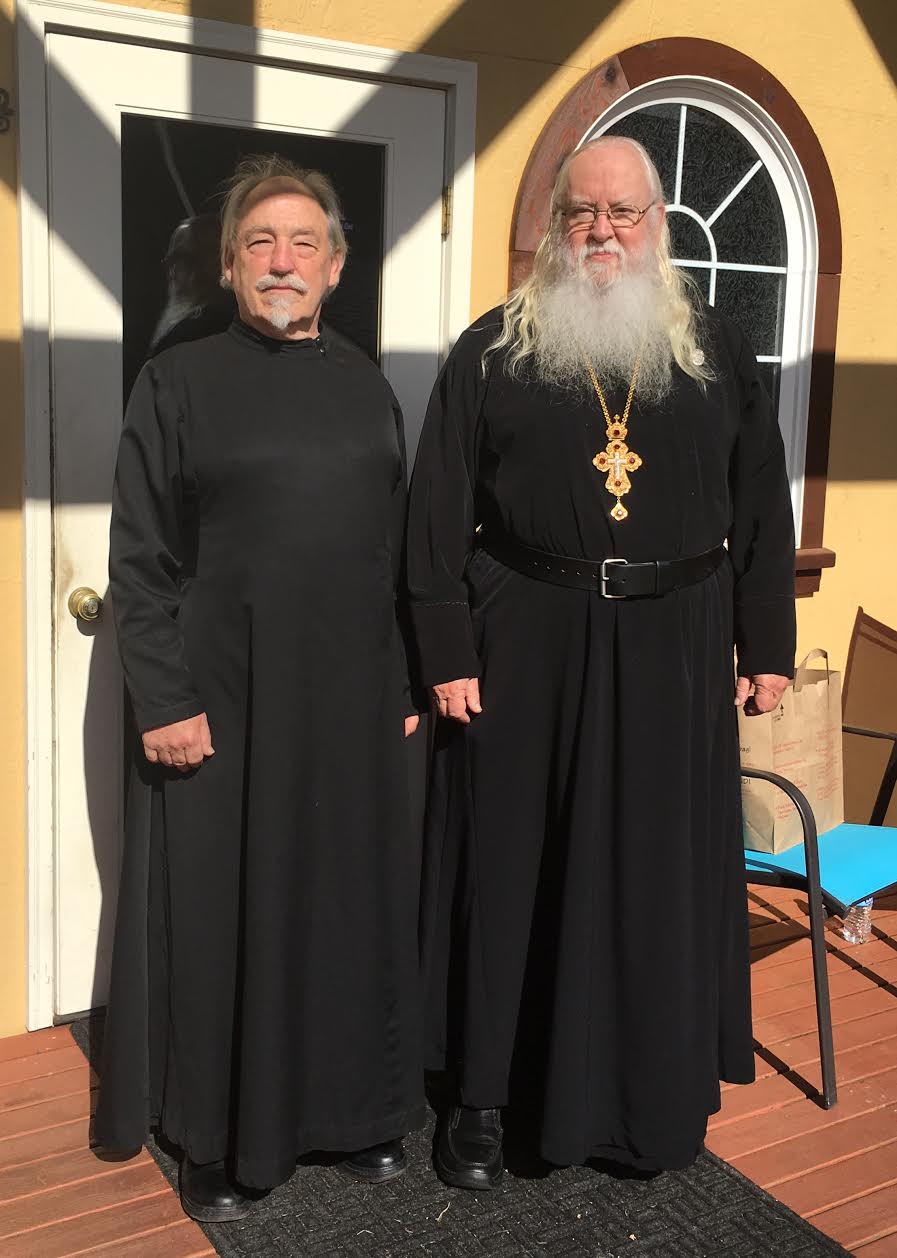 The Scripture Readings
Luke 10:1-15
The Seventy Sent Out
10 After these things the Lord appointed seventy others also, and sent them two by two before His face into every city and place where He Himself was about to go. 2 Then He said to them, "The harvest truly is great, but the laborers are few; therefore pray the Lord of the harvest to send out laborers into His harvest. 3 Go your way; behold, I send you out as lambs among wolves. 4 Carry neither money bag, knapsack, nor sandals; and greet no one along the road. 5 But whatever house you enter, first say, 'Peace to this house.' 6 And if a son of peace is there, your peace will rest on it; if not, it will return to you. 7 And remain in the same house, eating and drinking such things as they give, for the laborer is worthy of his wages. Do not go from house to house. 8 Whatever city you enter, and they receive you, eat such things as are set before you. 9 And heal the sick there, and say to them, 'The kingdom of God has come near to you.' 10 But whatever city you enter, and they do not receive you, go out into its streets and say, 11 'The very dust of your city which clings to us we wipe off against you. Nevertheless know this, that the kingdom of God has come near you.' 12 But I say to you that it will be more tolerable in that Day for Sodom than for that city.
Woe to the Impenitent Cities
13 "Woe to you, Chorazin! Woe to you, Bethsaida! For if the mighty works which were done in you had been done in Tyre and Sidon, they would have repented long ago, sitting in sackcloth and ashes. 14 But it will be more tolerable for Tyre and Sidon at the judgment than for you. 15 And you, Capernaum, who are exalted to heaven, will be brought down to Hades.
Acts 10:1-16
Cornelius Sends a Delegation
10 There was a certain man in Caesarea called Cornelius, a centurion of what was called the Italian Regiment, 2 a devout man and one who feared God with all his household, who gave alms generously to the people, and prayed to God always. 3 About the ninth hour of the day he saw clearly in a vision an angel of God coming in and saying to him, "Cornelius!"
4 And when he observed him, he was afraid, and said, "What is it, lord?"
So he said to him, "Your prayers and your alms have come up for a memorial before God. 5 Now send men to Joppa, and send for Simon whose surname is Peter. 6 He is lodging with Simon, a tanner, whose house is by the sea. He will tell you what you must do." 7 And when the angel who spoke to him had departed, Cornelius called two of his household servants and a devout soldier from among those who waited on him continually. 8 So when he had explained all these things to them, he sent them to Joppa.
Peter's Vision
9 The next day, as they went on their journey and drew near the city, Peter went up on the housetop to pray, about the sixth hour. 10 Then he became very hungry and wanted to eat; but while they made ready, he fell into a trance 11 and saw heaven opened and an object like a great sheet bound at the four corners, descending to him and let down to the earth. 12 In it were all kinds of four-footed animals of the earth, wild beasts, creeping things, and birds of the air. 13 And a voice came to him, "Rise, Peter; kill and eat."
14 But Peter said, "Not so, Lord! For I have never eaten anything common or unclean."
15 And a voice spoke to him again the second time, "What God has cleansed you must not call common." 16 This was done three times. And the object was taken up into heaven again.