He who does not love remains in death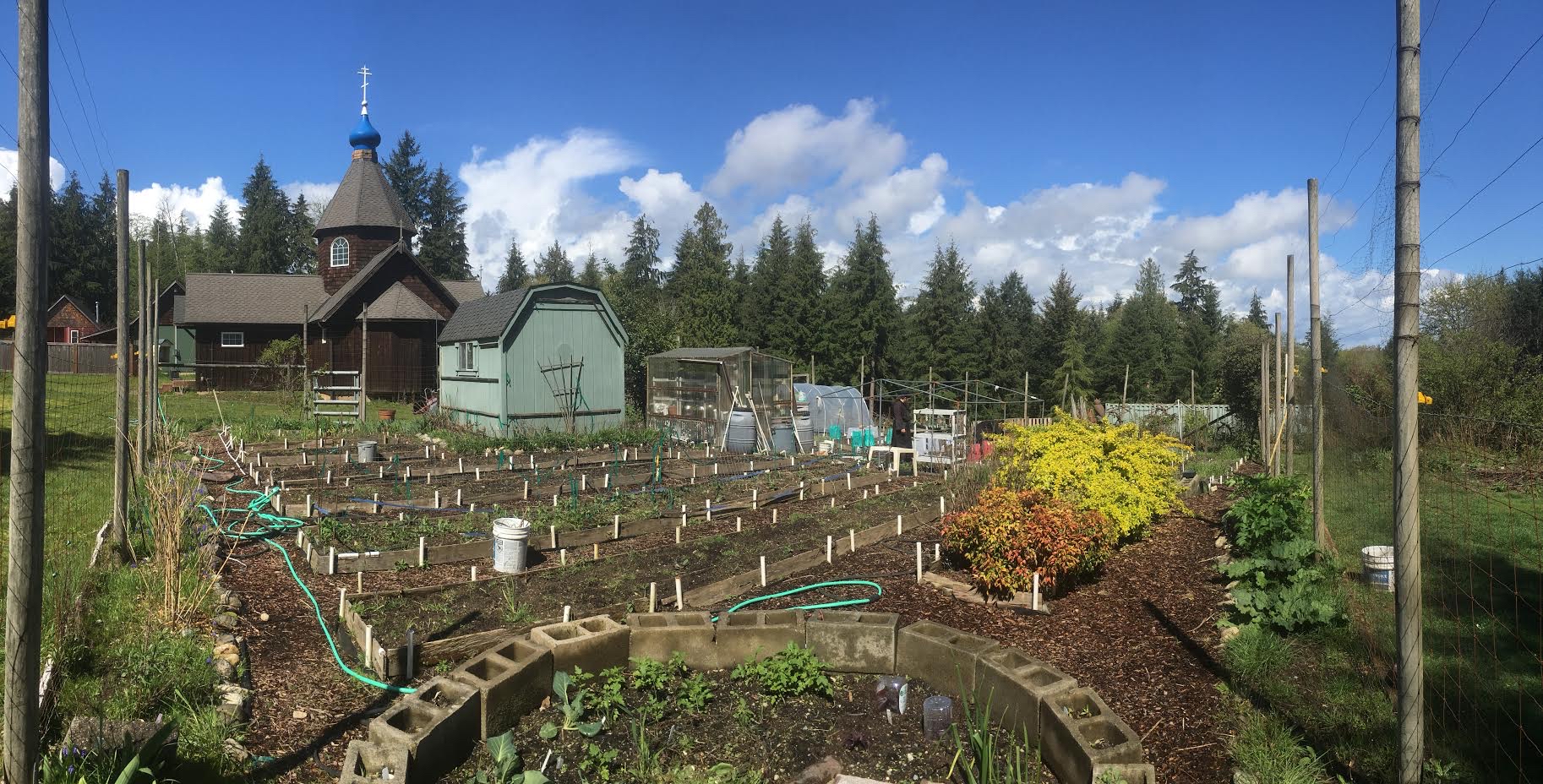 There are those who fear commitment for fear of loss. They fear the other will either leave them, or be lost in death, so they remain aloof from any possible relationship. Some put on a facade of indifference, for fear of rejection, depriving themselves of any possible happiness. In fear of possible loss, they become the ultimate losers, for the happiness that comes in a committed relationship, evades them. If they don't love another, they need not fear losing that love. Some, having lost a loved one, fearing a repeat of that loss, and guard against further commitments. It is safe to keep themselves at a distance from others, for in doing so they think they will not suffer loss in the future.
When you refuse to be vulnerable by giving yourself over to a committed relationship, you deprive yourself of one of the most fundamental aspects of what it means to be human. When you fear loss, you are hard pressed to live a life of courage, for it is in living with courage that we are able to fully participate in life, and become fully human.
Grieving the loss of a relationship, either by death or breakup, is just as important to the maturation of our heart, as having a long term relationship, for in grieving we allow ourselves to stay connected to others, and remain openhearted to what God has for us. If fear of loss disables us, we may not be able to risk having anything that really matters to us, for by throwing courage to the side, we deprive ourselves of the touch and the intimacy that helps us open our hearts to all that God has in store for us.
Grieving is the way you can heal from loss, and, in turn, be open to relationships that can make your life more complete, and more fulfilled. Many people do not allow themselves to grieve, so they deprive themselves of relationships that can lead to spiritual growth that only comes through suffering loss. You grow stronger if you allow yourself to grieve when you've experienced loss, for grieving is one of the most fundamental of life skills. It is the way that the heart can heal from loss and go on to love again and grow wise.  If we refuse to love another, for fear of loss, we remain closed off from not only others, but from God. "He who does not love remains in death (1 John 3:14)."
Love in Christ,
Abbot Tryphon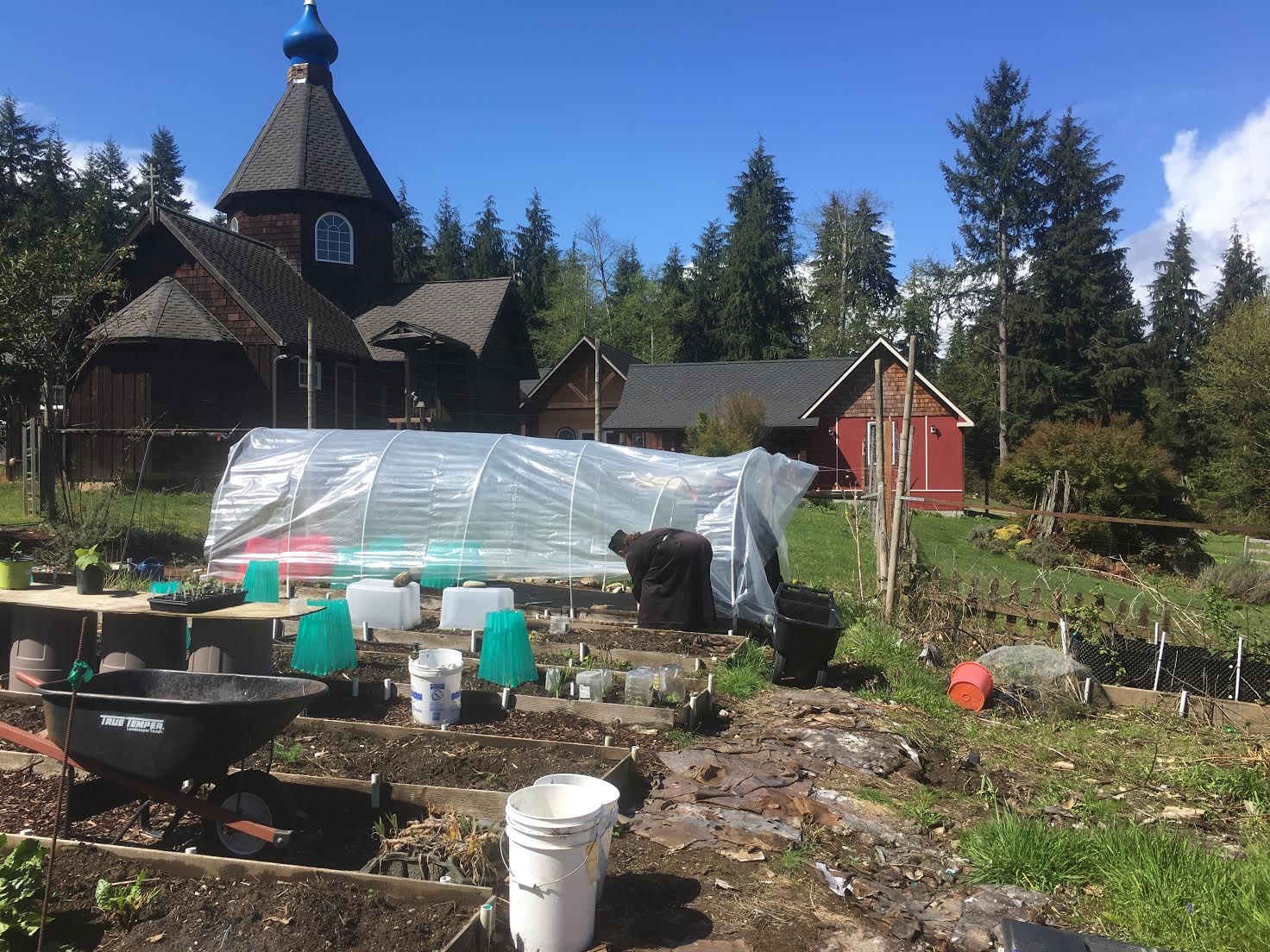 Photos: Our organic gardens are being prepared for an abundance of heirloon produce to feed the monastic community, and our guests. Additionally, our free range hens and ducks are providing wonderful eggs for our table.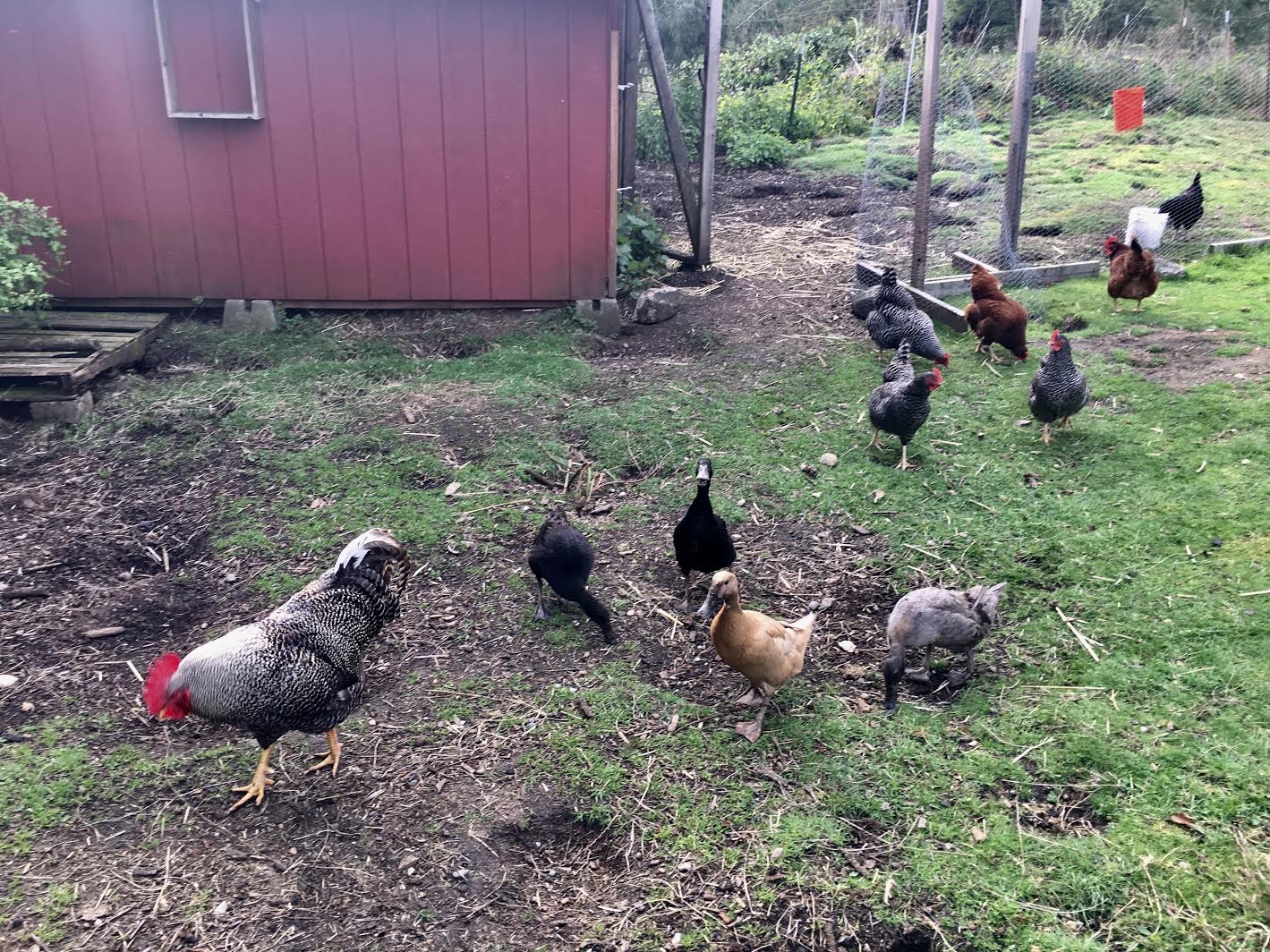 Friday April 21, 2017 / April 8, 2017
Bright Friday.
Bright Week. Fast-free
The Meeting of the Mother of God and Saint Elizabeth (movable Feast on March 30. If March 30 should fall between Lazarus Saturday and Pascha, however, the Feast is transferred to Bright Friday).
"Life- giving Spring" Icon of the Most Holy Theotokos (movable holiday on the Friday of the Bright Week).
Commemoration of the renewal (sanctification) of the Holy Theotokos temple near the Life-giving Spring in Constantinople (5th c.) (movable holiday on the Friday of the Bright Week).
"Pochaev" Icon of the Most Holy Theotokos (movable holiday on the Friday of the Bright Week).
Holy Apostles of the Seventy: Herodion, Agabus, Asyncritus, Rufus, Phlegon, Hermes, and those with them (1st c.).
New Hieromartyr Sergius priest (1933)
St. Niphont, bishop of Novgorod (1156).
Venerable Rufus the Obedient of the Kiev Caves (14th c.).
Martyr Pausilippus of Heraclea in Thrace (117-138).
St. Celestine, pope of Rome (432).
New Martyr John Naukliros ("the Navigator") in Thessaly (1699).
Monk-martyrs Josias and Joseph of Mt. Kharasam, Persia (341).
New Martyr John (Koulika) (1564).
St. Philaret of Seminara, Calabria (1070).
Spanish Icon of the Most Holy Theotokos (792).
The Scripture Readings
Acts 3:1-8
A Lame Man Healed
3 Now Peter and John went up together to the temple at the hour of prayer, the ninth hour. 2 And a certain man lame from his mother's womb was carried, whom they laid daily at the gate of the temple which is called Beautiful, to ask alms from those who entered the temple; 3 who, seeing Peter and John about to go into the temple, asked for alms. 4 And fixing his eyes on him, with John, Peter said, "Look at us." 5 So he gave them his attention, expecting to receive something from them. 6 Then Peter said, "Silver and gold I do not have, but what I do have I give you: In the name of Jesus Christ of Nazareth, rise up and walk." 7 And he took him by the right hand and lifted him up, and immediately his feet and ankle bones received strength. 8 So he, leaping up, stood and walked and entered the temple with them—walking, leaping, and praising God.
Philippians 2:5-11
The Humbled and Exalted Christ
5 Let this mind be in you which was also in Christ Jesus, 6 who, being in the form of God, did not consider it robbery to be equal with God, 7 but made Himself of no reputation, taking the form of a bondservant, and coming in the likeness of men. 8 And being found in appearance as a man, He humbled Himself and became obedient to the point of death, even the death of the cross. 9 Therefore God also has highly exalted Him and given Him the name which is above every name, 10 that at the name of Jesus every knee should bow, of those in heaven, and of those on earth, and of those under the earth, 11 and that every tongue should confess that Jesus Christ isLord, to the glory of God the Father.
John 2:12-22
12 After this He went down to Capernaum, He, His mother, His brothers, and His disciples; and they did not stay there many days.
Jesus Cleanses the Temple
13 Now the Passover of the Jews was at hand, and Jesus went up to Jerusalem. 14 And He found in the temple those who sold oxen and sheep and doves, and the money changers doing business. 15 When He had made a whip of cords, He drove them all out of the temple, with the sheep and the oxen, and poured out the changers' money and overturned the tables. 16 And He said to those who sold doves, "Take these things away! Do not make My Father's house a house of merchandise!" 17 Then His disciples remembered that it was written, "Zeal for Your house has eaten Me up."
18 So the Jews answered and said to Him, "What sign do You show to us, since You do these things?"
19 Jesus answered and said to them, "Destroy this temple, and in three days I will raise it up."
20 Then the Jews said, "It has taken forty-six years to build this temple, and will You raise it up in three days?"
21 But He was speaking of the temple of His body. 22 Therefore, when He had risen from the dead, His disciples remembered that He had said this to them; and they believed the Scripture and the word which Jesus had said.
Luke 10:38-42
Mary and Martha Worship and Serve
38 Now it happened as they went that He entered a certain village; and a certain woman named Martha welcomed Him into her house. 39 And she had a sister called Mary, who also sat at Jesus' feet and heard His word. 40 But Martha was distracted with much serving, and she approached Him and said, "Lord, do You not care that my sister has left me to serve alone? Therefore tell her to help me."
41 And Jesus answered and said to her, "Martha, Martha, you are worried and troubled about many things. 42 But one thing is needed, and Mary has chosen that good part, which will not be taken away from her."
Luke 11:27-28
Keeping the Word
27 And it happened, as He spoke these things, that a certain woman from the crowd raised her voice and said to Him, "Blessed is the womb that bore You, and the breasts which nursed You!"
28 But He said, "More than that, blessed are those who hear the word of God and keep it!"