We must set sensible priorities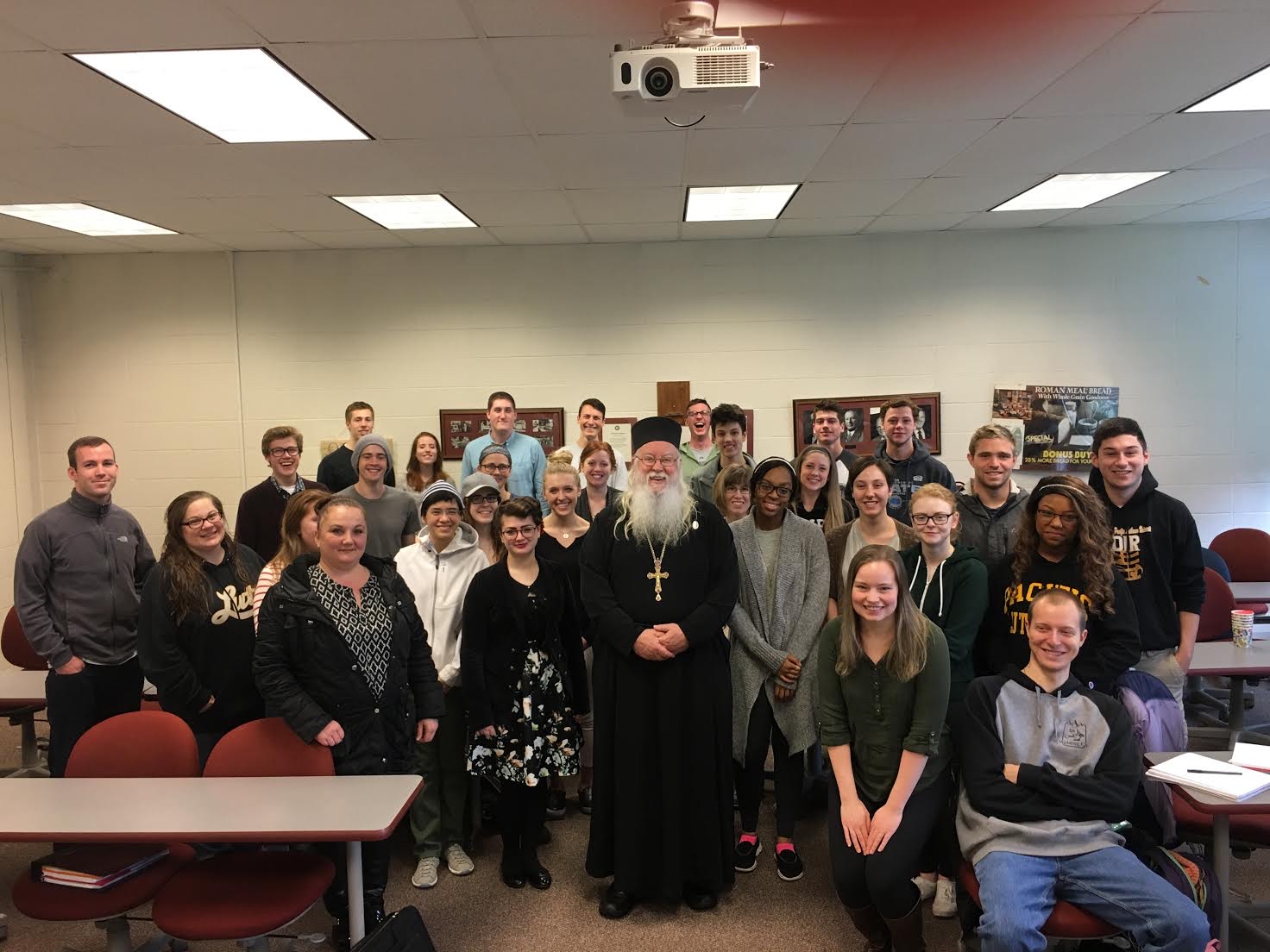 We all need to set sensible priorities, making sure we pay attention to our health, our family, and our spiritual life. We must not let our life be so full of work that we don't allot time to focus on the things that bring us joy. We may think we don't have time to visit an art museum, have lunch with a friend, or take a day hike with our children, but lasting fulfillment requires time for play, for fun, and for spiritual contemplation.
Focusing only on work can lead to a restless sense that something is missing in our life. Thoughts of where we'd rather be living, or the job we'd rather have, displace any joy that could be ours. Most of us, if we really think about it, already have everything we need for happiness right in front of us. We mustn't wait to enjoy what you already have.
With love in Christ,
Abbot Tryphon
Photo: At the invitation of my long time friend Dr. Brenda Ihssen, I spoke before two classes at Pacific Lutheran University on Wednesday morning (this photo was taken during the second class). Following the classes, I was the guest homilist for the service in the school's chapel. I'm honored to serve as one of the university's "partner chaplains".
Thursday April 20, 2017 / April 7, 2017
Bright Thursday.
Bright Week. Fast-free
Venerable George the Confessor, bishop of Mitylene (820).
New Hieromartyr Arcadius priest (1933).
Martyr Eudocia (1939).
Venerable Daniel, abbot, of Pereyaslavl-Zalesski (1540).
Martyr Calliopus at Pompeiopolis in Cilicia (304).
Martyrs Rufinus deacon, Aquilina, and 200 soldiers at Sinope (310).
Venerable Serapion of Egypt, monk (5th c.).
Venerable Nilus, abbot of Sora (1508).
Venarable Serapion archbishop of Novgorod.
The Byzantine Icon of the Mother of God.
St. George, patriarch of Jerusalem (807).
St. Gerasimus of Byzantium (1739).
Venerable Leucius, abbot of Volokolamsk (1492).
St. Govan of Cornwall.
The Scripture Readings
Acts 2:38-43
38 Then Peter said to them, "Repent, and let every one of you be baptized in the name of Jesus Christ for the remission of sins; and you shall receive the gift of the Holy Spirit. 39 For the promise is to you and to your children, and to all who are afar off, as many as the Lord our God will call."
A Vital Church Grows
40 And with many other words he testified and exhorted them, saying, "Be saved from this perverse generation." 41 Then those who gladly received his word were baptized; and that day about three thousand souls were added to them. 42 And they continued steadfastly in the apostles' doctrine and fellowship, in the breaking of bread, and in prayers. 43 Then fear came upon every soul, and many wonders and signs were done through the apostles.
John 3:1-15
The New Birth
3 There was a man of the Pharisees named Nicodemus, a ruler of the Jews. 2 This man came to Jesus by night and said to Him, "Rabbi, we know that You are a teacher come from God; for no one can do these signs that You do unless God is with him."
3 Jesus answered and said to him, "Most assuredly, I say to you, unless one is born again, he cannot see the kingdom of God."
4 Nicodemus said to Him, "How can a man be born when he is old? Can he enter a second time into his mother's womb and be born?"
5 Jesus answered, "Most assuredly, I say to you, unless one is born of water and the Spirit, he cannot enter the kingdom of God.6 That which is born of the flesh is flesh, and that which is born of the Spirit is spirit. 7 Do not marvel that I said to you, 'You must be born again.' 8 The wind blows where it wishes, and you hear the sound of it, but cannot tell where it comes from and where it goes. So is everyone who is born of the Spirit."
9 Nicodemus answered and said to Him, "How can these things be?"
10 Jesus answered and said to him, "Are you the teacher of Israel, and do not know these things? 11 Most assuredly, I say to you, We speak what We know and testify what We have seen, and you do not receive Our witness. 12 If I have told you earthly things and you do not believe, how will you believe if I tell you heavenly things? 13 No one has ascended to heaven but He who came down from heaven, that is, the Son of Man who is in heaven. 14 And as Moses lifted up the serpent in the wilderness, even so must the Son of Man be lifted up, 15 that whoever believes in Him should not perish but have eternal life.