What should we do when we feel broken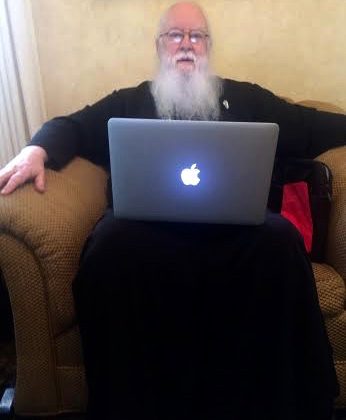 It is only human to become despondent when we have failed in keeping to our moral, ethical and spiritual standards, succumbing instead, to temptation. Our Orthodox Faith teaches that we must be compassionate towards others, loving, quick to forgive, exemplar in our Christian living, and always demonstrating to the world that we belong to Christ. Yet we also know we fail most of the time in living up to the standards of the Gospels and appearing no different than the pagans.
We look to the example of the saints and wonder why we seem so far removed from their Christ-like example of living the Gospels. Over and over we sink in the muck and mire of sin, becoming broken, downtrodden and sick. In our brokenness we betray the Gospels and our own standards of behavior, as well as the expectations of others. We know the truth of the words, "There is none good but One, that is, God (Matthew 19:17)," because we fail over and over in our own seeming inability to live as we believe.
We know we have been called to holiness by Christ and that He gives us the strength, courage, and even the ability, to live our lives out in holiness. Yet try as we might we find ourselves utterly failing to live the Gospels, failing in our witness before others, letting down our friends and family with behavior that is anything but an example of Gospel living. We are broken and bordering on despair.
Nevertheless, even as we struggle with our sins we must remember that we were specifically created by God for participation in His Divinity. We have been called by Him and have become a Royal people specifically created to participate and share fully in the life of God.
The key to this life in God is to be found in repentance. Even in our brokenness we must not give in to despondency, for our Saviour is quick to forgive. When we have found ourselves falling short of the glory of God we must turn toward this very God in repentance, knowing that He will forgive us.
When we are broken it is despair that is the enemy and should be seen as an emotion that has come from the Evil One. Hope and forgiveness are the gifts that come from God.
During those times when we have failed in our Christian vocation we must embrace the hope that comes with a repentant heart, and see in our brokenness the reminder that we are to always keep our hearts and minds in the knowledge that we have a God Who loves us. Despair is the enemy of our salvation because in despair the Evil One would have us believe there is no hope and therefore no salvation. In our brokenness we must turn our gaze towards our Co-Suffering Saviour as the One Who lifts us up out of our brokenness and makes us whole, and grants us forgiveness and life.
Love in Christ,
Abbot Tryphon
Photo: Proof that this old monk still writes his blog articles while traveling. The photo was taken in the home of my dear friends, Nick and Nadine Buick of San Francisco. I'm now in Walla Walla, WA., giving a retreat at Saint Silouan Orthodox Church.
Saturday March 18, 2017 / March 5, 2017
Third Saturday of the Great Lent. Tone five.
Great Lent. Food with Oil
Parents' Saturday. Remembrance of the dead.
Martyr Conon of Isauria (2nd c.).
St. Nicholas (1919).
New Hieromartyr John priest and New Hieromartyrs Mardarius and Theopane (1938).
St. Nicholas (Velimirovich), bishop of Ochrid and Zhicha, Serbia (1956) (Serbia).
Uncovering of the relics (1996) of St. Luke, hierarch-surgeon of Simferopol (1961).
Translation of the relics (1463) of St. Theodore, prince of Smolensk and Yaroslav (1299), and his children Sts. David (1321) and Constantine.
Monk-martyr Adrian, abbot of Poshekhonye (1550) and his fellow-ascetic St. Leonidas (1549).
Martyr Onisius of Isauria (2nd c.).
Martyr Conon the Gardener of Pamphylia (251).
Virgin-martyr Irais (Rhais) of Antinoe in Egypt (3rd c.) and with her Martyr Archelaus and 152 Martyrs in Egypt.
Martyr Eulogius of Palestine.
Martyr Eulampius of Palestine.
Venerable Mark the Faster of Egypt (5th c.).
Venerable Hesychius the Faster of Bithynia (790).
"Nurtured Up-Bringing" Icon of the Mother of God.
New Martyr John the Bulgarian (Mt. Athos), at Constantinople (1784) (Greek).
Martyr Archelaus and 152 Martyrs in Egypt.
St. Kieran (Ciaran) of Saigher, Munster (Ireland) (5th-6th c.) (Celtic & British).
St. Theophilus, bishop of Caesaria in Palestine (200).
St. Virgil, archbishop of Aries (618).
Sts. Basil (1249) and Constantine (1257), princes of Yaroslavl.
New Hieromartyr Parthenius, Bishop of Didymoteichon in Thrace (1805).
New Martyr George of Rapsana (1818).
St. Piran, mont of Perranporth.
The Scripture Readings
Hebrews 10:32-38
32 But recall the former days in which, after you were illuminated, you endured a great struggle with sufferings: 33 partly while you were made a spectacle both by reproaches and tribulations, and partly while you became companions of those who were so treated; 34 for you had compassion on me in my chains, and joyfully accepted the plundering of your goods, knowing that you have a better and an enduring possession for yourselves in heaven. 35 Therefore do not cast away your confidence, which has great reward. 36 For you have need of endurance, so that after you have done the will of God, you may receive the promise:
37 "For yet a little while,
And He who is coming will come and will not tarry.
38 Now the just shall live by faith;
But if anyone draws back,
My soul has no pleasure in him."
Mark 2:14-17
14 As He passed by, He saw Levi the son of Alphaeus sitting at the tax office. And He said to him, "Follow Me." So he arose and followed Him.
15 Now it happened, as He was dining in Levi's house, that many tax collectors and sinners also sat together with Jesus and His disciples; for there were many, and they followed Him. 16 And when the scribes and Pharisees saw Him eating with the tax collectors and sinners, they said to His disciples, "How is it that He eats and drinks with tax collectors and sinners?"
17 When Jesus heard it, He said to them, "Those who are well have no need of a physician, but those who are sick. I did not come to call the righteous, but sinners, to repentance."
Photo: Proof that the old monk posts his blog while on the road. The photo was taken in the home of my dear friends, Nick and Nadine Buick. I'm now about to fly off to