Our pets are gifts from God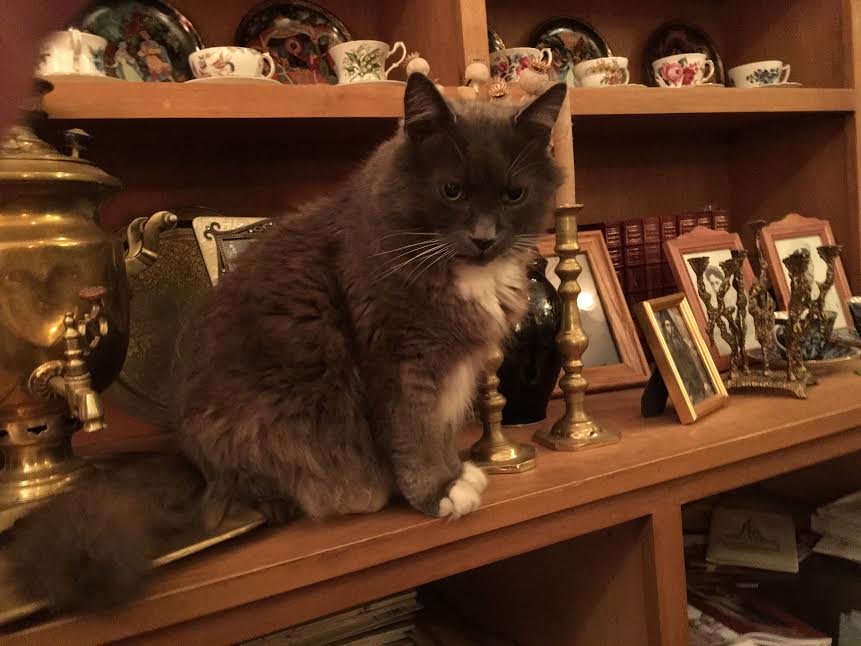 Every evening I try to spend an hour or so in the library, sitting in front of the fire place. Our beloved Norwegian Forest Cat, Hammi, sleeps in the library/community room every night. Hammi is most happy when the entire monastic brotherhood is gathered together with him. He's an important member of our community, loved by all of us, and is the only cat I know who has his own facebook fan page, started by a woman who'd met him on a pilgrimage to the monastery (if my memory be correct).
I first met Hammi, a large male cat, as I was walking between our old trailer house (now gone) and my cell, some seventeen years ago. We startled one another, but as I reached down with extended hand, he came to me. When I picked him up he began purring immediately, so I opened a can of salmon, and he never left. A month after his arrival we took him to a vet to be checked out. It was the veterinarian who suggested he'd most likely been dumped by someone from Seattle, as happens frequently when people want to dispose of a pet, and make sure the animal can't find it's way back home (impossible from an island).
I often tell people that Hammi domesticated me, since I'd not previously been a cat fancier, being allergic to cat dander. Little did I know at the beginning that Norwegian Forest Cats do not have dander. They have a very soft double fur coat, large paws, sweet facial features and a very loud purr box. They are known to be personable, liking to be around people. He greets everyone who comes to the monastery, escorting them up the steps from the parking lot. Everyone who's ever met Hammi, falls in love. I've lost count of the number of people who've stated they don't like cats, but want to get a Norwegian Forest Cat for themselves, once they've met him.
Intelligent breed that they are, Hammi has learned to let us know just what he wants, be it water, food, cuddling, sleep, whatever. He is a great companion to all of us, even going into the forest when one of us takes a walk on the Valaam Trail. He has a special game which he seems to enjoy with me, particularly. I'll head out on the trail with Hammi running ahead. He'll hide behind a large fern, and even though I know he's waiting ahead, he always manages to scare me. I'll then run ahead and hide behind a tree and jump out when he walks by. We play this game until the end of the trail!
At the ripe old age of twenty, Hammi is slowing down a bit, just as am I. We both suffer from arthritis and like to sit by the fire on a cold winter evening, with him cuddling in the lap of the old abbot. I've grown so attached to him that I can't even begin to think of what life in the monastery will be like after he's gone.
Animals teach us so much about life, and about unconditional love. I'll never forget the day Hammi spotted our newly arrived Rhode Island Reds for the first time. I was sitting on the veranda of the trapeza with some guests. Hammi sat up when he spotted the hens, and started walking toward the Saint John Chapel. I followed him, as did  our guests. When we were standing by the hens, Hammi crouched down, ready for the kill. All that was needed was for me to say, "No, Hammi, they are our friends". He turned away and walked back to the veranda, leaving me and the guests alone with the chickens. He's never bothered them since.
Although I'd grown up with dogs and cats, they'd not been in my life throughout my adulthood, until Hammi came around. I'm so very glad he did.
With love in Christ,
Abbot Tryphon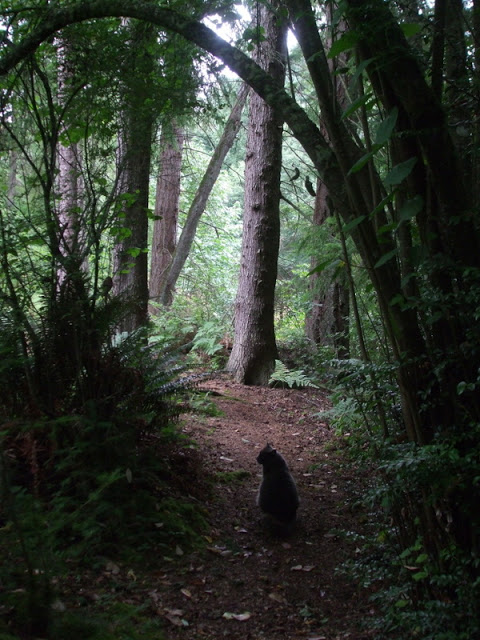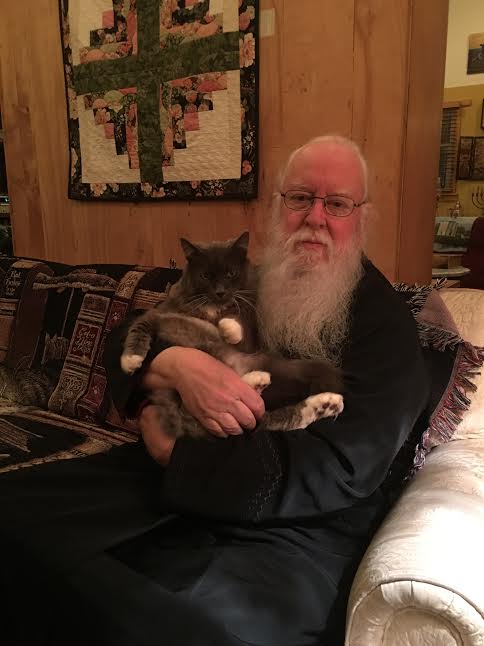 Friday February 17, 2017 / February 4, 2017
Week of the Prodigal Son. Tone one.
Fast. Fish Allowed
Venerable Isidore of Pelusium, monk (436-440).
St. George, prince of Vladimir (1238).
Venerable Cyril, abbot, wonderworker of New Lake (Novgorod) (1532).
New Hieromartyr Methodius bishop of Petropavlovsk (1921).
New Hieromartyrs Eustaphius, John, Alexander, Sergius, John, Theodora, Aleksander, Nicholas, Alexis, Nicholas, Alexis, Alexander, Arcadius, Boris, Michael, Nicholas, Alexis, Andrew, Demetrius, John, Peter priests, Martyr Seraphim, Virgin-martyrs Rafaila, Anna, Catherine, and Martyrs John, Basil, Demetrius, Theodore, and Demetrius (1938).
Venerable Abraham and St. Coprius, monks, of Pechenga (Vologda) (15th c.).
Martyrs Jadorus and Isidore who suffered under Decius (249-251).
Hieromartyr Abramius, bishop of Arbela in Assyria (ca. 344-347).
Venerable Nicholas the Confessor, abbot of the Studion (868).
St. John, of Irenopolis (325).
Venerable Aldate, hieromartyr of Gloucester, England (6th c.) (Celtic & British).
St. Modan, abbot of Stirling and Falkirk.
Martyr Theoctistus (1686) (Greek).
St. Jasim the Wonderwoker (1686) (Greek).
New Martyr Joseph of Aleppo (1686) (Greek).
Hieromartyr Phileas, bishop of Thmuis and martyr Philoromus the Magistrate (303).
St. Evagrius, fellow-ascetic of St. Shio of Mgvime (6th c.) (Georgia).
The Scripture Readings
2 John
Greeting the Elect Lady
1 The Elder,
To the elect lady and her children, whom I love in truth, and not only I, but also all those who have known the truth, 2 because of the truth which abides in us and will be with us forever:
3 Grace, mercy, and peace will be with you from God the Father and from the Lord Jesus Christ, the Son of the Father, in truth and love.
Walk in Christ's Commandments
4 I rejoiced greatly that I have found some of your children walking in truth, as we received commandment from the Father. 5 And now I plead with you, lady, not as though I wrote a new commandment to you, but that which we have had from the beginning: that we love one another. 6 This is love, that we walk according to His commandments. This is the commandment, that as you have heard from the beginning, you should walk in it.
Beware of Antichrist Deceivers
7 For many deceivers have gone out into the world who do not confess Jesus Christ as coming in the flesh. This is a deceiver and an antichrist. 8 Look to yourselves, that we do not lose those things we worked for, but that we may receive a full reward.
9 Whoever transgresses and does not abide in the doctrine of Christ does not have God. He who abides in the doctrine of Christ has both the Father and the Son. 10 If anyone comes to you and does not bring this doctrine, do not receive him into your house nor greet him; 11 for he who greets him shares in his evil deeds.
John's Farewell Greeting
12 Having many things to write to you, I did not wish to do so with paper and ink; but I hope to come to you and speak face to face, that our joy may be full.
13 The children of your elect sister greet you. Amen.
Mark 15:22-25
22 And they brought Him to the place Golgotha, which is translated, Place of a Skull. 23 Then they gave Him wine mingled with myrrh to drink, but He did not take it. 24 And when they crucified Him, they divided His garments, casting lots for them to determine what every man should take.
25 Now it was the third hour, and they crucified Him.
Mark 15:33-41
Jesus Dies on the Cross
33 Now when the sixth hour had come, there was darkness over the whole land until the ninth hour. 34 And at the ninth hour Jesus cried out with a loud voice, saying, "Eloi, Eloi, lama sabachthani?" which is translated, "My God, My God, why have You forsaken Me?"
35 Some of those who stood by, when they heard that, said, "Look, He is calling for Elijah!" 36 Then someone ran and filled a sponge full of sour wine, put it on a reed, and offered it to Him to drink, saying, "Let Him alone; let us see if Elijah will come to take Him down."
37 And Jesus cried out with a loud voice, and breathed His last.
38 Then the veil of the temple was torn in two from top to bottom. 39 So when the centurion, who stood opposite Him, saw that He cried out like this and breathed His last,[b] he said, "Truly this Man was the Son of God!"
40 There were also women looking on from afar, among whom were Mary Magdalene, Mary the mother of James the Less and of Joses, and Salome, 41 who also followed Him and ministered to Him when He was in Galilee, and many other women who came up with Him to Jerusalem.