The importance of Christian friendships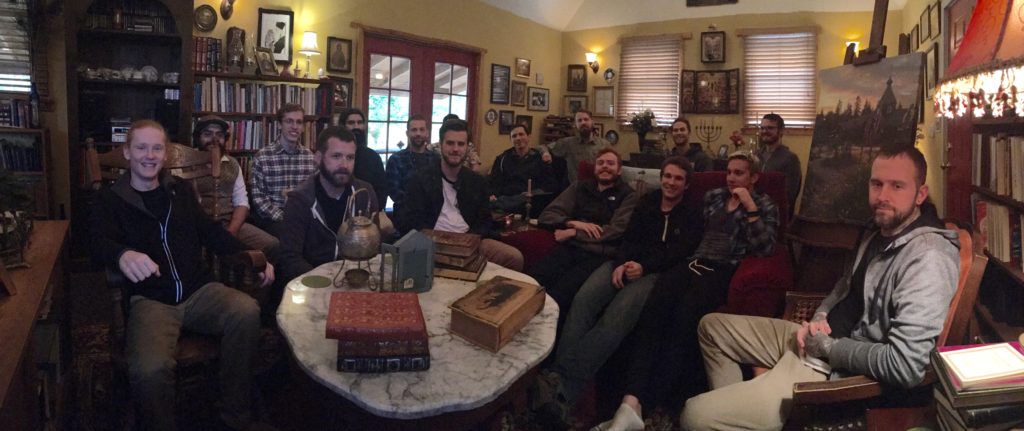 In this age where secularism is on the rise, and materialism has become a major distraction from spiritual pursuits, Christian friendship has never been more important. The pursuit of personal fulfillment, entertainment, worldly pleasure, and the acquisition of material goods, has become the dominant theme of our age. Families that once placed the life of the Church as the center of their week, have drifted away from God. Having made idols of worldly pleasures and pursuits, their family life has become focused on transitory goals, leaving them in a state of spiritual bankruptcy. Parents who once brought their children to the temple, having lost their own way, watch those children stray far from faith.
Centered on worldly pursuits, we've allowed our spiritual life to be displaced by things that are transitory in nature, no longer thinking on the things of God. Our spiritual illness has infected our youth like a virus, leaving them with little to sustain them, when times get tough. The economic, political, and social instability of our age demands that we be spiritually fit, yet we give our youth virtually nothing that will help them through the hardships ahead. The terrible storms that have destroyed whole towns in the Midwest, appear to be just the beginning of what many scientists see as our future, yet we continue on a path that remains focused on material gain, and personal fulfillment. Hardly the elements that can sustain the human heart during disasters, or terrible personal loss.
The life of a Christian has never been easy, but in an age that is proving to be hostile towards the things of God, Christian friendship is all the more important. We need each other. We need the encouragement that Christian friendship can give us, as we face a world that has rejected Christ. The unity we have when we receive the Body and Blood of the Saviour, during each and every celebration of the Divine Liturgy, gives us strength to withstand whatever may be coming. When all else has failed, and our culture, economy, and material world has fallen into ruin, only faith will have the power to sustain us.
It is only our faith, supported and strengthened by our fellowship in Christ, that will have the lasting power to keep us from falling into despair, as our world enters into a darkness that will seem unconquerable. Hiding from the reality of a world that has lost it's way, will in no wise make the future brighter. Lifting each other up, as we share our faith in the Christ Who came to make all things new, is the only hope we have. Let us not waste this life God has given us, but let us move forward in faith, together, knowing that ultimately, the gates of hell will not prevail against those who love God.
With love in Christ,
Abbot Tryphon
Sunday February 19, 2017 / February 6, 2017
Sunday of the Last Judgment (Meatfare). Tone two.
Venerable Bucolus, bishop of Smyrna (ca. 100).
New Hieromartyrs Demetrius priest and Martyr Anatolius (1921).
New Hieromartyr Basil priest (1930).
New Hieromartyr Priest Basil Nadezhnin of Moscow, (1937).
New Hieromartyr Alexanderpriest (1938).
Venerables Barsanuphius the Great and John the Prophet, monks of Palestine (6th c.).
St. Photius, patriarch of Constantinople (891).
Virgin-martyr Dorothea, and with her Martyrs Christina and Callista, sisters, and Theophilus, at Caesarea in Cappadocia (288-300).
Martyr Julian of Emesa (312).
Virgin-martyr Fausta, and with her Martyrs Evilasius and Maximus, at Cyzicus (ca. 305-311).
Virgin-martyrs Martha and Mary, and their brother Martyr Lycarion, in Egypt.
Venerable Dorothea, schemanun of Kashin (1629).
St. Mael, bishop of Ardagh, disciple of St. Patrick (488) (Celtic & British).
Martyrs Faustus, Basil and Silvanus of Darion in Constantinople (Greek).
Venerable John of Thebes, monk (Greek).
St. James, ascetic of Syria (ca. 460).
St. Vedast, bishop of Arras (540).
St. Amand, apostle of Maastricht (675) (Neth.).
St. Arsen of Iqalto, Georgia (1127).
The Scripture Readings
Mark 16:1-8
He Is Risen
16 Now when the Sabbath was past, Mary Magdalene, Mary the mother of James, and Salome bought spices, that they might come and anoint Him. 2 Very early in the morning, on the first day of the week, they came to the tomb when the sun had risen. 3 And they said among themselves, "Who will roll away the stone from the door of the tomb for us?" 4 But when they looked up, they saw that the stone had been rolled away—for it was very large. 5 And entering the tomb, they saw a young man clothed in a long white robe sitting on the right side; and they were alarmed.
6 But he said to them, "Do not be alarmed. You seek Jesus of Nazareth, who was crucified. He is risen! He is not here. See the place where they laid Him. 7 But go, tell His disciples—and Peter—that He is going before you into Galilee; there you will see Him, as He said to you."
8 So they went out quickly and fled from the tomb, for they trembled and were amazed. And they said nothing to anyone, for they were afraid.
1 Corinthians 8:8-9:2
8 But food does not commend us to God; for neither if we eat are we the better, nor if we do not eat are we the worse.
9 But beware lest somehow this liberty of yours become a stumbling block to those who are weak. 10 For if anyone sees you who have knowledge eating in an idol's temple, will not the conscience of him who is weak be emboldened to eat those things offered to idols? 11 And because of your knowledge shall the weak brother perish, for whom Christ died? 12 But when you thus sin against the brethren, and wound their weak conscience, you sin against Christ. 13 Therefore, if food makes my brother stumble, I will never again eat meat, lest I make my brother stumble.
A Pattern of Self-Denial
9 Am I not an apostle? Am I not free? Have I not seen Jesus Christ our Lord? Are you not my work in the Lord? 2 If I am not an apostle to others, yet doubtless I am to you. For you are the seal of my apostleship in the Lord.
Matthew 25:31-46
The Son of Man Will Judge the Nations
31 "When the Son of Man comes in His glory, and all the holy angels with Him, then He will sit on the throne of His glory. 32 All the nations will be gathered before Him, and He will separate them one from another, as a shepherd divides his sheep from the goats.33 And He will set the sheep on His right hand, but the goats on the left. 34 Then the King will say to those on His right hand, 'Come, you blessed of My Father, inherit the kingdom prepared for you from the foundation of the world: 35 for I was hungry and you gave Me food; I was thirsty and you gave Me drink; I was a stranger and you took Me in; 36 I was naked and you clothed Me; I was sick and you visited Me; I was in prison and you came to Me.'
37 "Then the righteous will answer Him, saying, 'Lord, when did we see You hungry and feed You, or thirsty and give You drink?38 When did we see You a stranger and take You in, or naked and clothe You? 39 Or when did we see You sick, or in prison, and come to You?' 40 And the King will answer and say to them, 'Assuredly, I say to you, inasmuch as you did it to one of the least of these My brethren, you did it to Me.'
41 "Then He will also say to those on the left hand, 'Depart from Me, you cursed, into the everlasting fire prepared for the devil and his angels: 42 for I was hungry and you gave Me no food; I was thirsty and you gave Me no drink; 43 I was a stranger and you did not take Me in, naked and you did not clothe Me, sick and in prison and you did not visit Me.'
44 "Then they also will answer Him, saying, 'Lord, when did we see You hungry or thirsty or a stranger or naked or sick or in prison, and did not minister to You?' 45 Then He will answer them, saying, 'Assuredly, I say to you, inasmuch as you did not do it to one of the least of these, you did not do it to Me.' 46 And these will go away into everlasting punishment, but the righteous into eternal life."