We must fight against the enemy of our soul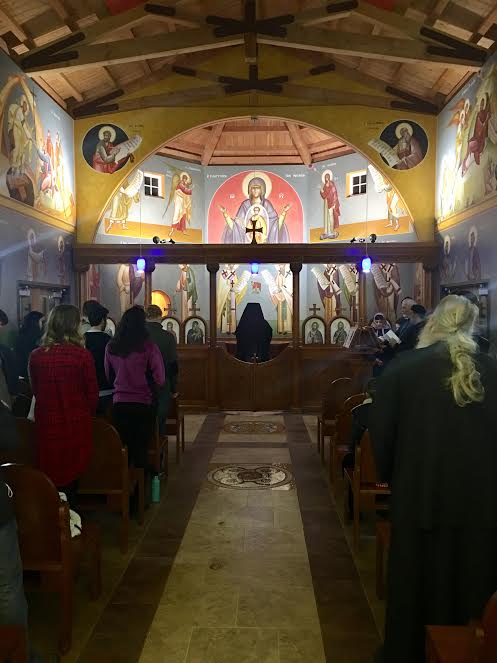 Not an hour should pass without taking time to examine our heart, for the hour of judgement can come at any time, and we must be ready to give account to God for our life. In the Gospel of Matthew (5:8), we read "Blessed are the pure in heart, for they shall see God". It is clear that without a humble and contrite heart we shall not see God.
Saint Isaac of Syria tells us, "No one has understanding if he is not humble, and he who lacks humility lacks understanding." The prescription given to us by all the Holy Fathers point that discrimination and watchfulness are the path to achieve purity of heart, for someone who is proud, and who has not rooted out the sickness that is within his heart, will be unable to please God, for only holiness of life opens the doors to the Paradise that awaits us.
No spiritual improvement can be made if we do not seek to please God with holiness of life, yet any good in our deeds must be attributed to God. "There is none that doeth good, no not one (Romans 3:12)", and "For there is not a just man upon earth, that doeth good, and sinneth not (Ecclesiastes 7:20)".
If we find we've neglected our spiritual struggle, and acted with foolish abandon, we, in our weakness, must turn to God in repentance, and this can happen only with an hourly examination of the heart. We must resolve to turn ourselves around, with God's help, and fight against the enemy of our souls, for holiness comes only to those who struggle.
With love in Christ,
Abbot Tryphon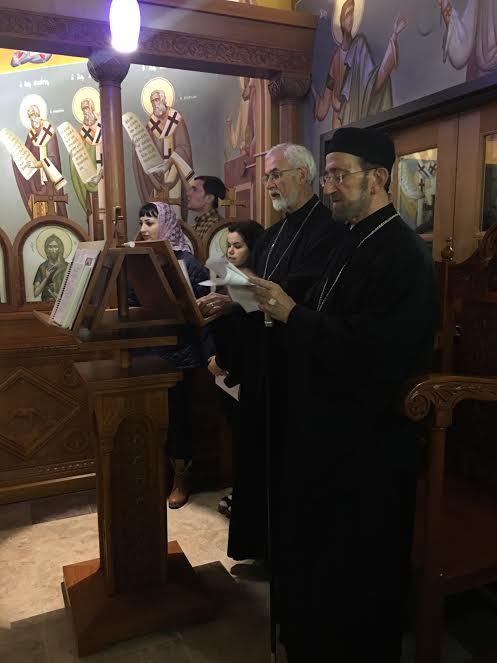 Photos: Orthodox Christian Fellowship's College Conference West, taking place at Saint Nicholas Greek Orthodox Ranch in Dunlap, CA. I was blessed to serve Vespers, with His Eminence Metropolitan Gerasimos of San Francisco, joining the cantors, and delivering a very inspiring talk at the end of the service.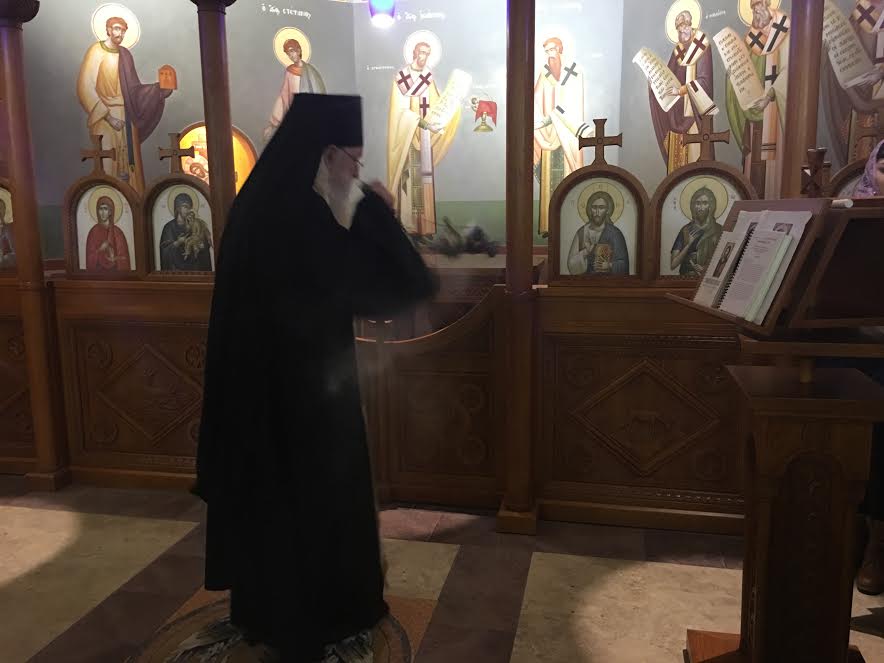 Thursday December 29, 2016 / December 16, 2016
28th Week after Pentecost. Tone two.
Nativity (St. Philip's Fast). Food with Oil
Prophet Haggai (Aggaeus) (500 B.C.).
New Hieromartyrs Priest Vladimir (1918)
New Hieromartyrs Arcadius, bishop of Bezhetsk, and Priests Elias, Paul, Theodosius, Vladimir, and Alexander priests, Martyr Makarius (1937).
New Hieromartyr Peter priest (1937).
Venerable Sophia, nun (in the world Solomonia), wife of Grand Duke Basil III (1542).
Martyr Marinus of Rome (283).
Blessed Empress Theophania of Byzantium (893).
St. Memnon, archbishop of Ephesus (5th c.).
St. Nicholas Chrysoberges, patriarch of Constantinople (995).
St. Modestus II, archbishop of Jerusalem (634) (Greek).
Martyrs Promus and Hilarion (Greek).
Scripture Readings
Titus 1:5-2:1
Qualified Elders
5 For this reason I left you in Crete, that you should set in order the things that are lacking, and appoint elders in every city as I commanded you— 6 if a man is blameless, the husband of one wife, having faithful children not accused of dissipation or insubordination. 7 For a bishop must be blameless, as a steward of God, not self-willed, not quick-tempered, not given to wine, not violent, not greedy for money, 8 but hospitable, a lover of what is good, sober-minded, just, holy, self-controlled, 9 holding fast the faithful word as he has been taught, that he may be able, by sound doctrine, both to exhort and convict those who contradict.
The Elders' Task
10 For there are many insubordinate, both idle talkers and deceivers, especially those of the circumcision, 11 whose mouths must be stopped, who subvert whole households, teaching things which they ought not, for the sake of dishonest gain. 12 One of them, a prophet of their own, said, "Cretans are always liars, evil beasts, lazy gluttons." 13 This testimony is true. Therefore rebuke them sharply, that they may be sound in the faith, 14 not giving heed to Jewish fables and commandments of men who turn from the truth. 15 To the pure all things are pure, but to those who are defiled and unbelieving nothing is pure; but even their mind and conscience are defiled. 16 They profess to know God, but in works they deny Him, being abominable, disobedient, and disqualified for every good work.
Qualities of a Sound Church
2 But as for you, speak the things which are proper for sound doctrine:
Mark 9:10-16
10 So they kept this word to themselves, questioning what the rising from the dead meant.
11 And they asked Him, saying, "Why do the scribes say that Elijah must come first?"
12 Then He answered and told them, "Indeed, Elijah is coming first and restores all things. And how is it written concerning the Son of Man, that He must suffer many things and be treated with contempt? 13 But I say to you that Elijah has also come, and they did to him whatever they wished, as it is written of him."
A Boy Is Healed
14 And when He came to the disciples, He saw a great multitude around them, and scribes disputing with them. 15 Immediately, when they saw Him, all the people were greatly amazed, and running to Him, greeted Him. 16 And He asked the scribes, "What are you discussing with them?"