God reaches down to redeem us in the material world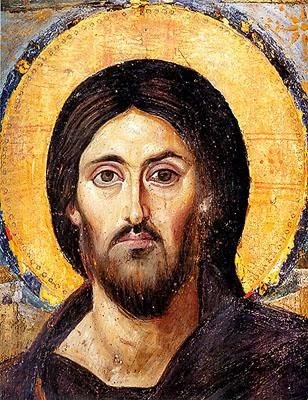 Unlike angels, who are entirely spiritual beings, God has made each of us as creatures dwelling in a material world. To be whole, we must worship God both in body and soul. This teaching is central to our Christian faith and is an affirmation of the sacramental nature of this material world. Because of this truth icons have played a central role in Christian history, for they proclaim Jesus Christ's physical reality as God Incarnate.
Our Lord told his disciples that "he who has seen me, has seen the Father". Icons depicting the Holy Virgin show the Christ Child with bare feet, reminding us that he walked the earth among us. He (the Logos) through Whom all that is was brought into existence, condescended to take on our flesh and walk among us. He joined His divinity to our humanity, that we might become gods.
The Lord Jesus Christ was born, lived, died and rose from the dead in this material world. He broke bread with disciples, ate fish with his friends, and invited His disciple Thomas to feel the wound in his side, after His holy resurrection. Most of the miracles Christ performed were in the nature of physical healing.
Because of the Incarnation, our use of icons bring our whole nature, body and soul, into the material world. This physical aspect of prayer is what connects us to our true self, composed of body and soul. This is where God reaches down to embrace us.
Icons are wonderful aides in our communion with God because they serve as bridges to Christ and links with the Holy Virgin and the saints. They are by no means the only means , for sitting on the top of a mountain, or walking on the seashore, eyes open, allows us to behold the beauty of God's creation, and His love for us. The icons, like the glory of creation, are windows into eternity, and invite us who live in this material world, into an encounter with God.
Icons are necessary and essential because they protect the full and proper doctrine of the Incarnation. While God cannot be represented in His eternal nature  ("…no man has seen God", John 1:18), He can be depicted simply because He "became human and took flesh." Of Him who took a material body, material images can be made. In so taking a material body, God proved that matter can be redeemed. He deified matter, making it spirit-bearing, and so if flesh can be a medium for the Spirit, so can wood or paint, although in a different fashion.
"I do not worship matter, but the Creator of matter, who for my sake became material and deigned to dwell in matter, who through matter effected my salvation…(Saint John of Damascus)".
The Seventh Ecumenical Council upheld the iconodules' postion in AD 787, when they proclaimed that "Icons… are to be kept in churches and honored with the same relative veneration as is shown to other material symbols, such as the 'precious and life-giving Cross' and the Book of the Gospels. The 'doctrine of icons' is tied to the Orthodox teaching that all of God's creation is to be redeemed and glorified, both spiritual and material."
With love in Christ,
Abbot Tryphon
Friday November 4, 2016 / October 22, 2016
20th Week after Pentecost. Tone two.
Fast. Food with Oil
The Kazan Icon of the Most Holy Theotokos, commemorating the deliverance from the Poles in 1612.
Holy Equal-to-the-Apostles Abercius, bishop and wonderworker of Hierapolis (167).
7 Holy Youths ("7 Sleepers") of Ephesus: Maximilian, Jamblichus, Martinian, Dionysius, Antoninus, Constantine (Hexakustodianos), and John (250).
New Hieromartyrs Seraphim archbishop of Uglich and with him German archimandrite, Vladimir, Alexander, Basil, Alexander priests and Martyrs Herman and Menas (1937).
New Hieromartyrs Nicholas, Nicholas priests and Martyr Gregory (1937).
Martyrs Alexander the bishop, Heraclius, Anna, Elizabeth, Theodota and Glyceria, at Adrianopolis (2nd-3rd c.).
"Andronikos" and "Jacobshtad" (17th c.) Icons of the Mother of God.
Venerable Lot of Egypt (5th c.).
Venerables Theodore and Paul, abbots, of Rostov (1409).
Venerable James of Luga and Omutch, disciple of Theophilus of Omutch.
St. Mellon, bishop of Rouen.
Martyr Zachariah (Greek).
Venerable Rufus of the Paradise (Greek).
Scripture Readings
Luke 1:39-49
Mary Visits Elizabeth
39 Now Mary arose in those days and went into the hill country with haste, to a city of Judah, 40 and entered the house of Zacharias and greeted Elizabeth. 41 And it happened, when Elizabeth heard the greeting of Mary, that the babe leaped in her womb; and Elizabeth was filled with the Holy Spirit. 42 Then she spoke out with a loud voice and said, "Blessed are you among women, and blessed is the fruit of your womb! 43 But why is this granted to me, that the mother of my Lord should come to me? 44 For indeed, as soon as the voice of your greeting sounded in my ears, the babe leaped in my womb for joy. 45 Blessed is she who believed, for there will be a fulfillment of those things which were told her from the Lord."
The Song of Mary
46 And Mary said:
"My soul magnifies the Lord,
47 And my spirit has rejoiced in God my Savior.
48 For He has regarded the lowly state of His maidservant;
For behold, henceforth all generations will call me blessed.
49 For He who is mighty has done great things for me,
And holy is His name.
Luke 1:56
56 And Mary remained with her about three months, and returned to her house.
Philippians 2:5-11
The Humbled and Exalted Christ
5 Let this mind be in you which was also in Christ Jesus, 6 who, being in the form of God, did not consider it robbery to be equal with God, 7 but made Himself of no reputation, taking the form of a bondservant, and coming in the likeness of men. 8 And being found in appearance as a man, He humbled Himself and became obedient to the point of death, even the death of the cross. 9 Therefore God also has highly exalted Him and given Him the name which is above every name, 10 that at the name of Jesus every knee should bow, of those in heaven, and of those on earth, and of those under the earth, 11 and that every tongue should confess that Jesus Christ isLord, to the glory of God the Father.
Luke 10:38-42
Mary and Martha Worship and Serve
38 Now it happened as they went that He entered a certain village; and a certain woman named Martha welcomed Him into her house. 39 And she had a sister called Mary, who also sat at Jesus'[a] feet and heard His word. 40 But Martha was distracted with much serving, and she approached Him and said, "Lord, do You not care that my sister has left me to serve alone? Therefore tell her to help me."
41 And Jesus[b] answered and said to her, "Martha, Martha, you are worried and troubled about many things. 42 But one thing is needed, and Mary has chosen that good part, which will not be taken away from her."
Luke 11:27-28
Keeping the Word
27 And it happened, as He spoke these things, that a certain woman from the crowd raised her voice and said to Him, "Blessed is the womb that bore You, and the breasts which nursed You!"
28 But He said, "More than that, blessed are those who hear the word of God and keep it!"