The limits of human reason and the knowledge of God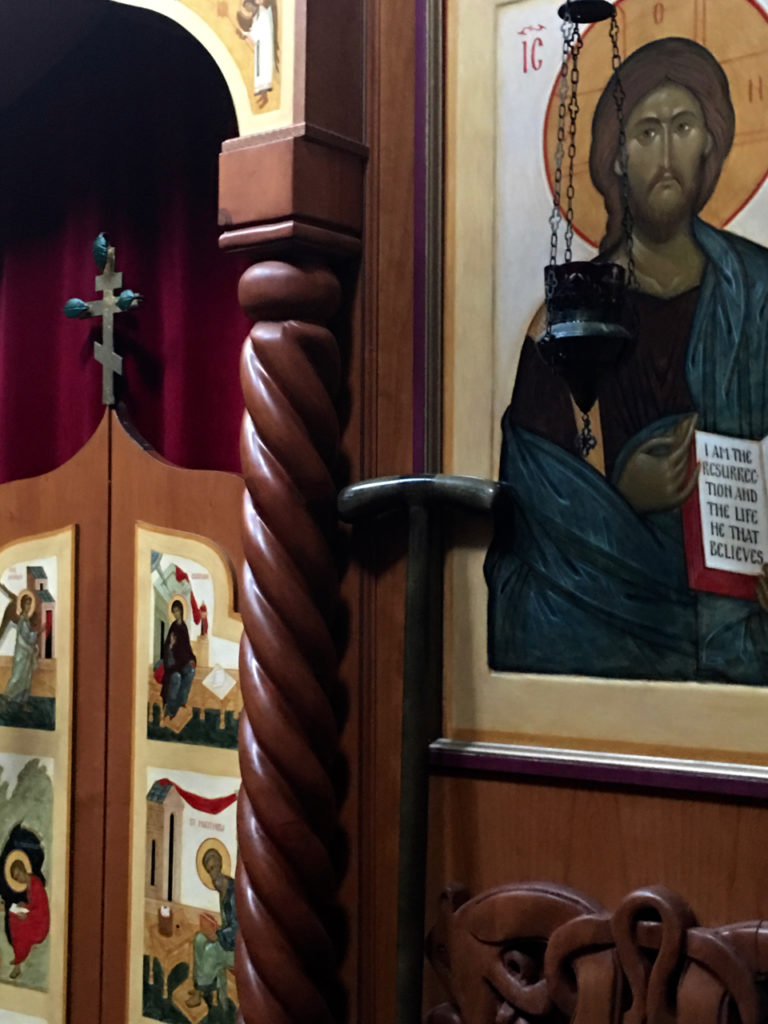 There is the seen, and there is the unseen, the material and the immaterial. That which is material can be scientifically examined and experienced, the immaterial can only be seen and experienced spiritually. These are two worlds that are only seemingly at odds with one another. If you attempt to examine that which is of a spiritual nature using a science that is by its very nature meant to explore the material realm, you will fail.
The things that are of God are far beyond the capabilities of our finite mind to comprehend. The divine can only be known through the nous, that place in the heart that is our true center. It, unlike the brain, is capable of knowledge that is beyond human comprehension, coming as it does from noetic knowledge.
When we try to apply words to the noetic form, we fail. We can no more explain God than we can explain quantum physics, since both are unseen. God is outside the realm of human intellectual understanding. The Eastern Church approaches things of God as holy mysteries, since God can only be known in His divine energies, not in His essence. If a scientist can believe in quantum physics, the unseen, why can he not believe in God Whom he has not seen? If we can believe in the concept of infinity, something that goes on and on without end, why can we not believe in God?
The science of the soul is noetic and can be examined and experience only through the activation of the nous. The nous in Orthodox Christian theology is the "eye of the heart or soul", the mind of the heart. God created us with the nous because the human intellect is not capable of knowing Him without it. The intellect alone can not know God, for human reasoning is limited to the things that are of a material nature. God is unknowable without His divine revelation, and only the nous can perceive this knowledge. God's essence remains inaccessible without noetic knowledge. Science has it's place, but only the heart can know God.
Love in Christ,
Abbot Tryphon
Sunday October 23, 2016 / October 10, 2016
18th Sunday after Pentecost. Tone one.
Commemoration of the Holy Fathers of the Seventh Ecumenical Council (787).
Martyrs Eulampius and Eulampia at Nicomedia and 200 Martyrs with them (296).
St. Innocent, bishop of Penza (1819).
Venerable Ambrose of Optina (1891).
New Hieromartyr Theodore (Pozdeev) archbishop of Volokolamsk (1937).
Saint Amphylochius, Bishop of Vladimir-Volyn (1122).
Synaxis of the seven Saints of Volhynia: Sts. Stephen and Amphilocius (1122), bishops of Vladimir in Volhynia; St. Theodore (in monasticism Theodosius), prince of Ostrog (1483); St. Juliana Olshanskaya (1540); Venerable Job of Pochaev (1651); Hieromartyr Macarius, archimandrite of Kanev (1678); and St. Yaropolk-Peter, prince of Vladimir in Volhynia (1086).
Blessed Andrew of Totma, fool-for-Christ (1673).
Martyr Theotecnus of Antioch (4th c.).
Venerable Bassian of Constantinople (ca. 458).
Venerable Theophilus the Confessor of Bulgaria (716).
Martyrdom of the 26 Martyrs of Zographou Monastery on Mt. Athos by the Latins: Abbot Thomas, monks Barsanuphius, Cyril, Micah, Simon, Hilarion, Job, James, Cyprian, Sabbas, James, Martinian, Cosmas, Sergius, Paul, Menas, Ioasaph, Ioannicius, Anthony, Euthymius, Dometian, Parthenius, and four laymen (1284).
St. Paulinus, archbishop of York (644) (Celtic & British).
St. Pinytus, bishop of Knossos in Crete (2nd. c.).
Zographou Icon of the Most Holy Theotokos "Of the Akathist".
Synaxis of the Saints of Optina: Leo (1841), Macarius (1894), Moses (1862), Anthony (1865), Hilarion (1873), Ambrose (1891), Anatolius (1894), Isaacius (1894), Joseph (1911), Barsanuphius (1913), Anatolius (1922), Nectarius (1928), Nicon (1931), and Isaacius (1936).
Martyrs of the Theban Legion along the Rhine: Sts. Cassius and Florentius at Bonn, Sts. Gereon and Companions at Cologne, and Sts. Victor and Companions at Xanten (Germany) (304).
Scripture Readings
John 20:1-10
The Empty Tomb
20 Now on the first day of the week Mary Magdalene went to the tomb early, while it was still dark, and saw that the stone had been taken away from the tomb. 2 Then she ran and came to Simon Peter, and to the other disciple, whom Jesus loved, and said to them, "They have taken away the Lord out of the tomb, and we do not know where they have laid Him."
3 Peter therefore went out, and the other disciple, and were going to the tomb. 4 So they both ran together, and the other disciple outran Peter and came to the tomb first. 5 And he, stooping down and looking in, saw the linen cloths lying there; yet he did not go in. 6 Then Simon Peter came, following him, and went into the tomb; and he saw the linen cloths lying there, 7 and the handkerchief that had been around His head, not lying with the linen cloths, but folded together in a place by itself. 8 Then the other disciple, who came to the tomb first, went in also; and he saw and believed. 9 For as yet they did not know the Scripture, that He must rise again from the dead. 10 Then the disciples went away again to their own homes.
2 Corinthians 9:6-11
The Cheerful Giver
6 But this I say: He who sows sparingly will also reap sparingly, and he who sows bountifully will also reap bountifully. 7 So let each one give as he purposes in his heart, not grudgingly or of necessity; for God loves a cheerful giver. 8 And God is able to make all grace abound toward you, that you, always having all sufficiency in all things, may have an abundance for every good work. 9 As it is written:
"He has dispersed abroad,
He has given to the poor;
His righteousness endures forever."
10 Now may He who supplies seed to the sower, and bread for food, supply and multiply the seed you have sown and increase the fruits of your righteousness, 11 while you are enriched in everything for all liberality, which causes thanksgiving through us to God.
Luke 7:11-16
Jesus Raises the Son of the Widow of Nain
11 Now it happened, the day after, that He went into a city called Nain; and many of His disciples went with Him, and a large crowd. 12 And when He came near the gate of the city, behold, a dead man was being carried out, the only son of his mother; and she was a widow. And a large crowd from the city was with her. 13 When the Lord saw her, He had compassion on her and said to her, "Do not weep." 14 Then He came and touched the open coffin, and those who carried him stood still. And He said, "Young man, I say to you, arise." 15 So he who was dead sat up and began to speak. And He presented him to his mother.
16 Then fear came upon all, and they glorified God, saying, "A great prophet has risen up among us"; and, "God has visited His people."