I've never met an atheist!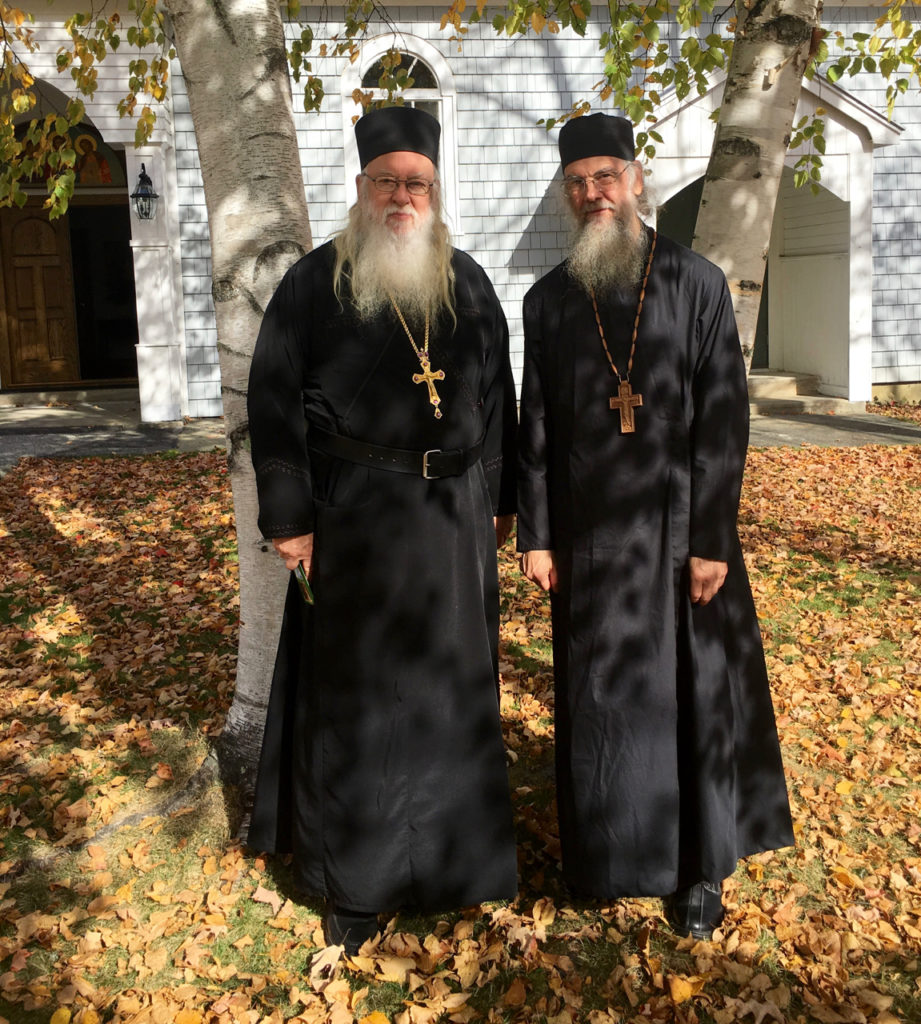 The young man announced at the beginning of a college class, that he was an atheist. I'd been invited as a guest lecturer, and had opened the talk with the observation that everyone has a nous that hungers for God. This young man took exception, declaring there was no God, and furthermore stating that he certainly did not have hunger for a relationship with anything that could be defined as a god.
I asked him to define the God he'd chosen to deny, and after hearing his definition, I declared that I agreed with him. I, too, did not believe in such a God. The average understanding of just who God is, has largely been based on a concept that is not in sync with the biblical description of God, nor the teachings of the historic Church. Furthermore, the false science that is the basis for the denial of God's involvement in creation, and in the life of our world, has come about due, in large part, to this very misconception of just who God is, to begin with.
The God that has been revealed in the holy scriptures, and the God we worship within the life of the Church, is a God that so loved us, that He took on our human flesh, that He might experience our hunger, our thirst, our sorrow, our pain, and even our joy. He is not a remote God, incapable of understanding His creation, but, rather, a God who chose to join Himself to His creation, and invite us into communion with Him. We have been invited to share in His divinity, and, through the gift of eternal life, to dwell with Him forever.
Our God is present everywhere, and is Light in a darkened universe. Everything that is good, is from God, for He is love, and has invited us into communion within His love. His light shines upon us, even when we chose to live in darkness, for He is everywhere present, and fills all things. Our disbelief in no way cancels out His presence, nor does our disbelief in anyway negate the fact that He is God.
The person who declares himself an atheist, is in fact one who avoids the obvious. Refusing to believe in God's existence in no way cancels out the reality that God indeed does exist. Just as refusing to believe the world is round because it appears flat from our perspective, or denying the existence of molecules because we can't see them, the denial of God's existence emanates from a narrow focus on self.
That one would deny the existence of God, yet accept the theories of quantum physics which are based on an unprovable noetic science, is proof that we, as a species, have fallen far from that which our Creator God had intended, having become, in our pride, gods unto ourselves.
With love in Christ,
Abbot Tryphon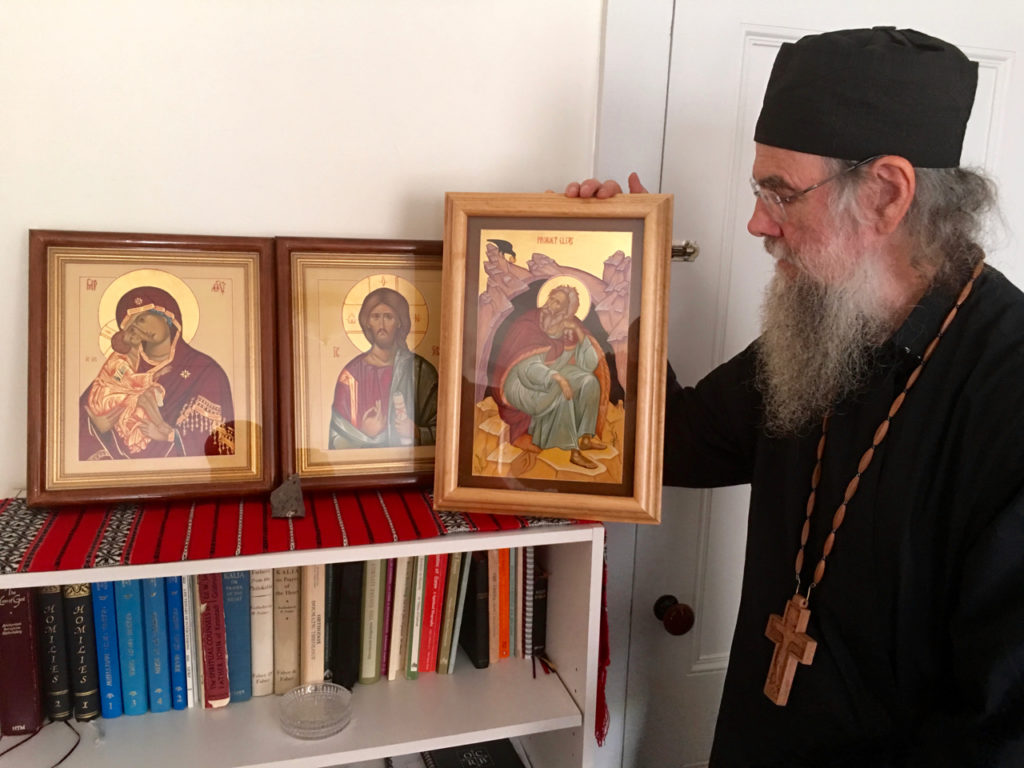 Photos: I had a nice visit with Father Chad Williams of Saint Alexander Nevsky Orthodox Church (ROCOR), in Richmond, Maine, on Thursday morning. Father Chad is my niece and her husband's parish priest. These amazing icons were painted by Father Chad's 15 year old son!
Friday October 21, 2016 / October 8, 2016
18th Week after Pentecost. Tone eight.
Fast. By Monastic Charter: Strict Fast (Bread, Vegetables, Fruits)
Venerable Pelagia the Penitent of the Mount of Olives (457).
New Hieromartyrs Demetrius archbishop of Mozhaysk and with him John deacon, Hieromartyr Ambrosius and Pakhomius, Virgin-martyr Tatiana, Martyr Nicholas, Virgin-martyrs Mary and Nadezhda (1937).
New Hieromartyr Jonah bishop of Velizhsk, Hieromartyr Seraphim, New Hieromartyrs Peter, Basil, Paul, Peter, Vladimir priests, Martyrs Victor, John, Nicholas and Virgin-martyr Elizabeth (1937).
New Hieromartyr Barlaam (end of 1930th).
Venerable Dositheus, abbot of Verkneostrov (Pskov) (1482).
Venerable Tryphon, abbot, of Vyatka (1612).
Synaxis of All Saints of Vyatka.
Venerable Thais (Taisia) of Egypt (4th c.).
Virgin-martyr Pelagia of Antioch (303).
New Monk-martyr Ignatius of Bulgaria and Mt. Athos (1814).
St. Anthony, bishop of Novgorod (1232).
St. Keyene, hermitess of Cornwall.
St. Iwi, hierodeacon of Lindisfarne.
Translation of the relics of St. Aidan, bishop of Lindisfarne and enlightener of Northumria.
Translation of the relics of St. Ceolfrith, abbot of Wearmouth and Jarrow.
St. Triduana, nun of Restalrig.
Scripture Readings
Ephesians 6:18-24
18 praying always with all prayer and supplication in the Spirit, being watchful to this end with all perseverance and supplication for all the saints— 19 and for me, that utterance may be given to me, that I may open my mouth boldly to make known the mystery of the gospel, 20 for which I am an ambassador in chains; that in it I may speak boldly, as I ought to speak.
A Gracious Greeting
21 But that you also may know my affairs and how I am doing, Tychicus, a beloved brother and faithful minister in the Lord, will make all things known to you; 22 whom I have sent to you for this very purpose, that you may know our affairs, and that he may comfort your hearts.
23 Peace to the brethren, and love with faith, from God the Father and the Lord Jesus Christ. 24 Grace be with all those who love our Lord Jesus Christ in sincerity. Amen.
Luke 7:31-35
31 And the Lord said, "To what then shall I liken the men of this generation, and what are they like? 32 They are like children sitting in the marketplace and calling to one another, saying:
'We played the flute for you,
And you did not dance;
We mourned to you,
And you did not weep.'
33 For John the Baptist came neither eating bread nor drinking wine, and you say, 'He has a demon.' 34 The Son of Man has come eating and drinking, and you say, 'Look, a glutton and a winebibber, a friend of tax collectors and sinners!' 35 But wisdom is justified by all her children."