The Orthodox of Kosovo suffering continued attacks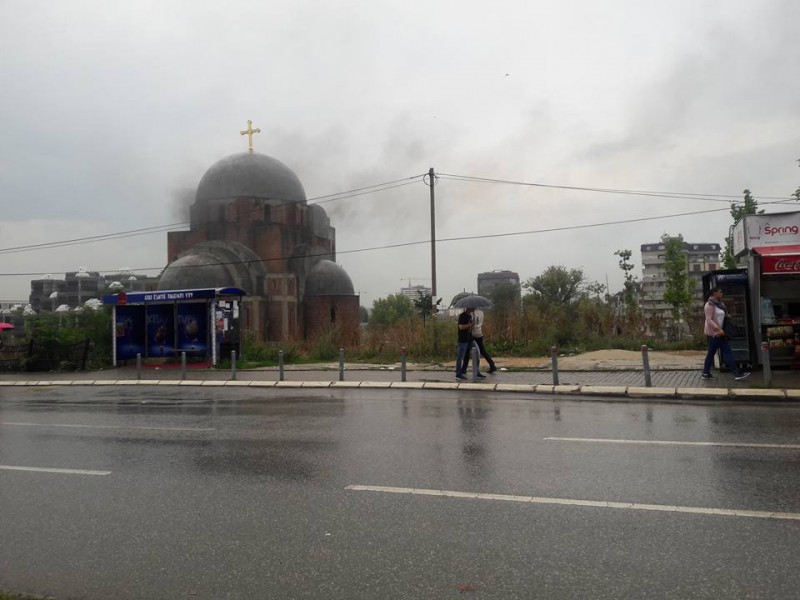 Early Saturday morning, Albanian Muslims in Pristina, Kosovo, set fire to the Orthodox Cathedral, and immediately after the fire, started using it as a toilet. Once again, the Orthodox heartland of Serbia is suffering the results of the Western Powers hatred of Orthodoxy. Since the Albanian Muslims took possession of this Orthodox land, hundreds of churches and monasteries have been burnt to the ground.
Photo: Christ the Saviour Cathedral, under construction, burned by Muslims.
Sunday September 11, 2016 / August 29, 2016
12th Sunday after Pentecost. Tone three.
Fast. Food with Oil
Synaxis of all saints of Nizhny Novgorod (movable holiday on the Sunday after August 26th).
The Beheading of the Glorious Prophet, Forerunner, and Baptist John.
Fast Day.
Commemoration of orthodox soldiers killed on a battle fields.
Venerable Alexander, abbot of Voche, of Galich (16th c.).
New Martyr Anastasius of Bulgaria (1794).
St. Sebbi, king of the East Saxons (694) (Celtic & British).
Venerable Theodora, nun, of Thessalonica (892) (Greek).
Venerable Arcadius of Arsinoe, Cyprus, bishop and wonderworker (Greek).
Translation of the relics of Venerable Joseph the Sanctified of Samaka (Greek).
New Hieromartyr Peter, metropolitan of Krutitsa (1936).
Sts. Candida (418) and Gelasia (422) of Constantinople.
Scripture Readings
Matthew 28:16-20
The Great Commission
16 Then the eleven disciples went away into Galilee, to the mountain which Jesus had appointed for them. 17 When they saw Him, they worshiped Him; but some doubted.
18 And Jesus came and spoke to them, saying, "All authority has been given to Me in heaven and on earth. 19 Go therefore and make disciples of all the nations, baptizing them in the name of the Father and of the Son and of the Holy Spirit, 20 teaching them to observe all things that I have commanded you; and lo, I am with you always, even to the end of the age." Amen.
1 Corinthians 15:1-11
The Risen Christ, Faith's Reality
15 Moreover, brethren, I declare to you the gospel which I preached to you, which also you received and in which you stand, 2 by which also you are saved, if you hold fast that word which I preached to you—unless you believed in vain.
3 For I delivered to you first of all that which I also received: that Christ died for our sins according to the Scriptures, 4 and that He was buried, and that He rose again the third day according to the Scriptures, 5 and that He was seen by Cephas, then by the twelve. 6 After that He was seen by over five hundred brethren at once, of whom the greater part remain to the present, but some have fallen asleep. 7 After that He was seen by James, then by all the apostles. 8 Then last of all He was seen by me also, as by one born out of due time.
9 For I am the least of the apostles, who am not worthy to be called an apostle, because I persecuted the church of God. 10 But by the grace of God I am what I am, and His grace toward me was not in vain; but I labored more abundantly than they all, yet not I, but the grace of God which was with me. 11 Therefore, whether it was I or they, so we preach and so you believed.
Matthew 19:16-26
Jesus Counsels the Rich Young Ruler
16 Now behold, one came and said to Him, "Good Teacher, what good thing shall I do that I may have eternal life?"
17 So He said to him, "Why do you call Me good? No one is good but One, that is, God. But if you want to enter into life, keep the commandments."
18 He said to Him, "Which ones?"
Jesus said, "'You shall not murder,' 'You shall not commit adultery,' 'You shall not steal,' 'You shall not bear false witness,' 19 'Honor your father and your mother,' and, 'You shall love your neighbor as yourself.' "
20 The young man said to Him, "All these things I have kept from my youth. What do I still lack?"
21 Jesus said to him, "If you want to be perfect, go, sell what you have and give to the poor, and you will have treasure in heaven; and come, follow Me."
22 But when the young man heard that saying, he went away sorrowful, for he had great possessions.
With God All Things Are Possible
23 Then Jesus said to His disciples, "Assuredly, I say to you that it is hard for a rich man to enter the kingdom of heaven. 24 And again I say to you, it is easier for a camel to go through the eye of a needle than for a rich man to enter the kingdom of God."
25 When His disciples heard it, they were greatly astonished, saying, "Who then can be saved?"
26 But Jesus looked at them and said to them, "With men this is impossible, but with God all things are possible."