The Church New Year, and a new beginning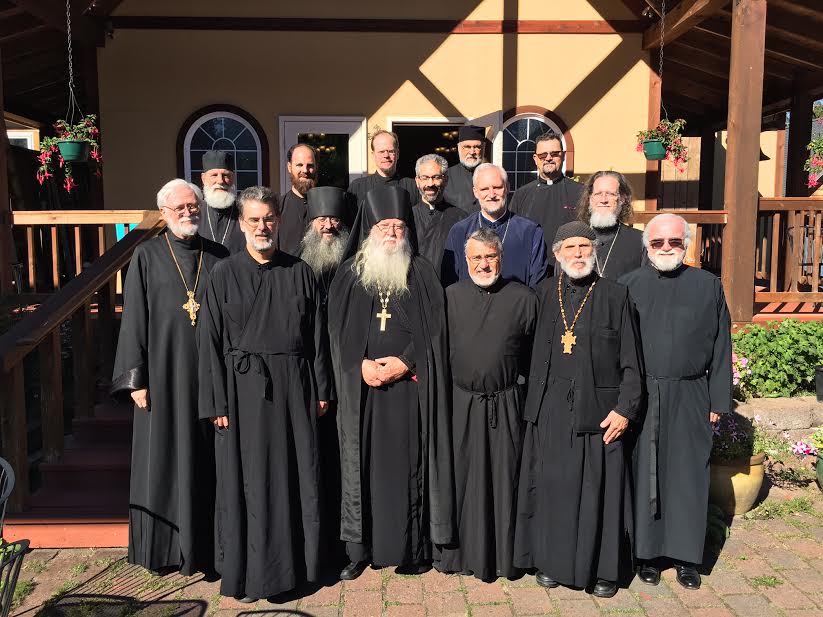 Today we celebrate the Church New Year and with it a chance to recommit ourselves to working harder at making changes in our lives that will lead to spiritual growth. The Lord's patience never runs out, so we always have the invitation to renew our commitment to Him.
The New Year, celebrated on the 1st of September (Old Style), is that moment in time when we should take a closer look at how we are using this life God has given us. Are we focused on things spiritual or are we strolling through life as though there were no tomorrow?
If the truth be known, many of us give all kinds of justifications as to why we don't attend services on a regular basis. If it were work related we'd be there, but Church is seen as something that is at the bottom of the to do list. We wouldn't consider going to work only when we felt like it. Nor would we miss family celebrations or social functions with our friends, knowing they would question our commitment to them.
Relationships are what we put into them. If we don't feed a relationship it dies, just like a vine that is not watered. If we don't place God in the heart of our week and the services in the temple as the central act of that week, how can we expect to be spiritually healthy?
If we are lazy about our spiritual life, and a Sunday morning passes by without an effort on our part to get ourself to church, we need to change our focus. Our social engagements should not be more important than the worship of God. The Church's New Year is a good time to turn things around and get ourselves back on track. Let us make this new year one that has as it's focus, personal renewal. Let's not sit back waiting for God to do it all, for He's already done it. We need to do our part! Let's take that important step and make this the best New Year we've ever had!
Love in Christ,
Abbot Tryphon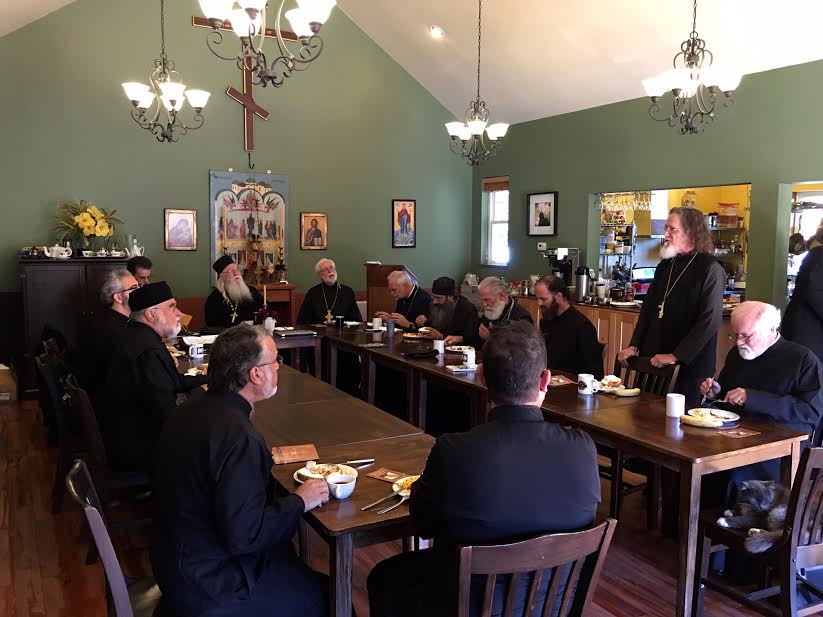 Photos: The Washington Orthodox Clergy Association met at the monastery on Tuesday.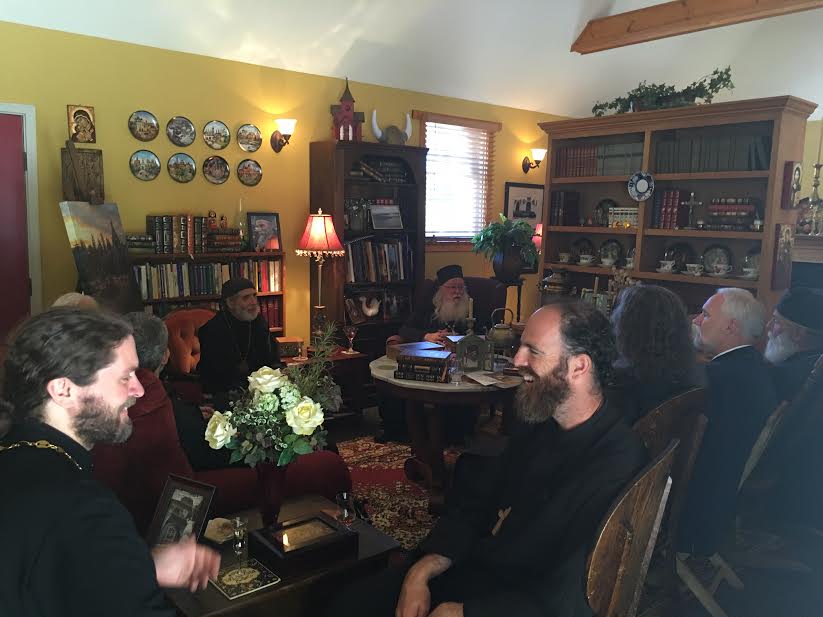 Wednesday September 14, 2016 / September 1, 2016
13th Week after Pentecost. Tone three.
Fast. Food with Oil
Church New Year.
Venerable Symeon Stylites (the Elder) (459) and his mother St. Martha (428).
Virgin-martyrs Tatiana and Natalia (1937).
Martyr Aeithalas of Persia (380).
Holy Forty Virgin-martyrs: Laurencia the deaconess, Celsina, Theoclia, Theoctista, Dorothy, Eutychia, Thecla, Aristaineta, Philadelphia, Mary, Veronica, Euthymia, Lamprotatia, Euphymia, Theodora, Theodota, Teteia, Aquilina, Theodulia, Aplodora, Lampadia, Procopia, Paula, Junilla, Ampliana, Percissa, Polynicia, Maura, Gregoria, Cyria, Bassa, Callinica, Barbara, Cyriacia, Agathonica, Justa, Irene, Matrona, Timothea, Tatiana, and Anna, and Martyr Ammon the deacon, their teacher, at Heraclea in Thrace (321-3).
Martyrs Callista and her brothers Evodus and Hermogenes, at Nicomedia (309).
Righteous Joshua the Son of Nun (1400 B.C.).
Synaxis of the Most Holy Theotokos in Miasena Monastery, in memory of the finding of Her Icon (864).
"Chernigov-Gethsemane" (1869), Alexandria, August (1914) and named "All-Blessed" at Kazan Icons of the Most Holy Theotokos.
Venerable Meletius the Younger of Thebes (1095-1124).
New Martyr Angelis of Constantinople (1680) (Greek).
Venerable Nicholas of Courtaliatis in Crete, monk (1670) (Greek).
Venerable Symeon of Lesbos (Greek).
St. Evanthia (Greek).
St. Verena of Zurzach (350) (Switzerland).
St. Aegidius of Camargue (590) (Gaul).
St. Haido of Stanos (1820-21).
Commemoration of the Great Fire at Constantinople about 470 A.D.
1 Timothy 2:1-7
Pray for All Men
2 Therefore I exhort first of all that supplications, prayers, intercessions, and giving of thanks be made for all men, 2 for kings and all who are in authority, that we may lead a quiet and peaceable life in all godliness and reverence. 3 For this is good and acceptable in the sight of God our Savior, 4 who desires all men to be saved and to come to the knowledge of the truth. 5 For there is one God and one Mediator between God and men, the Man Christ Jesus, 6 who gave Himself a ransom for all, to be testified in due time, 7 for which I was appointed a preacher and an apostle—I am speaking the truth in Christ and not lying—a teacher of the Gentiles in faith and truth.
Luke 4:16-22
Jesus Rejected at Nazareth
16 So He came to Nazareth, where He had been brought up. And as His custom was, He went into the synagogue on the Sabbath day, and stood up to read. 17 And He was handed the book of the prophet Isaiah. And when He had opened the book, He found the place where it was written:
18 "The Spirit of the Lord is upon Me,
Because He has anointed Me
To preach the gospel to the poor;
He has sent Me to heal the brokenhearted,
To proclaim liberty to the captives
And recovery of sight to the blind,
To set at liberty those who are oppressed;
19 To proclaim the acceptable year of the Lord."
20 Then He closed the book, and gave it back to the attendant and sat down. And the eyes of all who were in the synagogue were fixed on Him. 21 And He began to say to them, "Today this Scripture is fulfilled in your hearing." 22 So all bore witness to Him, and marveled at the gracious words which proceeded out of His mouth. And they said, "Is this not Joseph's son?"