The Way into the Kingdom of Heaven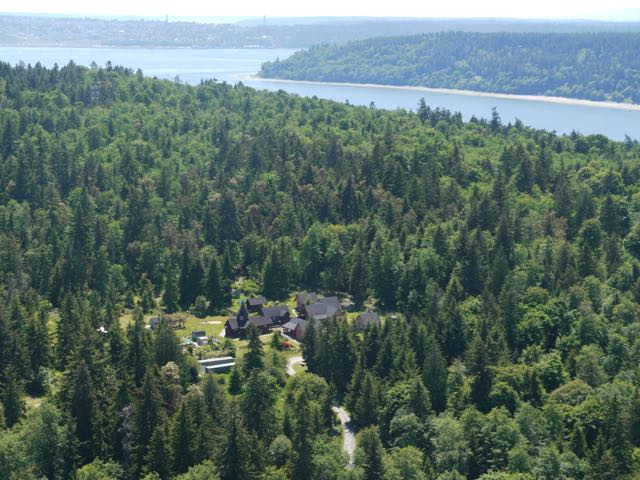 The great Elder Anthony of Optina Monastery, told his spiritual children to, "Endure everything, and you will be at peace and you will bring peace to others. But if you complain about details, you will lose peace and along with it salvation". As a monastic, I know these words to be true. The history of monasteries is filled with monks, and even abbots, suffering humiliating slights from superiors, bishops, and even fellow monastics, yet enduring it all for want of the greater reward, they knew their focus had to remain on Christ. They knew  the Kingdom of Heaven as the ultimate goal, and that it must never be set aside for want of that which has no eternal value.
If any of us desires recognition, awards, or the praise and favor of others in this life, we face the real possibility we will have lost everything in the life to come. With joy we must receive, as a gift from God, the rebuke, slander, and persecution of others, knowing that God is allowing this to happen for our salvation. The fallen part of our nature wants it all now, but the Lord, Who knows what is salvific for us, allows what we need in this life, so we are prepared for the reward that will last forever. If we remember the love that God has for us, we will receive all that brings us disappointment or grief in this life, with joy, knowing it is a gift from God. Wouldn't we want the eternal reward, rather than that which is transitory in nature?
With love in Christ,
Abbot Tryphon
Thursday July 21, 2016 / July 8, 2016
5th Week after Pentecost. Tone three.
Appearance of the "Kazan" Icon of the Most Holy Theotokos (1579).
Holy Great-martyr Procopius of Caesarea in Palestine (303).
St. Procopius, fool-for-Christ, wonderworker of Ustiug (Vologda) (1303).
New Hieromartyrs Alexander and Theodore priests (1918).
Righteous Procopius, fool-for-Christ of Usya (Vologda) (17th c.).
Miracle of the Annunciation Icon of the Mother of God at Ustiug (1290).
Reverence list of an "Kazan" Icon of the Most Holy Theotokos: at Moscow (1612), Kazan (1579), Petersburg(1721) and Shlisselburg (1702); "Iaroslav" (1588), "Viazniky"(1624), "Nizhnelomov" (1543), "Tobolsk" (1661), "Kaplunovka" (1689), "Tambov" (1695), "Penza" (1717), "Peschanka" (1754), "Chimeev" (1770), "Vysochinovsky"(18th c.), "Vyshensky" (1812).
"Jacobshtad" Icon of the Most Holy Theotokos (17th c.)
Venerable Theophilus the Myrrh-gusher of Pantocrator Monastery, Mt. Athos (1548) (Greek).
New Martyr Anastasius at Constantinople (1743) (Greek).
Martyrs Epictetus and Astion at Halmyris in Scythia Minor (290) (Romania).
Blessed King Edgar the Peaceable (975) (Celtic & British).
Martyr Theodosia, mother of Great-martyr Procopius. (Greek).
Martyr Mirdat the King of Kartli (410) (Georgia).
Translation of the relics (1779) of Venerable Demetrius Basarbov of Bulgaria (1685).
Synaxis of Saints of Diveyevo: Alexandra, Martha, and Helen.
St. Grimbald, hieromonk of Winchester.
Translation of the relicts of St. Withburga, hermitess of East Dereham.
Virgim-martyr Urith (Hieritha) of Chittlehampton.
Scripture Readings
2 Timothy 2:1-10
Be Strong in Grace
2 You therefore, my son, be strong in the grace that is in Christ Jesus. 2 And the things that you have heard from me among many witnesses, commit these to faithful men who will be able to teach others also. 3 You therefore must endure hardship as a good soldier of Jesus Christ. 4 No one engaged in warfare entangles himself with the affairs of this life, that he may please him who enlisted him as a soldier. 5 And also if anyone competes in athletics, he is not crowned unless he competes according to the rules. 6 The hardworking farmer must be first to partake of the crops. 7 Consider what I say, and may the Lord give you understanding in all things.
8 Remember that Jesus Christ, of the seed of David, was raised from the dead according to my gospel, 9 for which I suffer trouble as an evildoer, even to the point of chains; but the word of God is not chained. 10 Therefore I endure all things for the sake of the elect, that they also may obtain the salvation which is in Christ Jesus with eternal glory.
Matthew 10:37-11:1
37 He who loves father or mother more than Me is not worthy of Me. And he who loves son or daughter more than Me is not worthy of Me. 38 And he who does not take his cross and follow after Me is not worthy of Me. 39 He who finds his life will lose it, and he who loses his life for My sake will find it.
A Cup of Cold Water
40 "He who receives you receives Me, and he who receives Me receives Him who sent Me. 41 He who receives a prophet in the name of a prophet shall receive a prophet's reward. And he who receives a righteous man in the name of a righteous man shall receive a righteous man's reward. 42 And whoever gives one of these little ones only a cup of cold water in the name of a disciple, assuredly, I say to you, he shall by no means lose his reward."
John the Baptist Sends Messengers to Jesus
11 Now it came to pass, when Jesus finished commanding His twelve disciples, that He departed from there to teach and to preach in their cities.