Making God bound by necessity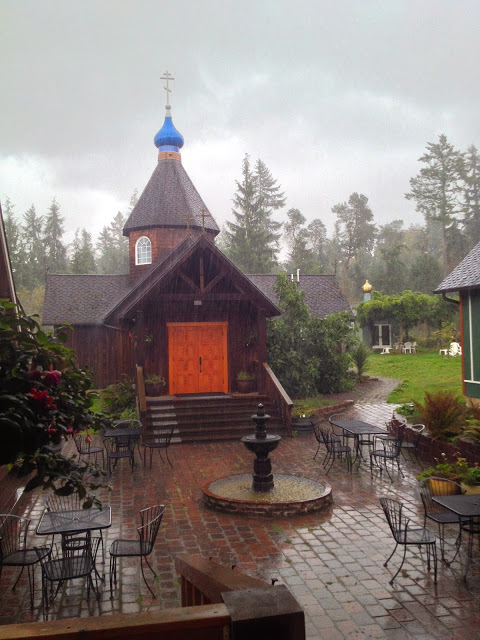 The heretical doctrine of penal substitution was completely absent from the Church for over 1,000 years, and was only introduced by Anselm of Canterbury in the eleventh century. This false teaching of penal substitution was ultimately developed as seen in the West today, by 16th-century Reformers, but is a doctrine that has never been accepted by the Eastern Church, and not completely accepted by Roman Catholics.
The major problem with this teaching can be seen in the fact that had Christ died for our sins against God the Father, thus causing a division of God, with the doctrine of the Holy Trinity laid waste, with God pitted against God. This heretical doctrine divides God by implying that Christ isn't fully God. It also suggests that there is a higher force than God, thus making, God Himself ruled by a "higher force". In other words, God has no choice but to punish. By this notion, justice forces God to respond to our sin with His wrath, with love becoming secondary.
A close examination of the prophets and the Psalms of David, reveal that the word "justice" is linked to the concept of "mercy." Justice is not penal in nature, but refers to a show of kindness and deliverance to those who are suffering oppression. It means that God's justice destroys our oppressors, which in this case is sin, death, and even the power of Satan's oppression.
To look upon propitiation in the classical pagan sense, we are forced to view our God as some sort of angry deity needing to be appeased by a blood sacrifice. This is completely different than the Old Testament view of a loving God whose Mercy Seat covered the Ark of the Covenant, which contained the ten commandments. While the law given to us by God demanded perfection and revealed our shortcomings, the Mercy Seat covered our failure to live up to the Ten Commandments.
From the viewpoint of the Ancient Church, Christ's blood was the ultimate Mercy Seat. Christ covered and forgave our sins, and Himself showed the unconditional love that He commanded us to show one another. The Western churches would have us believe that God was angry over our sins, but the death of His Son caused Him to change His mind, and decide to love us. Yet the Scriptures tell us God is love (1 Jn 4:8, 16) from the very beginning, and is unchanging (Mal 3:6) and doesn't change His mind (Num 23:19).
With love in Christ,
Abbot Tryphon
Wednesday July 6, 2016 / June 23, 2016
3rd Week after Pentecost. Tone one.
Apostles' (Peter & Paul) Fast. Food with Oil
The Meeting of the Vladimir Icon of the Most Holy Theotokos in memory of Saving of Moscow from the Invasion of Khan Achmed.
Synaxis of All Saints of Vladimir.
Martyr Agrippina of Rome (253-260).
New Hieromartyrs Alexander, Alexis, Peter priests (1918).
New Hieromartyr Mitrophan archbishop of Astrakhan (1919), bishop Leonty of Enotaeva, and those with him.
New Hieromartyr Maxim, bishop of Serpukhov (1930).
St. Artemius of Verkola (1545).
Translation of the relics (1714) of St. Herman, archbishop of Kazan (1567).
Martyrs Eustochius, Gaius, Probus, Lollius, and Urban, of Ancyra (4th c.).
Pskov Icon of the Most Holy Theotokos, "Tenderness" (1524), Zaonikeevsk (1588), and "Vratarnitsa"(1894) Icons of the Mother of God.
Venerables Joseph (1612), Anthony, and Ioannicius, abbots, of Vologda.
Translation of the relics of Venerable Michael, fool-for-Christ of Klops Monastery (1482).
Virgin Etheldreda of Ely (England) (679) (Celtic & British).
St. Dionysius of Polotsk (1182).
St. Nicetas of Thebes in Boetia (1079) and his disciples Theodore, Gregory and Daniel.
Scripture Readings
Romans 8:2-13
2 For the law of the Spirit of life in Christ Jesus has made me free from the law of sin and death. 3 For what the law could not do in that it was weak through the flesh, God did by sending His own Son in the likeness of sinful flesh, on account of sin: He condemned sin in the flesh, 4 that the righteous requirement of the law might be fulfilled in us who do not walk according to the flesh but according to the Spirit. 5 For those who live according to the flesh set their minds on the things of the flesh, but those who live according to the Spirit, the things of the Spirit. 6 For to be carnally minded is death, but to be spiritually minded is life and peace. 7 Because the carnal mind is enmity against God; for it is not subject to the law of God, nor indeed can be. 8 So then, those who are in the flesh cannot please God.
9 But you are not in the flesh but in the Spirit, if indeed the Spirit of God dwells in you. Now if anyone does not have the Spirit of Christ, he is not His. 10 And if Christ is in you, the body isdead because of sin, but the Spirit is life because of righteousness. 11 But if the Spirit of Him who raised Jesus from the dead dwells in you, He who raised Christ from the dead will also give life to your mortal bodies through His Spirit who dwells in you.
Sonship Through the Spirit
12 Therefore, brethren, we are debtors—not to the flesh, to live according to the flesh. 13 For if you live according to the flesh you will die; but if by the Spirit you put to death the deeds of the body, you will live.
Matthew 10:16-22
Persecutions Are Coming
16 "Behold, I send you out as sheep in the midst of wolves. Therefore be wise as serpents and harmless as doves. 17 But beware of men, for they will deliver you up to councils and scourge you in their synagogues. 18 You will be brought before governors and kings for My sake, as a testimony to them and to the Gentiles. 19 But when they deliver you up, do not worry about how or what you should speak. For it will be given to you in that hour what you should speak; 20 for it is not you who speak, but the Spirit of your Father who speaks in you.
21 "Now brother will deliver up brother to death, and a father his child; and children will rise up against parents and cause them to be put to death. 22 And you will be hated by all for My name's sake. But he who endures to the end will be saved.