I am crucified with Christ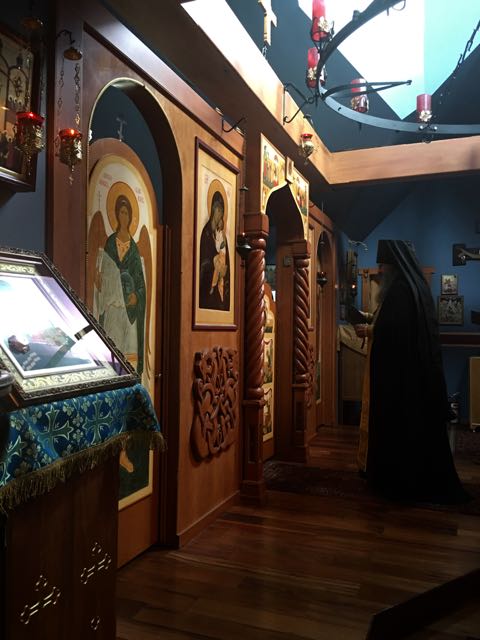 In our life, every undertaking, every action, every thought, must be a reflection of Christ in our life. The Lord will grant us the strength and ability to accomplish good works and attain holiness, if we cooperate with His grace. Prayer alone is not enough if we do not reflect moral improvement. Change must take place in our heart if we are to win the battle against the ego, and this requires much work on our part.
Central to living in all holiness of life is the acquisition of a humble and contrite heart. Humility does not come without contrition, and both are obtained with much suffering and trial. Spiritual reading, together with prayer, are necessary components of this journey to God, but must be accompanied by spiritual direction, confession, and the acceptance of correction.
If we are so proud and puffed up that we swiftly take on the role of defense attorney when confronted with correction or the critique of another, we will simply fall further under the control of the ego, and humility will remain alien to our makeup. Often the critical observations of others, which we'd like to fend off, can become a tool for regeneration, for such corrections, even if offered by someone with ill intent, can be occasions for tremendous spiritual progress.
I am reminded of my late spiritual father, Archimandrite Dimitry of Santa Rosa. He was slandered by a local priest in a very public setting. When informed, the Elder Dimitry stood up from his desk, walked across the room, and began winding a wall clock. Asked why he seemingly cared little that he'd been so falsely and viciously slandered, his only response was to say, "Many sins have been forgiven because of this."
Making spiritual progress is never easy and must be accompanied by much effort on our part. It can come only through humility, which means that we can expect to be humiliated. If we do not flee from suffering and humiliation, but learn to accept it for our salvation, holiness can be ours, and our life will truly reflect the words of St. Paul, who said, "I am crucified with Christ: nevertheless I live; yet not I, but Christ liveth in me: and the life which I now live in the flesh I live by the faith of the Son of God, who loved me, and gave himself for me (Galatians 2:20)."
With love in Christ,
Abbot Tryphon
Friday July 22, 2016 / July 9, 2016
5th Week after Pentecost. Tone three.
Fast. By Monastic Charter: Strict Fast (Bread, Vegetables, Fruits)
Hieromartyr Pancratius, bishop of Taormina in Sicily (1st c.).
New Hieromartyr Constantine priest (1918).
Hieromartyr Cyril, bishop of Gortyna in Crete (250-252).
Martyrs Patermuthius, Coprius, and Alexander the Soldier, in Egypt (361).
Sts. Patermuthius and Coprius, ascetics of Egypt (4th c.).
St. Theodore, bishop of Edessa (848).
"Cyprus" in the village of Stromyn (Moscow diocese) and "Koloch" (1413) Icons of the Mother of God.
Venarable Anthony Leokhnovsky (1611).
Venerable Euthymius of Karelia (1435).
Blessed Peter, hieromartyr of Cherevkov (Vologda) (16th-17th c.).
St. Everild, nun, of England (700) (Celtic & British).
Martyrs Andrew and Probus (Greek).
Venerables Dionysius the Rhetorician and Metrophanes of Mt. Athos (Greek).
Venerable Theodosius, stylite of Edessa (9th c.).
Venerable John of the Caves in Babylon.
Martyr Michael, disciple and the Kinsman of St. Theodore.
Martyr John (before holy baptism Moavy), king of Baghdad and with him the Three Holy Youths (9th c.).
New Hieromartyr Methodius of Amaria, Crete (1793).
Hieromartyr Killian, bishop in East Franconia and Thuringia, and his companions Hieromonk Colman and Hierodeacon Totman, at Wurzburg (689).
Scripture Readings
Romans 16:1-16
Sister Phoebe Commended
16 I commend to you Phoebe our sister, who is a servant of the church in Cenchrea, 2 that you may receive her in the Lord in a manner worthy of the saints, and assist her in whatever business she has need of you; for indeed she has been a helper of many and of myself also.
Greeting Roman Saints
3 Greet Priscilla and Aquila, my fellow workers in Christ Jesus, 4 who risked their own necks for my life, to whom not only I give thanks, but also all the churches of the Gentiles. 5 Likewise greet the church that is in their house.
Greet my beloved Epaenetus, who is the firstfruits of Achaia to Christ. 6 Greet Mary, who labored much for us. 7 Greet Andronicus and Junia, my countrymen and my fellow prisoners, who are of note among the apostles, who also were in Christ before me.
8 Greet Amplias, my beloved in the Lord. 9 Greet Urbanus, our fellow worker in Christ, and Stachys, my beloved. 10 Greet Apelles, approved in Christ. Greet those who are of the household of Aristobulus. 11 Greet Herodion, my countryman. Greet those who are of the household of Narcissus who are in the Lord.
12 Greet Tryphena and Tryphosa, who have labored in the Lord. Greet the beloved Persis, who labored much in the Lord. 13 Greet Rufus, chosen in the Lord, and his mother and mine. 14 Greet Asyncritus, Phlegon, Hermas, Patrobas, Hermes, and the brethren who are with them. 15 Greet Philologus and Julia, Nereus and his sister, and Olympas, and all the saints who are with them.
16 Greet one another with a holy kiss. The churches of Christ greet you.
Matthew 13:4-9
4 And as he sowed, some seed fell by the wayside; and the birds came and devoured them. 5 Some fell on stony places, where they did not have much earth; and they immediately sprang up because they had no depth of earth. 6 But when the sun was up they were scorched, and because they had no root they withered away. 7 And some fell among thorns, and the thorns sprang up and choked them. 8 But others fell on good ground and yielded a crop: some a hundredfold, some sixty, some thirty. 9 He who has ears to hear, let him hear!"