Wisdom is not based on age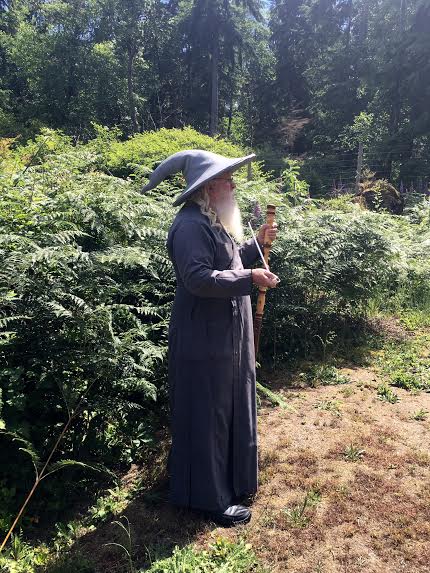 It has been said that wisdom comes with age, and to some degree this is quite true. I've often had conversations with old college friends about how nice it would have been to have had the knowledge and wisdom we have now, back when we were young. Knowing what we know now, back then, would have made life so much easier, and we'd have had fewer days of worry and stress over relationships, grades, all the little things.
After seventy years of hanging around this planet, I'm far less likely to get stressed out about many things that would have overwhelmed me when I was a college student. Yet one thing I know for sure, purity and passionlessness have nothing to do with age. They become part of our nature when we have gained humility. Saint John of the Ladder taught that purity comes not because of our labors, and certainly not because of age, but comes only when we have humbled ourselves. And unless we have become humble, our passions will remain strong, and we will have made no spiritual progress, remaining, as it were, without wisdom.
One of my spiritual sons gave me the Gandalf hat, so of course I had a photo taken of myself, standing with Father Martin's walking staff (more impressive than mine), and holding my spiritual son's long pipe. Since I am wearing my gray work cassock, I suppose this makes me Tryphon the Grey. That the Lord of the Rings triligy by Tolkien tells the story of Gandalf eventually becoming Gandalf the White (after increasing in wisdom and knowledge), the gray hat has served as a reminder that I am a long way from the wisdom and holiness I struggle towards.
Love in Christ,
Abbot Tryphon
Wednesday June 1, 2016 / May 19, 2016
Apodosis of Prepolovenie. Tone four.
Fast. Fish Allowed
Hieromartyr Patrick, bishop of Prusa, and his companions: Presbyters Acacius, Menander, and Polyenus (362).
Venerable Cornelius, abbot of Komel (Vologda) (1537).
Right-believing Prince Demetrius Donskoy (1389).
New Hieromartyr Victor (1937).
New Hieromartyrs Onuphrius, archbishop of Kursk; Anthony, bishop of Belgorod, and with him priests Metrophan, Alexander, Michael, Matthew, Hippolytus, Nicholas, Basil, Nicholas, Maxim, Alexander, Paul, and Paul, and Martyrs Michael and George (1938).
New Hieromartyr Onuphrius, archbishop of Kursk (1938).
New Hieromartyr Valentine (1940).
Venerable Cornelius, abbot of Paleostrov and Valaam (1420).
St. John, prince of Uglich, tonsured as Ignatius (Vologda) (1522).
Venerable Sergius, monk, of Shukhtom (1609).
Martyr Acoluthusofthe Thebaid (284-305).
Venerable John, bishop of the Goths in Crimea (787).
Sts. Parthenius and his brother Calogerius (250).
St. Dunstan, archbishop of Canterbury (988) (Celtic & British).
Entrance of St. Nina (Nino), Equal-to-the-Apostles, into Georgia (323) (Georgia).
Monk-martyrs and confessors John, Conon, Jeremias, Cyril, Theoctistus, Barnabas, Maximus, Theognostus, Joseph, Gennadius, Gerasimus, Mark, and Herman of Cyprus, who suffered under the Latins (1231).
Synaxis of Hieromartyrs of Kharkov.
Martyrs Cyriaca and Theotima (311) (Greek).
Scripture Readings
Acts 13:13-24
At Antioch in Pisidia
13 Now when Paul and his party set sail from Paphos, they came to Perga in Pamphylia; and John, departing from them, returned to Jerusalem. 14 But when they departed from Perga, they came to Antioch in Pisidia, and went into the synagogue on the Sabbath day and sat down. 15 And after the reading of the Law and the Prophets, the rulers of the synagogue sent to them, saying, "Men andbrethren, if you have any word of exhortation for the people, say on."
16 Then Paul stood up, and motioning with his hand said, "Men of Israel, and you who fear God, listen: 17 The God of this people Israel chose our fathers, and exalted the people when they dwelt as strangers in the land of Egypt, and with an uplifted arm He brought them out of it. 18 Now for a time of about forty years He put up with their ways in the wilderness. 19 And when He had destroyed seven nations in the land of Canaan, He distributed their land to them by allotment.
20 "After that He gave them judges for about four hundred and fifty years, until Samuel the prophet. 21 And afterward they asked for a king; so God gave them Saul the son of Kish, a man of the tribe of Benjamin, for forty years. 22 And when He had removed him, He raised up for them David as king, to whom also He gave testimony and said, 'I have found David the son of Jesse, a man after Myown heart, who will do all My will.' 23 From this man's seed, according to the promise, God raised up for Israel a Savior—Jesus—24 after John had first preached, before His coming, the baptism of repentance to all the people of Israel.
John 6:5-14
5 Then Jesus lifted up His eyes, and seeing a great multitude coming toward Him, He said to Philip, "Where shall we buy bread, that these may eat?" 6 But this He said to test him, for He Himself knew what He would do.
7 Philip answered Him, "Two hundred denarii worth of bread is not sufficient for them, that every one of them may have a little."
8 One of His disciples, Andrew, Simon Peter's brother, said to Him, 9 "There is a lad here who has five barley loaves and two small fish, but what are they among so many?"
10 Then Jesus said, "Make the people sit down." Now there was much grass in the place. So the men sat down, in number about five thousand. 11 And Jesus took the loaves, and when He had given thanks He distributed them to the disciples, and the disciples[a] to those sitting down; and likewise of the fish, as much as they wanted. 12 So when they were filled, He said to His disciples, "Gather up the fragments that remain, so that nothing is lost." 13 Therefore they gathered them up, and filled twelve baskets with the fragments of the five barley loaves which were left over by those who had eaten. 14 Then those men, when they had seen the sign that Jesus did, said, "This is truly the Prophet who is to come into the world."