When we are suffering a Dark Night of the Soul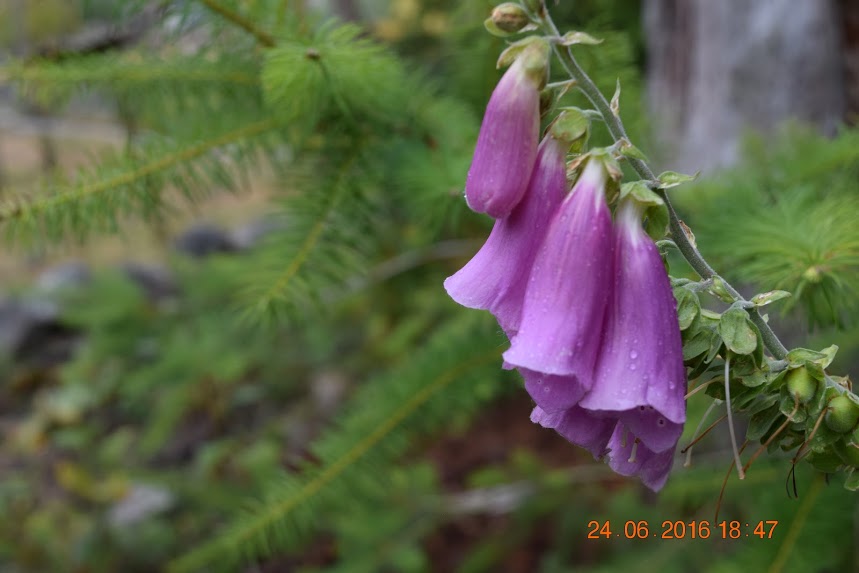 Sometimes we enter a dark night of the soul, where God seems distant from us. This is only an illusion, for God is closer to us than our own breath. These times are allowed by God to bring us closer to Him, much like the loving parent who stands her child on his feet, walks a few feet away holding out her arms, and waits for the child to take his first steps. She is ever ready to reach out and lift the child up should he start to fall, but she knows she must distance herself for a few moments if the child is going to learn to stand on his own two feet. We are like that.
When you find it difficult to pray, light your lampada before your icons and sit silently before them. Say  to God, I am hurting and sad, and am unable to speak to You, so I need You to speak to my heart. Sometimes the most profitable spiritual growth can take place in such periods of brokenness because we see in these moments how very much we need God and depend upon Him.
Be not fearful, dear ones, for God is near, and will not leave you. The Lord is allowing these dry moments, where you are fearing He has left you, as the way of making you reach out to Him. When we are struggling, or even suffering, we grow stronger in our faith. Prayer will return as long is you give God moments in your life when you avail yourself in silence, and listen for His voice.
The parent who constantly does his child's homework, does him no favor, for the child never learns to stand on his own, and will forever remain dependent on his parent. The Lord wants us to grow strong in our faith, while entering into a mature relationship with Him. If we do not learn to stand on our own, we will forever be like the codependent child, never having the skills to reach high places, and forever remaining weak and fearful.
Love in Christ,
Abbot Tryphon
Wednesday June 29, 2016 / June 16, 2016
2nd Week after Pentecost. Tone eight.
Apostles' (Peter & Paul) Fast. Food with Oil
St. Tychon, bishop of Amathus in Cyprus (425).
Venerable Tikhon of Kaluga or Medin (1492).
Venerable Tikhon of Lukhov (1503).
Venerable Moses of Optina, founder of the Optina Skete (1862).
New Martyr Hermogenes (Germogen), bishop of Tobolsk, Euphremius, Michael and Peter priests and Martyr Constantine (1918).
Translation of the relics (2002) of St. Theophan the Recluse, bishop of Tambov (1894).
Martyrs Tigrius and Eutropius of Constantinople (404).
Venerable Tikhon of Krestogorsk (Vologda).
St. Mark the Just of Apollonias, nephew of the Apostle Barnabas.
Five Martyrs of Nicomedia (Greek).
Forty Martyrs of Rome (Greek).
St. Kaikhosro the Georgian (1612) (Georgia).
St. Ismael, bishop of Geneva.
Scripture Readings
Romans 4:13-25
The Promise Granted Through Faith
13 For the promise that he would be the heir of the world was not to Abraham or to his seed through the law, but through the righteousness of faith. 14 For if those who are of the law are heirs, faith is made void and the promise made of no effect, 15 because the law brings about wrath; for where there is no law there is no transgression.
16 Therefore it is of faith that it might be according to grace, so that the promise might be sure to all the seed, not only to those who are of the law, but also to those who are of the faith of Abraham, who is the father of us all 17 (as it is written, "I have made you a father of many nations") in the presence of Him whom he believed—God, who gives life to the dead and calls those things which do not exist as though they did; 18 who, contrary to hope, in hope believed, so that he became the father of many nations, according to what was spoken, "So shall your descendants be. 19 And not being weak in faith, he did not consider his own body, already dead (since he was about a hundred years old), and the deadness of Sarah's womb. 20 He did not waver at the promise of God through unbelief, but was strengthened in faith, giving glory to God, 21 and being fully convinced that what He had promised He was also able to perform. 22 And therefore "it was accounted to him for righteousness.
23 Now it was not written for his sake alone that it was imputed to him, 24 but also for us. It shall be imputed to us who believe in Him who raised up Jesus our Lord from the dead, 25 who was delivered up because of our offenses, and was raised because of our justification.
Matthew 7:21-23
I Never Knew You
21 "Not everyone who says to Me, 'Lord, Lord,' shall enter the kingdom of heaven, but he who does the will of My Father in heaven.22 Many will say to Me in that day, 'Lord, Lord, have we not prophesied in Your name, cast out demons in Your name, and done many wonders in Your name?' 23 And then I will declare to them, 'I never knew you; depart from Me, you who practice lawlessness!'