We must put off religion and put on Christ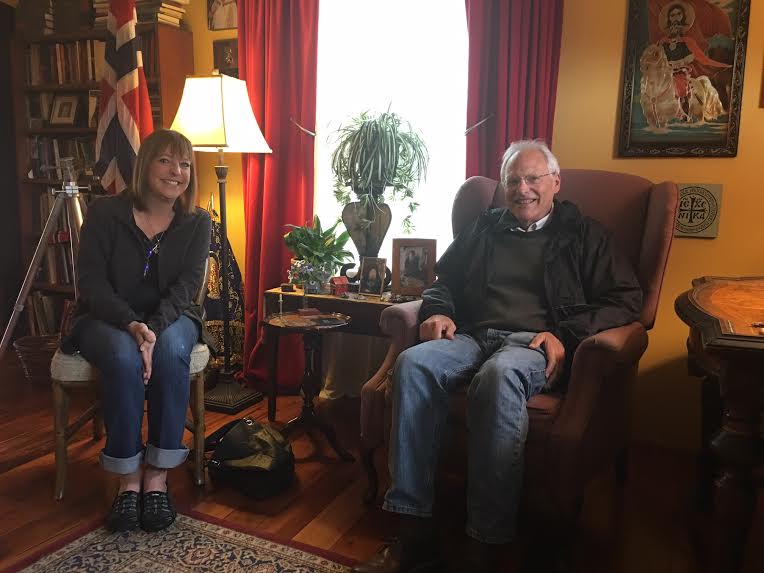 The Church's true authority is grounded in love because she holds within her realm the authority to make her people the children of God. She has the authority to forgive, and the capacity to love. And just as her Head, Jesus Christ, she exists to serve, and not to be served. She guides her people with love, recognizing that each person is unique, and is to be ministered to with an authority that is based on serving, not being served.
With more and more people embracing a materialistic approach to life, rather than the biblical approach that is grounded in self-denial, it is all the more imperative that the Church's clergy reach out with the love of Christ, and the healing power that comes with being grounded in His love. As increasing numbers of young people are turning to atheism, it is all the more important that today's seekers find in the Church an outpouring of love and humility, so they might see, first hand, the transformational power of Christ at work. We cannot, as churchman, allow those who are in dire need of Christ, see in us a lifeless religion. The worshiping ecclesiastical community must therefore abolish religion and replace it with the transformational power of Christ.
The ever-memorable Father John Romanides said in the most categorical way that Christ became human, in order to free us of the illness of religion. Father John wrote, "Unless we churchman put off religion and put on Christ, we will continue to fail in our vocation as servants to others and messengers of God's peace". Unless the Church's priests and bishops demonstrate with holiness and humility, the imitation of Christ the Saviour as servant, the authentic witness of Christ will have been lost.
The world needs to see authenticity of faith, and until Christ is seen in the lives of churchman who are living as icons of Christ, and serving as loving, humble servants of the Most High, the world will continue looking for truth in a wasteland of spiritual confusion. The Church must proclaim the Good News in all humility and love, for "the Son of Man did not come to be served, but to serve (Mark 10:45),"
With love in Christ,
Abbot Tryphon
Photos: A friend from high school, Prof. James Cox of the University of Edinburgh in Scotland, together with his daughter, Elizabeth Cox, visited with me yesterday afternoon. Prof. Cox and I were on our high school debate team, and best friends from the seventh grade all the way through high school. We reconnected a number of years ago after not having seen each other for 46 years.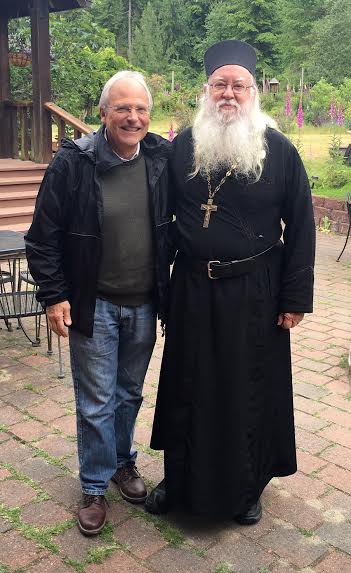 Friday May 27, 2016 / May 14, 2016
Fourth Week of Pascha. Tone three.
Fast. Fish Allowed
Martyr Isidore of Chios (251).
St. Isidore, fool-for-Christ, wonderworker of Rostov (1474).
New Hieromartyr Peter priest (1939).
Venerable Nicetas, bishop of Novgorod and recluse of the Kiev Caves (1108).
Martyr Maximus, under Decius (250).
Venerable Serapion the Sindonite, monk, of Egypt (542).
St. Leontius, patriarch of Jerusalem (1175).
Trebensk (1654) and Yaroslavl (Pechersk) Icons of the Mother of God (1823).
New Martyr John-Raiko of Shumena, Bulgaria (1802)) (Greek).
New Martyr Mark of Crete, at Smyrna (1643) (Greek).
First opening of the relics (1846) of St. Tikhon of Zadonsk (1783).
St. Aprunculus, bishop of Clermont in Gaul (Gaul).
Sts. Alexander, Barbarus, and Acolythus, martyred at the Church of Holy Peace by the Sea in Constantinople (Greek).
St. Andrew, abbot of Raphael (Tobolsk) (1820).
Scripture Readings
Acts 10:44-11:10
The Holy Spirit Falls on the Gentiles
44 While Peter was still speaking these words, the Holy Spirit fell upon all those who heard the word. 45 And those of the circumcision who believed were astonished, as many as came with Peter, because the gift of the Holy Spirit had been poured out on the Gentiles also. 46 For they heard them speak with tongues and magnify God.
Then Peter answered, 47 "Can anyone forbid water, that these should not be baptized who have received the Holy Spirit just as we have?" 48 And he commanded them to be baptized in the name of the Lord. Then they asked him to stay a few days.
Peter Defends God's Grace
11 Now the apostles and brethren who were in Judea heard that the Gentiles had also received the word of God. 2 And when Peter came up to Jerusalem, those of the circumcision contended with him, 3 saying, "You went in to uncircumcised men and ate with them!"
4 But Peter explained it to them in order from the beginning, saying: 5 "I was in the city of Joppa praying; and in a trance I saw a vision, an object descending like a great sheet, let down from heaven by four corners; and it came to me. 6 When I observed it intently and considered, I saw four-footed animals of the earth, wild beasts, creeping things, and birds of the air. 7 And I heard a voice saying to me, 'Rise, Peter; kill and eat.' 8 But I said, 'Not so, Lord! For nothing common or unclean has at any time entered my mouth.' 9 But the voice answered me again from heaven, 'What God has cleansed you must not call common.' 10 Now this was done three times, and all were drawn up again into heaven.
John 8:21-30
Jesus Predicts His Departure
21 Then Jesus said to them again, "I am going away, and you will seek Me, and will die in your sin. Where I go you cannot come."
22 So the Jews said, "Will He kill Himself, because He says, 'Where I go you cannot come'?"
23 And He said to them, "You are from beneath; I am from above. You are of this world; I am not of this world. 24 Therefore I said to you that you will die in your sins; for if you do not believe that I am He, you will die in your sins."
25 Then they said to Him, "Who are You?"
And Jesus said to them, "Just what I have been saying to you from the beginning. 26 I have many things to say and to judge concerning you, but He who sent Me is true; and I speak to the world those things which I heard from Him."
27 They did not understand that He spoke to them of the Father.
28 Then Jesus said to them, "When you lift up the Son of Man, then you will know that I am He, and that I do nothing of Myself; but as My Father taught Me, I speak these things. 29 And He who sent Me is with Me. The Father has not left Me alone, for I always do those things that please Him." 30 As He spoke these words, many believed in Him.