The God of Christianity does not punish, He educates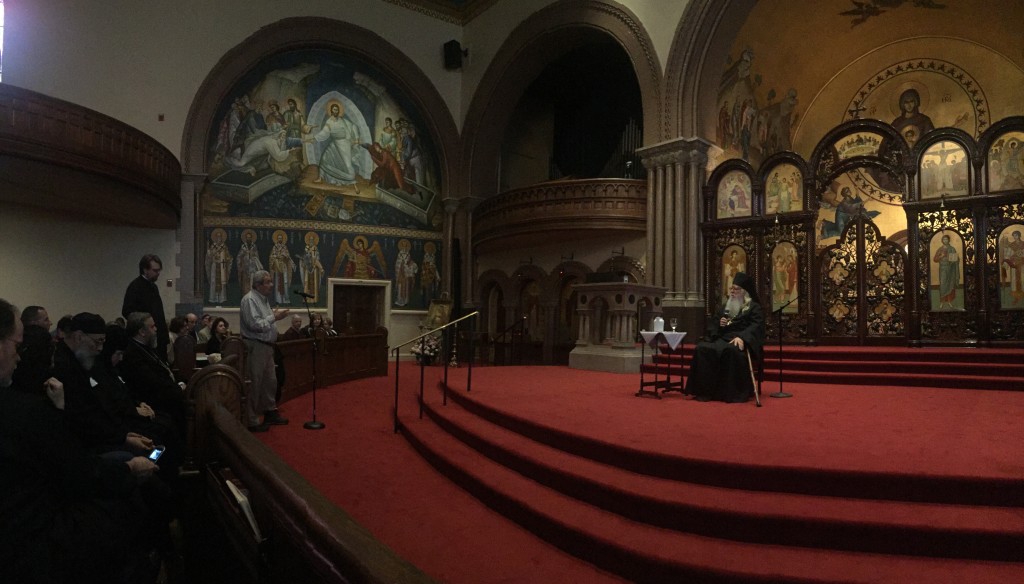 One of the primary differences between Islam and Christianity has to do with the basic view of the nature of God. Islam teaches total surrender to a god who demands submission. There is no invitation to enter into a relationship, freely, nor is there room for an individual to choose, or not choose to love his Creator, for the god of the Muslims is far above his creation, and there is no real possibility to have a personal relationship with this god.
By contrast, the God of Christianity is one Who invites us into a relationship that is personal, and like all relationships based on love, we are free to choose, or not, to commune with a God Who is, by His very nature, in relationship. The God worshiped in Trinity, and this image of the Trinity is the basis of the image of the Church, one of mutual love. The God we worship in Trinity, Father, Son and Holy Spirit, is One God, and our response to the invitation from this One God, is to enter into communion with our nous, soul, and body (our own triune nature).
There is no force behind this invitation, for we are free to choose, or not, just as any relationship based on love requires both parties to be free to choose, or not. Our obedience is a religious act that must be free, and it must be based on love.
Our Lord Jesus Christ taught using parables, precisely because he was inviting us to freely choose to follow him, and to keep the commandments. He showed us the way to eternal life, not by giving commands as the Son of God, but as a loving teacher Whose wisdom was imparted in a way that left the choice up to us. His Apostle Peter demonstrated this same style of teaching when he told his fellow disciples that he was going fishing. Peter didn't say they were going fishing, but only that he was going fishing, thus leaving his friends with a choice. They were free to go fishing, or not.
Muhammad, by contrast, gave his followers specific laws that must be followed, including total submission to god, and should they ever renounce Islam, they would face a penalty of death. This lack of freedom in the teachings of Muhammad has its roots in his failure to teach about the notion of person.
In Christ we have the image of the Pantocrator, a fresco that is traditionally the primary focus in the dome of an Orthodox temple. The Pantocrator is He Who holds all things in His hands, through His love and forbearance. This God of Christianity does not punish, He educates, just as Christ educated his disciples through the use of parables.
With love in Christ,
Abbot Tryphon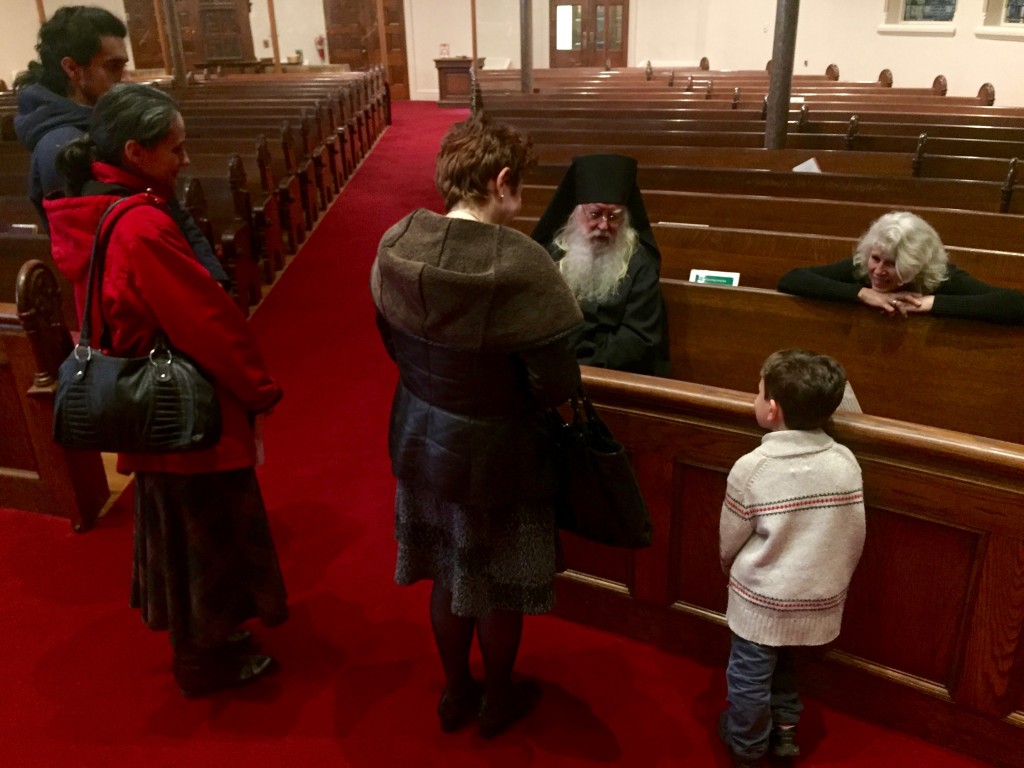 Tuesday April 5, 2016 / March 23, 2016
Fourth Week of the Great Lent: Adoration of Cross. Tone three.
Great Lent. By Monastic Charter: Food without Oil
Monk-martyr Nicon and 199 disciples, in Sicily (251).
New Hieromartyr Macarius priest (1931).
New Martyr James, New Hieromartyr Basil, Stephen priests, Virgin-martyr Anastasia, Martyr Alexis (1938).
New Hieromartyr venerable confessor archbishop Sergius (Serebriansky) (1948).
Venerable Nicon, abbot of the Kiev Caves (1088).
Martyrs Philetas the Senator, his wife Lydia, their sons Macedon and Theoprepius, the notary Cronides, and Amphilochius the Captain, in Illyria (125).
St. Basil of Mangazea in Siberia (1600).
Martyr Dometius the Persian, under Julian the Apostate (ca. 360-361).
Venerable Luke the New of Mytilene, Mt. Athos (1802).
Venerable Pachomius, abbot of Nerekhta (1384).
St. Bassian, archbishop of Rostov (1481).
St. Gwinear of Cornwall.
Scripture Readings
Isaiah 25:1-9
Praise to God
25 O Lord, You are my God.
I will exalt You,
I will praise Your name,
For You have done wonderful things;
Your counsels of old are faithfulness and truth.
2 For You have made a city a ruin,
A fortified city a ruin,
A palace of foreigners to be a city no more;
It will never be rebuilt.
3 Therefore the strong people will glorify You;
The city of the terrible nations will fear You.
4 For You have been a strength to the poor,
A strength to the needy in his distress,
A refuge from the storm,
A shade from the heat;
For the blast of the terrible ones is as a storm against the wall.
5 You will reduce the noise of aliens,
As heat in a dry place;
As heat in the shadow of a cloud,
The song of the terrible ones will be diminished.
6 And in this mountain
The Lord of hosts will make for all people
A feast of choice pieces,
A feast of wines on the lees,
Of fat things full of marrow,
Of well-refined wines on the lees.
7 And He will destroy on this mountain
The surface of the covering cast over all people,
And the veil that is spread over all nations.
8 He will swallow up death forever,
And the Lord God will wipe away tears from all faces;
The rebuke of His people
He will take away from all the earth;
For the Lord has spoken.
9 And it will be said in that day:
"Behold, this is our God;
We have waited for Him, and He will save us.
This is the Lord;
We have waited for Him;
We will be glad and rejoice in His salvation."
Genesis 9:8-17
8 Then God spoke to Noah and to his sons with him, saying: 9 "And as for Me, behold, I establish My covenant with you and with your descendants[a] after you, 10 and with every living creature that is with you: the birds, the cattle, and every beast of the earth with you, of all that go out of the ark, every beast of the earth. 11 Thus I establish My covenant with you: Never again shall all flesh be cut off by the waters of the flood; never again shall there be a flood to destroy the earth."
12 And God said: "This is the sign of the covenant which I make between Me and you, and every living creature that is with you, for perpetual generations: 13 I set My rainbow in the cloud, and it shall be for the sign of the covenant between Me and the earth. 14 It shall be, when I bring a cloud over the earth, that the rainbow shall be seen in the cloud; 15 and I will remember My covenant which isbetween Me and you and every living creature of all flesh; the waters shall never again become a flood to destroy all flesh. 16 The rainbow shall be in the cloud, and I will look on it to remember the everlasting covenant between God and every living creature of all flesh that is on the earth." 17 And God said to Noah, "This is the sign of the covenant which I have established between Me and all flesh that is on the earth."
Proverbs 12:8-22
8 A man will be commended according to his wisdom,
But he who is of a perverse heart will be despised.
9 Better is the one who is slighted but has a servant,
Than he who honors himself but lacks bread.
10 A righteous man regards the life of his animal,
But the tender mercies of the wicked are cruel.
11 He who tills his land will be satisfied with bread,
But he who follows frivolity is devoid of understanding.
12 The wicked covet the catch of evil men,
But the root of the righteous yields fruit.
13 The wicked is ensnared by the transgression of his lips,
But the righteous will come through trouble.
14 A man will be satisfied with good by the fruit of his mouth,
And the recompense of a man's hands will be rendered to him.
15 The way of a fool is right in his own eyes,
But he who heeds counsel is wise.
16 A fool's wrath is known at once,
But a prudent man covers shame.
17 He who speaks truth declares righteousness,
But a false witness, deceit.
18 There is one who speaks like the piercings of a sword,
But the tongue of the wise promotes health.
19 The truthful lip shall be established forever,
But a lying tongue is but for a moment.
20 Deceit is in the heart of those who devise evil,
But counselors of peace have joy.
21 No grave trouble will overtake the righteous,
But the wicked shall be filled with evil.
22 Lying lips are an abomination to the Lord,
But those who deal truthfully are His delight.