Accuse myself, blame myself, judge myself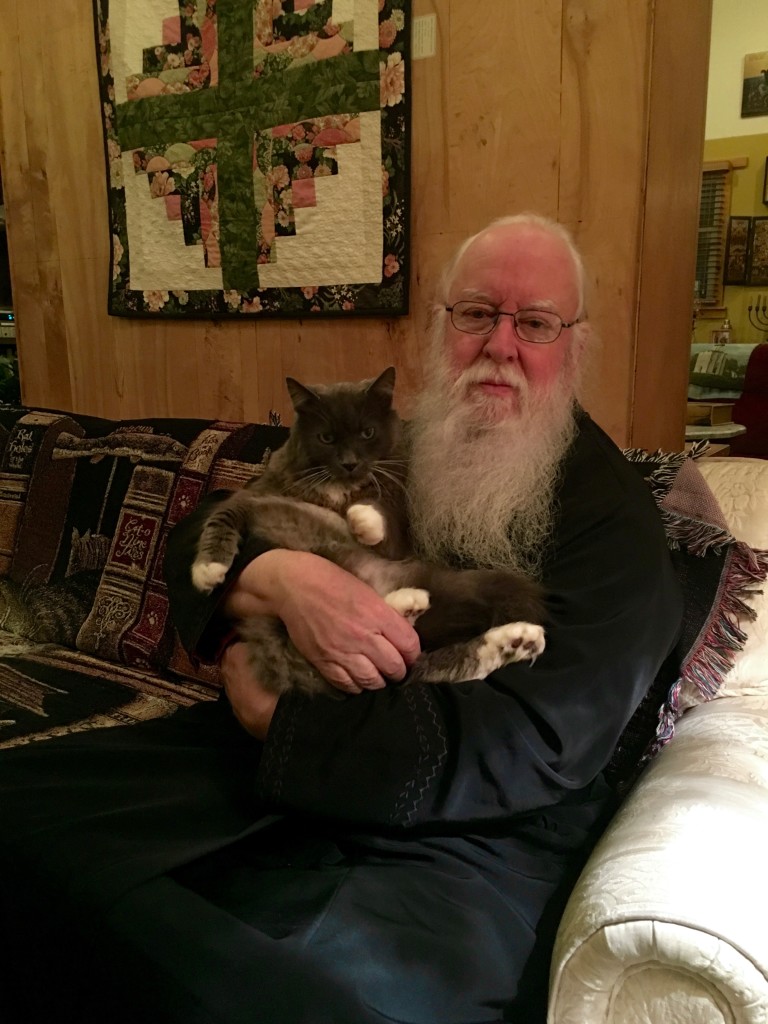 We see people's sins, but we don't know whether they have made peace with God. We don't know if the person who has sinned regrets it, but we are not called to judge them, but only to forgive them. As we become aware of our own sins, and begin to realize how much forgiveness and mercy we need, we are less likely to see the sins of others.
If we find ourselves judging others, we must turn it around, and judge only ourselves. We must accuse ourselves, blame ourselves, judge ourselves, and get our focus off the other person. The only way we can overcome the sin of judging others, is to see only the sins of ourselves. True repentance comes only when we work on our own fallen nature.
With love in Christ,
Abbot Tryphon
Photos: Thanks to your prayers I arrived safely back on the island Monday night. Hammi and I were glad to be reunited after three weeks apart, with the first week in the cardiac unit at Swedish Medical Center in Seattle. I'm doing well, and have an appointment with Dr. Peter Demopulos, my cardiologist today (Wednesday). The second photo is of myself and Mitered Archpriest John Townsend, rector of Saint Mary of Egypt Russian Orthodox Church in Atlanta, GA. We were both flying out of Baltimore on the very same flight to Atlanta, and had a chance to have a nice visit at the gate.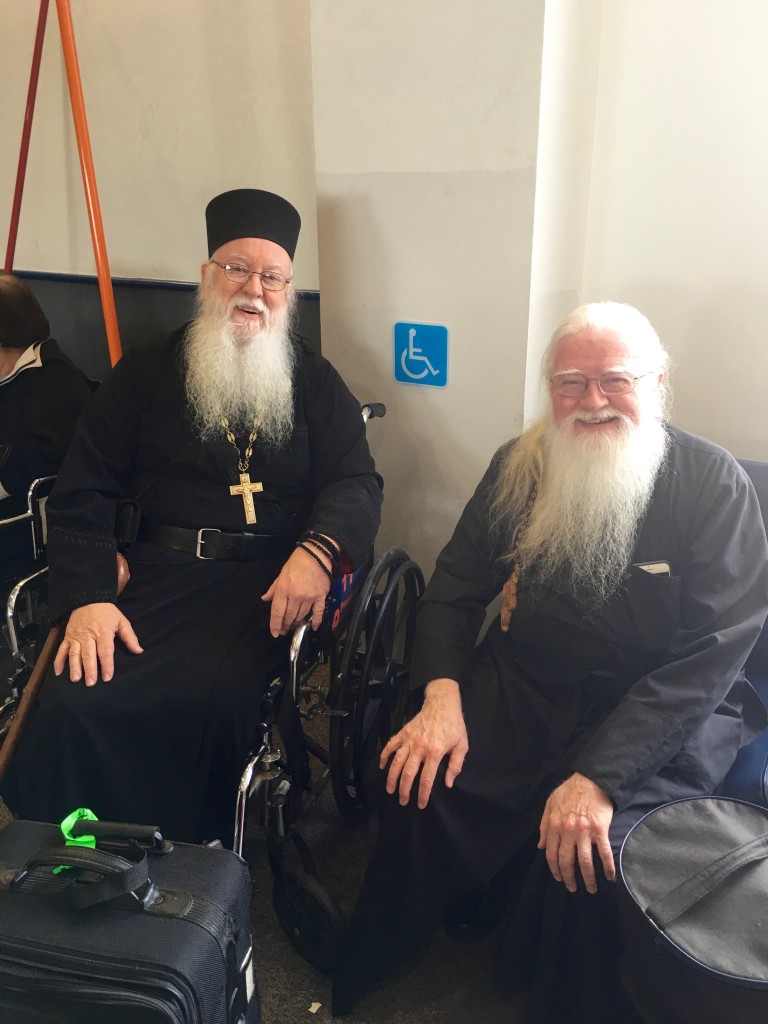 Wednesday April 6, 2016 / March 24, 2016
Fourth Week of the Great Lent: Adoration of Cross. Tone three.
Great Lent. Food with Oil
Forefeast of the Annunciation.
Venerable Zacharias the Recluse of Egypt (4th c.).
St. Artemon, bishop of Seleucia (1st c.).
New Hieromartyr Vladimir priest (1920).
Venerable Zachariah, faster of the Kiev Caves (13th c.).
Martyrs Stephen and Peter of Kazan (1552).
Venerable James the Confessor, bishop of Catania (802-811).
"The Clouded Mount" Icon of the Mother of God.
Hieromartyr Parthenius, patriarch of Constantinople (1657).
St. Savvas the New of Kalymnos (1948) (Greek).
Eight Martyrs of Caesarea in Palestine (Greek).
Venerable Martin of Thebes, monk (Greek).
St. Thomas, abbot of the monastery of St. Euthymius (542).
St. Severus of Catania (802-811).
St. Artemius, bishop of Thessalonica.
St. Dunchad, abbot of Iona.
Scripture Readings
Isaiah 26:21-27:9
21 For behold, the Lord comes out of His place
To punish the inhabitants of the earth for their iniquity;
The earth will also disclose her blood,
And will no more cover her slain.
27 In that day the Lord with His severe sword, great and strong,
Will punish Leviathan the fleeing serpent,
Leviathan that twisted serpent;
And He will slay the reptile that is in the sea.
The Restoration of Israel
2 In that day sing to her,
"A vineyard of red wine!
3 I, the Lord, keep it,
I water it every moment;
Lest any hurt it,
I keep it night and day.
4 Fury is not in Me.
Who would set briers and thorns
Against Me in battle?
I would go through them,
I would burn them together.
5 Or let him take hold of My strength,
That he may make peace with Me;
And he shall make peace with Me."
6 Those who come He shall cause to take root in Jacob;
Israel shall blossom and bud,
And fill the face of the world with fruit.
7 Has He struck Israel as He struck those who struck him?
Or has He been slain according to the slaughter of those who were slain by Him?
8 In measure, by sending it away,
You contended with it.
He removes it by His rough wind
In the day of the east wind.
9 Therefore by this the iniquity of Jacob will be covered;
And this is all the fruit of taking away his sin:
When he makes all the stones of the altar
Like chalkstones that are beaten to dust,
Wooden images and incense altars shall not stand.
Genesis 9:18-10:1
Noah and His Sons
18 Now the sons of Noah who went out of the ark were Shem, Ham, and Japheth. And Ham was the father of Canaan. 19 These three were the sons of Noah, and from these the whole earth was populated.
20 And Noah began to be a farmer, and he planted a vineyard. 21 Then he drank of the wine and was drunk, and became uncovered in his tent. 22 And Ham, the father of Canaan, saw the nakedness of his father, and told his two brothers outside. 23 But Shem and Japheth took a garment, laid it on both their shoulders, and went backward and covered the nakedness of their father. Their faces were turned away, and they did not see their father's nakedness.
24 So Noah awoke from his wine, and knew what his younger son had done to him. 25 Then he said:
"Cursed be Canaan;
A servant of servants
He shall be to his brethren."
26 And he said:
"Blessed be the Lord,
The God of Shem,
And may Canaan be his servant.
27 May God enlarge Japheth,
And may he dwell in the tents of Shem;
And may Canaan be his servant."
28 And Noah lived after the flood three hundred and fifty years. 29 So all the days of Noah were nine hundred and fifty years; and he died.
Nations Descended from Noah
10 Now this is the genealogy of the sons of Noah: Shem, Ham, and Japheth. And sons were born to them after the flood.
Proverbs 12:23-13:9
23 A prudent man conceals knowledge,
But the heart of fools proclaims foolishness.
24 The hand of the diligent will rule,
But the lazy man will be put to forced labor.
25 Anxiety in the heart of man causes depression,
But a good word makes it glad.
26 The righteous should choose his friends carefully,
For the way of the wicked leads them astray.
27 The lazy man does not roast what he took in hunting,
But diligence is man's precious possession.
28 In the way of righteousness is life,
And in its pathway there is no death.
13 A wise son heeds his father's instruction,
But a scoffer does not listen to rebuke.
2 A man shall eat well by the fruit of his mouth,
But the soul of the unfaithful feeds on violence.
3 He who guards his mouth preserves his life,
But he who opens wide his lips shall have destruction.
4 The soul of a lazy man desires, and has nothing;
But the soul of the diligent shall be made rich.
5 A righteous man hates lying,
But a wicked man is loathsome and comes to shame.
6 Righteousness guards him whose way is blameless,
But wickedness overthrows the sinner.
7 There is one who makes himself rich, yet has nothing;
And one who makes himself poor, yet has great riches.
8 The ransom of a man's life is his riches,
But the poor does not hear rebuke.
9 The light of the righteous rejoices,
But the lamp of the wicked will be put out.
Genesis 28:10-17
Jacob's Vow at Bethel
10 Now Jacob went out from Beersheba and went toward Haran. 11 So he came to a certain place and stayed there all night, because the sun had set. And he took one of the stones of that place and put it at his head, and he lay down in that place to sleep. 12 Then he dreamed, and behold, a ladder was set up on the earth, and its top reached to heaven; and there the angels of God were ascending and descending on it.
13 And behold, the Lord stood above it and said: "I am the Lord God of Abraham your father and the God of Isaac; the land on which you lie I will give to you and your descendants. 14 Also your descendants shall be as the dust of the earth; you shall spread abroad to the west and the east, to the north and the south; and in you and in your seed all the families of the earth shall be blessed. 15 Behold, I am with you and will keep you wherever you go, and will bring you back to this land; for I will not leave you until I have done what I have spoken to you."
16 Then Jacob awoke from his sleep and said, "Surely the Lord is in this place, and I did not know it." 17 And he was afraid and said, "How awesome is this place! This is none other than the house of God, and this is the gate of heaven!"
Ezekiel 43:27-44:4
27 When these days are over it shall be, on the eighth day and thereafter, that the priests shall offer your burnt offerings and your peace offerings on the altar; and I will accept you,' says the Lord God."
The East Gate and the Prince
44 Then He brought me back to the outer gate of the sanctuary which faces toward the east, but it was shut. 2 And the Lord said to me, "This gate shall be shut; it shall not be opened, and no man shall enter by it, because the Lord God of Israel has entered by it; therefore it shall be shut. 3 As for the prince, because he is the prince, he may sit in it to eat bread before the Lord; he shall enter by way of the vestibule of the gateway, and go out the same way."
Those Admitted to the Temple
4 Also He brought me by way of the north gate to the front of the temple; so I looked, and behold, the glory of the Lord filled the house of the Lord; and I fell on my face.
Proverbs 9:1-11
The Way of Wisdom
9 Wisdom has built her house,
She has hewn out her seven pillars;
2 She has slaughtered her meat,
She has mixed her wine,
She has also furnished her table.
3 She has sent out her maidens,
She cries out from the highest places of the city,
4 "Whoever is simple, let him turn in here!"
As for him who lacks understanding, she says to him,
5 "Come, eat of my bread
And drink of the wine I have mixed.
6 Forsake foolishness and live,
And go in the way of understanding.
7 "He who corrects a scoffer gets shame for himself,
And he who rebukes a wicked man only harms himself.
8 Do not correct a scoffer, lest he hate you;
Rebuke a wise man, and he will love you.
9 Give instruction to a wise man, and he will be still wiser;
Teach a just man, and he will increase in learning.
10 "The fear of the Lord is the beginning of wisdom,
And the knowledge of the Holy One is understanding.
11 For by me your days will be multiplied,
And years of life will be added to you.