Taste the presence of Christ in you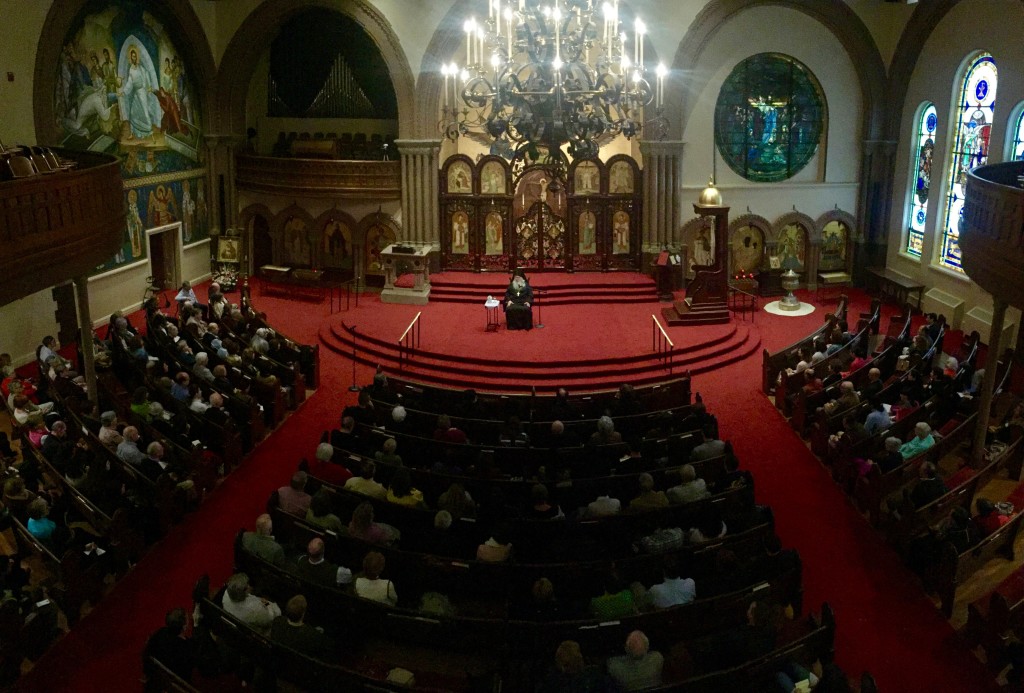 We all need a good dose of silent prayer each and every day. Finding that perfect place in your home that can become your cave, or prayer closet, will afford you that sacred space wherein you can go deep into the heart and connect with God. That place wherein you can close off your family, your worries, your job, your distractions, and go deep into your heart wherein you will find the peace that comes from Christ.
The Jesus Prayer is the perfect prayer, for it is a prayer of adoration and praise, and a prayer that proclaims that Jesus is Lord and, as God, can grand mercy upon you. The simple prayer which invokes the Holy Name of Jesus can transform your life, and take you into the very Heart of God. This prayer is known as the Prayer of the Heart for the very reason that it is of the heart.
Lord Jesus Christ, Son of God, have mercy on me a sinner. Said with the aid of a Prayer Rope (thus bringing your body into the action of the prayer), this prayer accomplishes Saint Paul's admonition that we should "pray always". It is a prayer that takes you out of yourself and into communion with Christ. It is a prayer that can change your life because through this prayer you can taste the presence of Christ beside you.
Love in Christ,
Abbot Tryphon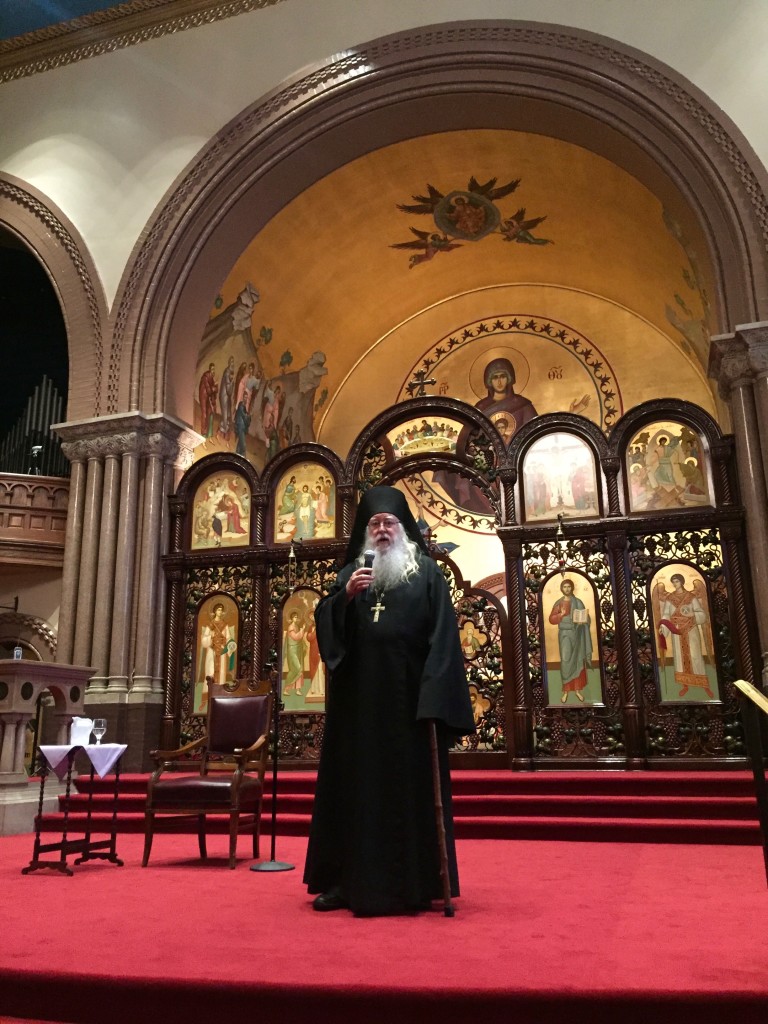 Photos: With the blessings of Archbishop Kyrill of San Francisco and the Western American Diocese (ROCOR), and Greek Metropolitan Evangelos of New Jersey, I delivered the 22nd annual the Lenten Retreat at the Greek Orthodox Cathedral of the Annunciation in Baltimore, Maryland.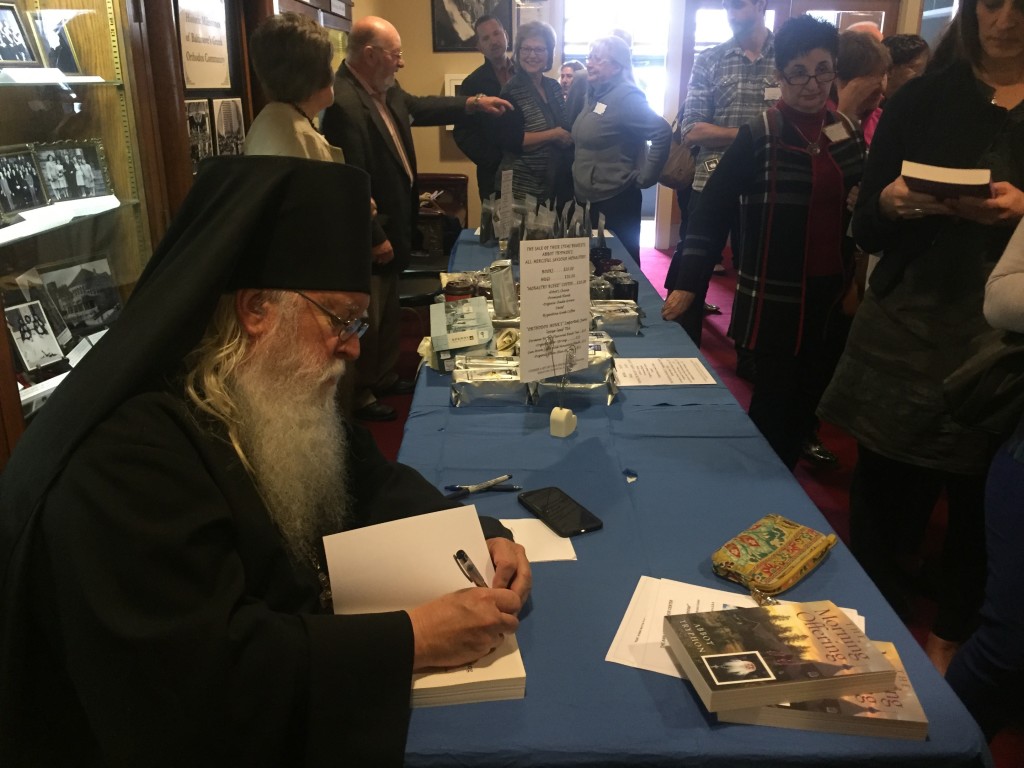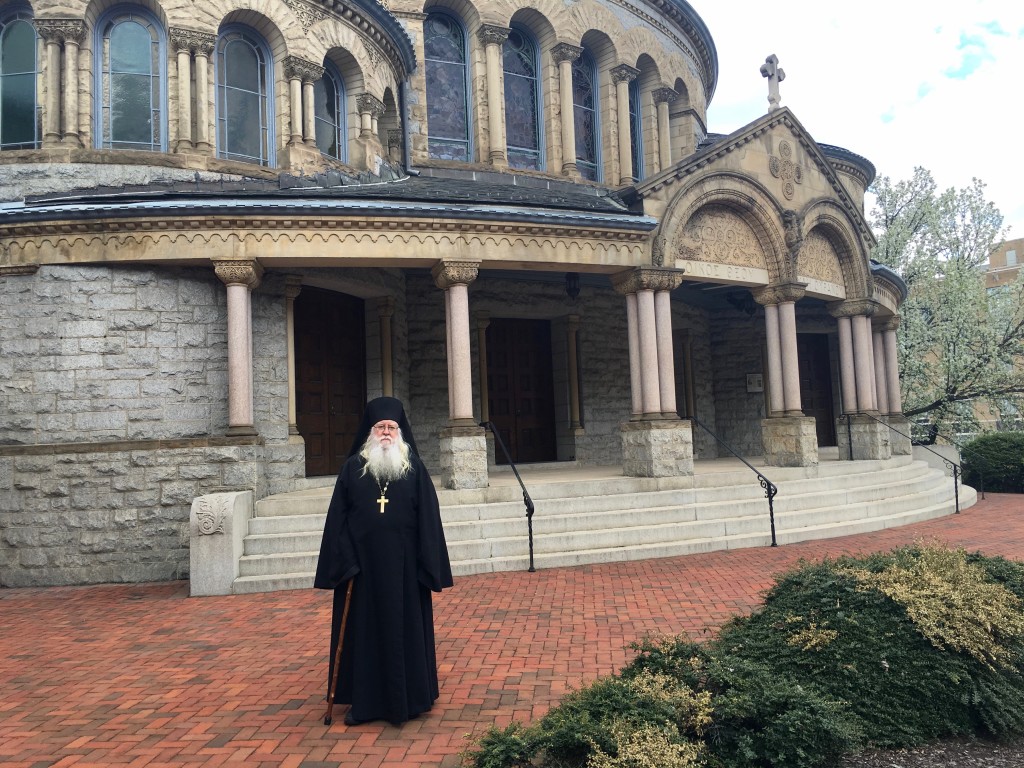 Sunday April 3, 2016 / March 21, 2016
Third Sunday of the Great Lent: Adoration of Cross. Tone three.
Great Lent. Food with Oil
Venerable James the Confessor, bishop, of the Studium (late 8th c.).
New Hieromartyr Vladimir priest (1931).
New Martyr Archbishop Theodore Pozdeyev (1938).
Venerable Seraphim Vyritsa (1949).
St. Cyril, bishop of Catania (2nd c.).
St. Thomas, patriarch of Constantinople (610).
Venerable Serapion, bishop of Thmuis in Lower Egypt, friend of St. Anthony the Great (358).
Venerable Pachomius, monk, of Nerekhta.
Venerable Lupicinus, desert-dweller of the Jura Mountains (480) (Gaul).
St. Enda of Aran, monk, earliest leader of Irish monas-ticism (530) (Celtic & British).
Martyrs Philemon and Domnina of Rome (Greek).
St. Beryllus, bishop of Catania (2nd c.).
St. Sophronius, abbot of the monastery of St. Theodosius (542).
New Martyr Michael of Agrapha (1544).
St. Serapion the Sindonite, monk of Egypt (542).
Scripture Readings
Hebrews 4:14-5:6
Our Compassionate High Priest
14 Seeing then that we have a great High Priest who has passed through the heavens, Jesus the Son of God, let us hold fast ourconfession. 15 For we do not have a High Priest who cannot sympathize with our weaknesses, but was in all points tempted as we are, yet without sin. 16 Let us therefore come boldly to the throne of grace, that we may obtain mercy and find grace to help in time of need.
Qualifications for High Priesthood
5 For every high priest taken from among men is appointed for men in things pertaining to God, that he may offer both gifts and sacrifices for sins. 2 He can have compassion on those who are ignorant and going astray, since he himself is also subject to weakness. 3 Because of this he is required as for the people, so also for himself, to offer sacrifices for sins. 4 And no man takes this honor to himself, but he who is called by God, just as Aaron was.
A Priest Forever
5 So also Christ did not glorify Himself to become High Priest, but it was He who said to Him:
"You are My Son,
Today I have begotten You."
6 As He also says in another place:
"You are a priest forever
According to the order of Melchizedek";
Mark 8:34-9:1
Take Up the Cross and Follow Him
34 When He had called the people to Himself, with His disciples also, He said to them, "Whoever desires to come after Me, let him deny himself, and take up his cross, and follow Me. 35 For whoever desires to save his life will lose it, but whoever loses his life for My sake and the gospel's will save it. 36 For what will it profit a man if he gains the whole world, and loses his own soul? 37 Or what will a man give in exchange for his soul? 38 For whoever is ashamed of Me and My words in this adulterous and sinful generation, of him the Son of Man also will be ashamed when He comes in the glory of His Father with the holy angels."
9 And He said to them, "Assuredly, I say to you that there are some standing here who will not taste death till they see the kingdom of God present with power."