How do we keep our youth in the Church?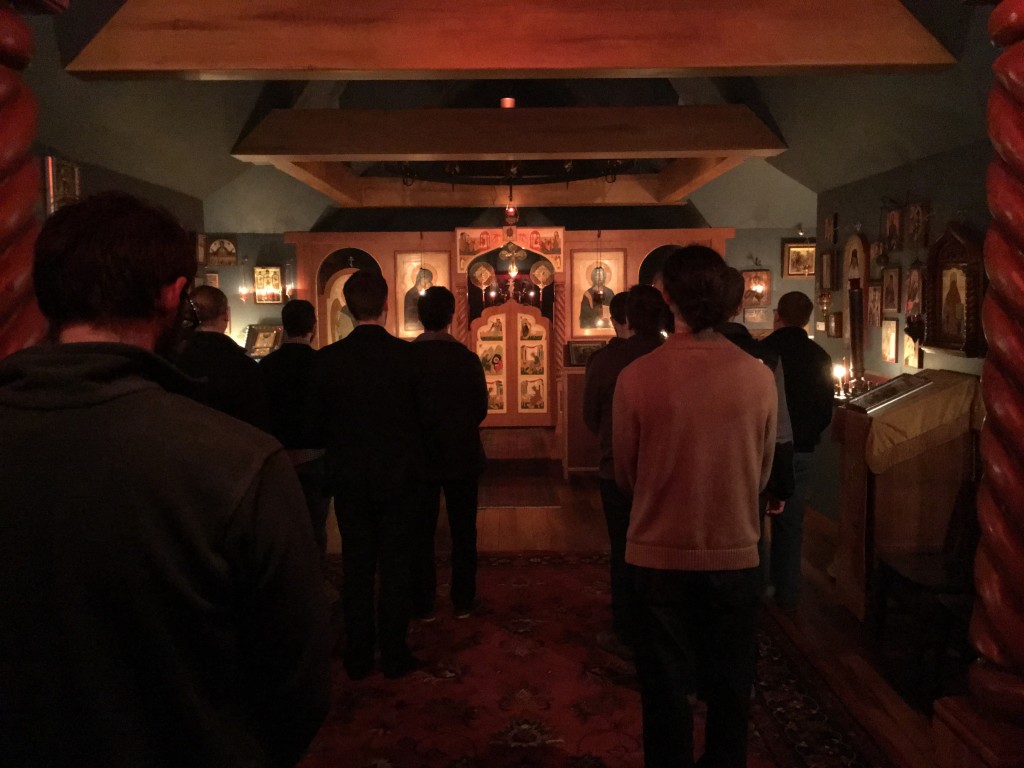 We are living in an age that has witnessed changes on a massive scale as never before. The way we communicate has changed with the coming of the internet, with information available that would have required a library and advanced degrees to access in the past. Ideas and information are available that leave our youth with choices that were never available a generation ago.
Moral norms have changed, with values and lifestyles that would have never been seen as acceptable in the past becoming part of mainstream. Gay marriage, the high divorce rate, children being raise by unwed parents, and profane music that sounds like it came from the underworld (which inspired it, I'm sure). Child sexual abuse is reaching shocking numbers, with clergy, boy scout leaders, coaches and police officers under arrest. With the environmental crisis increasing and political unrest spreading, hope is fading. Our world is polarized in ways that are mind boggling, and the economy has lowered the hopes and expectations of a whole generation.
With all that has changed in our world, is it any wonder young people are abandoning the Christian faith in droves? With the youthful questioning of authority, it is not enough to simply expect them to accept the authority of bishops, priests, and the traditions and teachings of the Church. There needs to be a change in the way we of the older generations communicate with our youth.
In this age of information we must demonstrate to our youth the difference between information and wisdom. Wisdom is that which is passed down from the past and which imparts substance and enlightenment. Wisdom is not about information, and does not compete with worldly knowledge. Wisdom need not be in conflict with science, nor be linked to narrow mindedness. Wisdom is that which not only connects us to the best of human knowledge and experience, but links us to that which is eternal. Wisdom gives us the ability to relate to our Creator, to our culture and to others. The urgency of imparting this message is great, for we have a whole generation that is in danger of losing faith in God.
It is not enough to expect our young people to attend services if we do not listen to them, respect them, and try to understand the world that is confronting them. They are growing up in a different world than people of my generation experienced, and this important difference must be acknowledged and respected. We can't simply teach the truth to our youth, we must live it in a way that makes it real for them. We  must be patient with them, be open to their struggles and non-confrontational when they disagree with us, or we will lose them forever to Christ.
Today's young people have the same hopes and dreams that previous generations held, but this fast changing world is depriving them of hope. Nihilism has become the religion of countless numbers of our youth, with the result that life has become meaningless . The information age has driven God out of societal, cultural and governmental prominence, resulting in mass disbelief.
We who are of the older generations must witness to the wealth of truth that is in the ancient knowledge and wisdom of the Church by demonstrating it's worth in how we live. If young people do not see a genuine living out of the Faith in us, they will keep looking for truth in directions that will take them far from it. Young people are worthy of our love and respect, and worthy of sharing with us the life in Christ that is their heritage as well. The Church will not be a draw to our youth unless her members demonstrate holiness of life and reach out with love, patience and understanding, offering something that is seen as real by today's young people.
Finally, today's young people need to see joy in the hearts of those of us who have taken on Christ. If we do not have joy in our hearts the youth will see nothing that is attractive to them, and will continue in the wasteland of consumerism, materialism, nihilism, and all hope for the future of our planet will have died.
Love in Christ,
Abbot Tryphon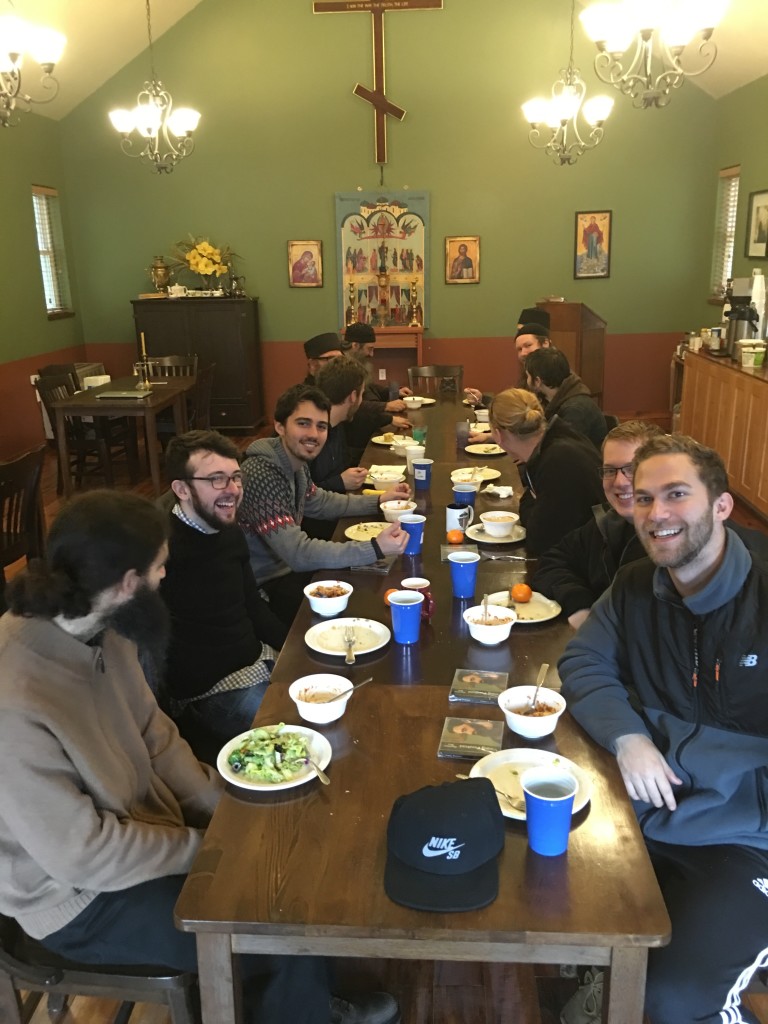 Photos: The start of the three day retreat for the Orthodox Lay Brotherhood of Saint John the Wonderworker. Note that the monastery cat, Hammi, is sitting at the head of the table.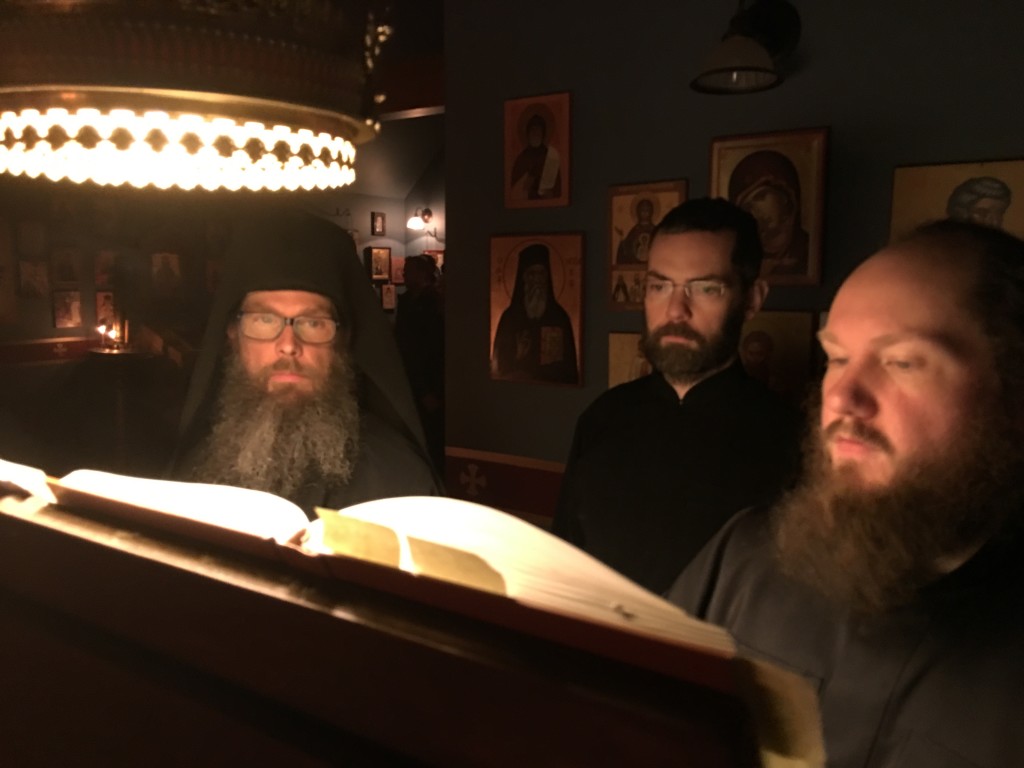 Saturday February 6, 2016 / January 24, 2016
36th Week after Pentecost. Tone two.
Venerable Xenia of Rome and her two female slaves (5th c.).
St. Xenia of Petersburg, fool-for-Christ (18th c.).
Martyr Nicholas (1918).
St. Gerasimus, bishop of Perm (1441).
Martyr John of Kazan (1529).
Martyrs Babylas of Sicily and his two disciples Timothy and Agapius (3rd c.).
Venerable Macedonius, hermit of Syria (ca. 420).
Translation of the relics (632) of St. Anastasius the Persian (628).
Venerable Dionysius of Olympus and Mt. Athos (1541) (Greek).
St. Felician, bishop of Foligno in Italy (254).
St. Lupicinus of Lipidiaco (500) (Gaul).
St. Neophytus the Recluse of Cyprus (1214) (Greek).
Martyrs Hermogenes and Mamas (Greek).
Martyrs Paul, Pausirius, and Theodotian, of Egypt (3rd c.).
St. Philo, bishop of Carpasia in Cyprus (5th c.).
The PriestMartyr Philippikos the Presbyter and Martyress Barsima of Syria and his two brothers.
Venerable Zosimas, bishop of Babylon in Egypt (6th c.).
Scripture Readings
Colossians 1:3-6
Their Faith in Christ
3 We give thanks to the God and Father of our Lord Jesus Christ, praying always for you, 4 since we heard of your faith in Christ Jesus and of your love for all the saints; 5 because of the hope which is laid up for you in heaven, of which you heard before in the word of the truth of the gospel, 6 which has come to you, as it has also in all the world, and is bringing forth fruit, as it is also among you since the day you heard and knew the grace of God in truth;
Luke 16:10-15
10 He who is faithful in what is least is faithful also in much; and he who is unjust in what is least is unjust also in much. 11 Therefore if you have not been faithful in the unrighteous mammon, who will commit to your trust the true riches? 12 And if you have not been faithful in what is another man's, who will give you what is your own?
13 "No servant can serve two masters; for either he will hate the one and love the other, or else he will be loyal to the one and despise the other. You cannot serve God and mammon."
The Law, the Prophets, and the Kingdom
14 Now the Pharisees, who were lovers of money, also heard all these things, and they derided Him. 15 And He said to them, "You are those who justify yourselves before men, but God knows your hearts. For what is highly esteemed among men is an abomination in the sight of God.