When prayer becomes dry and lifeless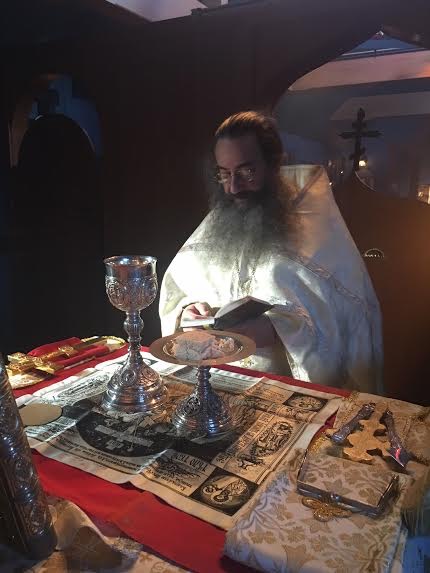 When we find ourselves struggling with prayer, and feel that it has become dry and lifeless, we are sometimes tempted to stop praying. When our prayer has become a struggle, it is good to remember that God knows our needs, and even knows what we want to say when we don't seem to know. This is the time we need to just pray without worrying about it. When we find we can't keep our minds focused on the formal morning and evening prayers, as found in our prayer book, it is perfectly acceptable to simply light our lampada (hanging oil lamp), sit quietly before our icons, and let silence be our voice.
God wants to enter into our heart, and requires only our permission and cooperation. This relationship does not require an emotional response, for, like all relationships, we are not always open to an emotional response. Being real with God is far more important than being emotional, since emotions can be contrived and fleshly. As in all relationships, there are times when we do feel moved by emotions, but the lack of such feelings in no way represents a lack of love for God, because God cares for us, and God knows we love him, even when suffering in those dry times.
With love in Christ,
Abbot Tryphon
Saturday January 16, 2016 / January 3, 2016
33rd Week after Pentecost. Tone seven.
Sviatki. Fast-free
Saturday before the Nativity and before the Baptism of Our Lord and God and Saviour Jesus Christ
Forefeast of the Theophany.
Prophet Malachias (400 B.C.).
Martyr Gordius at Caesarea in Cappadocia (314).
St. Genevieve of Paris (502).
Venerable Abelard, abbot.
Finding of the relics of New Monk-martyr Ephraim of Nea Makri, in 1950 (Greek).
St. Peter of Atroa (837).
St. Thomais of Lesbos (10th c.).
Venerable Euthymius (Taqaishvili) the Man of God of Tbilisi (1953).
St. Findlugan of Islay (7th c.) (Celtic & British).
Scripture Readings
2 Timothy 2:11-19
11 This is a faithful saying:
For if we died with Him,
We shall also live with Him.
12 If we endure,
We shall also reign with Him.
If we deny Him,
He also will deny us.
13 If we are faithless,
He remains faithful;
He cannot deny Himself.
Approved and Disapproved Workers
14 Remind them of these things, charging them before the Lord not to strive about words to no profit, to the ruin of the hearers. 15 Be diligent to present yourself approved to God, a worker who does not need to be ashamed, rightly dividing the word of truth. 16 But shun profane and idle babblings, for they will increase to more ungodliness. 17 And their message will spread like cancer. Hymenaeus and Philetus are of this sort, 18 who have strayed concerning the truth, saying that the resurrection is already past; and they overthrow the faith of some. 19 Nevertheless the solid foundation of God stands, having this seal: "The Lord knows those who are His," and, "Let everyone who names the name of Christ depart from iniquity."
Luke 17:3-10
3 Take heed to yourselves. If your brother sins against you, rebuke him; and if he repents, forgive him. 4 And if he sins against you seven times in a day, and seven times in a day returns to you, saying, 'I repent,' you shall forgive him."
Faith and Duty
5 And the apostles said to the Lord, "Increase our faith."
6 So the Lord said, "If you have faith as a mustard seed, you can say to this mulberry tree, 'Be pulled up by the roots and be planted in the sea,' and it would obey you. 7 And which of you, having a servant plowing or tending sheep, will say to him when he has come in from the field, 'Come at once and sit down to eat'? 8 But will he not rather say to him, 'Prepare something for my supper, and gird yourself and serve me till I have eaten and drunk, and afterward you will eat and drink'? 9 Does he thank that servant because he did the things that were commanded him? I think not. 10 So likewise you, when you have done all those things which you are commanded, say, 'We are unprofitable servants. We have done what was our duty to do.'"