The capacity to forgive and the capacity to love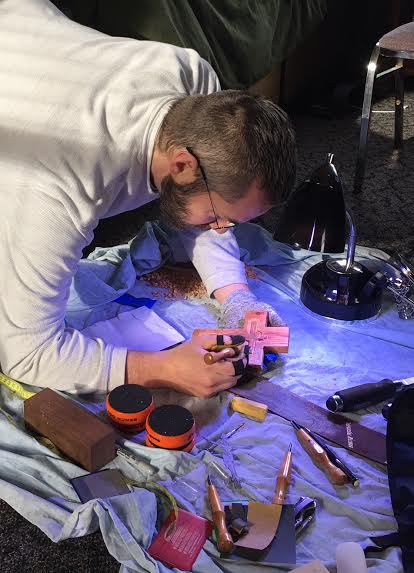 The capacity to forgive is directly related to the capacity to love, and it is in our act of forgiving others, that we find forgiveness. For it is in the turning away from our own self-concern, and our own self-will, that we begin to see that our salvation is directly linked to the salvation of our neighbor. To refuse to forgive our neighbor, is to cease having the capacity to love, "for he who does not love his brother whom he has seen, how can he love God whom he has not seen (1 John 4:20)?"
The ability to forgive others requires work on our part, for we must cooperate with the grace that comes as a gift of the Holy Spirit. Since we have been forgiven much, we, in turn, must forgive much. The Lord Himself told us that we must forgive our brother seventy times seventy, no easy feat, to be sure. Yet it is this same Lord Who gives us the power, and the will, to be quick to forgive those who have hurt or offended us. It is this very Christ Who demonstrated the importance of forgiving others, when He forgave those who were crucifying Him. "Lord, forgive them, for they know not what they do (Luke 23:34)."
With love in Christ,
Abbot Tryphon
Photos: The latest member of our growing community, Apollos Cassian, who has joined us as a "trudnik" (worker under monastic obedience). Brother Apollos is a liturgical carver!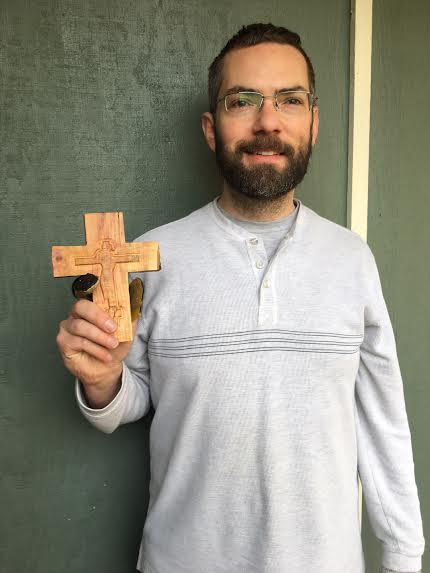 Thursday January 21, 2016 / January 8, 2016
34th Week after Pentecost. Tone eight.
Afterfeast of the Theophany.
St. George the Chozebite, abbot (7th c.) and St. EmilianBishop of Cyzicus (9th c.).
Venerable Domnica of Constantinople (395).
Venerable Gregory, wonderworker of the Kiev Caves (1093).
Venerable Gregory, hermit of the Kiev Caves (14th c.).
Hieromartyr Isidore and 72 companions at Yuriev (Dorpats) in Estonia, slain by the Latins in 1472.
New Hieromartyr Victor priest (1937).
New Hieromartyr Demetrius priest (1938).
New Hieromartyr Vladimir priest (1938).
Martyr Michael (1938).
St. Michael confessor, priest (1941).
Venerable Paisius of Uglich (1504).
Hieromartyr Carterius of Caesarea in Cappadocia (304).
Martyrs Theophilus the Deacon and Helladius in Libya (4th c.).
Martyrs Julian and his wife Basilissa, and with them Marcionilla and her son Celsus, Anthony, Anastasius, seven children, and twenty soldiers, at Antinoe in Egypt (313).
Venerable Elias the Hermit of Egypt (4th c.).
Martyr Abo the Perfumer of Baghdad, who suffered at Tbilisi, Georgia (786) (Georgia).
Sts. Atticus (425) and Cyrus (714), patriarchs of Constantinople.
Venerable Agatho of Egypt, monk (4th c.)
Holy Virgin Gudula of Brussels (659) (Celtic & British).
St. Gregory of Ochrid, bishop of Moesia (1012) (Bulgaria).
St. Severinus, apostle of Noricum, Austria (482).
St. Theodore of Constantinople (595).
St. Erhard, bishop of Regensburg (Bavaria) (700).
St. Emilian the Confessor, bishop of Cyzicus (9th c.).
St. Macarius (Macres) of Vatopedi, Mt. Athos (1431).
St. Severin, bishop of Cologne (397).
St. Nathalan of Aberdeenshire.
St. Pega, hermitess, of Peakirk.
St. Wulsin, bishop of Sherborne.
Scripture Readings
Hebrews 7:1-6
The King of Righteousness
7 For this Melchizedek, king of Salem, priest of the Most High God, who met Abraham returning from the slaughter of the kings and blessed him, 2 to whom also Abraham gave a tenth part of all, first being translated "king of righteousness," and then also king of Salem, meaning "king of peace," 3 without father, without mother, without genealogy, having neither beginning of days nor end of life, but made like the Son of God, remains a priest continually.
4 Now consider how great this man was, to whom even the patriarch Abraham gave a tenth of the spoils. 5 And indeed those who are of the sons of Levi, who receive the priesthood, have a commandment to receive tithes from the people according to the law, that is, from their brethren, though they have come from the loins of Abraham; 6 but he whose genealogy is not derived from them received tithes from Abraham and blessed him who had the promises.
Mark 12:38-44
Beware of the Scribes
38 Then He said to them in His teaching, "Beware of the scribes, who desire to go around in long robes, love greetings in the marketplaces, 39 the best seats in the synagogues, and the best places at feasts, 40 who devour widows' houses, and for a pretense make long prayers. These will receive greater condemnation."
The Widow's Two Mites
41 Now Jesus sat opposite the treasury and saw how the people put money into the treasury. And many who were rich put in much. 42 Then one poor widow came and threw in two mites, which make a quadrans. 43 So He called His disciples to Himself and said to them, "Assuredly, I say to you that this poor widow has put in more than all those who have given to the treasury; 44 for they all put in out of their abundance, but she out of her poverty put in all that she had, her whole livelihood."