Fasting is not just about food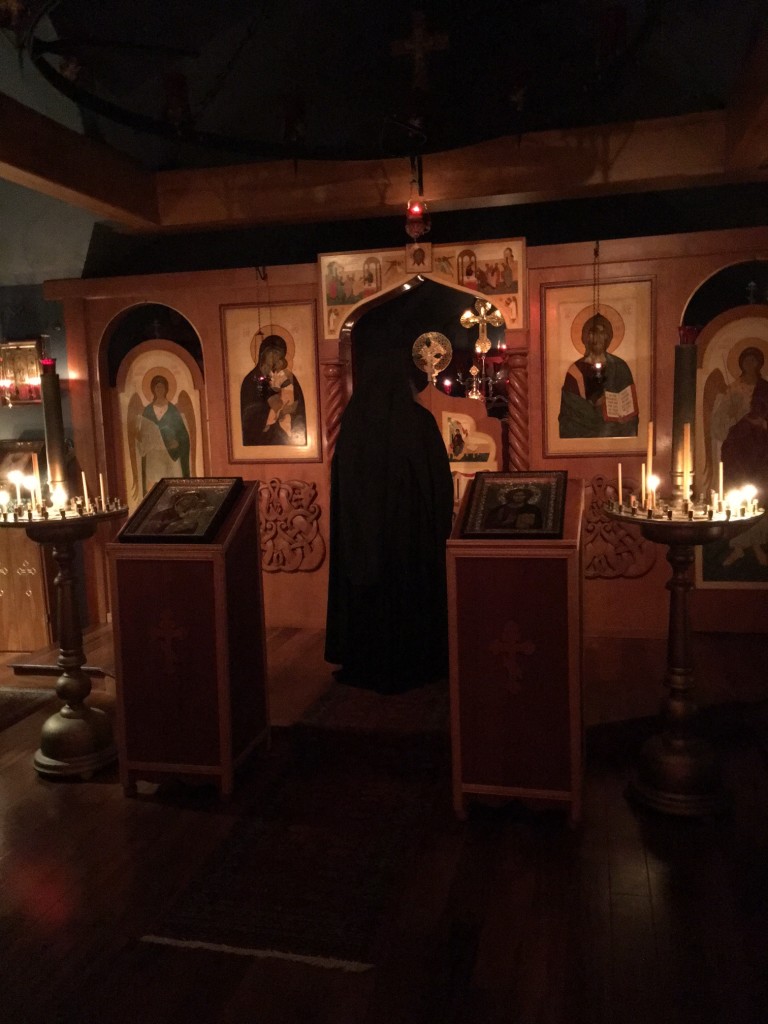 FAST from self-concern and FEAST on compassion for others.
FAST from discouragement and FEAST on hope.
FAST from lethargy and FEAST on enthusiasm.
FAST from suspicion and FEAST on truth.
FAST from thoughts that weaken and FEAST on promises that inspire.
FAST from shadows of sorrow and FEAST on the sunlight of serenity.
FAST from idle gossip and FEAST on purposeful silence.
FAST from problems that overwhelm you and FEAST on prayer that sustains.
FAST from criticism and FEAST on praise.
FAST from self-pity and FEAST on joy.
FAST from ill-temper and FEAST on peace.
FAST from resentment and FEAST on contentment.
FAST from jealousy and FEAST on love.
FAST from pride and FEAST on humility.
FAST from selfishness and FEAST on service.
Tuesday December 1, 2015 / November 18, 2015
27th Week after Pentecost. Tone one.
Nativity (St. Philip's Fast). Food with Oil
Martyr Platon of Ancyra (266).
Martyr Romanus the Deacon of Caesarea and child-martyr Barulas of Antioch (303).
St. Nicholas confessor, priest (1948).
Martyrs Zacchaeus the Deacon and Alphaeus, of Caesarea in Palestine (303).
Synaxis of All Saints of Estonia.
St. Mawes, bishop in Cornwall and Brittany (5th c.) (Celtic & British).
St. Mabyn, nun of Cornwall (Celtic & British).
New Martyrs Anastasius of Epirus and Daniel (1750) (Greek).
Martyr Romanus, who suffered under Maximian (305).
St. Odo of Cluny (942) (Gaul).
Scripture Readings
1 Timothy 5:11-21
11 But refuse the younger widows; for when they have begun to grow wanton against Christ, they desire to marry, 12 having condemnation because they have cast off their first faith. 13 And besides they learn to be idle, wandering about from house to house, and not only idle but also gossips and busybodies, saying things which they ought not. 14 Therefore I desire that the younger widows marry, bear children, manage the house, give no opportunity to the adversary to speak reproachfully. 15 For some have already turned aside after Satan. 16 If any believing man or woman has widows, let them relieve them, and do not let the church be burdened, that it may relieve those who are really widows.
Honor the Elders
17 Let the elders who rule well be counted worthy of double honor, especially those who labor in the word and doctrine. 18 For the Scripture says, "You shall not muzzle an ox while it treads out the grain,"[b] and, "The laborer is worthy of his wages." 19 Do not receive an accusation against an elder except from two or three witnesses. 20 Those who are sinning rebuke in the presence of all, that the rest also may fear.
21 I charge you before God and the Lord Jesus Christ and the elect angels that you observe these things without prejudice, doing nothing with partiality.
Luke 14:25-35
Leaving All to Follow Christ
25 Now great multitudes went with Him. And He turned and said to them, 26 "If anyone comes to Me and does not hate his father and mother, wife and children, brothers and sisters, yes, and his own life also, he cannot be My disciple. 27 And whoever does not bear his cross and come after Me cannot be My disciple. 28 For which of you, intending to build a tower, does not sit down first and count the cost, whether he has enough to finish it— 29 lest, after he has laid the foundation, and is not able to finish, all who see it begin to mock him, 30 saying, 'This man began to build and was not able to finish'? 31 Or what king, going to make war against another king, does not sit down first and consider whether he is able with ten thousand to meet him who comes against him with twenty thousand? 32 Or else, while the other is still a great way off, he sends a delegation and asks conditions of peace. 33 So likewise, whoever of you does not forsake all that he has cannot be My disciple.
Tasteless Salt Is Worthless
34 "Salt is good; but if the salt has lost its flavor, how shall it be seasoned? 35 It is neither fit for the land nor for the dunghill, but men throw it out. He who has ears to hear, let him hear!"