Joy is the infallible sign of God's presence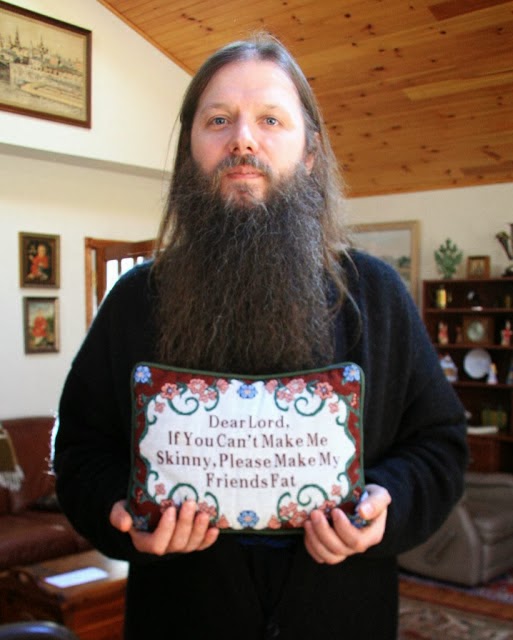 Although we have no written evidence that Our Lord Jesus Christ laughed, I am personally convinced that he did. How could He not have shared in our humanity with perfection had he not had a sense of humor, and shared moments of laughter with His disciples? Laughter is such a precious gift, for it allows us to share circumstances in our lives in a special way. When we allow ourselves to see with joy those often funny events that take place around us, we are able to put ourselves in a proper perspective. Our ability to laugh at ourselves helps reduce our sense of self-importance.
That a Christian can laugh in no way suggests it is proper to smile at dirty humor, or make light of another persons infirmity or failure. Our humor must never be based on ridicule, or the demeaning of another. Christ used humor when He depicted a camel struggling to get through the eye of a needle. (Matt. 19:24). And we read in Proverbs 17:22, "that a merry heart does good, like medicine".
A sense of humor demonstrates to others that we live with joy and gladness in our hearts, because we have reason to be happy. We believe the gift of salvation is good reason to be happy, since the Lord's ministry did not end on the Cross, but was followed by His Holy Resurrection. Living with a joyful heart adds value to our faith because it makes others want to share in the joy they see in us.
We can laugh because we know that all will work out in the end because God loves us, and we believe His providential hand is at work in our lives. We believe that God knows there is plenty of sadness, sorrow, and sickness in this life, but that it will not prevail, because His plan for our salvation is at work. The old Celtic saying, "Life is all about loving, living, and laughing, not about hating, dying, and moaning," has as it's basis the Orthodox Christianity of the Celtic people. That is why it is an oxymoron for a Christian to be crabby, griping, and whining, and why "Joy is the infallible sign of God's presence".
With love in Christ,
Abbot Tryphon
Photo: The famous, and much beloved, Father Artemy of Moscow, Russia.
Saturday December 12, 2015 / November 29, 2015
28th Week after Pentecost. Tone two.
Nativity (St. Philip's Fast). Fish Allowed
Martyr Paramon and 370 Martyrs in Bithynia (250).
Martyr Philumenus of Ancyra, and with him Martyrs Valerian and Phaedrus (274).
Venerable Acacius of Mt. Latros, who is mentioned in The Ladder (6th c.).
New Hieromartyr Sergius priest (1941).
Venerable Nectarius the Obedient of the Kiev Caves (12th c.).
Hieromartyr Abibus, bishop of Nekressi in Georgia (6th c.) (Georgia).
Venerable Pitirim of Egypt (4th c.), disciple of Venerable Anthony the Great.
Hieromartyr Dionysius, bishop of Corinth (182).
St. Tiridates, king of Armenia (4th c.).
St. Saturninus, martyr and bishop of Toulouse ( 257) (Gaul).
St. Nicholas, archbishop of Thessalonica (Greek).
Hieromartyr John of Persia (Greek).
St. Urban of Macedonia, bishop (Greek).
St. Pancosmius, monk (Greek).
St. Radboud, bishop of Utrecht (917) (Neth.).
St. Brendan of Birr (571) (Celtic and British).
Scripture Readings
Ephesians 1:16-23
16 do not cease to give thanks for you, making mention of you in my prayers: 17 that the God of our Lord Jesus Christ, the Father of glory, may give to you the spirit of wisdom and revelation in the knowledge of Him, 18 the eyes of your understanding being enlightened; that you may know what is the hope of His calling, what are the riches of the glory of His inheritance in the saints, 19 and what is the exceeding greatness of His power toward us who believe, according to the working of His mighty power 20 which He worked in Christ when He raised Him from the dead and seated Him at His right hand in the heavenly places, 21 far above all principality and power and might and dominion, and every name that is named, not only in this age but also in that which is to come.
22 And He put all things under His feet, and gave Him to be head over all things to the church, 23 which is His body, the fullness of Him who fills all in all.
Luke 10:19-21
19 Behold, I give you the authority to trample on serpents and scorpions, and over all the power of the enemy, and nothing shall by any means hurt you. 20 Nevertheless do not rejoice in this, that the spirits are subject to you, but rather rejoice because your names are written in heaven."
Jesus Rejoices in the Spirit
21 In that hour Jesus rejoiced in the Spirit and said, "I thank You, Father, Lord of heaven and earth, that You have hidden these things from the wise and prudent and revealed them to babes. Even so, Father, for so it seemed good in Your sight.