The Divine Flame will consume you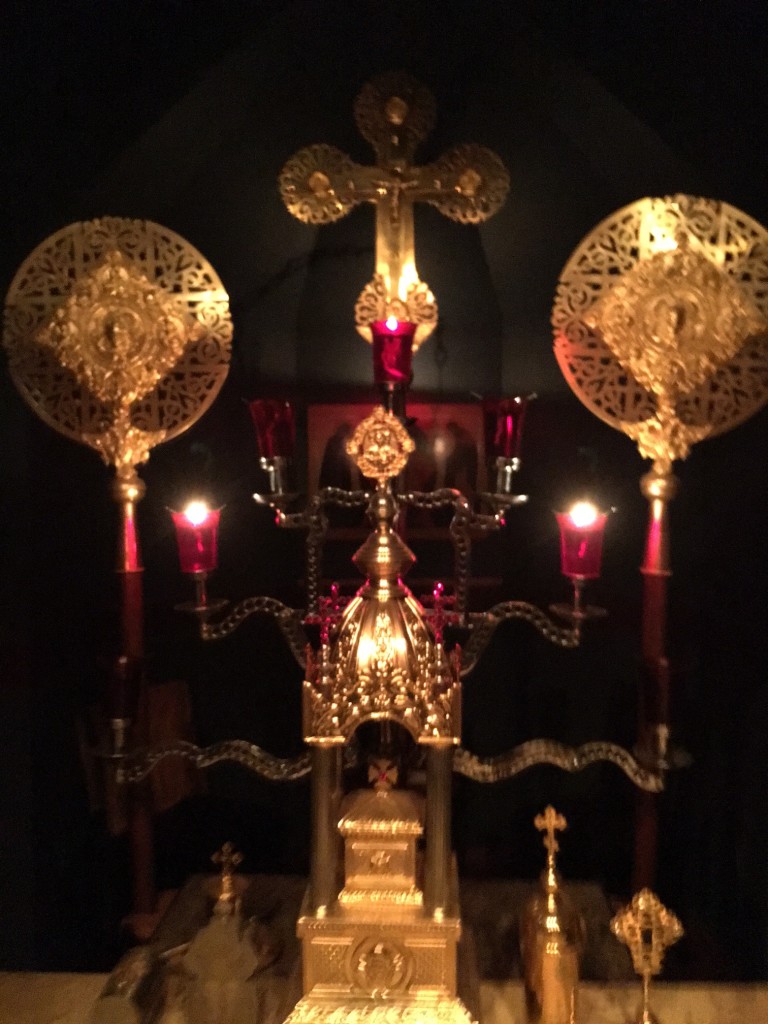 At the very first moment you decide to turn to God, your heart begins to be warmed by the action of the Holy Spirit. Your heart is kindled with the divine flame that will transform you. This flame will consume you completely, and will melt everything of a fallen nature within you. Once this flame of divine love has been actualized within your heart, do nothing that would allow it to be extinguished. Cooperate with the Fire of God, and let it completely consume you.
Put all your effort into this spiritual transformation that is beginning in your heart. Let nothing else take center stage over this action by God that is meant to save you, and make you complete. From a little flame, this fire will burn in your heart, and nothing of your fallen nature will be able to withstand it. This flame will transform your whole being, for the action of the Holy Spirit will take you into God's Kingdom, which resides within you.
Love in Christ,
Abbot Tryphon
Sunday November 29, 2015 / November 16, 2015
26th Sunday after Pentecost. Tone one.
Nativity (St. Philip's Fast). Fish Allowed
Holy Apostle and Evangelist Matthew (60).
New Hieromartyrs Theodore Korolev priest and with him Martyr Ananius Boykov and Michael Boldakov (1929).
New Hieromartyrs John, Nicholas, Victor, Basil, Makarius and Michael priests, Hieromartyr Panteleimon (1937).
Martyr Demetrius (1938).
St. Fulvianus, prince of Ethiopia, in holy baptism Matthew (1st c.).
Hieromartyr Hipatius bishop of Gangra (360).
Venerable Sergius, abbot, of Malopinega (1585).
St. Eucherius of Lyons (449).
St. Lubuinus, missionary to Friesland (773) (Neth.).
St. Otmar, abbot and monastic founder in Switzerland (759).
Scripture Readings
Ephesians 5:8-19
Walk in Light
8 For you were once darkness, but now you are light in the Lord. Walk as children of light 9 (for the fruit of the Spirit is in all goodness, righteousness, and truth), 10 finding out what is acceptable to the Lord. 11 And have no fellowship with the unfruitful works of darkness, but rather expose them. 12 For it is shameful even to speak of those things which are done by them in secret. 13 But all things that are exposed are made manifest by the light, for whatever makes manifest is light. 14 Therefore He says:
"Awake, you who sleep,
Arise from the dead,
And Christ will give you light."
Walk in Wisdom
15 See then that you walk circumspectly, not as fools but as wise, 16 redeeming the time, because the days are evil.
17 Therefore do not be unwise, but understand what the will of the Lord is. 18 And do not be drunk with wine, in which is dissipation; but be filled with the Spirit, 19 speaking to one another in psalms and hymns and spiritual songs, singing and making melody in your heart to the Lord,
Luke 10:25-37
The Parable of the Good Samaritan
25 And behold, a certain lawyer stood up and tested Him, saying, "Teacher, what shall I do to inherit eternal life?"
26 He said to him, "What is written in the law? What is your reading of it?"
27 So he answered and said, " 'You shall love the Lord your God with all your heart, with all your soul, with all your strength, and with all your mind,' and 'your neighbor as yourself.'"
28 And He said to him, "You have answered rightly; do this and you will live."
29 But he, wanting to justify himself, said to Jesus, "And who is my neighbor?"
30 Then Jesus answered and said: "A certain man went down from Jerusalem to Jericho, and fell among thieves, who stripped him of his clothing, wounded him, and departed, leaving him half dead. 31 Now by chance a certain priest came down that road. And when he saw him, he passed by on the other side. 32 Likewise a Levite, when he arrived at the place, came and looked, and passed by on the other side. 33 But a certain Samaritan, as he journeyed, came where he was. And when he saw him, he had compassion. 34 So he went to him and bandaged his wounds, pouring on oil and wine; and he set him on his own animal, brought him to an inn, and took care of him. 35 On the next day, when he departed, he took out two denarii, gave them to the innkeeper, and said to him, 'Take care of him; and whatever more you spend, when I come again, I will repay you.' 36 So which of these three do you think was neighbor to him who fell among the thieves?"
37 And he said, "He who showed mercy on him."
Then Jesus said to him, "Go and do likewise."