On being a good father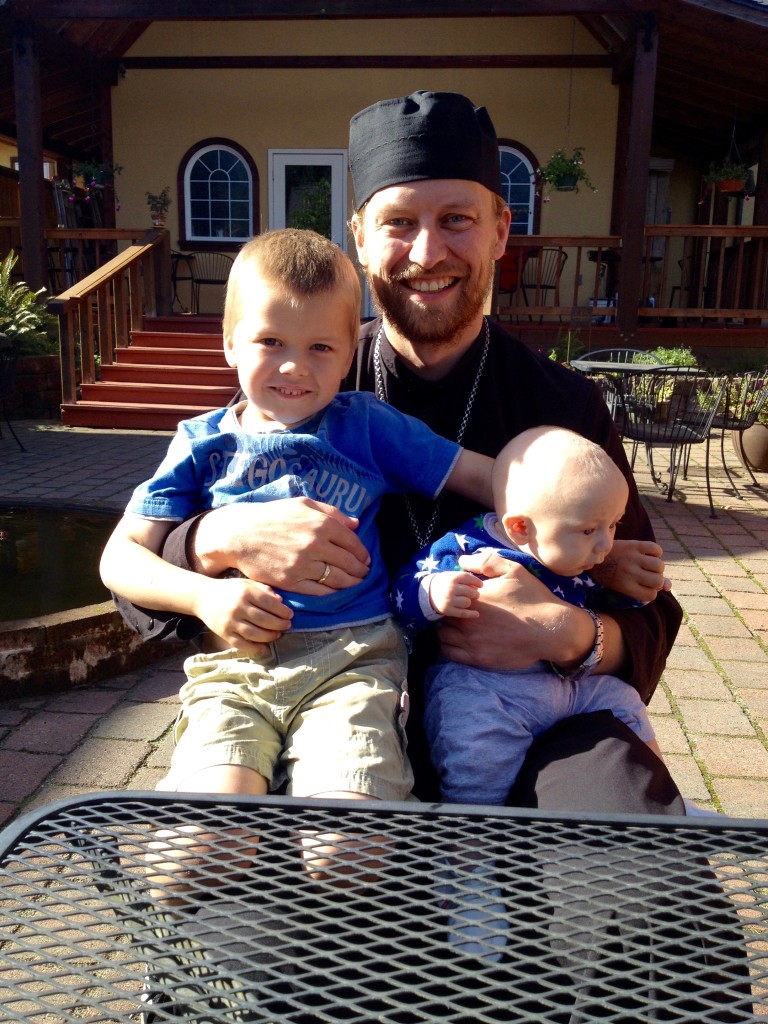 I'll forever be grateful for the love and support I received from my father. My dad never let a day pass without assuring his two sons of his love and acceptance. Albert Parsons always imaged to his sons the importance of living an honest life, and being kind to everyone. Generous almost to a fault, my dad put himself out for others, forgave those who wronged him, looked for the good in everyone, and always demonstrated the importance of being true to oneself.
Although my brother Dwayne and I were raised Lutheran by a devout mother, my dad didn't become a regular church goer until he was in his sixties. For our golf pro dad, God's presence was enjoyed on the golf course, but he thought his boys needed to attend church just as he'd been required to do when he was a boy (he'd been raised in the Episcopal Church). He always supported my mother's commitment to our Lutheran parish, where she served as the choir director and organist. Both my parents converted to the Orthodox Church, while in their seventies.
Our dad was proud of us, and supported whatever direction we chose for our lives. Since dad believed everyone should be free to go with their heart, he refused to press either of us into careers that would somehow make him proud. He didn't believe any parent should live vicariously through their children, but only encourage them to live a life that is grounded in honesty, and respect for others.
It is always a joy when I meet fathers who visibly encourage their children, speak proudly of their kids' accomplishments, and encourage them to be true to themselves. Dads who lovingly support their children, even when they make choices that don't conform to their own image of success, demonstrate the best of what it means to be a father. The dad who keeps his eyes focused on Christ, prays for his children, and expresses his unconditional love for his kids, will, in the end, have been a good father, and blessed with adult children who will always be grateful for the dad God gave them.
With love in Christ,
Abbot Tryphon
Photo: Father Theodor Scane and his children.
Tuesday November 17, 2015 / November 4, 2015
25th Week after Pentecost. Tone seven.
Venerable Ioannicius the Great of Bithynia (846).
Hieromartyrs Nicander, bishop of Myra, and Hermas, presbyter (1st c.).
Martyr Nicholas confessor and priest (1931).
New Hieromartyr Alexander priest (1937).
New Hieromartyr Ismail priest (1941).
Venerable Mercurius, faster of the Kiev Caves (14th c.).
Venerable Nicander, abbot of Gorodensk (Novgorod) (1607).
Blessed Simon of Yurievets (1584).
St. Paul, metropolitan of Tobolsk (1770).
St. Sylvia, mother of St. Gregory the Dialogist (6th c.).
Martyr Porphyrius the Mime of Caesarea (361) (Greek).
St. John III Doukas Vataxis the Merciful, emperor of Nicaea (1254) (Greek).
Holy and Righteous Ioane, Stepane, and Isaiah the Georgians (Georgia).
St. Clether, hermit of Cornwall..
St. Birnstan, bishop of Winchester.
Scripture Readings
2 Thessalonians 1:10-2:2
10 when He comes, in that Day, to be glorified in His saints and to be admired among all those who believe, because our testimony among you was believed.
11 Therefore we also pray always for you that our God would count you worthy of this calling, and fulfill all the good pleasure of His goodness and the work of faith with power, 12 that the name of our Lord Jesus Christ may be glorified in you, and you in Him, according to the grace of our God and the Lord Jesus Christ.
The Great Apostasy
2 Now, brethren, concerning the coming of our Lord Jesus Christ and our gathering together to Him, we ask you, 2 not to be soon shaken in mind or troubled, either by spirit or by word or by letter, as if from us, as though the day of Christ had come.
Luke 11:34-41
34 The lamp of the body is the eye. Therefore, when your eye is good, your whole body also is full of light. But when your eye is bad, your body also is full of darkness. 35 Therefore take heed that the light which is in you is not darkness. 36 If then your whole body is full of light, having no part dark, the whole body will be full of light, as when the bright shining of a lamp gives you light."
Woe to the Pharisees and Lawyers
37 And as He spoke, a certain Pharisee asked Him to dine with him. So He went in and sat down to eat. 38 When the Pharisee saw it, he marveled that He had not first washed before dinner.
39 Then the Lord said to him, "Now you Pharisees make the outside of the cup and dish clean, but your inward part is full of greed and wickedness. 40 Foolish ones! Did not He who made the outside make the inside also? 41 But rather give alms of such things as you have; then indeed all things are clean to you.