Being good stewards of the environment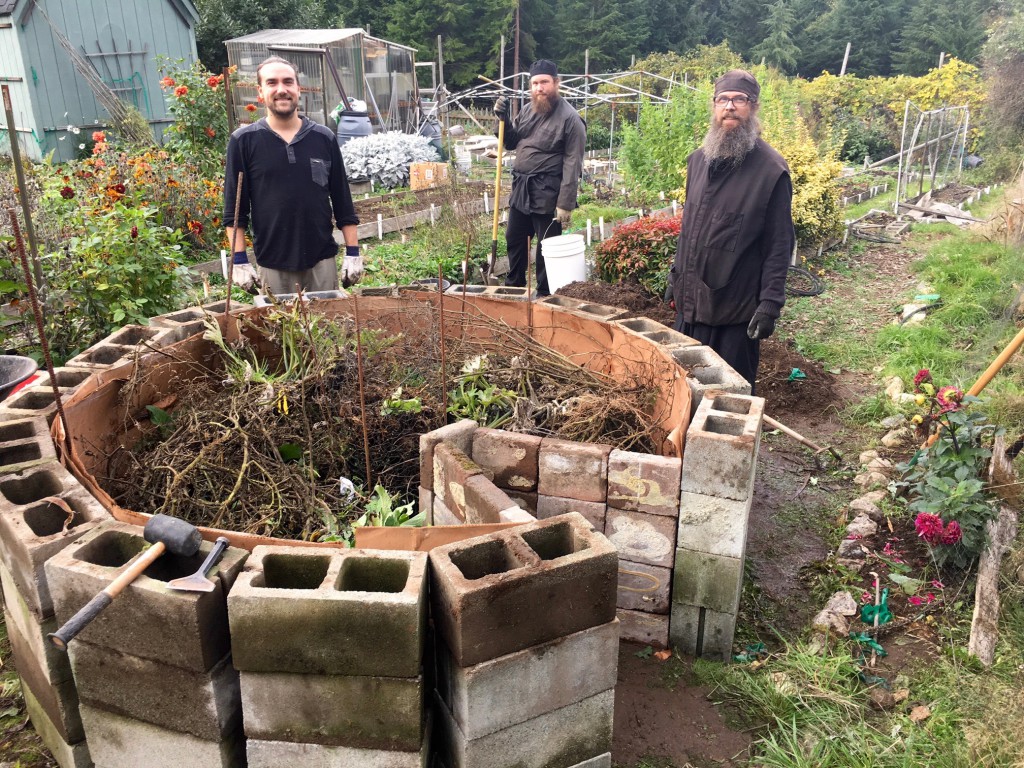 As Orthodox monks we hold to the importance of respecting the environment, which requires us to be good stewards of what God has given us. An important part of that stewardship is working towards sustainability, based on a simple principle that everything we need for our survival and well-being depends, either directly or indirectly, on our natural environment.  When balance is maintained, we can coexist with the environment, rather than fight against, or exploit it.
With our goal of sustainability, we maintain bee hives, and grow as much of our own food as we can, always without pesticides. Our vegetables are from heirloom seeds, meaning they are varieties that are open-pollinated. Unlike hybrids, they produce seeds you collect that will produce plants with most of the characteristics of the parent plant, which is the key to their survival. We eat eggs from our happy, free range, Rhode Island Reds and Bard Rock hens.  We limit our use of water, keep our thermostats at lower temperatures, and turn off lights when they are not needed. We try as best we can not to waste energy, ever doing our part to give witness to the importance, as Christians, of taking good care of this beautiful world God has given us. Our next goal is to install solar panels on many of our southern facing buildings.
We have just constructed our first keyhole garden, the ultimate raised-bed planter. It is often built in the shape of a circle measuring about 6 feet in diameter that stands waist-high and is notched like a pie with a slice cut away. A hole in the center holds a composting basket that moistens and nourishes the soil. It is our goal to construct at least five more such gardens, all of which will allow us to grow vegetables and fruit trees that use very little water.
As monks we believe it important to leave as little "footprint" as possible, using the natural resources with gratitude before God. A eucharistic ethos means that we must use the natural resources with thankfulness, and offer them back to God. Such an attitude is, for we Christians, incompatible with wastefulness. As monks, our ascetic practices remind us that even the simplest foods and the simplest comforts, which have been provided for our needs, are gifts from God. They are not ours to be abused or wasted.
With love in Christ,
Abbot Tryphon
Photos: Our first "keyhole" garden.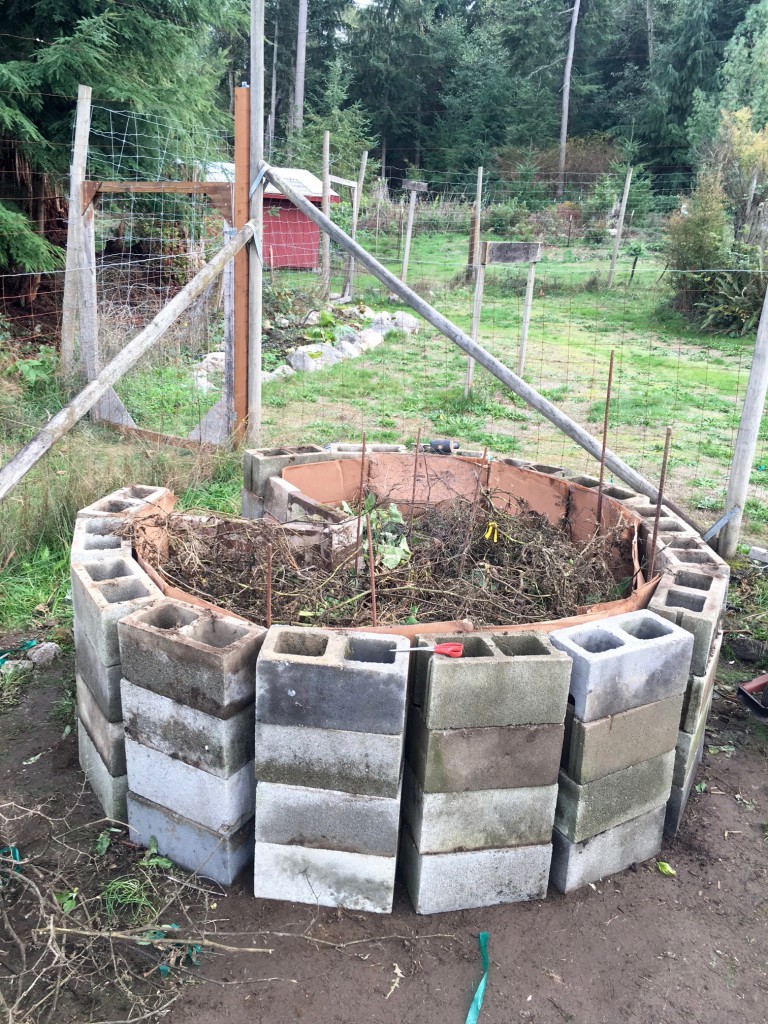 Saturday October 31, 2015 / October 18, 2015
22nd Week after Pentecost. Tone four.
Holy Apostle and Evangelist Luke (1st c.).
Translation of the relicts (2001) of Venerable Joseph of Volokolamsk (1515).
New Hieromartyrs Andrew,Serius, Nicholas and Sergius priests, Virgin-martyr Elizabeth (1937).
New Martyr Jose Munoz-Cortez (1997).
Martyr Marinus the Elder at Anazarbus (4th c.).
Venerable Julian the Hermit of Mesopotamia (4th c.) and Venerable Didymus the Blind.
Martyr Chrysa (Zlata or Golda) of Bulgaria (1795).
Venerable David, abbot, of Serpukhov (1520).
Hieromartyr Mnason, bishop of Cyprus (1st c.) (Greek).
New Martyrs Gabriel and Cirmidol of Egypt (1522) (Greek).
Venerables Symeon, Theodore (monks), and Euphrosyne, who found the Icon of the Mother of God in the Great Cave of Peloponnesus (9th c.) (Greek).
St. Peter of Cetinje, metropolitan of Montenegro, Serbia (1830) (Serbia).
Sts. Gwen and Selevan, martyred Welsh missionaries, in Brittany. (Celtic & British).
Scripture Readings
2 Corinthians 5:1-10
Assurance of the Resurrection
5 For we know that if our earthly house, this tent, is destroyed, we have a building from God, a house not made with hands, eternal in the heavens. 2 For in this we groan, earnestly desiring to be clothed with our habitation which is from heaven, 3 if indeed, having been clothed, we shall not be found naked. 4 For we who are in this tent groan, being burdened, not because we want to be unclothed, but further clothed, that mortality may be swallowed up by life. 5 Now He who has prepared us for this very thing is God, who also has given us the Spirit as a guarantee.
6 So we are always confident, knowing that while we are at home in the body we are absent from the Lord. 7 For we walk by faith, not by sight. 8 We are confident, yes, well pleased rather to be absent from the body and to be present with the Lord.
The Judgment Seat of Christ
9 Therefore we make it our aim, whether present or absent, to be well pleasing to Him. 10 For we must all appear before the judgment seat of Christ, that each one may receive the things done in the body, according to what he has done, whether good or bad.
Luke 6:1-10
Jesus Is Lord of the Sabbath
6 Now it happened on the second Sabbath after the first that He went through the grainfields. And His disciples plucked the heads of grain and ate them, rubbing them in their hands. 2 And some of the Pharisees said to them, "Why are you doing what is not lawful to do on the Sabbath?"
3 But Jesus answering them said, "Have you not even read this, what David did when he was hungry, he and those who were with him: 4 how he went into the house of God, took and ate the showbread, and also gave some to those with him, which is not lawful for any but the priests to eat?" 5 And He said to them, "The Son of Man is also Lord of the Sabbath."
Healing on the Sabbath
6 Now it happened on another Sabbath, also, that He entered the synagogue and taught. And a man was there whose right hand was withered. 7 So the scribes and Pharisees watched Him closely, whether He would heal on the Sabbath, that they might find an accusation against Him. 8 But He knew their thoughts, and said to the man who had the withered hand, "Arise and stand here." And he arose and stood. 9 Then Jesus said to them, "I will ask you one thing: Is it lawful on the Sabbath to do good or to do evil, to save life or to destroy?" 10 And when He had looked around at them all, He said to the man, "Stretch out your hand." And he did so, and his hand was restored as whole as the other.