Christ's resurrection paves the way for our own resurrection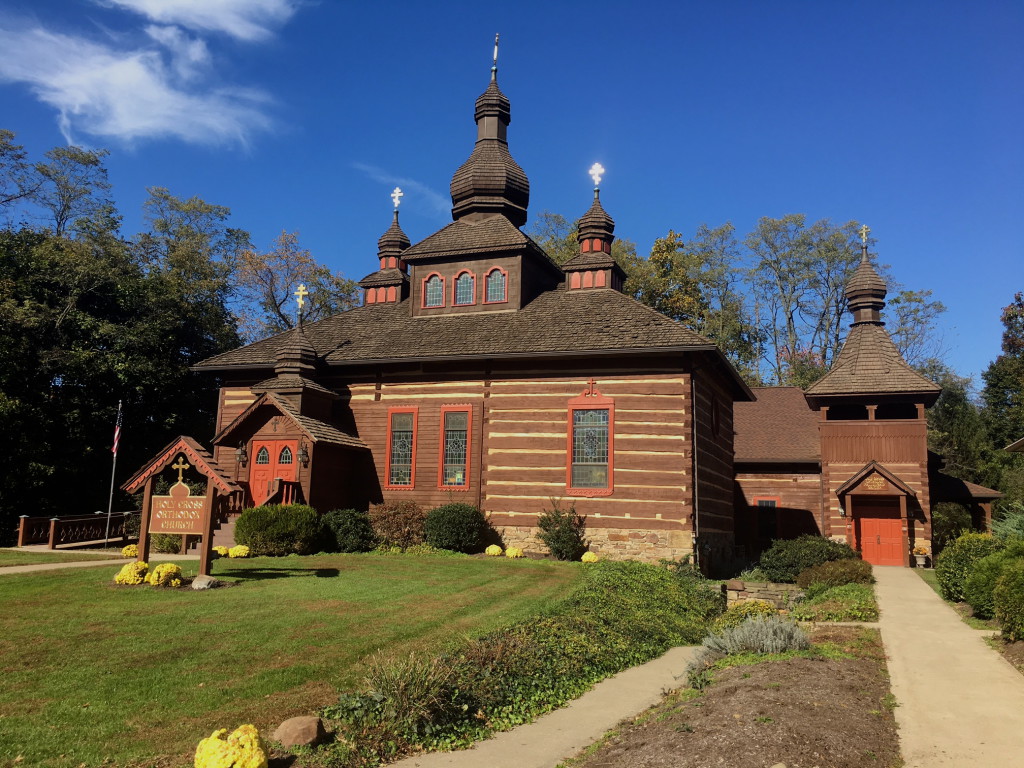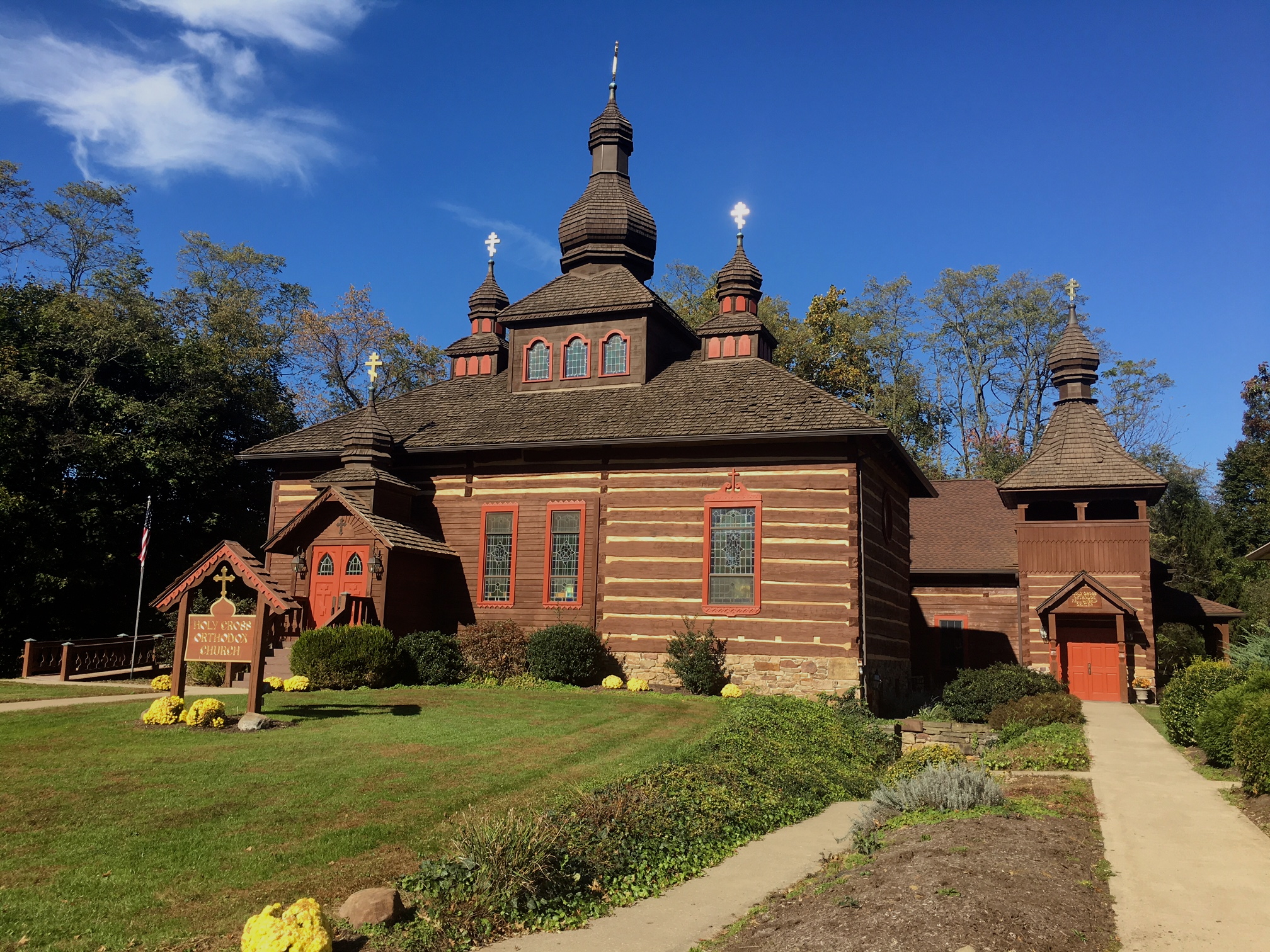 The fact that we Orthodox do not accept the doctrine of original sin as espoused in the West, does in no way suggest that we do not need to be born again (born anew). We believe, as did the Early Church Fathers, that we inherit only the results of Adams sin, not his guilt. This is known as ancestral sin because the sin of our first parents, Adam and Eve, resulted in our inheritance of death, sickness and an inclination toward evil. Christ's death on the cross has its power, not in an atonement sacrifice, but in the conquering of the power of death. Death is trampled down by death.
It is by Christ's resurrection that a way was made for us to be transformed by contact with the Living God, thus becoming his children by adoption.
Although we do not refer to ourselves as "saved", as do Evangelical Christians, we nevertheless believe that we are in need of salvation. (We believe salvation is a process.) Our understanding of sin in an ancestral way, which is distinct from the concept of original sin and the hereditary guilt that required, consequently, a substitutionary atonement-type of sacrifice, separates us doctrinally from Western Christianity.
Had there not been a fall, the Second Person of the Holy Trinity, the Logos (Word) would still have incarnated into the flesh and taken on our nature. For it is by this condescension by our Creator God to take on the nature of that which He created that we are given the opportunity of being deified (Saint Paul said we shall become as gods).
Our journey into the heart culminates in theosis, whereby we are joined in everlasting communion with the very God Who created us. Saint Athanasius of Alexandria said, "The Son of God became man, that we might become god." In II Peter 1:4, we read that we have become "…partakers of divine nature." Saint Athanasius further says that theosis is "becoming by grace what God is by nature."
With love in Christ,
Abbot Tryphon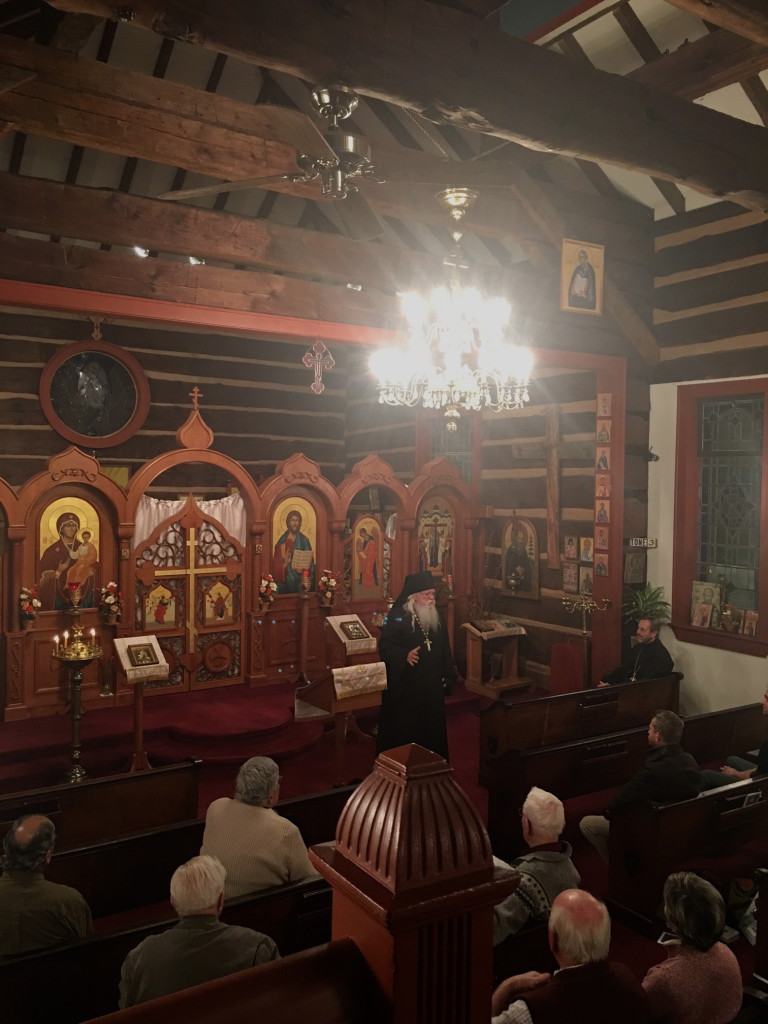 Photos: On Monday night I spoke at Holy Cross Orthodox Church in Williamsport, Pennsylvania. The second photo is with Archbishop Mark of the Diocese of Eastern Pennsylvania (OCA), and some of his clergy.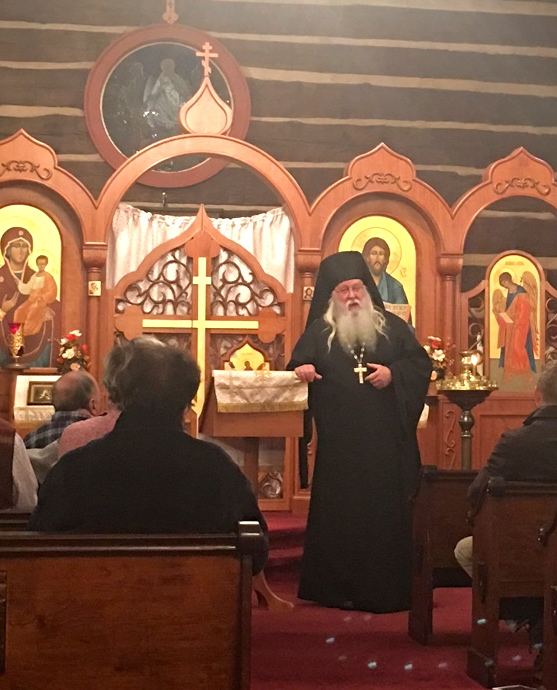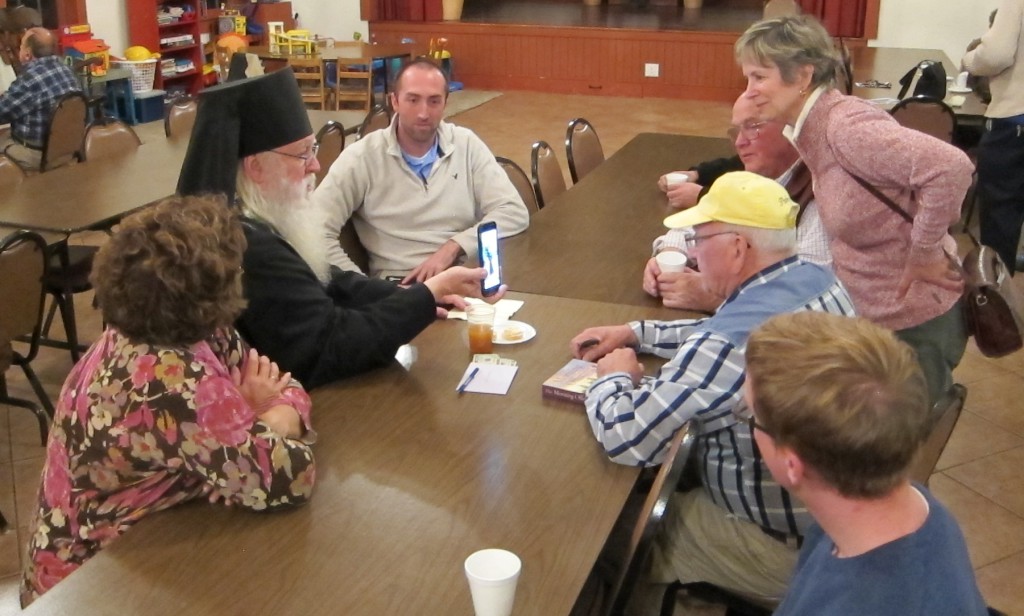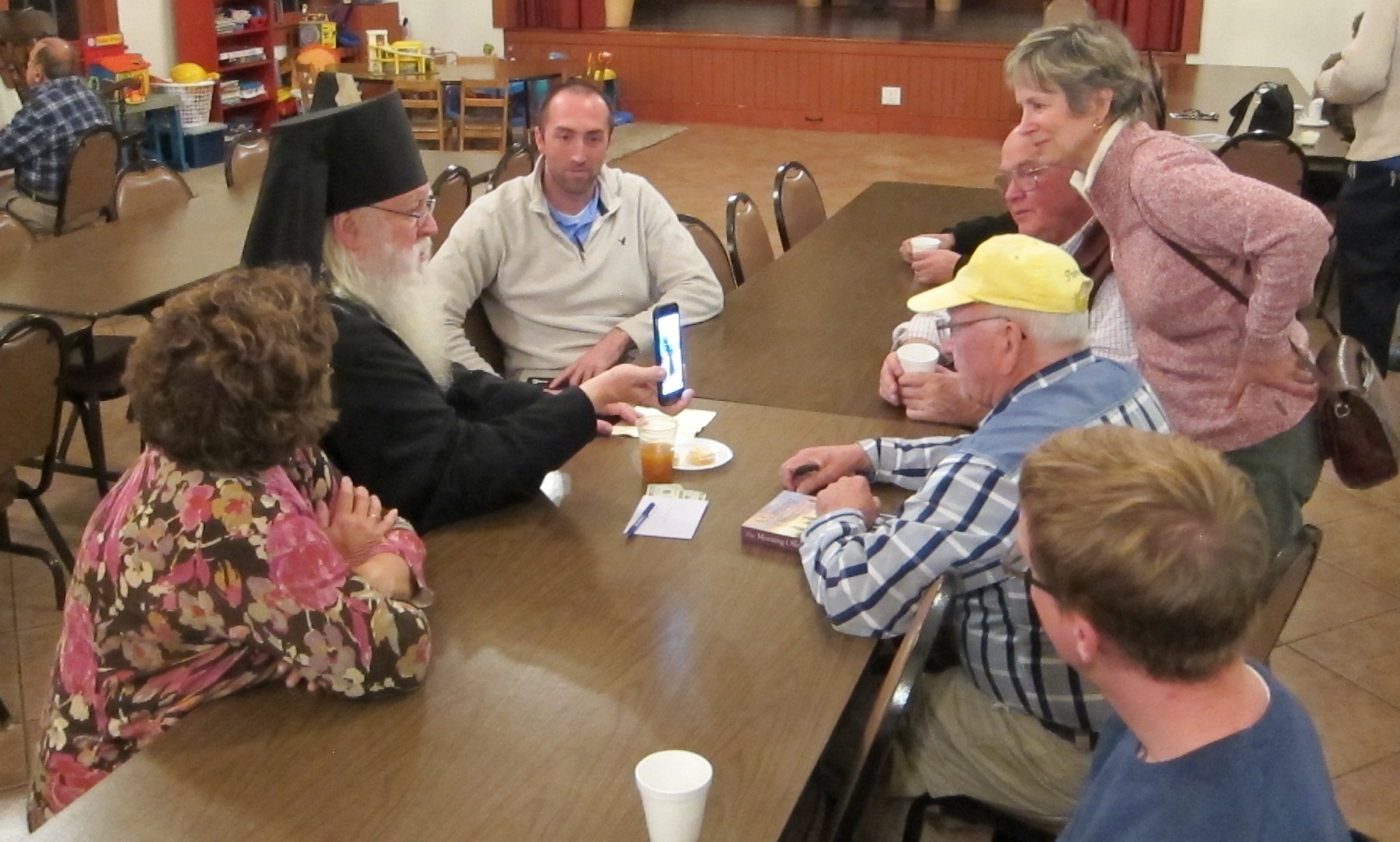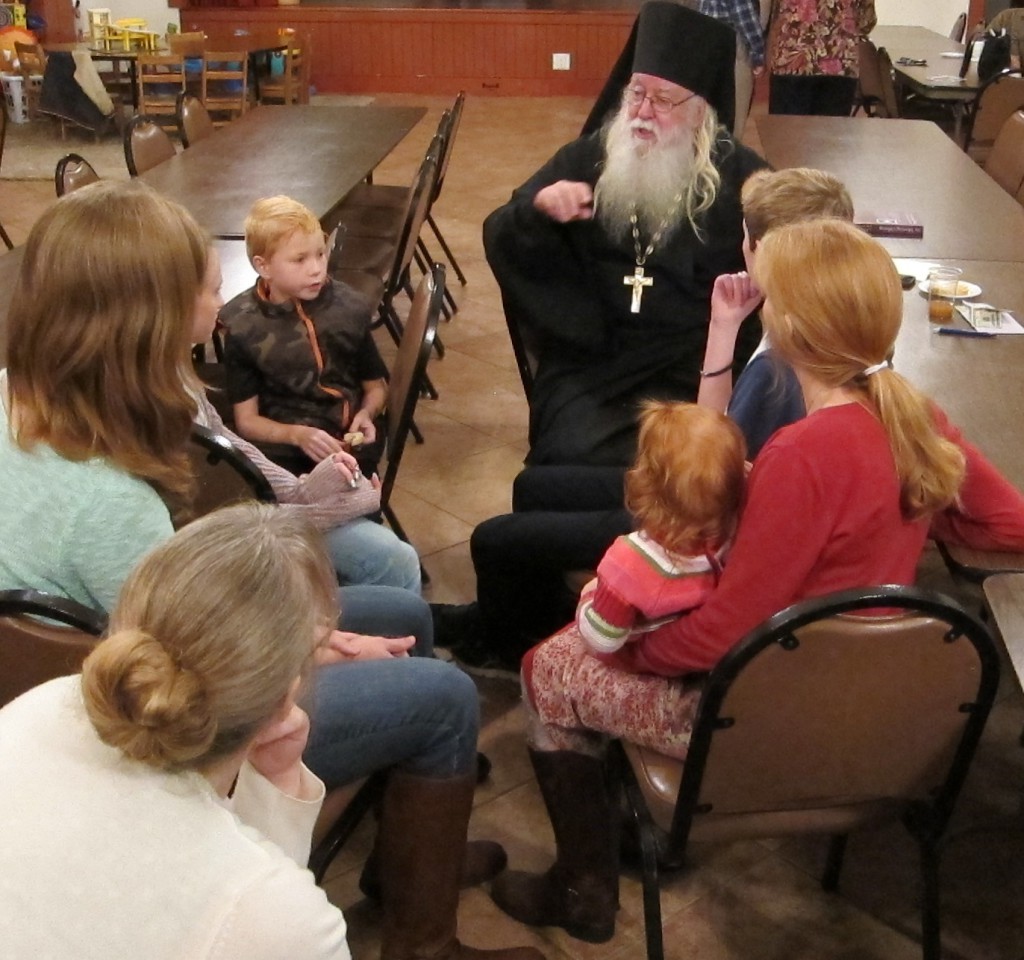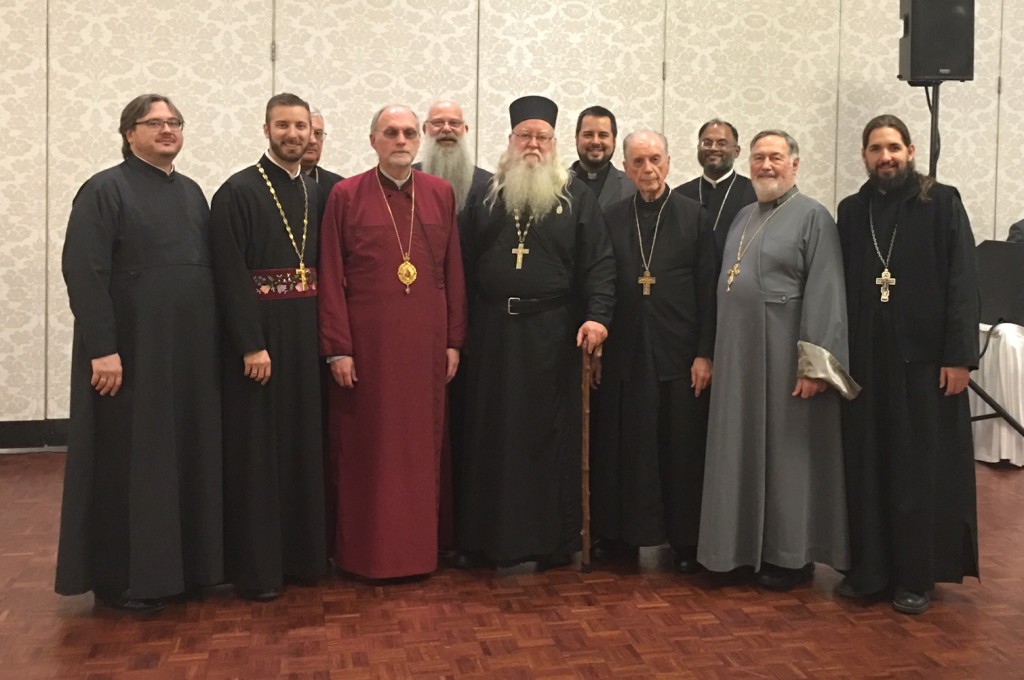 Tuesday October 20, 2015 / October 7, 2015
21st Week after Pentecost. Tone three.
Martyrs Sergius and Bacchus in Syria (290-303).
St. Jonah, bishop of Manchuria (1925).
New Hieromartyr Priest Valentine Sventsitsky of Moscow (1931) and Priest Nicholas Kazansky (1931).
New Hieromartyr Nicholas priest (1942).
Venerable Sergius the Obedient of the Kiev Caves (13th c.).
Venerable Sergius, abbot of Nurma (Vologda) (1412) , disciple of Venerable Sergius of Radonezh.
Uncovering of the relics (1514) of Venerable Martinian, abbot of Byelozersk (White Lake) (1483).
Martyrs Julian, presbyter, and Caesarius, deacon, at Terracina (1st c.).
Virgin-martyr Pelagia of Tarsus (287).
Martyr Polychronius of Gamphanitus (4th c.).
Pskov Icon of the Mother of God named "Tenderness" (1524).
Martyrs Eusebius and Felix at Terracina.
St. Dubtach, bishop of Armagh (Scotland) (513) (Celtic & British).
Holy Martyr Princess Osyth of Chich (England) (ca. 700) (Celtic & British).
99 Fathers of Crete (Greek).
St. Leontius the Governor (Greek).
Venerable Joseph, elder of Mokhevi, wonderworker of Georgia (1763) (Georgia).
Scripture Readings
Colossians 1:1-2
Greeting
1 Paul, an apostle of Jesus Christ by the will of God, and Timothy our brother,
2 To the saints and faithful brethren in Christ who are in Colosse:
Grace to you and peace from God our Father and the Lord Jesus Christ.
Colossians 1:7-11
7 as you also learned from Epaphras, our dear fellow servant, who is a faithful minister of Christ on your behalf, 8 who also declared to us your love in the Spirit.
Preeminence of Christ
9 For this reason we also, since the day we heard it, do not cease to pray for you, and to ask that you may be filled with the knowledge of His will in all wisdom and spiritual understanding; 10 that you may walk worthy of the Lord, fully pleasing Him, being fruitful in every good work and increasing in the knowledge of God; 11 strengthened with all might, according to His glorious power, for all patience and longsuffering with joy;
Luke 6:37-45
Do Not Judge
37 "Judge not, and you shall not be judged. Condemn not, and you shall not be condemned. Forgive, and you will be forgiven. 38 Give, and it will be given to you: good measure, pressed down, shaken together, and running over will be put into your bosom. For with the same measure that you use, it will be measured back to you."
39 And He spoke a parable to them: "Can the blind lead the blind? Will they not both fall into the ditch? 40 A disciple is not above his teacher, but everyone who is perfectly trained will be like his teacher. 41 And why do you look at the speck in your brother's eye, but do not perceive the plank in your own eye? 42 Or how can you say to your brother, 'Brother, let me remove the speck that is in your eye,' when you yourself do not see the plank that is in your own eye? Hypocrite! First remove the plank from your own eye, and then you will see clearly to remove the speck that is in your brother's eye.
A Tree Is Known by Its Fruit
43 "For a good tree does not bear bad fruit, nor does a bad tree bear good fruit. 44 For every tree is known by its own fruit. For men do not gather figs from thorns, nor do they gather grapes from a bramble bush. 45 A good man out of the good treasure of his heart brings forth good; and an evil man out of the evil treasure of his heart[a] brings forth evil. For out of the abundance of the heart his mouth speaks.