God is with us in the intimacy of grief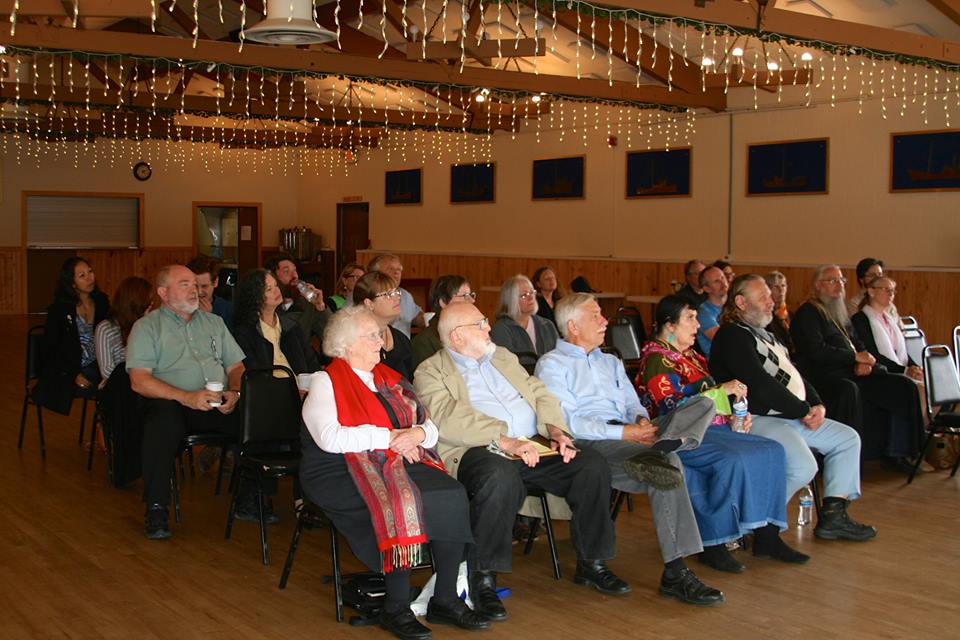 There are those moments that bring together whole communities in need of mourning together. During such times like these, we need to mourn. One of the most tremendously rewarding and challenging aspects of the priesthood is comforting people in their darkest moments of sorrow. Do not be mistaken, and think that priests are exempt from the pain of those whom they try to comfort, or that we have magical words that somehow ease the pain or bring order to the chaos of grief. Platitudes are useless in dark days of mourning. The one who has lost his life may very well be "in a better place," but it is oddly of little comfort to say those words. In a powerful witness of human behavior, Christ "does not say, 'Well, now he is in heaven, everything is well; he is separated from this difficult and tormented life.' Christ does not say all those things we do in our pathetic and uncomforting attempts to console. In fact he says nothing—he weeps."
In like fashion, we need to embrace the grief that we feel at the loss of a loved one. We need to honor the bereavement process, because just as God gave our loved ones to us, so too God has blessed those left behind with the grief that they feel in their loss. Grief is confirmation that this was a person of value, a beloved son or daughter, a cherished brother or sister, a loving parent, or a treasured friend. Grief is how we honor a well-lived life. The death of a loved one is grief-worthy. In grieving, we do their memory justice, and follow in the example of Jesus, who wept at the grave of his friend Lazarus. Like martyrs of the ancient church, like Lazarus in the New Testament, our loved one's departure from this world makes those left behind to wonder how they are going to the fill the space that the person once occupied. The mystery of a future without them is a daunting, as the mystery of death itself.
As a priest and monk of the Orthodox Church, I am comfortable with this mystery, as all Christians should be. Death can be a mystery precisely because the triumph over death is not a mystery. As the Orthodox theologian Alexander Schmemann wrote, "in essence, Christianity is not concerned with coming to terms with death, but rather with the victory over it." In the light of everlasting life, in the name of Jesus Christ, the dreadful threat and dark mystery that is death is transformed into a happy and victorious event for the believer, and "Death is swallowed up in victory." (1 Cor. 15:54)
So mourning is an ancient ritual, one in which Jesus participated. For all of us, all people, death is a common element of humanity, the common trait that we share, and the common enemy of our loved ones. And like grief, victory over death binds people together in a larger, more powerful community, the community that is found in the Christian faith. People accuse Christians of being members of a "death cult," obsessed with a dying savior and focused on the afterlife to the exclusion of the present; but they are wrong. Christianity does not deny life, Christianity affirms life. Christianity affirms life even in death, because for Christians, death does not remove the relationship that exists. In death, as in life, we love and honor them, and death cannot take them from us. Death may take our friend, but it has also provided those left behind with the opportunity to live with the hope of one day joining them. And a life with hope is a good life.
So for us, death is the beginning of the true life that also awaits us beyond the grave, if indeed we have begun to live it here. Christ, "the resurrection and the life," (John 11:25) transformed death. Christ assumed human flesh, Christ was crucified, resurrected, ascended to heaven and waits for us there, and Christ ushers us into new life both now and after our death. Therefore, even as death exposes our frailty and our grief, death does not reveal our finiteness; instead it reveals our infiniteness, our eternity. To this end, the Christian does not ponder the mystery of death in a way that is paralyzing, negative and apathetic, but in a way that is productive, positive and dynamic.
God, to whom you have entrusted your soul, is a good and perfect God. This God will do what is right with your child, what is just with your brother, and what is honorable with your friend. There is no saying, no claim, no scripture that will give us peace in our loss right now or even calm our troubled souls; but we can find comfort and peace in God who is present with us, and in us and through us in the intimacy of grief, as we mourn the death of our loved one.
With love in Christ,
Abbot Tryphon
Photos: On Sunday afternoon I spoke in the Sons of Norway Lodge, at the invitation of Father John Strickland, rector of St. Elizabeth Orthodox Church of Poulsbo, WA.
Prayer Request
Please pray for the safety of Abbess Markella and the nuns of the Monastery of the Life Giving Spring, in Dunlap, CA. They have been evacuated to Fresno, due to wildfires. Please pray that the Lord will spare their beautiful monastery, together with Saint Nicholas Ranch, from the ravages of this massive fire. As well, in your charity, please remember Father Ignasius, founder of the newly established ROCOR monastery, named after Saint Silouan the Athonite, nestled in the Sonora Foothills at the edge of Yosemite National Park, also in an area endangered by fire.
Coming soon: the Video Edition
Thanks to the generosity of my readers, we are only $363.65 short of the needed funds for the purchase of the video recording equipment. You can contribute towards this project by sending a check to All-Merciful Saviour Monastery, PO Box 2420, Vashon Island, WA 98070. Or, you can donate through PayPal by visiting my blog: https://blogs.ancientfaith.com/morningoffering/
Monday September 14, 2015 / September 1, 2015
16th Week after Pentecost. Tone six.
Church New Year.
Venerable Symeon Stylites (the Elder) (459) and his mother St. Martha (428).
Virgin-martyrs Tatiana and Natalia (1937).
Martyr Aeithalas of Persia (380).
Holy Forty Virgin-martyrs: Laurencia the deaconess, Celsina, Theoclia, Theoctista, Dorothy, Eutychia, Thecla, Aristaineta, Philadelphia, Mary, Veronica, Euthymia, Lamprotatia, Euphymia, Theodora, Theodota, Teteia, Aquilina, Theodulia, Aplodora, Lampadia, Procopia, Paula, Junilla, Ampliana, Percissa, Polynicia, Maura, Gregoria, Cyria, Bassa, Callinica, Barbara, Cyriacia, Agathonica, Justa, Irene, Matrona, Timothea, Tatiana, and Anna, and Martyr Ammon the deacon, their teacher, at Heraclea in Thrace (321-3).
Martyrs Callista and her brothers Evodus and Hermogenes, at Nicomedia (309).
Righteous Joshua the Son of Nun (1400 B.C.).
Synaxis of the Most Holy Theotokos in Miasena Monastery, in memory of the finding of Her Icon (864).
"Chernigov-Gethsemane" (1869), Alexandria, August (1914) and named "All-Blessed" at Kazan Icons of the Most Holy Theotokos.
Venerable Meletius the Younger of Thebes (1095-1124).
New Martyr Angelis of Constantinople (1680) (Greek).
Venerable Nicholas of Courtaliatis in Crete, monk (1670) (Greek).
Venerable Symeon of Lesbos (Greek).
St. Evanthia (Greek).
St. Verena of Zurzach (350) (Switzerland).
St. Aegidius of Camargue (590) (Gaul).
St. Haido of Stanos (1820-21).
Commemoration of the Great Fire at Constantinople about 470 A.D.
Scripture Readings
1 Timothy 2:1-7
Pray for All Men
2 Therefore I exhort first of all that supplications, prayers, intercessions, and giving of thanks be made for all men, 2 for kings and all who are in authority, that we may lead a quiet and peaceable life in all godliness and reverence. 3 For this is good and acceptable in the sight of God our Savior, 4 who desires all men to be saved and to come to the knowledge of the truth. 5 For there is one God and one Mediator between God and men, the Man Christ Jesus, 6 who gave Himself a ransom for all, to be testified in due time, 7 for which I was appointed a preacher and an apostle—I am speaking the truth in Christ and not lying—a teacher of the Gentiles in faith and truth.
Luke 4:16-22
Jesus Rejected at Nazareth
16 So He came to Nazareth, where He had been brought up. And as His custom was, He went into the synagogue on the Sabbath day, and stood up to read. 17 And He was handed the book of the prophet Isaiah. And when He had opened the book, He found the place where it was written:
18 "The Spirit of the Lord is upon Me,
Because He has anointed Me
To preach the gospel to the poor;
He has sent Me to heal the brokenhearted,
To proclaim liberty to the captives
And recovery of sight to the blind,
To set at liberty those who are oppressed;
19 To proclaim the acceptable year of the Lord."
20 Then He closed the book, and gave it back to the attendant and sat down. And the eyes of all who were in the synagogue were fixed on Him. 21 And He began to say to them, "Today this Scripture is fulfilled in your hearing." 22 So all bore witness to Him, and marveled at the gracious words which proceeded out of His mouth. And they said, "Is this not Joseph's son?"