Leif Eriksson was the first Orthodox Christian in America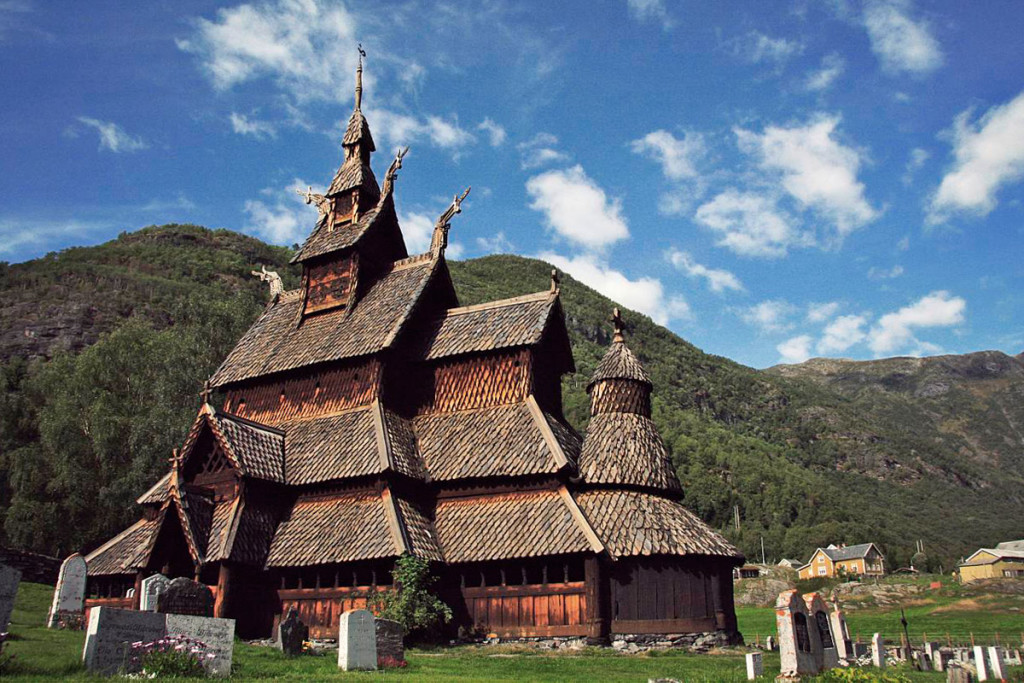 Most people are aware that the Norse explorer Leif Eriksson was the first European to reach America, some 500 years before Christopher Columbus, but very few know he arrived as part of a Christian mission. Fewer still realize Leif Eriksson was an Orthodox Christian. Having become a hirdman (guard) of the royal army of King Olaf Tryggvason in Norway, Leif had himself accepted baptism into the Christian faith, and had received from the King orders to travel to Greenland with a priest in order to convert the Norse settlements there.
When their ships were blown off course, Leif and his companions ended up in what we now know as Newfoundland. After getting back on course, and converting the Greenlanders to Christ, Lief and his crew returned to this Newfoundland, where they built permanent settlements, settlements that included the construction of churches. While the Norwegian presence in North America was short lived, the fact that the first Christian presence on the continent was Orthodox is significant.
Although King Olaf Tryggvason had accepted baptism at Canterbury in England, the first Christian rulers in Scandinavia were kinsmen of the rulers of Gardarike, or Kiev (The Rus, of course, were not Slavs but Scandinavians, most hailing from Sweden). King Olaf had himself grown up under the protection of Grand Prince Valdemar (Vladimir), who famously converted the Rus to Christianity in 988. Norse Christianity was Orthodox in tone and appearance from the beginning, and the last of Norway's pre-schism Christian kings, Harald Hardrada, was openly rebuked by Rome for adhering to Eastern traditions. He brought into the Norwegian Church a number of priests and bishops from Novgorod and Gardarike, and also Miklagard (Constantinople), where he had headed the Varangian guard in service of the Byzantine emperor. The first Christian presence in the Americas, then, was not merely Orthodox in the sense of pre-schism, but had strong ties to the cultural and ecclesiastical traditions of the Orthodox East. This fact can clearly be seen in the interiors of the thousand year old Norwegian stave churches that we see today.
With love in Christ,
Abbot Tryphon
(My thanks to Father Kristian, a Norwegian Orthodox priest in the Greek Orthodox Archdiocese of Great Britain, whose writing on the subject I based my blog article. I hope I didn't get any of the facts incorrect.)
Coming soon: the Video Edition
I am hoping to produce a once a week utube video for Ancient Faith Radio, but need video recording equipment that will provide the means of producing high quality videos and sound. Any donations towards this project would be gratefully received. You can contribute towards this project by sending a check to All-Merciful Saviour Monastery, PO Box 2420, Vashon Island, WA 98070. Or, you can donate through PayPal by visiting my blog: https://blogs.ancientfaith.com/morningoffering/
Prayer Request
Please pray for the safety of Abbess Markella and the nuns of the Monastery of the Life Giving Spring, in Dunlap, CA. They have been evacuated to Fresno, due to wildfires.
Thursday September 10, 2015 / August 28, 2015
15th Week after Pentecost. Tone five.
Venerable Moses the Black of Scete (400).
Uncovering of the relics of Venerable Job of Pochaev (1651).
New Martyrs Archimandrite Sergius (Zaytsev) and monks of Zilantov Monastery of Kazan (1918) hieromonks Laurecnce (Nikitin), Seraphim (Kuz'min), hierodeacon Theodosius (Alexandrov), monks Leontius (Kariagin), Stephen, brothers Gregory (Timofeev), Hylarion (Pravdin), John (Sretensky), Sergius (Galin) (1918).
New Hieromartyr Nicholas priest (1931).
New Hieromartyr Basil priest (1937).
Synaxis of the Saints of the Kiev Caves whose relics repose in the Far Cave of Venerable Theodosius.
Venerable Sabbas, abbot of Krypetsk (1495).
Righteous Anna the Prophetess and Daughter of Phanuel, who met the Lord at the Temple in Jerusalem (1st c.).
Martyr Queen Shushaniki (Susanna) of Georgia (475) (Georgia).
St. Amphilochius, bishop of Vladimir, Volhynia (1122).
Righteous Hezekiah, king of Judah (691 B.C.).
Venerable Theodore (Monk Theodosius of the Kiev Caves), prince of Ostrog (1483).
New Hieromartyr Chrysostom, metropolitan of Smyrna (1922) (Greek).
33 Martyrs of Nicomedia (Greek).
Martyrs Diomedes and Laurence (Greek).
Scripture Readings
Galatians 3:23-4:5
23 But before faith came, we were kept under guard by the law, kept for the faith which would afterward be revealed. 24 Therefore the law was our tutor to bring us to Christ, that we might be justified by faith. 25 But after faith has come, we are no longer under a tutor.
Sons and Heirs
26 For you are all sons of God through faith in Christ Jesus. 27 For as many of you as were baptized into Christ have put on Christ. 28 There is neither Jew nor Greek, there is neither slave nor free, there is neither male nor female; for you are all one in Christ Jesus. 29 And if you are Christ's, then you are Abraham's seed, and heirs according to the promise.
4 Now I say that the heir, as long as he is a child, does not differ at all from a slave, though he is master of all, 2 but is under guardians and stewards until the time appointed by the father. 3 Even so we, when we were children, were in bondage under the elements of the world. 4 But when the fullness of the time had come, God sent forth His Son, born of a woman, born under the law, 5 to redeem those who were under the law, that we might receive the adoption as sons.
Mark 6:30-45
Feeding the Five Thousand
30 Then the apostles gathered to Jesus and told Him all things, both what they had done and what they had taught. 31 And He said to them, "Come aside by yourselves to a deserted place and rest a while." For there were many coming and going, and they did not even have time to eat. 32 So they departed to a deserted place in the boat by themselves.
33 But the multitudes saw them departing, and many knew Him and ran there on foot from all the cities. They arrived before them and came together to Him. 34 And Jesus, when He came out, saw a great multitude and was moved with compassion for them, because they were like sheep not having a shepherd. So He began to teach them many things. 35 When the day was now far spent, His disciples came to Him and said, "This is a deserted place, and already the hour is late. 36 Send them away, that they may go into the surrounding country and villages and buy themselves bread; for they have nothing to eat."
37 But He answered and said to them, "You give them something to eat."
And they said to Him, "Shall we go and buy two hundred denarii worth of bread and give them something to eat?"
38 But He said to them, "How many loaves do you have? Go and see."
And when they found out they said, "Five, and two fish."
39 Then He commanded them to make them all sit down in groups on the green grass. 40 So they sat down in ranks, in hundreds and in fifties. 41 And when He had taken the five loaves and the two fish, He looked up to heaven, blessed and broke the loaves, and gave them to His disciples to set before them; and the two fish He divided among them all. 42 So they all ate and were filled. 43 And they took up twelve baskets full of fragments and of the fish. 44 Now those who had eaten the loaves were about[c] five thousand men.
Jesus Walks on the Sea

45 Immediately He made His disciples get into the boat and go before Him to the other side, to Bethsaida, while He sent the multitude away.