Anger must not be allowed to take root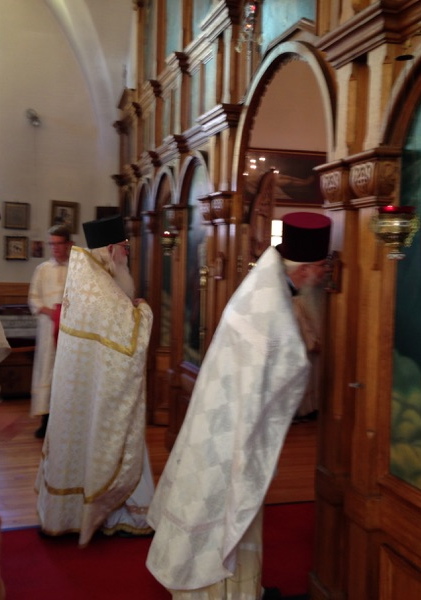 Most people, when angered by someone, think the best way to deal with the anger is by avoiding the person who offended us. The problem with this approach is that it allows the anger to take root in the heart, festering as a sinful passion. Because anger is a sin, it can not be conquered by avoiding the person who made us angry. It must be rooted out by love, and this requires us to reach out to the offender.
The Lord said, "If your enemy is hungry, feed him; If he is thirsty, give him a drink; For in so doing you will heap coals of fire on his head (Romans 12:20)." The only way we can do battle with the passion of anger is by setting aside our petty egos, and reaching out to the offender.
We must realize that the anger we feel is not really about the person who has offended us, but about the sin that lurks in our own hearts. If we were not plagued by the passion of anger, we would not have become angry to begin with. If we are to conquer the sins that have taken root in our own heart, we must return only love and kindness to the person who has offended us. By doing so, we sow the seeds of Christ's love in both of us.
With love in Christ,
Abbot Tryphon
Photos: The monastic community participated in the celebration of the Feast of the Transfiguration at Saint Nicholas Cathedral in Seattle, on Wednesday. At the request of Archbishop Kyrill of San Francisco, and with the blessing of the Synod of Bishops, Abbot Tryphon was awarded the palitsa, by Bishop Theodosy of Seattle.
Thursday August 20, 2015 / August 7, 2015
12th Week after Pentecost. Tone two.
Dormition (Theotokos) Fast. By Monastic Charter: Food without Oil
Afterfeast of the Transfiguration.
Martyr Dometius of Persia (363) and two disciples.
Translation of the relics (1832) of St. Metrophanes, first bishop of Voronezh (1703).
Venerable Anthony of Optina (1865).
New Hieromartyrs Alexander, Peter, Michael, John, Demetrius and Alexis priests, Elisey deacon and Hieromartyr Athanasius (1937).
New Hieromartyr Basil priest (1938).
Venerable Poemen (Pimen) the Much-ailing of the Kiev Caves (1110).
Venerable Pimen, faster of the Kiev Caves (13th c.).
Venerable Mercurius, bishop of Smolensk (Kiev Caves) (1239).
Martyrs Marinus the Soldier and Asterius the Senator at Caesarea in Palestine (260).
Venerable Hor (Horus) of the Thebaid (390).
Virgin Potamia of Alexandria.
Venerable Dometius of Philotheou, Mt. Athos (16th c.).
St. Theodora of Sihla (18th c.) (Romania).
Holy Ten Thousand Ascetics of Thebes (Greek).
Hieromartyr Narcissus, patriarch of Jerusalem (213) (Greek).
Venerable Hyperechius of The Paradise (Greek).
Venerable Sozon of Nicomedia (Greek).
Venerable Theodosius the New, healer of Peloponnesus (862) (Greek).
Venerable Nicanor, wonderworker of Mt. Callistratus (1519) (Greek).
Martyr Afra of Augsburg (304).
Scripture Readings
2 Corinthians 7:1-10
7 Therefore, having these promises, beloved, let us cleanse ourselves from all filthiness of the flesh and spirit, perfecting holiness in the fear of God.

The Corinthians' Repentance
2 Open your hearts to us. We have wronged no one, we have corrupted no one, we have cheated no one. 3 I do not say this to condemn; for I have said before that you are in our hearts, to die together and to live together. 4 Great is my boldness of speech toward you, great is my boasting on your behalf. I am filled with comfort. I am exceedingly joyful in all our tribulation.
5 For indeed, when we came to Macedonia, our bodies had no rest, but we were troubled on every side. Outside were conflicts, inside were fears. 6 Nevertheless God, who comforts the downcast, comforted us by the coming of Titus, 7 and not only by his coming, but also by the consolation with which he was comforted in you, when he told us of your earnest desire, your mourning, your zeal for me, so that I rejoiced even more.
8 For even if I made you sorry with my letter, I do not regret it; though I did regret it. For I perceive that the same epistle made you sorry, though only for a while. 9 Now I rejoice, not that you were made sorry, but that your sorrow led to repentance. For you were made sorry in a godly manner, that you might suffer loss from us in nothing. 10 For godly sorrow produces repentance leading to salvation, not to be regretted; but the sorrow of the world produces death.
Mark 1:29-35
Peter's Mother-in-Law Healed
29 Now as soon as they had come out of the synagogue, they entered the house of Simon and Andrew, with James and John. 30 But Simon's wife's mother lay sick with a fever, and they told Him about her at once. 31 So He came and took her by the hand and lifted her up, and immediately the fever left her. And she served them.

Many Healed After Sabbath Sunset
32 At evening, when the sun had set, they brought to Him all who were sick and those who were demon-possessed. 33 And the whole city was gathered together at the door. 34 Then He healed many who were sick with various diseases, and cast out many demons; and He did not allow the demons to speak, because they knew Him.
Preaching in Galilee
35 Now in the morning, having risen a long while before daylight, He went out and departed to a solitary place; and there He prayed.