Our pets are gifts from God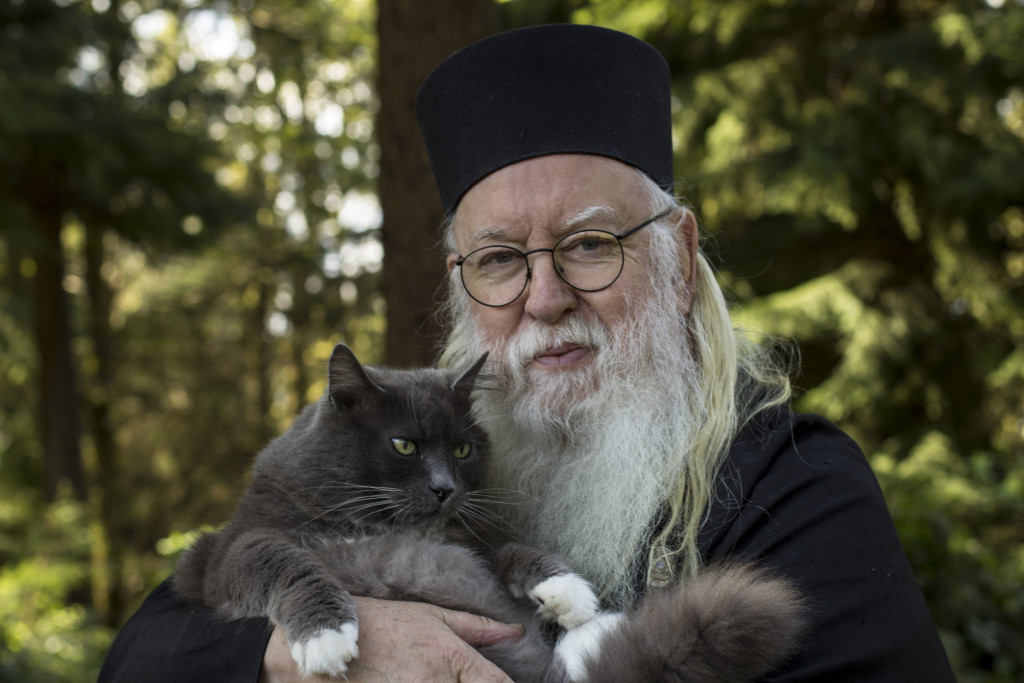 Every evening I try to spend an hour or so in the library, sitting in front of the fire place with our beloved Norwegian Forest Cat, Hammi. He sleeps in the library, and is most happy when the entire monastic brotherhood is gathered together with him, before he curls up in his basket for the night. He's an important member of our community, loved by all of us, and is the only cat I know who has his own facebook fan page, started by a woman who'd met him on a pilgrimage to the monastery (if my memory be correct).
I first met Hammi, a large male cat, as I was walking between our old trailer house (now gone) and my cell, some twelve or thirteen years ago. We startled one another, but as I reached down with extended hand, he came to me. When I picked him up he began purring immediately, so I opened a can of salmon, and he never left. A month after his arrival we took him to a vet to be checked out. It was the veterinarian who suggested he'd most likely been dumped by someone from Seattle, as happens frequently when people want to dispose of a pet, and make sure the animal can't find it's way back home (impossible from an island).
I often tell people that Hammi domesticated me, since I'd not previously been a cat fancier, being allergic to cat dander. Little did I know at the beginning that Norwegian Forest Cats do not have dander. They have a very soft double fur coat, large paws, sweet facial features and a very loud purr box. They are known to be personable, liking to be around people. He greets everyone who comes to the monastery, escorting them up the steps from the parking lot. Everyone who's ever met Hammi, falls in love. I've lost count of the number of people who've stated they don't like cats, but want to get a Norwegian Forest Cat for themselves, once they've met him.
Intelligent breed that they are, Hammi has learned to let us know just what he wants, be it water, food, cuddling, sleep, whatever. He is a great companion to all of us, even going into the forest when one of us takes a walk on the Valaam Trail. He has a special game which he seems to enjoy with me, particularly. I'll head out on the trail with Hammi running ahead. He'll hide behind a large fern, and even though I know he's waiting ahead, he always manages to scare me. I'll then run ahead and hide behind a tree and jump out when he walks by. We play this game until the end of the trail!
He's slowing down a bit with age, just as am I. We both suffer from arthritis and like to sit by the fire on a cold evening, with Hammi in the lap of the old abbot. I've grown so attached to him that I can't even begin to think of what life in the monastery will be like after he's gone. Although I'd grown up with dogs and cats, they'd not been in my life throughout my adulthood, until Hammi came around. I'm so very glad he did.
Animals teach us so much about life, and about unconditional love. I'll never forget the day Hammi spotted our newly arrived Rhode Island Reds for the first time. I was sitting on the veranda of the trapeza with some guests. Hammi sat up when he spotted the hens, and started walking toward the Saint John Chapel. I followed him, as did our guests. When we were standing by the hens, Hammi crouched down, ready for the kill. All that was needed was for me to say, "No, Hammi, they are our friends". He turned away and walked back to the veranda, leaving me and the guests alone with the chickens. He's never bothered them since.
With love in Christ,
Abbot Tryphon
Photo: Hammi, the monastery's Norwegian Forest Cat. (click on photos to enlarge)
Monday June 15, 2015 / June 2, 2015
3rd Week after Pentecost. Tone one.
Apostles' (Peter & Paul) Fast. By Monastic Charter: Strict Fast (Bread, Vegetables, Fruits)
St. Nicephorus the Confessor, patriarch of Constantinople (829).
Great-martyr John the New of Suceava, at Belgorod (Cetatea Alba) (1332).
Finding of the relics (1815) of St. Juliana, princess of Vyasma (1406).
"Kiev-Bratsk" Icon of the Mother of God (1654).
New Martyr Demetrius of Philadelphia (1657) (Greek).
Hieromartyr Pothinus, bishop of Lyons (177) (Gaul).
St. Odo, archbishop of Canterbury (959)) (Celtic & British).
New Martyr Constantine of the Hagarenes (Mt. Athos) (1819) (Greek).
Hieromartyr Erasmus of Ochrid, who reposed in peace, and 20,000 Martyrs with him (303) (Greek).
New Martyr John of Trebizond (Greek).
New Martyr Asprocastron (White Castle).
Scripture Readings
Romans 7:1-13
Freed from the Law
7 Or do you not know, brethren (for I speak to those who know the law), that the law has dominion over a man as long as he lives? 2 For the woman who has a husband is bound by the law to her husband as long as he lives. But if the husband dies, she is released from the law of her husband. 3 So then if, while her husband lives, she marries another man, she will be called an adulteress; but if her husband dies, she is free from that law, so that she is no adulteress, though she has married another man. 4 Therefore, my brethren, you also have become dead to the law through the body of Christ, that you may be married to another—to Him who was raised from the dead, that we should bear fruit to God. 5 For when we were in the flesh, the sinful passions which were aroused by the law were at work in our members to bear fruit to death. 6 But now we have been delivered from the law, having died to what we were held by, so that we should serve in the newness of the Spirit and not in the oldness of the letter.
Sin's Advantage in the Law
7 What shall we say then? Is the law sin? Certainly not! On the contrary, I would not have known sin except through the law. For I would not have known covetousness unless the law had said, "You shall not covet."[a] 8 But sin, taking opportunity by the commandment, produced in me all manner of evil desire. For apart from the law sin was dead. 9 I was alive once without the law, but when the commandment came, sin revived and I died. 10 And the commandment, which was to bring life, I found to bring death. 11 For sin, taking occasion by the commandment, deceived me, and by it killed me. 12 Therefore the law is holy, and the commandment holy and just and good.
Law Cannot Save from Sin
13 Has then what is good become death to me? Certainly not! But sin, that it might appear sin, was producing death in me through what is good, so that sin through the commandment might become exceedingly sinful.
Matthew 9:36-10:8
36 But when He saw the multitudes, He was moved with compassion for them, because they were weary and scattered, like sheep having no shepherd. 37 Then He said to His disciples, "The harvest truly is plentiful, but the laborers are few. 38 Therefore pray the Lord of the harvest to send out laborers into His harvest."
The Twelve Apostles
10 And when He had called His twelve disciples to Him, He gave them power over unclean spirits, to cast them out, and to heal all kinds of sickness and all kinds of disease. 2 Now the names of the twelve apostles are these: first, Simon, who is called Peter, and Andrew his brother; James the son of Zebedee, and John his brother; 3 Philip and Bartholomew; Thomas and Matthew the tax collector; James the son of Alphaeus, and Lebbaeus, whose surname was Thaddaeus; 4 Simon the Cananite, and Judas Iscariot, who also betrayed Him.
Sending Out the Twelve
5 These twelve Jesus sent out and commanded them, saying: "Do not go into the way of the Gentiles, and do not enter a city of the Samaritans. 6 But go rather to the lost sheep of the house of Israel. 7 And as you go, preach, saying, 'The kingdom of heaven is at hand.' 8 Heal the sick, cleanse the lepers, raise the dead, cast out demons. Freely you have received, freely give.