The journey to God begins with the first step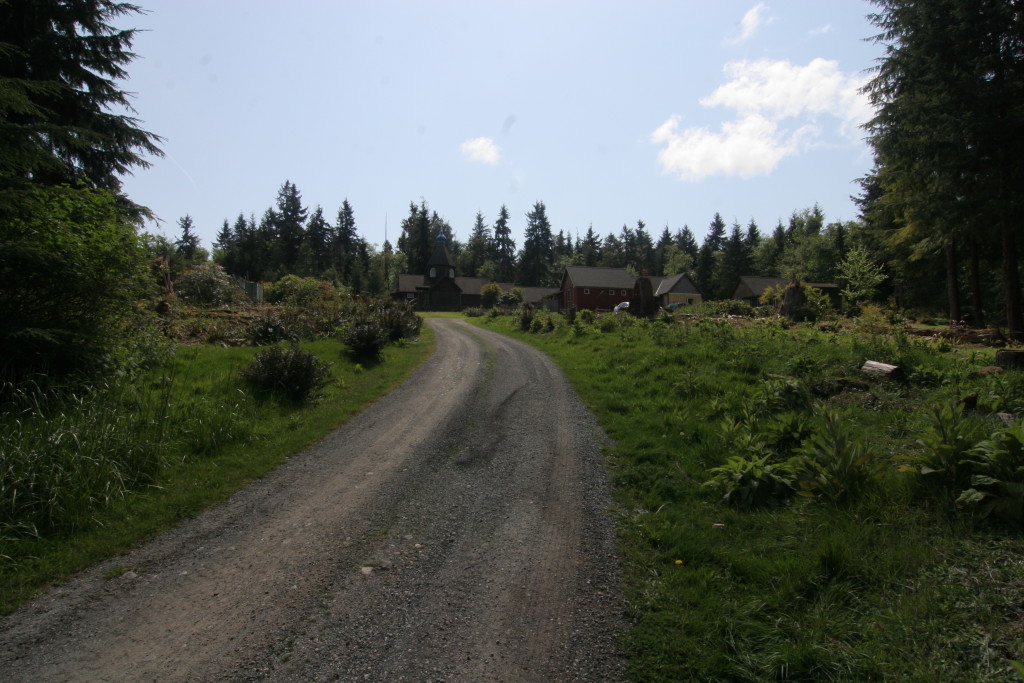 The Church has guidelines governing the many periods of fasting for her people. Additionally, she has prescribed the morning and evening prayers as aides in our struggle for holiness, and transformation of life. Keeping a prayer rule and fasting rules, helps us to be open to the movement of the Holy Spirit in our lives. Additionally, organizing our life around the life of the parish helps keep us focused on the important things that are of an eternal nature. Orthodoxy is a faith that demands full participation and deep commitment, otherwise it becomes just another religion, devoid of salvific, transformational value.
The many opportunities for service to the Church, whether serving in the altar, singing in the choir, teaching Sunday school, or sitting on the parish council, can go a long way to helping us make a greater commitment to living Orthodoxy in a way that is not limited to Sunday services.
If Orthodoxy is to be something other than mere magic, with the priest treated as some sort of wizard who performs the right formulas, we will feel we've done all that is needed, and our Orthodoxy will be as nothing. We need to read the daily prescribed scripture readings, and the lives of the saints of the day. We need to properly prepare ourselves for Saturday night confession by keeping notes of our sins during the week, and being ready to be accountable before God, with the priest as our witness. We need to hold up the Orthodox Church's standard of behavior in our public life. If we allow our pride to keep us from disclosing our sins in confession, we doom ourselves to mediocrity, and will see no spiritual growth whatsoever. If we feel we need not challenge ourselves to a deeper walk with Christ, because others probably won't notice, we cheat both God and ourselves.
The spiritual life is an adventure, full of pitfalls AND great heights. If we take this journey as the prime reason for living, the reward will be great. If we try living our life with the Church placed in a secondary roll, we will end our lives as losers, and having lost the battle and the reward. We are on a journey, and it begins with that first step. Christ stands with us, ready to lift us up when we fall, and even pull us along when we stumble or grow fainthearted.
With love in Christ,
Abbot Tryphon
Photo: Click on photo to enlarge.
Friday May 1, 2015 / April 18, 2015
Third Week of Pascha. Tone two.
Fast. Fish Allowed
Venerable John, disciple of St. Gregory of Decapolis (820).
New Hieromartyr Bessarion priest (1918).
New Hieromartyrs Priests Nicholas (1937) and Basil (Derzhavin) (1930) and lay people of the city of Gorodets, Nizhni-Novgorod.
Virgin-martyr Tamara (1942).
Martyrs Victor, Zoticus, Zeno, Acindynus, and Severian of Nicomedia (ca. 303).
Venerable Cosmas, bishop of Chalcedon, and his fellow-ascetic Venerable Auxentius (815-820).
New Martyr John the Tailor of Ioannina, at Constantinople (1526).
"Maximov" Icon of the Mother of God (1299).
Venerable Euthymius the Enlightener of Karelia (1435), and Venerables Anthony and Felix of St. Nicholas Monastery in Karelia.
Monks John and Athanasius of Aegina (Greek).
St. Naucratius, abbot of the Studion (848).
St. Athanasia the Wonderworker of Aegina (9th c.).
St. Basil Ratishvili of the Holy Mountain (13th c.) (Georgia).
Martyr Sabbas the Goth (372).
Scripture Readings
Acts 8:40-9:19
40 But Philip was found at Azotus. And passing through, he preached in all the cities till he came to Caesarea.
The Damascus Road: Saul Converted
9 Then Saul, still breathing threats and murder against the disciples of the Lord, went to the high priest 2 and asked letters from him to the synagogues of Damascus, so that if he found any who were of the Way, whether men or women, he might bring them bound to Jerusalem.
3 As he journeyed he came near Damascus, and suddenly a light shone around him from heaven. 4 Then he fell to the ground, and heard a voice saying to him, "Saul, Saul, why are you persecuting Me?"
5 And he said, "Who are You, Lord?"
Then the Lord said, "I am Jesus, whom you are persecuting. It is hard for you to kick against the goads."
6 So he, trembling and astonished, said, "Lord, what do You want me to do?"
Then the Lord said to him, "Arise and go into the city, and you will be told what you must do."
7 And the men who journeyed with him stood speechless, hearing a voice but seeing no one. 8 Then Saul arose from the ground, and when his eyes were opened he saw no one. But they led him by the hand and brought him into Damascus. 9 And he was three days without sight, and neither ate nor drank.
Ananias Baptizes Saul
10 Now there was a certain disciple at Damascus named Ananias; and to him the Lord said in a vision, "Ananias."
And he said, "Here I am, Lord."
11 So the Lord said to him, "Arise and go to the street called Straight, and inquire at the house of Judas for one called Saul of Tarsus, for behold, he is praying. 12 And in a vision he has seen a man named Ananias coming in and putting his hand on him, so that he might receive his sight."
13 Then Ananias answered, "Lord, I have heard from many about this man, how much harm he has done to Your saints in Jerusalem. 14 And here he has authority from the chief priests to bind all who call on Your name."
15 But the Lord said to him, "Go, for he is a chosen vessel of Mine to bear My name before Gentiles, kings, and the children of Israel. 16 For I will show him how many things he must suffer for My name's sake."
17 And Ananias went his way and entered the house; and laying his hands on him he said, "Brother Saul, the Lord Jesus, who appeared to you on the road as you came, has sent me that you may receive your sight and be filled with the Holy Spirit." 18 Immediately there fell from his eyes something like scales, and he received his sight at once; and he arose and was baptized.
19 So when he had received food, he was strengthened. Then Saul spent some days with the disciples at Damascus.
John 6:48-54
48 I am the bread of life. 49 Your fathers ate the manna in the wilderness, and are dead. 50 This is the bread which comes down from heaven, that one may eat of it and not die. 51 I am the living bread which came down from heaven. If anyone eats of this bread, he will live forever; and the bread that I shall give is My flesh, which I shall give for the life of the world."
52 The Jews therefore quarreled among themselves, saying, "How can this Man give us His flesh to eat?"
53 Then Jesus said to them, "Most assuredly, I say to you, unless you eat the flesh of the Son of Man and drink His blood, you have no life in you. 54 Whoever eats My flesh and drinks My blood has eternal life, and I will raise him up at the last day.