God created us with freewill
One of the primary differences between Islam and Christianity has to do with the basic view of the nature of God. Islam teaches total surrender to a god who demands submission. There is no invitation to enter into a relationship, freely, nor is there room for an individual to choose, or not choose to love his Creator, for the god of the Muslims is far above his creation, and there is no real possibility to have a personal relationship with this god.
By contrast, the God of Christianity is one Who invites us into a relationship that is personal, and like all relationships based on love, we are free to choose, or not, to commune with a God Who is, by His very nature, in relationship. Our God is worshiped in Trinity, and this image of the Trinity is the basis of the image of the Church, one of mutual love. The God we worship in Trinity, Father, Son and Holy Spirit, is One God, and our response to the invitation from this One God, is to enter into communion with our nous, our soul, and our body (our own triune nature).
There is no force behind this invitation, for we are free to choose, or not, just as any relationship based on love requires both parties to be free to choose, or not. Our obedience is a religious act that must be free, and it must be based on love.
Our Lord Jesus Christ taught using parables, precisely because he was inviting us to freely choose to follow him, and to keep the commandments. He showed us the way to eternal life, not by giving commands as the Son of God, but as a loving teacher Whose wisdom was imparted in a way that left the choice up to us. His Apostle Peter demonstrated this same style of teaching when he told his fellow disciples that he was going fishing. Peter didn't say they were going fishing, but only that he was going fishing, thus leaving his friends with a choice. They were free to go fishing, or not.
Muhammad, by contrast, gave his followers specific laws that must be followed, including total submission to god, and should they ever renounce Islam, they would face a penalty of death. This lack of freedom in the teachings of Muhammad has its roots in his failure to teach about the notion of person.
In Christ we have the image of the Pantocrator, a fresco that is traditionally the primary focus in the dome of an Orthodox temple. The Pantocrator is He Who holds all things in His hands, through His love and forbearance. This God of Christianity does not punish, He educates, just as Christ educated his disciples through the use of parables.
With love in Christ,
Abbot Tryphon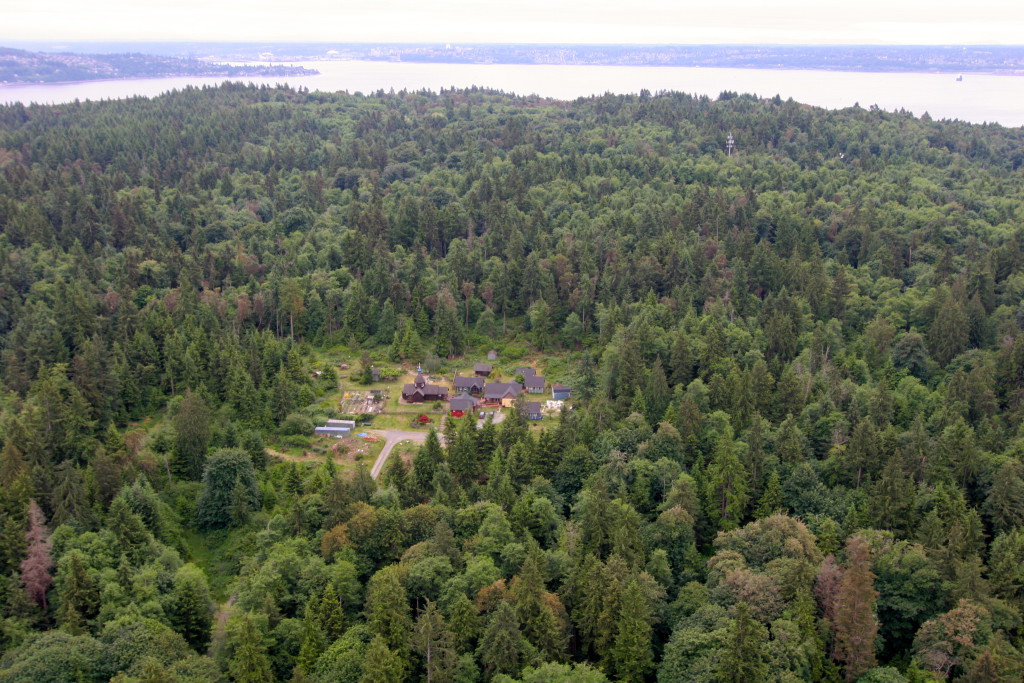 Photos: On Sunday afternoon I flew above the monastery with Ed Pierson, a communicant of the monastery, and took these aerial photographs. (click on photos to enlarge)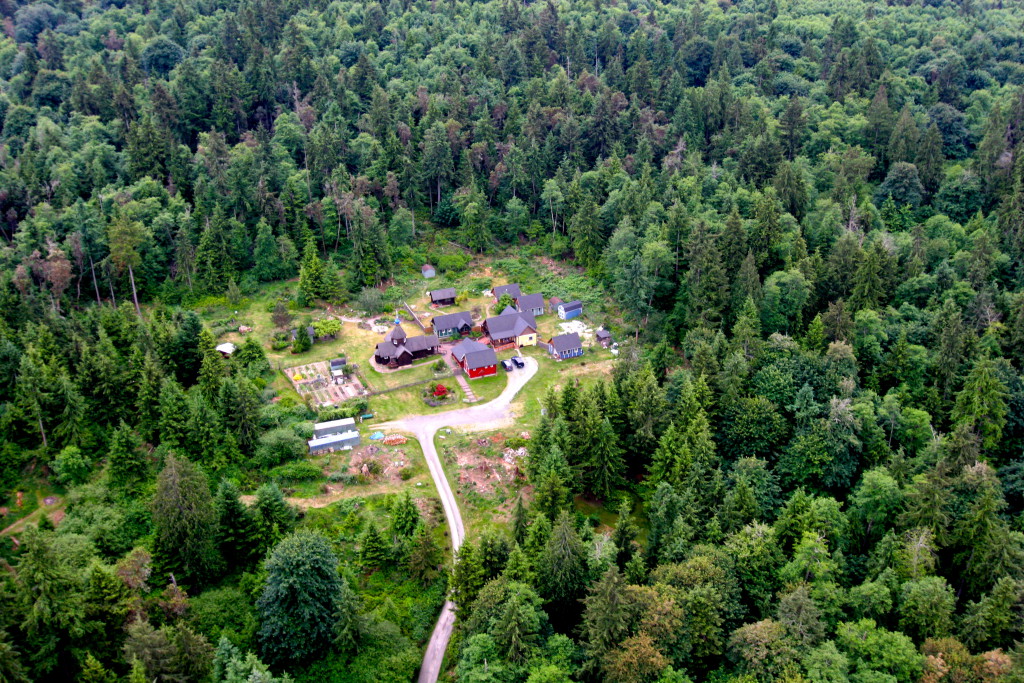 Wednesday May 27, 2015 / May 14, 2015
Afterfeast of the Ascension. Tone six.
Fast. Fish Allowed
Venerable Dodo of the St. David-Gareji Monastery, Georgia (596) (movable holiday on the Wednesday of Holy Ascension).
Martyr Isidore of Chios (251).
St. Isidore, fool-for-Christ, wonderworker of Rostov (1474).
New Hieromartyr Peter priest (1939).
Venerable Nicetas, bishop of Novgorod and recluse of the Kiev Caves (1108).
Martyr Maximus, under Decius (250).
Venerable Serapion the Sindonite, monk, of Egypt (542).
St. Leontius, patriarch of Jerusalem (1175).
Trebensk (1654) and Yaroslavl (Pechersk) Icons of the Mother of God (1823).
New Martyr John-Raiko of Shumena, Bulgaria (1802)) (Greek).
New Martyr Mark of Crete, at Smyrna (1643) (Greek).
First opening of the relics (1846) of St. Tikhon of Zadonsk (1783).
St. Aprunculus, bishop of Clermont in Gaul (Gaul).
Sts. Alexander, Barbarus, and Acolythus, martyred at the Church of Holy Peace by the Sea in Constantinople (Greek).
St. Andrew, abbot of Raphael (Tobolsk) (1820).
Scripture Readings
Acts 23:1-11
23 Then Paul, looking earnestly at the council, said, "Men and brethren, I have lived in all good conscience before God until this day." 2 And the high priest Ananias commanded those who stood by him to strike him on the mouth. 3 Then Paul said to him, "God will strike you, you whitewashed wall! For you sit to judge me according to the law, and do you command me to be struck contrary to the law?"
4 And those who stood by said, "Do you revile God's high priest?"
5 Then Paul said, "I did not know, brethren, that he was the high priest; for it is written, 'You shall not speak evil of a ruler of your people.'"
6 But when Paul perceived that one part were Sadducees and the other Pharisees, he cried out in the council, "Men and brethren, I am a Pharisee, the son of a Pharisee; concerning the hope and resurrection of the dead I am being judged!"
7 And when he had said this, a dissension arose between the Pharisees and the Sadducees; and the assembly was divided. 8 For Sadducees say that there is no resurrection—and no angel or spirit; but the Pharisees confess both. 9 Then there arose a loud outcry. And the scribes of the Pharisees' party arose and protested, saying, "We find no evil in this man; but if a spirit or an angel has spoken to him, let us not fight against God."
10 Now when there arose a great dissension, the commander, fearing lest Paul might be pulled to pieces by them, commanded the soldiers to go down and take him by force from among them, and bring him into the barracks.
The Plot Against Paul
11 But the following night the Lord stood by him and said, "Be of good cheer, Paul; for as you have testified for Me in Jerusalem, so you must also bear witness at Rome."
John 16:15-23
15 All things that the Father has are Mine. Therefore I said that He will take of Mine and declare it to you.

Sorrow Will Turn to Joy
16 "A little while, and you will not see Me; and again a little while, and you will see Me, because I go to the Father."
17 Then some of His disciples said among themselves, "What is this that He says to us, 'A little while, and you will not see Me; and again a little while, and you will see Me'; and, 'because I go to the Father'?" 18 They said therefore, "What is this that He says, 'A little while'? We do not know what He is saying."
19 Now Jesus knew that they desired to ask Him, and He said to them, "Are you inquiring among yourselves about what I said, 'A little while, and you will not see Me; and again a little while, and you will see Me'? 20 Most assuredly, I say to you that you will weep and lament, but the world will rejoice; and you will be sorrowful, but your sorrow will be turned into joy. 21 A woman, when she is in labor, has sorrow because her hour has come; but as soon as she has given birth to the child, she no longer remembers the anguish, for joy that a human being has been born into the world. 22 Therefore you now have sorrow; but I will see you again and your heart will rejoice, and your joy no one will take from you.
23 "And in that day you will ask Me nothing. Most assuredly, I say to you, whatever you ask the Father in My name He will give you.