Great Hieromartyr Gregory pray to God for us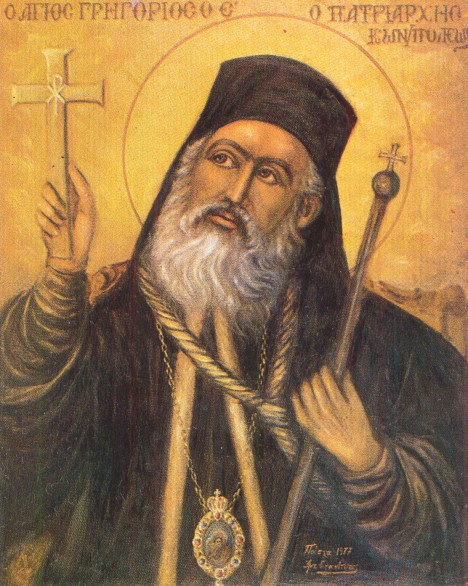 In 1821, on Pascha, the Feast of Feasts, the Resurrection of Christ, the Moslem Sultan, Mahmud II, ordered the murder of the Oecumenical Patriarch of Constantinople, Gregory V, First Among Equals of the Bishops of the Orthodox Church, in reprisal for the Greek uprising, on the mainland, against their Moslem captors.
This barbaric act was simply incomprehensible in its crude enactment. The Patriarch, 74 years of age, was arrested at the Paschal Liturgy, on the night of April 10, where he was celebrating the service with eight Hierarchs and the clergy and Faithful.
Still dressed in his vestments, he was taken by the Turkish Sultan's officers and hanged at the gate of the Patriarchal compound, after they offered him freedom in exchange for his conversion to their religion, which he of course refused.
Here he was left hanging for three days, as the Moslem population passed by hurling insults at him. Afterwards, his body was dragged through the streets of Constantinople and thrown into the Bosphorus.
When news of this heinous act reached the West, the press was incredulous and shocked. Only today, as we see Islamic extremism once again raise its ugly head, has the West come to realize fully the savagery, bestiality, and depravity of such extremism.
Rescued from the sea, St. Gregory's body was taken to Odessa, in Ukraine, where he was solemnly buried as a Martyr. His Relics were later moved to the Metropolitan Cathedral of Athens, where they are found to this day.
The sad truth is that we are seeing the resurrection of this Islamic barbarism, and the number of Christian martyrs is increasing on a daily basis. Most Western politicians refuse to admit this has anything to do with Islam, and dismiss it simply as a form of extremism. This Friday, April 24th, we will be observing the 100th Anniversary of the Armenian Genocide, while the Turkish government continues to tell the world this terrible extermination of one and a half million Armenian Christians, never happened.
With love in Christ,
Abbot Tryphon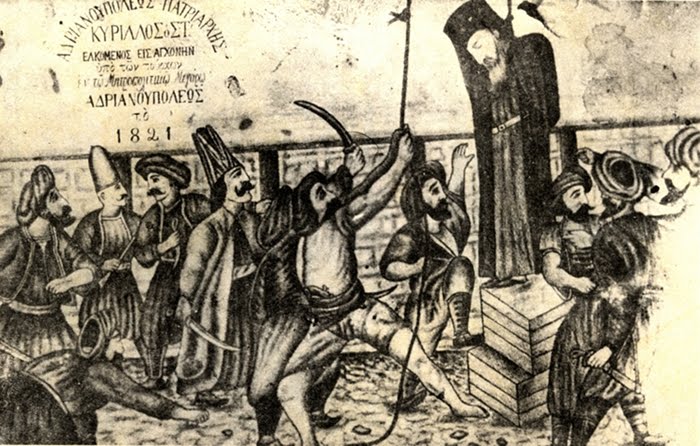 Thursday April 23, 2015 / April 10, 2015
Second Week of Pascha. Tone one.
Martyrs Terence, Pompeius, Africanus, Maximus, Zeno, Alexander, Theodore, and 33 others, beheaded at Carthage (250).
New Hieromartyr Flegont priest (1938).
Martyr Demetrius (1942).
Martyrs James, presbyter, and Azadanes and Abdicius, deacons, of Persia (ca. 380).
New Hieromartyr Gregory V, patriarch of Constantinople (1821) (Greek).
Prophetess Huldah (Olda) (II Kings 22:14).
St. Milteades, pope of Rome.
The Holy Martyrs of the Kvabtakhevi Monastery, who suffered during the invasion of Tamerlane (1386) (Georgia).
New Martyr Demos of Smyrna (1763) (Greek).
Nun-martyr Anastasia, abbess of Uglich and 34 nuns with her (1609).
Monk-martyr Chrysanthus of Xenophontos, Mt. Athos (Greek).
Martyrs Beocca, Hethor and others, at Chertsey.
Acts 4:23-31
Prayer for Boldness
23 And being let go, they went to their own companions and reported all that the chief priests and elders had said to them. 24 So when they heard that, they raised their voice to God with one accord and said: "Lord, You are God, who made heaven and earth and the sea, and all that is in them, 25 who by the mouth of Your servant David have said:
'Why did the nations rage,
And the people plot vain things?
26 The kings of the earth took their stand,
And the rulers were gathered together
Against the Lord and against His Christ.'
27 "For truly against Your holy Servant Jesus, whom You anointed, both Herod and Pontius Pilate, with the Gentiles and the people of Israel, were gathered together 28 to do whatever Your hand and Your purpose determined before to be done. 29 Now, Lord, look on their threats, and grant to Your servants that with all boldness they may speak Your word, 30 by stretching out Your hand to heal, and that signs and wonders may be done through the name of Your holy Servant Jesus."
31 And when they had prayed, the place where they were assembled together was shaken; and they were all filled with the Holy Spirit, and they spoke the word of God with boldness.
John 5:24-30
Life and Judgment Are Through the Son
24 "Most assuredly, I say to you, he who hears My word and believes in Him who sent Me has everlasting life, and shall not come into judgment, but has passed from death into life. 25 Most assuredly, I say to you, the hour is coming, and now is, when the dead will hear the voice of the Son of God; and those who hear will live. 26 For as the Father has life in Himself, so He has granted the Son to have life in Himself, 27 and has given Him authority to execute judgment also, because He is the Son of Man. 28 Do not marvel at this; for the hour is coming in which all who are in the graves will hear His voice 29 and come forth—those who have done good, to the resurrection of life, and those who have done evil, to the resurrection of condemnation. 30 I can of Myself do nothing. As I hear, I judge; and My judgment is righteous, because I do not seek My own will but the will of the Father who sent Me.