And the need to embrace our grief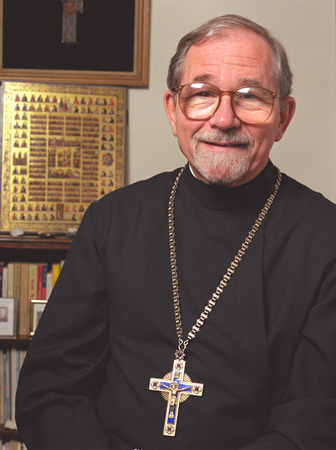 We need to mourn. One of the most tremendously rewarding and challenging aspects of the priesthood is comforting people in their darkest moments of sorrow. Do not be mistaken and think that priests are exempt from the pain of those whom they try to comfort, or that we have magical words that somehow ease the pain or bring order to the chaos of grief. Platitudes are useless in dark days of mourning. Telling someone who has suffered the loss of a loved one that they are "in a better place," is oddly of little comfort. In a powerful witness of human behavior, Christ "does not say, 'Well, now he is in heaven, everything is well; he is separated from this difficult and tormented life.' Christ does not say all those things we do in our pathetic and uncomforting attempts to console. In fact he says nothing—he weeps."
We need to embrace the grief, and honor the bereavement process. Grief is confirmation that our loved one was a person of value, a beloved son or daughter, a cherished brother or sister, a treasured friend. Grief is how we honor a well-lived life, for the death is grief-worthy. In grieving, we do their memory justice, and follow in the example of Jesus, who wept at the grave of his friend Lazarus. Like martyrs of the ancient church, like Lazarus in the New Testament, the death of a loved one is galling for those left behind, for we wonder how we are going to fill the space that they once occupied. The mystery of a future without our friend or relative is as daunting as the mystery of death itself.
As a priestmonk of the Orthodox Church, I am comfortable with this mystery, as all Christians should be. Death can be a mystery precisely because the triumph over death is not a mystery. As the Orthodox theologian Alexander Schmemann wrote, "in essence, Christianity is not concerned with coming to terms with death, but rather with the victory over it." In the light of everlasting life, in the name of Jesus Christ, the dreadful threat and dark mystery that is death is transformed into a happy and victorious event for the believer, and "Death is swallowed up in victory." (1 Cor. 15:54)
So mourning is an ancient ritual, one in which Jesus participated, just as those before Him. For all of us, all people, death is a common element of humanity, the common trait that we share, and the common enemy of our loved ones. And like grief, victory over death binds people together in a larger, more powerful community, the community that is found in the Christian faith. People accuse Christians of being members of a "death cult," obsessed with a dying savior and focused on the afterlife to the exclusion of the present; but they are wrong. Christianity does not deny life, Christianity affirms life. Christianity affirms life even in death, because for Christians, death does not remove the relationship that exists. In death, as in life, we love and honor our friend or loved one, and death cannot take them from us. Death may take them, but it has also provides us with the opportunity to live with the hope of one day joining them. And a life with hope is a good life.
So for us, death is the beginning of the true life that also awaits us beyond the grave, if indeed we have begun to live it here. Christ, "the resurrection and the life," (John 11:25) transformed death. Christ assumed human flesh, Christ was crucified, resurrected, ascended to heaven and waits for us there, and Christ ushers us into new life both now and after our death. Therefore, even as death exposes our frailty and our grief, death does not reveal our finiteness; instead it reveals our infiniteness, our eternity. To this end, the Christian does not ponder the mystery of death in a way that is paralyzing, negative and apathetic, but in a way that is productive, positive and dynamic.
God, to whom you have entrusted your soul, is a good and perfect God. This God will do what is right with your child, what is just with your sister or brother, and what is honorable with your friend. There is no saying, no claim, no scripture that will give us peace in our loss right now or even calm our troubled souls; but we can find comfort and peace in God who is present with us, and in us and through us today as we gather in the intimacy of grief.
With love in Christ,
Abbot Tryphon

Memory Eternal: I received word yesterday of the death of Protopresbyter Thomas Hopko, Dean Emeritus of Saint Vladimir's Orthodox Theological Seminary, Crestwood, NY, and noted Orthodox Christian priest, theologian, preacher, and speaker. I had the pleasure of meeting him on two occasions, and spoke with him by phone sometime ago. I will always remember him as a priest who cared deeply for others, and who loved God, and loved the Church. Memory eternal, O Lord, grant unto Thy servant, Protopresbyter Thomas.
Thursday March 19, 2015 / March 6, 2015
Fourth Week of the Great Lent: Adoration of Cross. Tone seven.
Great Lent. By Monastic Charter: Food without Oil
The 42 Martyrs of Ammoria in Phrygia, including: Constantine, Aetius, Theophilus, Theodore, Melissenus, Callistus, Basoes, and others (845).
Venerable Job (Joshua in Schema) of Solovki (1720).
The uncovering of the Precious Cross and the Precious Nails by Empress St. Helen (326).
Monk-martyrs Conon and his son Conon of Iconium (270-275).
Venerable Arcadius, monk, of Cyprus (361), and his disciples Julian and Bulius.
Icons of the Most Holy Theotokos "Chenstokhovskaya", "Shestokhov" ("Hearth"). "Blessed Heaven" Icon of the Most Holy Theotokos in Moscow.
Translation of the relics (1230) of Martyr Abraham of Bulgaria (1229).
Venerable Fridolin, abbot, enlightener of the Upper Rhine (538).
Martyrs Cyriacus and 12 companions, who suffered under Diocletian in Augsburg (304).
Translation of the relics Sts. Cyneswitha and Cyneburga, abbesses of Caistor, and St. Tibba, nun, of Rynall.
Monk-martyr Maximus (Greek).
Martyr Euphrosynus (Greek).
Martyrs Julian and Eubulus (Greek).
St. Hesychius the Wonderworker, monk (Greek).
Scripture Readings
Isaiah 28:14-22
14 Therefore hear the word of the Lord, you scornful men,
Who rule this people who are in Jerusalem,
15 Because you have said, "We have made a covenant with death,
And with Sheol we are in agreement.
When the overflowing scourge passes through,
It will not come to us,
For we have made lies our refuge,
And under falsehood we have hidden ourselves."
A Cornerstone in Zion
16 Therefore thus says the Lord God:
"Behold, I lay in Zion a stone for a foundation,
A tried stone, a precious cornerstone, a sure foundation;
Whoever believes will not act hastily.
17 Also I will make justice the measuring line,
And righteousness the plummet;
The hail will sweep away the refuge of lies,
And the waters will overflow the hiding place.
18 Your covenant with death will be annulled,
And your agreement with Sheol will not stand;
When the overflowing scourge passes through,
Then you will be trampled down by it.
19 As often as it goes out it will take you;
For morning by morning it will pass over,
And by day and by night;
It will be a terror just to understand the report."
20 For the bed is too short to stretch out on,
And the covering so narrow that one cannot wrap himself in it.
21 For the Lord will rise up as at Mount Perazim,
He will be angry as in the Valley of Gibeon—
That He may do His work, His awesome work,
And bring to pass His act, His unusual act.
22 Now therefore, do not be mockers,
Lest your bonds be made strong;
For I have heard from the Lord God of hosts,
A destruction determined even upon the whole earth.
Genesis 10:32-11:9
32 These were the families of the sons of Noah, according to their generations, in their nations; and from these the nations were divided on the earth after the flood.

The Tower of Babel
11 Now the whole earth had one language and one speech. 2 And it came to pass, as they journeyed from the east, that they found a plain in the land of Shinar, and they dwelt there. 3 Then they said to one another, "Come, let us make bricks and bake them thoroughly." They had brick for stone, and they had asphalt for mortar. 4 And they said, "Come, let us build ourselves a city, and a tower whose top is in the heavens; let us make a name for ourselves, lest we be scattered abroad over the face of the whole earth."
5 But the Lord came down to see the city and the tower which the sons of men had built. 6 And the Lord said, "Indeed the people are one and they all have one language, and this is what they begin to do; now nothing that they propose to do will be withheld from them. 7 Come, let Us go down and there confuse their language, that they may not understand one another's speech." 8 So the Lord scattered them abroad from there over the face of all the earth, and they ceased building the city. 9 Therefore its name is called Babel, because there the Lord confused the language of all the earth; and from there the Lord scattered them abroad over the face of all the earth.

Proverbs 13:19-14:6
19 A desire accomplished is sweet to the soul,
But it is an abomination to fools to depart from evil.
20 He who walks with wise men will be wise,
But the companion of fools will be destroyed.
21 Evil pursues sinners,
But to the righteous, good shall be repaid.
22 A good man leaves an inheritance to his children's children,
But the wealth of the sinner is stored up for the righteous.
23 Much food is in the fallow ground of the poor,
And for lack of justice there is waste.
24 He who spares his rod hates his son,
But he who loves him disciplines him promptly.
25 The righteous eats to the satisfying of his soul,
But the stomach of the wicked shall be in want.
14 The wise woman builds her house,
But the foolish pulls it down with her hands.
2 He who walks in his uprightness fears the Lord,
But he who is perverse in his ways despises Him.
3 In the mouth of a fool is a rod of pride,
But the lips of the wise will preserve them.
4 Where no oxen are, the trough is clean;
But much increase comes by the strength of an ox.
5 A faithful witness does not lie,
But a false witness will utter lies.
6 A scoffer seeks wisdom and does not find it,
But knowledge is easy to him who understands.