Cremation versus the Orthodox practice of burial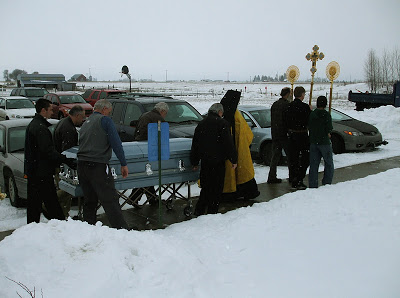 The first time I ever attended a funeral service where cremation of the body of the deceased had taken place was in Portland, Oregon, many years ago. An Episcopal priest friend had died and had requested his body be cremated. Walking into the church and seeing a small box sitting before the altar was a shock for me. Cremation was always something only non-believers practiced, Christians having always viewed cremation as something of pagan roots. I clearly remember feeling cheated out of that last goodby, unable as I was to view my friend for one last time.
In ancient times pagans always either burned the bodies of their dead, or left them for birds to consume, whereas Jews and Christians placed their dead in tombs, or in the earth, awaiting the bodily resurrection. For Christians the belief that the body was the temple of the Holy Spirit and therefore sacred, made the burning of the body unacceptable. Bodies of our dead were always to be treated with great reverence. From the earliest of times the bodies of the martyrs and saints were buried in the catacombs, their tombs used as altars for the celebration of the Eucharistic offering, catacombs often being the only safe place for believers to worship without threat of arrest.
One of my earliest memories was going to a family plot in Spokane, WA. with my maternal grandmother. She would lay flowers on the graves of her loved ones, family members who were long dead before I was even born. Even though many had been gone from this life for a few generations, to my grandmother they were still alive. She would sit on a tombstone, flowers in hand, and tell me about her sisters, her parents, and other family members. Her shared memories were made all the more real seeing the names of these loved ones chiseled in stone. The ritual of visiting graves was common back in those days, with families keeping alive the memories, while showing their love and respect for their dead relatives by tending to the graves, and leaving flowers. It was even quite common, especially in Western Europe, for friends and families to take picnics to graveyards.
There is also the role cemeteries can play in our own spiritual lives, for they are clear reminders of our own mortality. I have already picked the plot where my own remains will be placed on the grounds of our monastery. Seeing where one will eventually be laid to rest is a good way to remember one's own eventual death, reminding ourselves of our own mortality, and to use our remaining days wisely.
The Orthodox Church forbids the cremated remains of anyone to be brought into the temple for services, or for any other reason, and funeral services over cremated remains is strictly forbidden. The practice is seen as a denial of the bodily resurrection, not because God can't raise the dead from ashes, but because the practice does not reflect the Church's teaching that the body of a believer housed the Holy Spirit. It is also ignoring the fact that believers receive, in their lifetime, the very Body and Blood of Christ, and the body is therefore made holy in preparation for that day when we shall be united in both body and soul, to live forever with God.
My parents converted to Orthodoxy in their mid seventies and are buried in the church yard next to Saint John the Baptist Church in Post Falls, Idaho. Having them in an Orthodox cemetery, side by side, means a lot to me, and I visit their graves whenever I am in Northern Idaho on visits to my family. Having a plot to visit continues that connection and allows me a chance to show my love for them by placing flowers on their graves as I offering prayers for their souls. It saddens me that so many people have deprived themselves of such moments, having spread their loved one's ashes over golf courses or on beaches. The loss of family cemeteries has contributed, I am convinced, to the breakdown of the all important extended families that were at one time so important to the cohesiveness of family values.
For those who would say that cremation is more ecologically sound, I would point out that the particles dispersed in the atmosphere are by no means good for the environment. A new way of burial, known as green burial, is gaining popularity throughout the country and is far more ecologically sound than cremation. Green burials require a simple pine coffin with no metal, nails or glue, using only wooden pegs and natural materials. The body is not embalmed (in keeping with Orthodox tradition), so nothing goes into the earth that is not natural. This is one of the most inexpensive ways of internment and is in keeping with the canons of the Orthodox Church. This is the way my own body will be laid to rest.
With love in Christ,
Abbot Tryphon
Photos: My mother's funeral.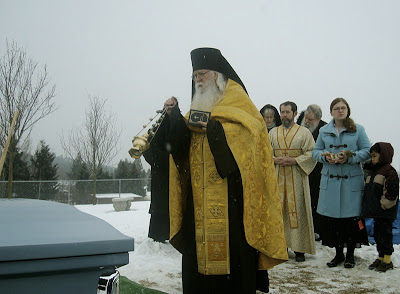 Friday March 20, 2015 / March 7, 2015
Fourth Week of the Great Lent: Adoration of Cross. Tone seven.
Great Lent. By Monastic Charter: Strict Fast (Bread, Vegetables, Fruits)
The Holy Hieromartyrs of Cherson: Basil, Ephraim, Capito, Eugene, Aetherius, Elpidius, and Agathodorus (4th c.).
New Hieromartyr Nicholas priest (1930).
New Hieromartyr Nilus, Virgin-martyrs Matrona, Mary, Eudocia, Ecaterina, Antonina, Nadezhda, Xenia, and Anna (1938).
Venerable Paul the Simple of Egypt, disciple of St. Anthony the Great (4th c.).
St. Paul the Confessor, bishop of Prusias in Bithynia (850).
Venerable Emilian of Rome.
Icon of the Most Holy Theotokos "Surety of Sinners" in Korets (1622), Odrin (1843) and Moscow (1848).
Sts. Nestor and Arcadius, bishops of Tremithus (Greek).
Venerable Laurence, founder of the monastery of the Mother of God on Salamis (1707) (Greek).
St. Ephraim, Patriarch of Antioch (546).
St. Dandus and all Saints of Thrace.
St. Eosterwine, abbot of Wearmount.
Scripture Readings
Isaiah 29:13-23
13 Therefore the Lord said:
"Inasmuch as these people draw near with their mouths
And honor Me with their lips,
But have removed their hearts far from Me,
And their fear toward Me is taught by the commandment of men,
14 Therefore, behold, I will again do a marvelous work
Among this people,
A marvelous work and a wonder;
For the wisdom of their wise men shall perish,
And the understanding of their prudent men shall be hidden."
15 Woe to those who seek deep to hide their counsel far from the Lord,
And their works are in the dark;
They say, "Who sees us?" and, "Who knows us?"
16 Surely you have things turned around!
Shall the potter be esteemed as the clay;
For shall the thing made say of him who made it,
"He did not make me"?
Or shall the thing formed say of him who formed it,
"He has no understanding"?
Future Recovery of Wisdom
17 Is it not yet a very little while
Till Lebanon shall be turned into a fruitful field,
And the fruitful field be esteemed as a forest?
18 In that day the deaf shall hear the words of the book,
And the eyes of the blind shall see out of obscurity and out of darkness.
19 The humble also shall increase their joy in the Lord,
And the poor among men shall rejoice
In the Holy One of Israel.
20 For the terrible one is brought to nothing,
The scornful one is consumed,
And all who watch for iniquity are cut off—
21 Who make a man an offender by a word,
And lay a snare for him who reproves in the gate,
And turn aside the just by empty words.
22 Therefore thus says the Lord, who redeemed Abraham, concerning the house of Jacob:
"Jacob shall not now be ashamed,
Nor shall his face now grow pale;
23 But when he sees his children,
The work of My hands, in his midst,
They will hallow My name,
And hallow the Holy One of Jacob,
And fear the God of Israel.
Genesis 12:1-7
Promises to Abram
12 Now the Lord had said to Abram:
"Get out of your country,
From your family
And from your father's house,
To a land that I will show you.
2 I will make you a great nation;
I will bless you
And make your name great;
And you shall be a blessing.
3 I will bless those who bless you,
And I will curse him who curses you;
And in you all the families of the earth shall be blessed."
4 So Abram departed as the Lord had spoken to him, and Lot went with him. And Abram was seventy-five years old when he departed from Haran. 5 Then Abram took Sarai his wife and Lot his brother's son, and all their possessions that they had gathered, and the people whom they had acquired in Haran, and they departed to go to the land of Canaan. So they came to the land of Canaan. 6 Abram passed through the land to the place of Shechem, as far as the terebinth tree of Moreh.[a] And the Canaanites were then in the land.
7 Then the Lord appeared to Abram and said, "To your descendants I will give this land." And there he built an altar to the Lord, who had appeared to him.
Proverbs 14:15-26
15 The simple believes every word,
But the prudent considers well his steps.
16 A wise man fears and departs from evil,
But a fool rages and is self-confident.
17 A quick-tempered man acts foolishly,
And a man of wicked intentions is hated.
18 The simple inherit folly,
But the prudent are crowned with knowledge.
19 The evil will bow before the good,
And the wicked at the gates of the righteous.
20 The poor man is hated even by his own neighbor,
But the rich has many friends.
21 He who despises his neighbor sins;
But he who has mercy on the poor, happy is he.
22 Do they not go astray who devise evil?
But mercy and truth belong to those who devise good.
23 In all labor there is profit,
But idle chatter leads only to poverty.
24 The crown of the wise is their riches,
But the foolishness of fools is folly.
25 A true witness delivers souls,
But a deceitful witness speaks lies.
26 In the fear of the Lord there is strong confidence,
And His children will have a place of refuge.