Let us not shroud the Light of Christ in darkness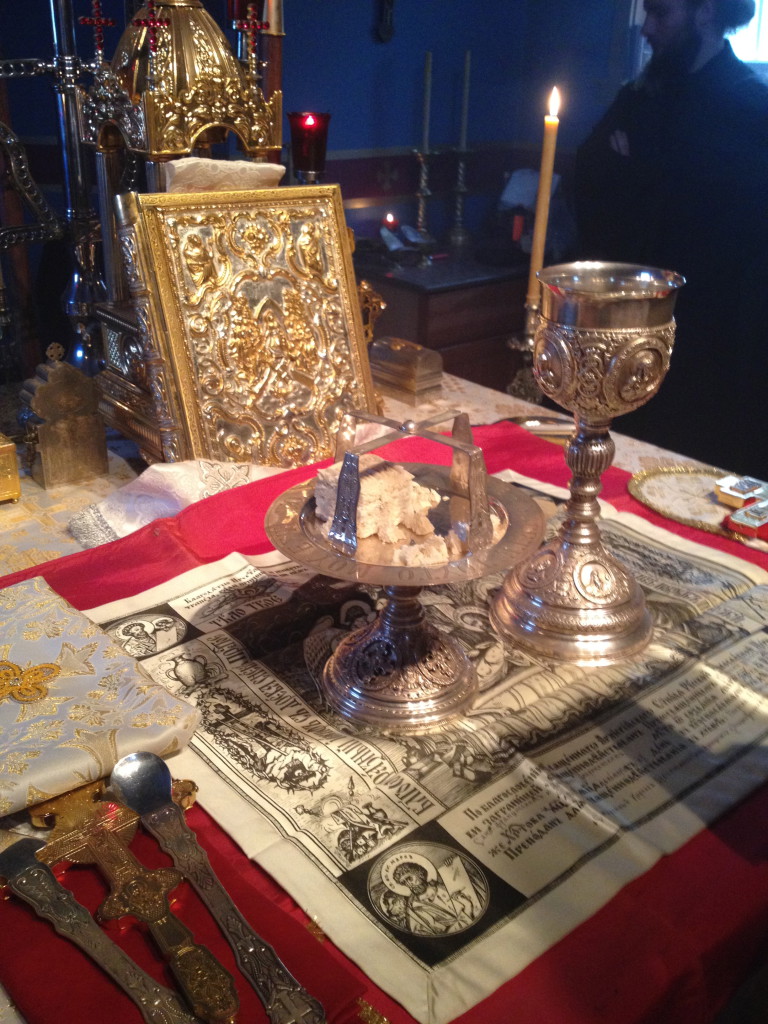 The importance of presenting the gospel message in a loving, inviting way, and the Church as a hospital of the soul where everyone can be made whole, must not be minimized. When we make our Orthodox faith the focus of political rage, and we turn Orthodoxy into a religion devoid of love, and filled with nothing but judgment and exclusion, we demonstrate in an unfortunate way why so many have turned away from Christianity. There is nothing salvific about a judgmental or hate filled message, for only a radiant and transformational encounter with the God of love and mercy can draw a person out of the nihilistic void that has become the dominant philosophy of today's religious thought. When nothing in our personal life offers hope for either the young woman who has aborted her child, nor the young man who is same-sex attracted, the message of the gospels is hidden behind a dark veil of self-righteousness, and the very people who need healing the most, are turned away in sadness, rejected as unworthy of God's love, or our own. No one can possibly be drawn to an Orthodoxy that seems to offer nothing but judgement and condemnation.
If those who are struggling with sin, and who desire to draw near to the Fountain of Life, do not encounter the love of Christ in us, the message of the Incarnate Son of God Who condescended to take on our flesh, and share His Divinity with our humanity, is lost. The Christ Who healed the sick, forgave the sins of the woman at the well, and sat down with tax collectors and sinners, is no where to be found in the angry faces of self-righteous judges. If the message is one of hatred and judgement, totally devoid of any sense of love, compassion, and hope, who in their right mind would be drawn to our Orthodox faith.
When I as a priest interact with others, I must demonstrate by my love and respect for them that they are worthy of God's love and mercy. They must see in me the joy that I have in my life in Christ is something I desire to impart to them. They must sense in my own joyful countenance that I recognize their kinship with me, and that my love for them is based on the fact that my own journey to God has brought me out of the darkness that previously ruled my own life, and the treasure I now hold in my heart, is one that I desire to share with them. This treasure I possess is not about religion, nor about moral rules to live by, but about life itself. My love for others, be they young or old, and my desire to share my Orthodox faith with them, comes from a heart that has known pain, loneliness, sorrow, and loss, yet has also experienced the healing that can only be found within the walls of the hospital of the soul, the Church.
With love in Christ,
Abbot Tryphon
Wednesday January 21, 2015 / January 8, 2015
33rd Week after Pentecost. Tone seven.
Fast. Fish Allowed
Afterfeast of the Theophany.
St. George the Chozebite, abbot (7th c.) and St. Emilian Bishop of Cyzicus (9th c.).
Venerable Domnica of Constantinople (395).
Venerable Gregory, wonderworker of the Kiev Caves (1093).
Venerable Gregory, hermit of the Kiev Caves (14th c.).
Hieromartyr Isidore and 72 companions at Yuriev (Dorpats) in Estonia, slain by the Latins in 1472.
New Hieromartyr Victor priest (1937).
New Hieromartyr Demetrius priest (1938).
New Hieromartyr Vladimir priest (1938).
Martyr Michael (1938).
St. Michael confessor, priest (1941).
Venerable Paisius of Uglich (1504).
Hieromartyr Carterius of Caesarea in Cappadocia (304).
Martyrs Theophilus the Deacon and Helladius in Libya (4th c.).
Martyrs Julian and his wife Basilissa, and with them Marcionilla and her son Celsus, Anthony, Anastasius, seven children, and twenty soldiers, at Antinoe in Egypt (313).
Venerable Elias the Hermit of Egypt (4th c.).
Martyr Abo the Perfumer of Baghdad, who suffered at Tbilisi, Georgia (786) (Georgia).
Sts. Atticus (425) and Cyrus (714), patriarchs of Constantinople.
Venerable Agatho of Egypt, monk (4th c.)
Holy Virgin Gudula of Brussels (659) (Celtic & British).
St. Gregory of Ochrid, bishop of Moesia (1012) (Bulgaria).
St. Severinus, apostle of Noricum, Austria (482).
St. Theodore of Constantinople (595).
St. Erhard, bishop of Regensburg (Bavaria) (700).
St. Emilian the Confessor, bishop of Cyzicus (9th c.).
St. Macarius (Macres) of Vatopedi, Mt. Athos (1431).
St. Severin, bishop of Cologne (397).
St. Nathalan of Aberdeenshire.
St. Pega, hermitess, of Peakirk.
St. Wulsin, bishop of Sherborne.
Daily Scripture Readings
James 3:11-4:6
11 Does a spring send forth fresh water and bitter from the same opening? 12 Can a fig tree, my brethren, bear olives, or a grapevine bear figs? Thus no spring yields both salt water and fresh.

Heavenly Versus Demonic Wisdom
13 Who is wise and understanding among you? Let him show by good conduct that his works are done in the meekness of wisdom. 14 But if you have bitter envy and self-seeking in your hearts, do not boast and lie against the truth. 15 This wisdom does not descend from above, but is earthly, sensual, demonic. 16 For where envy and self-seeking exist, confusion and every evil thing are there. 17 But the wisdom that is from above is first pure, then peaceable, gentle, willing to yield, full of mercy and good fruits, without partiality and without hypocrisy. 18 Now the fruit of righteousness is sown in peace by those who make peace.
Pride Promotes Strife
4 Where do wars and fights come from among you? Do they not come from your desires for pleasure that war in your members? 2 You lust and do not have. You murder and covet and cannot obtain. You fight and war. Yet you do not have because you do not ask. 3 You ask and do not receive, because you ask amiss, that you may spend it on your pleasures. 4 Adulterers and adulteresses! Do you not know that friendship with the world is enmity with God? Whoever therefore wants to be a friend of the world makes himself an enemy of God. 5 Or do you think that the Scripture says in vain, "The Spirit who dwells in us yearns jealously"?
6 But He gives more grace. Therefore He says:
"God resists the proud,
But gives grace to the humble."

Mark 11:23-26
23 For assuredly, I say to you, whoever says to this mountain, 'Be removed and be cast into the sea,' and does not doubt in his heart, but believes that those things he says will be done, he will have whatever he says. 24 Therefore I say to you, whatever things you ask when you pray, believe that you receive them, and you will have them.
Forgiveness and Prayer
25 "And whenever you stand praying, if you have anything against anyone, forgive him, that your Father in heaven may also forgive you your trespasses. 26 But if you do not forgive, neither will your Father in heaven forgive your trespasses."