How should we pray?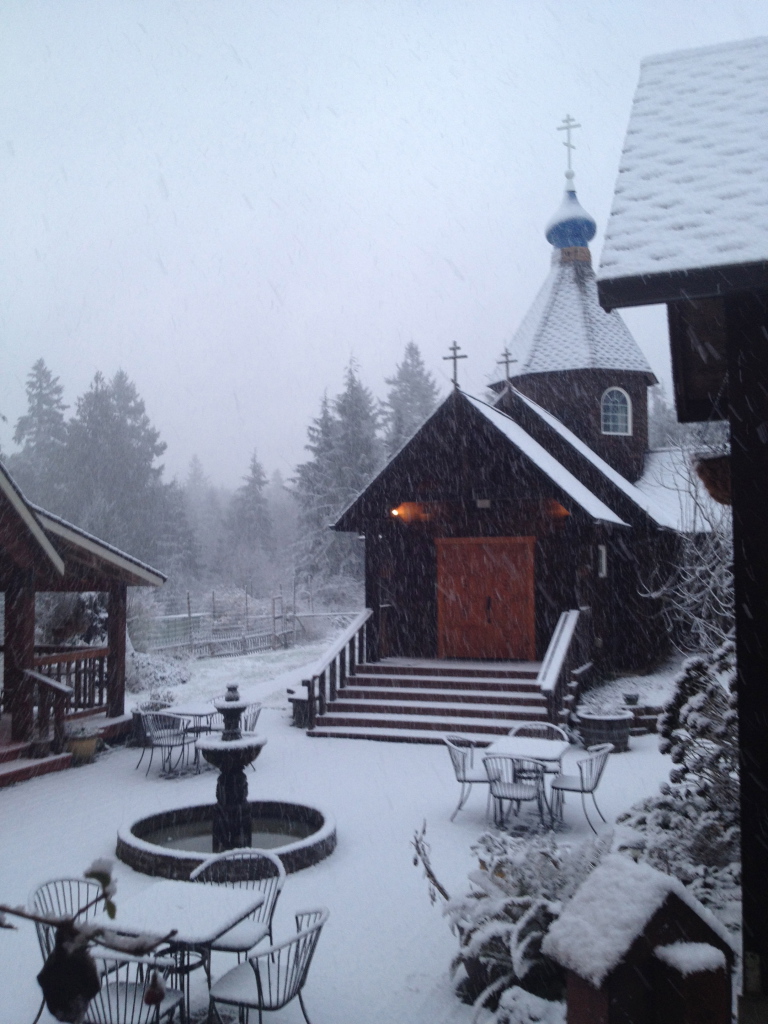 Over the years, as strange as it may seem, we've had a number of people ask us if we'd pray they win the lottery, promising that if they did they'd donate a large portion to the brotherhood. The logic seemed to suggest that if the monks were going to get some of the take, the Lord would be more than happy to tweak the State Lottery numbers so they'd win big. Upon hearing this, I've often thought the poor person would more than likely lose their soul, should they win, with temptation likely to make them forget their promise to God. When large sums of money are in one's hands, it takes a person with a very strong will to be philanthropic with their fortune. Most of us are better off without a lot of money, as news items in recent years have given us ample examples of people who's greed has been their ruin.
I once prayed I'd get a certain job, thinking all my problems would be solved if only I had that job. If I had that job, I told myself, I could get a better apartment, a new car, pay off my bills, and be set. When the job didn't materialize, I ended up going off to graduate school, a decision that was ultimately the very best thing I could have done for myself. That job could well have derailed God's plans for me, which is often the case when we push for our own will, while praying, rather than humbly seeking out God's will.
The Scriptures instruct us as to how we should pray. In Acts 17:27-28, we read: "27 so that they should seek the Lord, in the hope that they might grope for Him and find Him, though He is not far from each one of us; 28 for in Him we live and move and have our being, as also some of your own poets have said, 'For we are also His offspring'."
Prayer is not about asking for things, but about relationship. Prayer is the vehicle that takes us into the heart of God, where we find 'a peace that passes all understanding' (Philippians 4:7). Prayer is our opportunity to come before God with reverence and humility, seeking the transformation of the heart that is our true inheritance. Prayer is that opportunity for us to show our love for God because of His great love for us. Prayer is not about asking for things, but rather seeking to deepen our relationship with the God Who has invited us into communion with Him.
An infant in the care of loving parents need not worry about food, clothing, security, safety, for his parents know what he needs, and freely give it in abundance. The Lord is like that with us. We may think we know what we need, but like the small child who thinks he doesn't need to go to school, and who's parents make sure he does, God gives us that which is needed for our salvation.
If we trust the love that God has for us, we trust that we need not ask for anything, but only offer worship and love, and give ourselves over to our Heavenly Father. Like any child loved by his parents, we are assured of the love of the Father. Nothing else matters.
With love in Christ,
Abbot Tryphon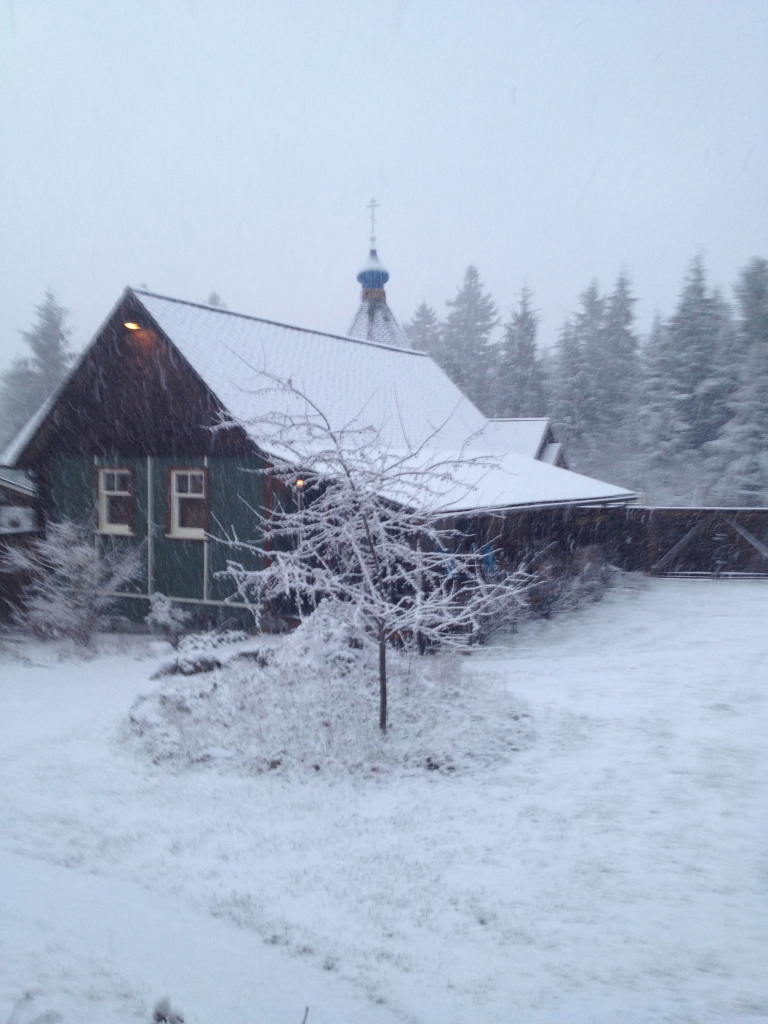 Photos: Our first snow of the season.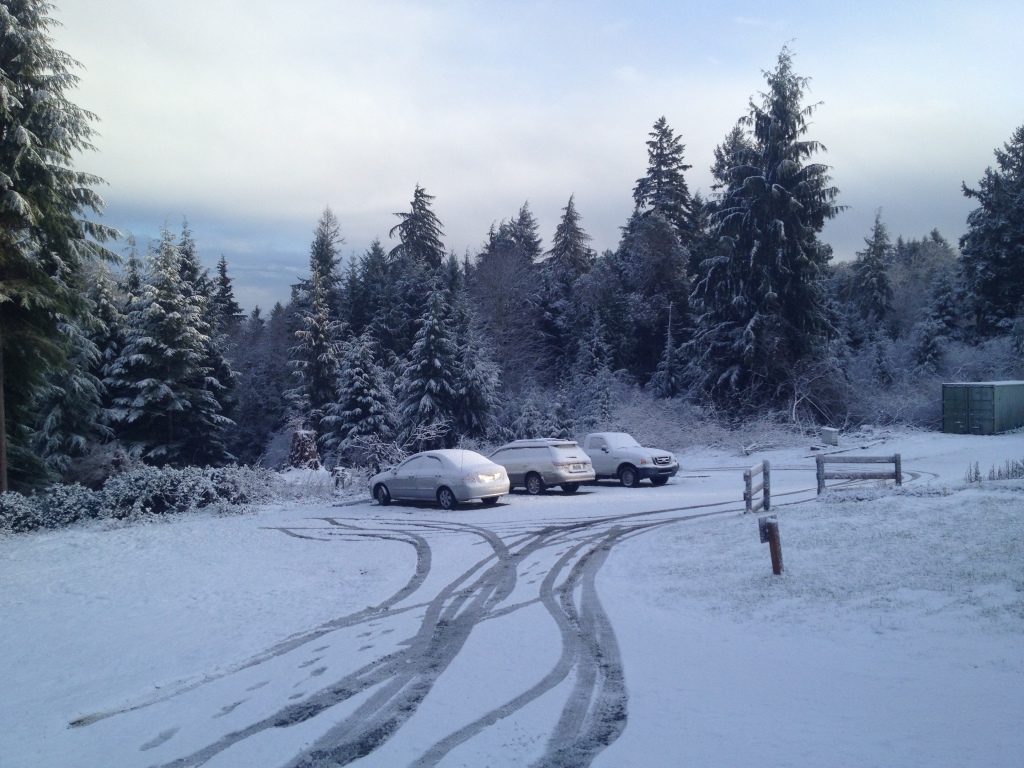 Monday December 1, 2014 / November 18, 2014
26th Week after Pentecost. Tone eight.
Nativity (St. Philip's Fast). By Monastic Charter: Food without Oil
Martyr Platon of Ancyra (266).
Martyr Romanus the Deacon of Caesarea and child-martyr Barulas of Antioch (303).
St. Nicholas confessor, priest (1948).
Martyrs Zacchaeus the Deacon and Alphaeus, of Caesarea in Palestine (303).
Synaxis of All Saints of Estonia.
St. Mawes, bishop in Cornwall and Brittany (5th c.) (Celtic & British).
St. Mabyn, nun of Cornwall (Celtic & British).
New Martyrs Anastasius of Epirus and Daniel (1750) (Greek).
Martyr Romanus, who suffered under Maximian (305).
St. Odo of Cluny (942) (Gaul).
Scripture Readings for the Day
1 Timothy 1:1-7
Greeting
1 Paul, an apostle of Jesus Christ, by the commandment of God our Savior and the Lord Jesus Christ, our hope,
2 To Timothy, a true son in the faith:
Grace, mercy, and peace from God our Father and Jesus Christ our Lord.
No Other Doctrine
3 As I urged you when I went into Macedonia—remain in Ephesus that you may charge some that they teach no other doctrine, 4 nor give heed to fables and endless genealogies, which cause disputes rather than godly edification which is in faith. 5 Now the purpose of the commandment is love from a pure heart, from a good conscience, and from sincere faith, 6 from which some, having strayed, have turned aside to idle talk, 7 desiring to be teachers of the law, understanding neither what they say nor the things which they affirm.
Luke 17:20-25
The Coming of the Kingdom
20 Now when He was asked by the Pharisees when the kingdom of God would come, He answered them and said, "The kingdom of God does not come with observation; 21 nor will they say, 'See here!' or 'See there!'[a] For indeed, the kingdom of God is within you."
22 Then He said to the disciples, "The days will come when you will desire to see one of the days of the Son of Man, and you will not see it. 23 And they will say to you, 'Look here!' or 'Look there!'[b] Do not go after them or follow them. 24 For as the lightning that flashes out of one part under heaven shines to the other part under heaven, so also the Son of Man will be in His day. 25 But first He must suffer many things and be rejected by this generation.