Humans are as priests before the Altar of Creation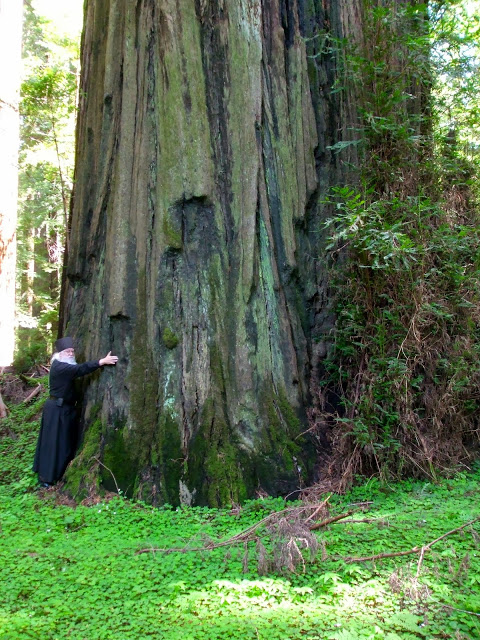 "Everything that lives and breathes is sacred and beautiful in the eyes of God. The whole world is a sacrament. The entire created cosmos is a burning bush of God's uncreated energies. And humankind stands as a priest before the altar of creation, as microcosm and mediator. Such is the true nature of things; or, as an Orthodox hymn describes it, "the truth of things," if only we have the eyes of faith to see it."
These words of His All Holiness Bartholomew, the Ecumenical Patriarch, ring so true to me, both as an Orthodox Christian, and as a man who has always loved the outdoors. Some of my earliest memories are the camping trips we would take, as a family, pitching a tent by an idyllic lake in Northern Idaho, cooking over a fire, catching rainbow trout for breakfast (nothing like a freshly grilled trout for breakfast), and hiking mountain trails. When in high school I'd join friends for day long hikes in the nearby mountains, or go swimming in remote areas of Lake Pend Oreille, Idaho's largest lake.
At 65 miles long, and located in the northern pan handle of the State, it is the fifth deepest lake in the United States, measuring 1,150 feet deep in some areas. The lake's 111 miles of uncrowded shoreline, permitted many an adventure, and instilled in me a love of nature, and the great outdoors. The waters of this lake are so pure, many people who have built homes on the lake's many islands, simply pipe their water from the lake, with no treatment necessary.
Every Summer, I try to get away for a few days of bass fishing with my brother, Dwayne, boating up the Clark Fork River, a tributary of Lake Pend Oreille. We feel like our Viking ancestors, as we move ever deeper into wilderness, entering the remote territory of moose, elk, bear, and eagles. We both consider ourselves environmentalists, and as stewards of the natural resources God has given us.
The Redwoods of Northern California are another special place for me. These towering giants have beckoned me since I first entered this primordial forest back in the late 1960's. One Redwood tree is particularly special to me, for it was the first tree I ever hugged (yes, I'm a tree hugger), and I've made it a point to hug that very tree since I was twenty-two, and have photographed many a friend embracing that tree, including priests who will remain anonymous.
Orthodoxy has never viewed the environment, nor the natural resources, for plunder. Orthodoxy has historically viewed the earth as a place to be nurtured, protected, and preserved for future generations. The vast areas of Russia that were plundered and laid waiste, happened under the godless Soviets. The great forests that surrounded Athens and Thessaloniki, built by Greeks, who used stone for construction, were cut down by the Turks, who built only with wood.
Our Church has special supplications and litanies for "seasonable weather, for abundance of the fruits of the earth" or for protection in the case of natural disasters. There is even a special prayer from the service said in times of danger from earthquake:
"The earth, is without words, yet groans and cries: 'Why, all people, do you pollute me with so many evils? The Master spares you but chastises me entirely: understand and propitiate God in repentance.'"
Orthodoxy conveys a profound understanding of creation, and the role of humanity as the priesthood of creation. As creatures who are able to alter and reshape the world, we are bound by the Creator to be good stewards. As the whole of the cosmos has worshiped the Creator, we have built churches that represent a microcosm of this very universe. The promise of redemption is for all of creation, and is the gift of salvation wrought by Jesus Christ.
With love in Christ,
Abbot Tryphon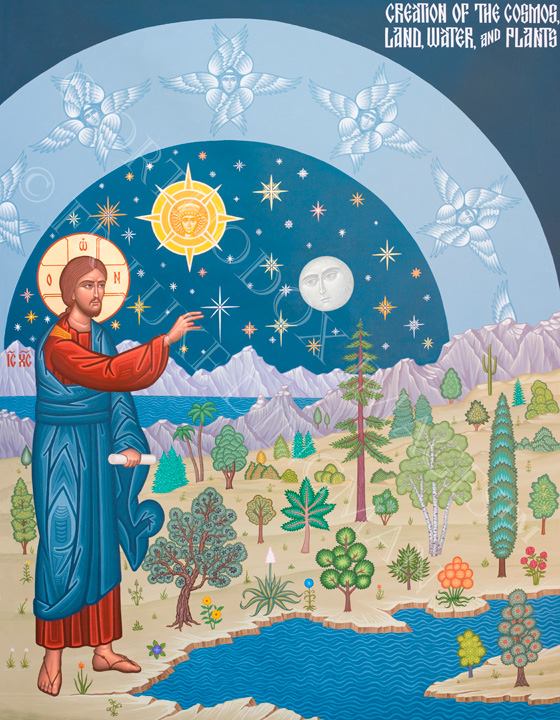 Monday November 24, 2014 / November 11, 2014
25th Week after Pentecost. Tone seven.
Martyr Menas of Egypt (304).
Martyrs Victor at Damascus (160) and Stephanida (Stephanis) of Spain (161).
Martyr Vincent of Spain (304).
Venerable Theodore the Confessor, abbot of the Studion (826).
Repose of Blessed Maximus of Moscow Fool-for-Christ (1434).
New Hieromartyr Eugene priest (1937).
Venerable Martyrius, abbot of Zelenets (1603).
Great-martyr Stephen-Urosh III of Dechani, Serbia (1331) (Serbia).
St. Martin the Merciful, bishop of Tours (397).
Appearance of the Myrrh-Streaming Icon of the Iveron Mother of God in Montreal.
St. Militsa, princess of Serbia (1405) (Serbia).
Blessed Euthymius and Nestor of Dechani (14th c.) (Serbia).
St. Neophytus and St. Uroshitsa of Serbia (14th c.) (Serbia).
Martyrs of Zelenetsk: hegumen Victor with brotherhood (1927).
Martyr Drakonas of Arauraka in Armenia (4th c.).
St. Nicodemus the Younger of Beroea in Macedonia (1305).
Synaxis of the Saints of Dechani.
St. Bartholomew the Younger, of Rossano, Calabria (1054).

Scripture Readings for the Day
2 Thessalonians 1:1-10
Greeting
1 Paul, Silvanus, and Timothy,
To the church of the Thessalonians in God our Father and the Lord Jesus Christ:
2 Grace to you and peace from God our Father and the Lord Jesus Christ.
God's Final Judgment and Glory
3 We are bound to thank God always for you, brethren, as it is fitting, because your faith grows exceedingly, and the love of every one of you all abounds toward each other, 4 so that we ourselves boast of you among the churches of God for your patience and faith in all your persecutions and tribulations that you endure, 5 which is manifest evidence of the righteous judgment of God, that you may be counted worthy of the kingdom of God, for which you also suffer; 6 since it is a righteous thing with God to repay with tribulation those who trouble you, 7 and to give you who are troubled rest with us when the Lord Jesus is revealed from heaven with His mighty angels, 8 in flaming fire taking vengeance on those who do not know God, and on those who do not obey the gospel of our Lord Jesus Christ. 9 These shall be punished with everlasting destruction from the presence of the Lord and from the glory of His power, 10 when He comes, in that Day, to be glorified in His saints and to be admired among all those who believe, because our testimony among you was believed.
Luke 14:12-15
12 Then He also said to him who invited Him, "When you give a dinner or a supper, do not ask your friends, your brothers, your relatives, nor rich neighbors, lest they also invite you back, and you be repaid. 13 But when you give a feast, invite the poor, the maimed, the lame, the blind. 14 And you will be blessed, because they cannot repay you; for you shall be repaid at the resurrection of the just."
The Parable of the Great Supper
15 Now when one of those who sat at the table with Him heard these things, he said to Him, "Blessed is he who shall eat bread[a] in the kingdom of God!"