Love and prayer are interconnected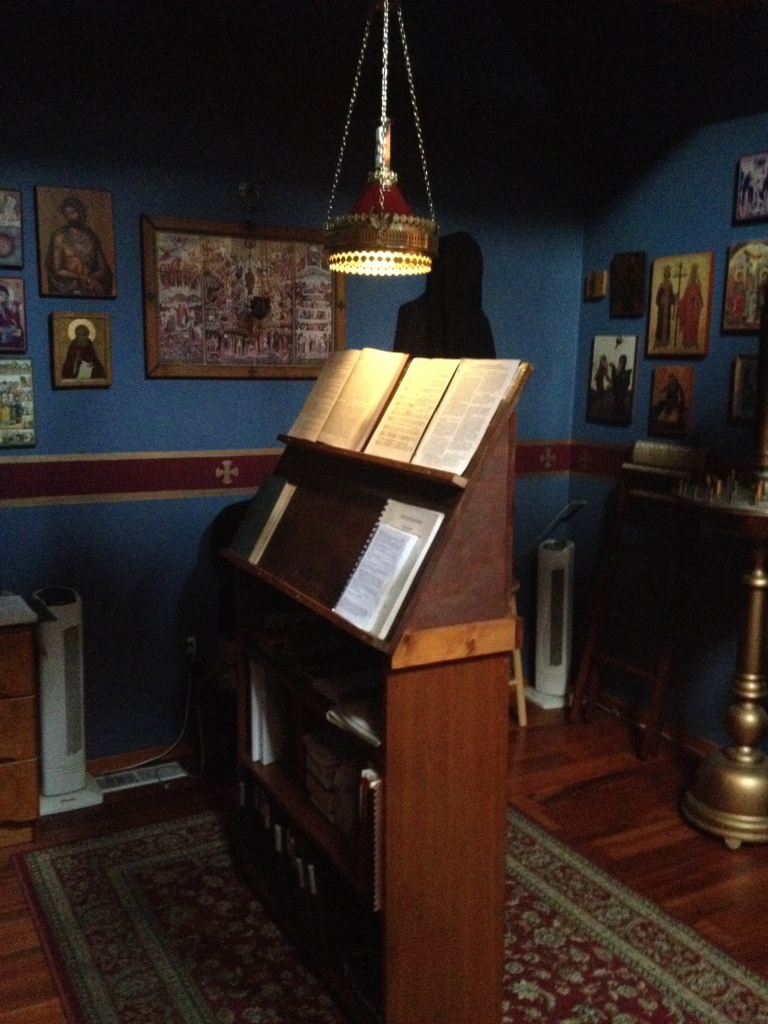 If we find fault in others, our self-indulgent attitude keeps us from having a successful interaction with God. Prayer is born of love, while fault-finding, idle talk and self-indulgence are the death of prayer. Love and prayer are interconnected because both involve God, and if we love God we are given the power to keep our mind on Him both day and night. Nothing keeps us from Him, and nothing hinders our communion with him. Even the distractions and temptations of the world fade away as nothing, yet as God's love grows in us, so does love of our neighbor grow.
With love in Christ,
Abbot Tryphon
Photo: Our new monastic kleros lamp from the Holy Mountain of Athos.
Sunday October 19, 2014 / October 6, 2014
19th Sunday after Pentecost. Tone two.
Holy and Glorious Apostle Thomas (1st c.).
New Hieromartyr John priest (1937).
Virgin-martyr Eroteis of Cappadocia.
New Martyr Macarius at Kion in Bithynia (Mt. Athos) (1590) (Greek).
Icon of the Most Holy Theotokos "O All-Hymned Mother".
Venerable Cindeus of Cyprus, monk (Greek).
The Scripture Readings for the Day
2 Corinthians 11:31-12:9
31 The God and Father of our Lord Jesus Christ, who is blessed forever, knows that I am not lying. 32 In Damascus the governor, under Aretas the king, was guarding the city of the Damascenes with a garrison, desiring to arrest me; 33 but I was let down in a basket through a window in the wall, and escaped from his hands.
The Vision of Paradise
12 It is doubtless[a] not profitable for me to boast. I will come to visions and revelations of the Lord: 2 I know a man in Christ who fourteen years ago—whether in the body I do not know, or whether out of the body I do not know, God knows—such a one was caught up to the third heaven. 3 And I know such a man—whether in the body or out of the body I do not know, God knows— 4 how he was caught up into Paradise and heard inexpressible words, which it is not lawful for a man to utter. 5 Of such a one I will boast; yet of myself I will not boast, except in my infirmities. 6 For though I might desire to boast, I will not be a fool; for I will speak the truth. But I refrain, lest anyone should think of me above what he sees me to be or hears from me.
The Thorn in the Flesh
7 And lest I should be exalted above measure by the abundance of the revelations, a thorn in the flesh was given to me, a messenger of Satan to buffet me, lest I be exalted above measure. 8 Concerning this thing I pleaded with the Lord three times that it might depart from me. 9 And He said to me, "My grace is sufficient for you, for My strength is made perfect in weakness." Therefore most gladly I will rather boast in my infirmities, that the power of Christ may rest upon me.
Luke 7:11-16
Jesus Raises the Son of the Widow of Nain
11 Now it happened, the day after, that He went into a city called Nain; and many of His disciples went with Him, and a large crowd. 12 And when He came near the gate of the city, behold, a dead man was being carried out, the only son of his mother; and she was a widow. And a large crowd from the city was with her. 13 When the Lord saw her, He had compassion on her and said to her, "Do not weep." 14 Then He came and touched the open coffin, and those who carried him stood still. And He said, "Young man, I say to you, arise." 15 So he who was dead sat up and began to speak. And He presented him to his mother.
16 Then fear came upon all, and they glorified God, saying, "A great prophet has risen up among us"; and, "God has visited His people."