Bedouins attack St. Catherine's Monastery in the Sinai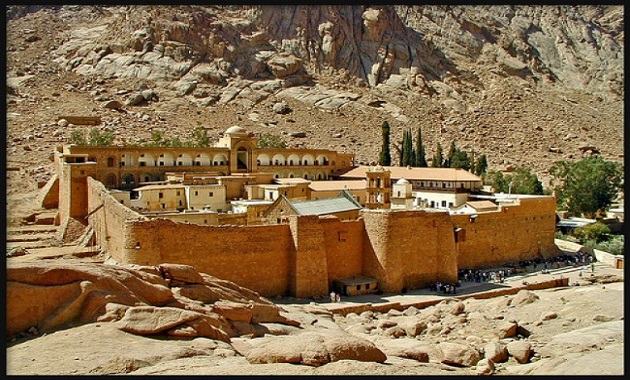 The ancient Monastery of Saint Catherine's, situated on the Biblical land of the Sinai peninsula, has been once again been attacked by Muslim extremists and local authorities, this in spite of the long standing charity provided to the Bedouins by the monks.
These Muslims took the monastery by storm, eventually managing to demolish the gate and take two of the monks hostage. The monks had to submit to the raiders and agreed to pay them a tax in exchange for end to the attacks. Nevertheless, the islamists are still threatening the Archbishop of Sinai and his monks with violence, claiming this ancient monastery was 'illegally constructed' in 2006, in spite of the fact the monastery dates to the time of the Emperor Justinian I (527-565)!
The monks were forced to pay a ransom of $21,000 to obtain the release of the two kidnapped monks. In spite of the numerous complaints and appeals to local Egyption law-enforcement agencies, the situation remains bleak, with local autonomous bodies closing their eyes to the extremists' calls to obliterate Christianity on Sinai and "to restore justice", which means "returning" the Christian settlement Oyun Musa ("Moses springs") to Muslims" with the reference to the Quranic texts.
Not long ago the authorities imposed a tax upon all the monastery's monks. It was done because the monastery "had a refectory for pilgrims", which allegedly "served as a source of enrichment." For the first time in Egyptian history, such a decision was made towards the ascetics who never leave this place of prayer. It is now feared that the Muslims are intending to destroy this ancient monastery, the oldest continually active monastery in the world.
Our monastic brotherhood has a particular attachment to Saint Catherine's, following the visit of their spiritual father, the Elder Pavlos, in June of 2012 (see photo below). The attack on these peaceful monastics is yet one more demonstration of the evil intent of Muslims to destroy all traces of Christianity in the Middle East, while Western nations, including the United States, continue to allow Muslims to migrate into our own nations, constructing mosques near our college campuses, and proselytizing for their religion among hardened prisoners in our state and federal prisons.
Please join us in praying for the preservation of this ancient place of Christian prayer, and for God's protection of these holy monks. And pray for the protection of the ancient icons, and the vast library of ancient Christian texts. One of the most ancient icons of Our Lord, the Sinai Icon of Christ, is within the walls of this holy monastery.
With love and blessings,
Abbot Tryphon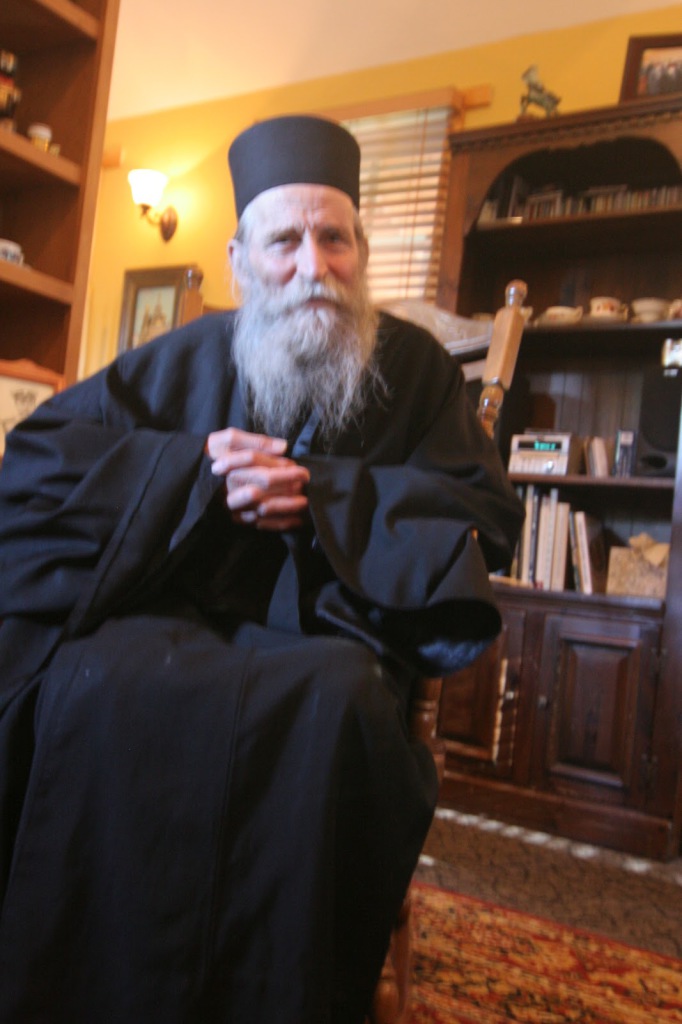 Tuesday October 21, 2014 / October 8, 2014
20th Week after Pentecost. Tone two.
Venerable Pelagia the Penitent of the Mount of Olives (457).
New Hieromartyrs Demetrius archbishop of Mozhaysk and with him John deacon, Hieromartyr Ambrosius and Pakhomius, Virgin-martyr Tatiana, Martyr Nicholas, Virgin-martyrs Mary and Nadezhda (1937).
New Hieromartyr Jonah bishop of Velizhsk, Hieromartyr Seraphim, New Hieromartyrs Peter, Basil, Paul, Peter, Vladimir priests, Martyrs Victor, John, Nicholas and Virgin-martyr Elizabeth (1937).
New Hieromartyr Barlaam (end of 1930th).
Venerable Dositheus, abbot of Verkneostrov (Pskov) (1482).
Venerable Tryphon, abbot, of Vyatka (1612).
Synaxis of All Saints of Vyatka.
Venerable Thais (Taisia) of Egypt (4th c.).
Virgin-martyr Pelagia of Antioch (303).
New Monk-martyr Ignatius of Bulgaria and Mt. Athos (1814).
St. Anthony, bishop of Novgorod (1232).
St. Keyene, hermitess of Cornwall.
St. Iwi, hierodeacon of Lindisfarne.
Translation of the relics of St. Aidan, bishop of Lindisfarne and enlightener of Northumria.
Translation of the relics of St. Ceolfrith, abbot of Wearmouth and Jarrow.
St. Triduana, nun of Restalrig.
The Scripture Readings for the Day
Philippians 2:17-23
17 Yes, and if I am being poured out as a drink offering on the sacrifice and service of your faith, I am glad and rejoice with you all. 18 For the same reason you also be glad and rejoice with me.
Timothy Commended
19 But I trust in the Lord Jesus to send Timothy to you shortly, that I also may be encouraged when I know your state. 20 For I have no one like-minded, who will sincerely care for your state. 21 For all seek their own, not the things which are of Christ Jesus. 22 But you know his proven character, that as a son with his father he served with me in the gospel. 23 Therefore I hope to send him at once, as soon as I see how it goes with me.
Luke 8:1-3
Many Women Minister to Jesus
8 Now it came to pass, afterward, that He went through every city and village, preaching and bringing the glad tidings of the kingdom of God. And the twelve were with Him, 2 and certain women who had been healed of evil spirits and infirmities—Mary called Magdalene, out of whom had come seven demons, 3 and Joanna the wife of Chuza, Herod's steward, and Susanna, and many others who provided for Him[a] from their substance.